An account of an interesting encounter in Kisach, a Slovak village near the city of Novi Sad, Serbia, in the form of a short travel story.

I strolled around Kisach, a Slovak village near Novi Sad. In order to eat my icecream thoroughly and with due attention, I sat on a wooden bench in front of a house. In a little while, I noticed an old woman inching toward me; even though she appeared to be standing still, she was somehow moving and getting closer.
"Dobri den", she said, devouring me with distraught blue eyes, so bright and widened that I automatically averted mine. "Dobar dan", I replied, obviously surprising her by using Serbian instead of Slovakian. "Where from?" - "Novi Sad." - "And I thought... neighbour..." Slowly, she lowered herself next to me, onto the edge of the bench. Her words arrived tired and heavy, as if billowing from a dark depth that was closing and drifting away.
"I've cleaned everything. Only the pipe I haven't..." And so on, without head nor tails. I couldn't make anything of it. Was she asking for help? "You have no one to do it for you?" - "No. I'm alone. My husband has died. Young man, died long ago. I have never been sick before. Now I can't even mow..."
I slowed myself down and started walking behind her, petitely, slowly. It was three houses away, but the process was slow and hard, as though every step was a small victory, every centimeter of the red brick path had to be reconquered, overpowered and left behind. I entered through a gate. A tiny house, a small front yard, knee-high grass and weeds. A dog, tied in a corner, started melting with happiness and frolicking and wagging its tail. "Don't be afraid, I tied him."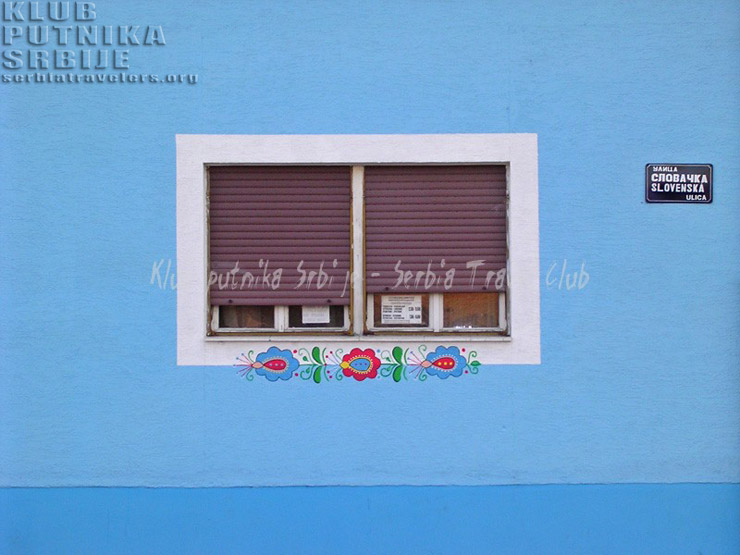 A nicely decorated window in the village of Kisach, in Slovachka (Slovak) Street
No matter how many times I've been to old people's village houses, I flinch every time I step inside; as if I keep forgetting what it is like, and somehow end up surprised every time. A miniature room with cracked concrete floor. An old cupboard with a couple of glasses, a wooden bed with huge down quilts and pillows, two small black-and-white photographs on the wall, a table, a tin basin with water, a bar of soap and a cloth, a small wood stove and a tiny stool. Tough, hostile furnishings staring at you and asking you what you want, why you have come.
The old woman stared at me abstractedly. Then she remembered and pointed at the stove. "There it is. It smokes. It's choked." I understood it's about the stovepipe. I took it off, dismantled it, took it out to the yard and, bit by bit, cleaned it with a broom and scraped with some kind of a dented trowel. Big black lumps of clumped soot started falling down into an iron bucket. Finally, I assembled the stovepipe again and put it back in its place. "It's not wobbly?" - "No."
"How much do I owe you?", asked the old woman. "Why didn't you have any children", I asked in reply. "I don't know. They didn't come." A bed, frayed wood, thinned-out down quilts; once, maybe, warm and intense. A husband in colour and three dimensions stretching by the window, pots bouncing on the stove, mornings with the scent of bread, marmalade glistening in the jars, life looking like something that has just started and will never end. Torn quilts, husband moved out to the photograph where he will forever stay handsome and elegant, deaf dreary mornings, sitting on the edge of the sagging bed and staring at gnarled hands. "You have nobody?" - "No. I'm from Bachki Petrovac. I married into Kisach. My husband was a builder. I have this house. I have a sister, in Petrovac." - "How old are you?" - "Eighty-four." Distended light-blueness stares at me, freezes over, goes away, melts, leaves again. I had to ask her a couple of times what her name was, and she kept looking right through me, and then winced. "Anka."
Anka disappeared into a small door. She came back with a large kulen, sausage traditionally made by Slovaks, wrapped into obituaries, and offered it to us. "Some meat." - "You may need it yourself", I said. - "No, no. Today I'm here, and tomorrow..." She covered her eyes with her hand. Then, quietly: "I won't need it."
Confused, I put the sausage into my backpack. "Drop by. I'm here. It's always locked, otherwise the dog would run out into the street." We shook hands and I left. It was warm and bright outside, air filled with the aroma of humid earth, summer overflowing into autumn.