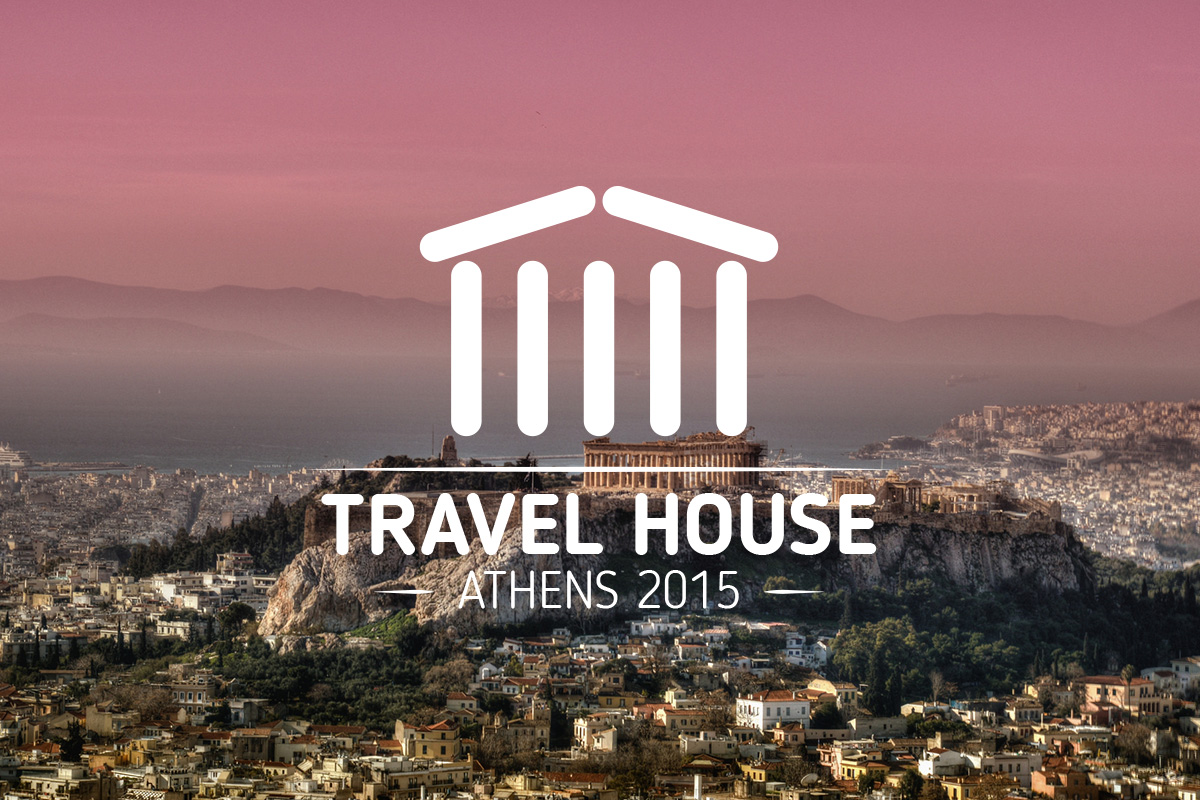 13:50 06.09.2015.
The Travel House in Athens has been completed successfully! We will soon publish the detailed statistics with a list of costs. See you next year!
---
12:02 04.09.2015.
Martin, Sweden. "I came here to help refugees to reach Sweden. The majority of western countries have negative attitude towards the arrival of refugees. Sweden is an open country. We know they are mostly educated, intelligent people. Why not accepting them in our country? That's where I come in. I have an agreement with Swedish Government, so I can bring them legally. I was in a hurry today to get to the boat that brought more than 2,000 people from Kos. When I got to Piraeus, the ship was already empty, they vanished, nobody knows where they had left. Two thousand people gone just like that! I hope I'll have more luck tomorrow."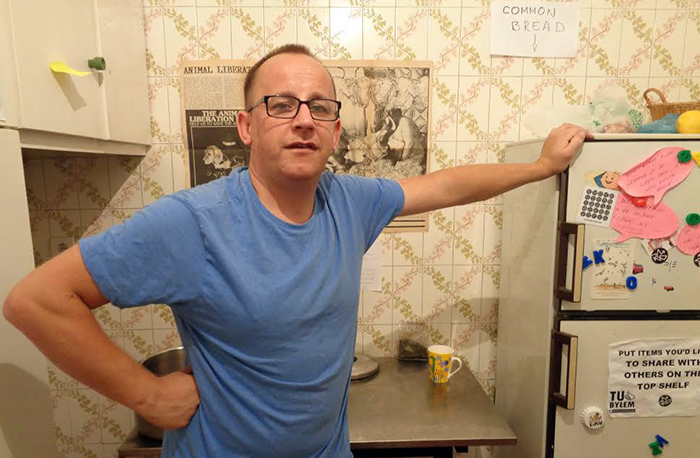 Nikola, Belgrade. "I came to the Travel House to feel the spirit of togetherness. Besides that, I wanted to get some information about Greek islands, because I'm intending to go to some peaceful island and spend about ten days camping there. I thought I would stay only a few days in the house, but I stayed more, and I'd like to stay even more. I write short stories, and I just reached the last page of this notebook."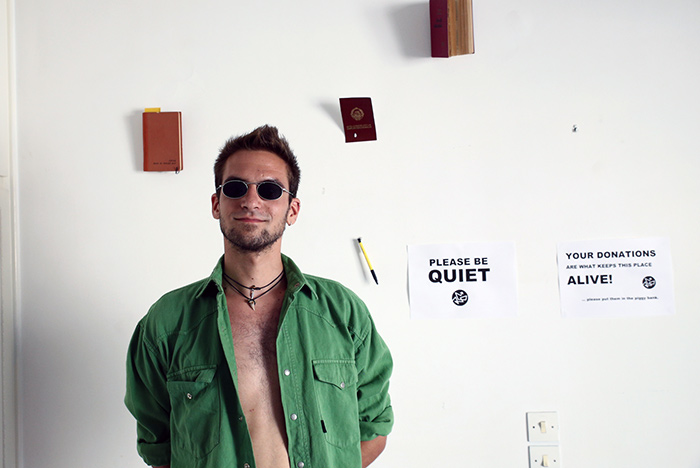 Tillie, Germany. "I had some problems while traveling so I sent an application for the Travel House in the last minute. And it coincided to celebrate my birthday here! Nikola gave me the most unique birthday gift - cover of Yugoslovenian passport that he used as a bookmark."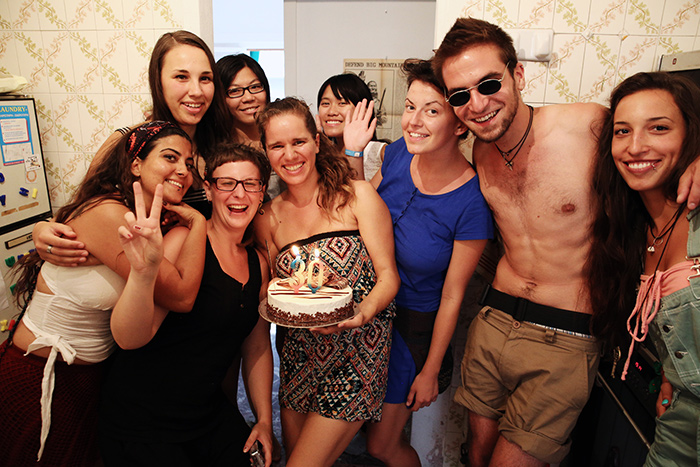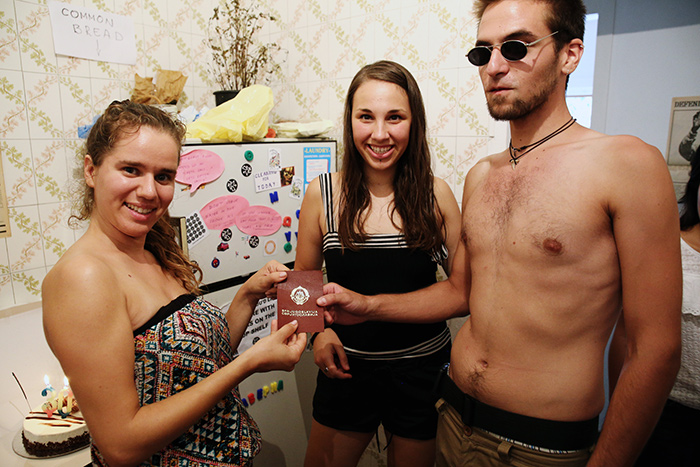 Mihalj and Tanja, Pancevo, Serbia. "Tanja had already hitchhiked to Istanbul, but this is my first time to travel somewhere by hitchhiking. Everything went well, we changed a lot of vehicles and met a bunch of interesting people. We didn't have any problems. Unfortunately we stayed only three nights, since we weren't able to have a longer vacation because of our duties. That's a long trip for such a short time, just to have some rest and visit the city, and we already have to head back. We're hitchhiking back too, we're planning to be on the highway tomorrow at seven in the morning."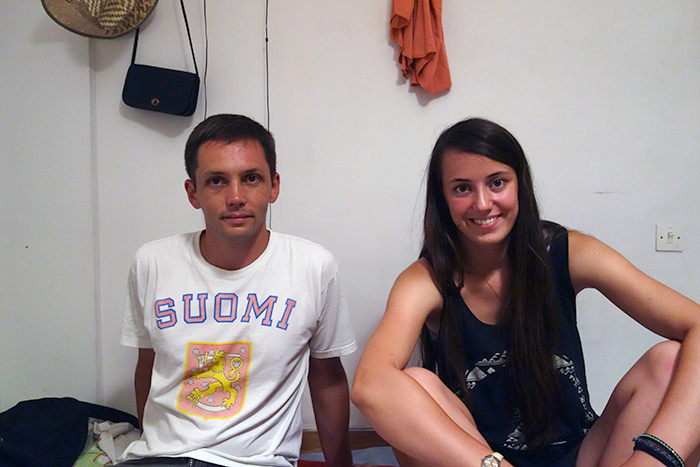 Towi, Canada. "I was born in Canada but I live in Germany for a while now. I am 23 years old and I work as a dancer, I do contemporary dance and I am a member of a dance troupe. I might go back to Canada one day but I'm not planning it for now, I'd like to stay in Europe. Somehow, everything is so close here, everything is concentrated on a small space, while in Canada there are very large distances and everything is faraway. I'm already four days in the Travel House and I'm sorry that I'm leaving."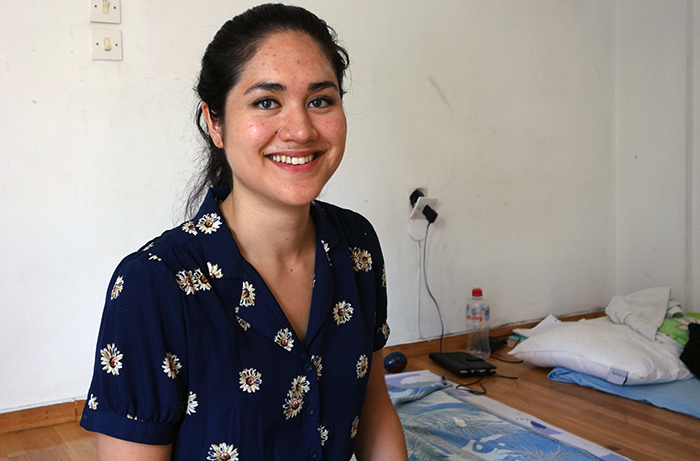 Mick, Beth and Lars, New Zealand. "We found about the Travel House in some hostel in Albania, from a German couple that had already stayed here. We were wowed by the concept right away. We like that we have an opportunity to meet different aspects of Athens, Canada, Germany etc. through the people that are staying here. People are the reason why we travel. We don't mind sleeping on the floor, we think what we're getting here is way more important than comfort of a bed. When we rang the bell, someone opened the door, smiled and said 'welcome!' Great feeling, it's just like we came to the house of some old friends."
Dusan, Uzice and Stefan, Sabac, Serbia. "The house became very dear to us. We got so used to this place, and especially to the people we've met here. We really like that everything is clean and organized. We were expecting some kind of hippies all over the place, and that it's going to be filthy. But no, everyone knows the house rules, there's discipline, everything is just like it should be."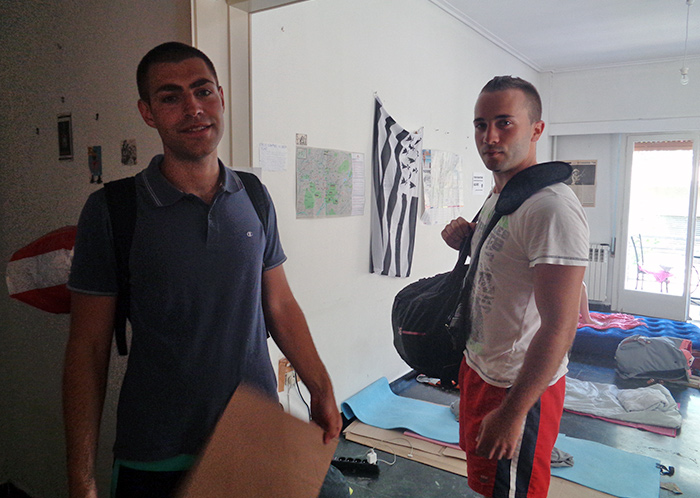 Philip, Germany. "I am a scientist, I am doing a research on impact of global warming on Antarctic. I love my job because it's allowing me to move. My bosses don't care where I am and what I'm doing, as long as I get my work done. I've met a lot of people that travel without any specific goal: travel for travel's sake. I have nothing against that, but I prefer when there's some purpose for my travels. This time I'm going to visit my friends that live in the north of the Peloponnese."
---
13:24 26.08.2015.
Roy, Lebanon. "I came to Athens on a business trip and I just happened to find out about the Travel House. While this is not my style of traveling – I'm used to expensive hotels and cars with a chauffeur – I came here to try something new. I didn't regret it."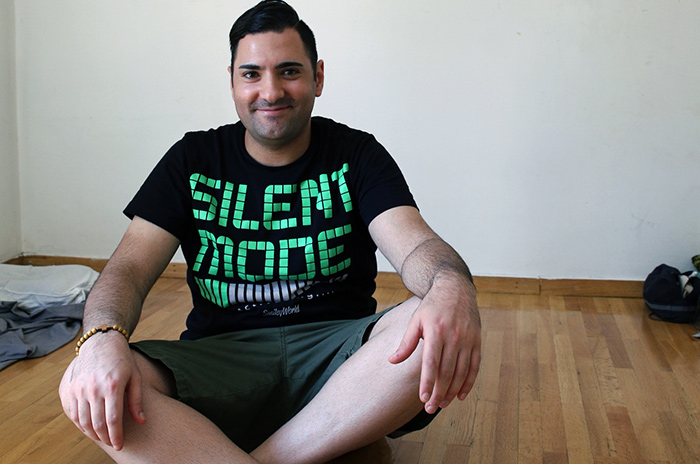 Crazy Sale, Serbia. "Over a thousand kilometres hitchhiking! I can't believe I arrived to Athens! I told myself I would go and here I am. These are my hitchhiking boards, can I hang them on the wall? This one says Thessaloniki, this one Athens. What's it like in Zrenjanin? Bro, I turn Zrenjanin into New York. All the paths there lead to me, whatever road you take, you will reach me. Just say Crazy Sale, everybody knows. Whenever I travel, I take a photo and put in on Facebook and then tag all of my friends from Zrenjanin. Why? Because they are dead. One of the favourite moments in my life is when I played live with Dubioza Kolektiv, I played Jew's harp at the concert. Now I play again with Jew's harp at the Street Musicians Festival in Novi Sad. It's on old instrument that was forgotten a long time ago, but I bring it back to life. Come to the festival and you'll see."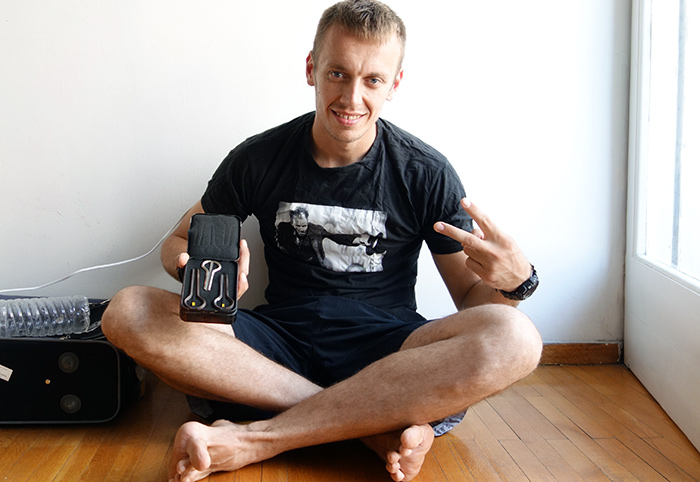 Maya, Canada. "I finished high school and hit the road. I'm 19 years old. I've been on the road for four months and now I should go to college – I want to study journalism – but I like travelling this way, I'd like to skip one more year. In the end, now I feel like travelling, I can study later, right? Yes, the whole time I'm travelling alone. Sometimes, I'm annoyed by people strangely looking at me, not used to seeing black people. Mostly I don't mind, but sometimes I'm tired and sleepy and nervous and then I get annoyed. I told that to my dad and he said: imagine a white person coming to Ghana (he's from Ghana), he'd feel the same, if not worse. Before Greece, I travelled through the Balkans and I stopped in Slovenia, in Piran. My uncle is the mayor of Piran, maybe you heard of him. He's the first black mayor in the history of former Yugoslavia. Last year he was re-elected, this is already his second term."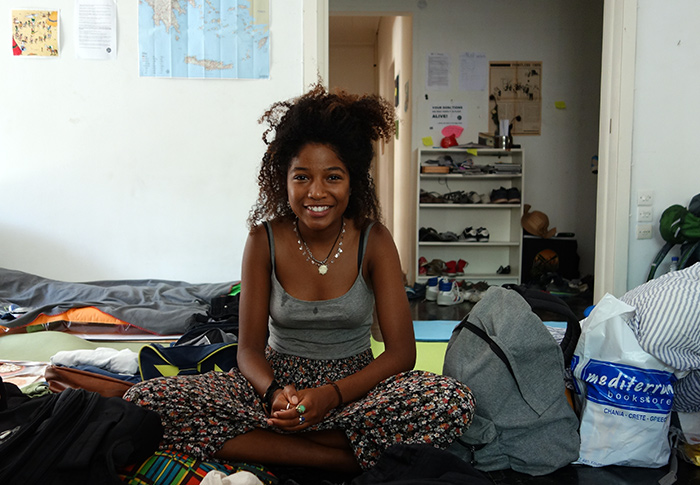 Milica, Serbia. "I heard about the Travel House from a friend, and as soon as I found out about it, I wanted to come. I study Greek language so this is a great opportunity to explore Athens. I travel alone and this is my first time in the Travel House. I think I could live in such a place with such an atmosphere."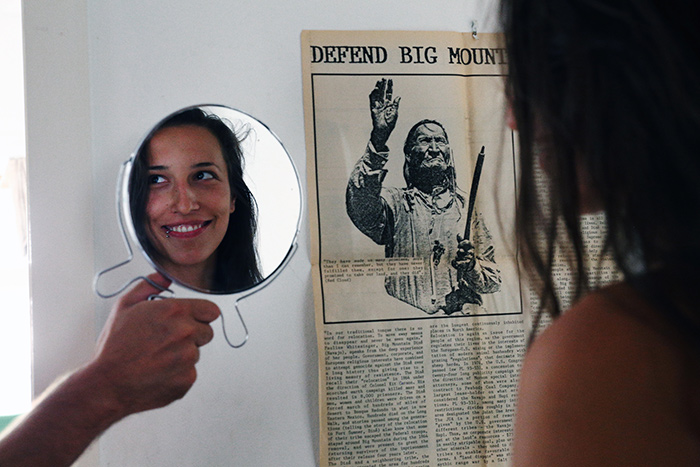 Estefania and Tania, Spain. "The cheapest flight we could find to return to Spain was with a stop in Ukraine, which sounded like a great idea because we would have a few hours to wander around Kiev. The day before, we realised that I (Estefania) came here with my ID, and I need a passport for Ukraine. I had only one hour and a half to go to the embassy and make up that I lost my passport so they could issue a paper with which I can get back home. We're flying tomorrow at 5 a.m. Let's see how it will go."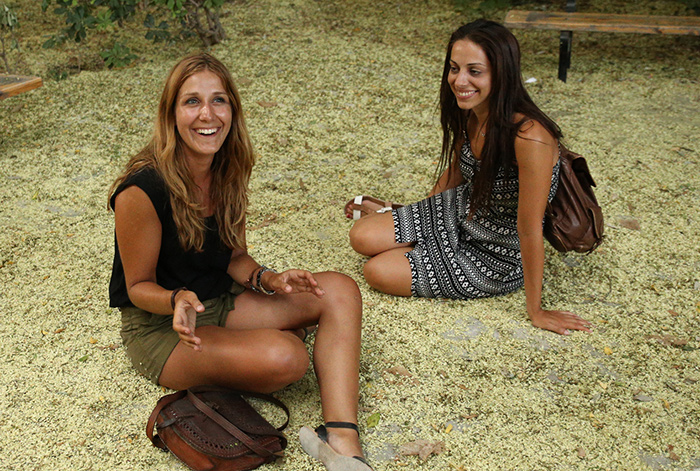 ---
11:45 20.08.2015.
Edouard, Canada. "I heard about the Travel House on Couchsurfing. Before coming here I spent fifteen days in complete wilderness, all alone. I haven't met anybody there. The only problem for me were the wild dogs. Not wolves, but real feral dogs. One night I had to sleep on top of a ruin. I lifted my stuff using a rope, it was really scary! The Travel House is a great idea, but for this many people a bit more space wouldn't hurt."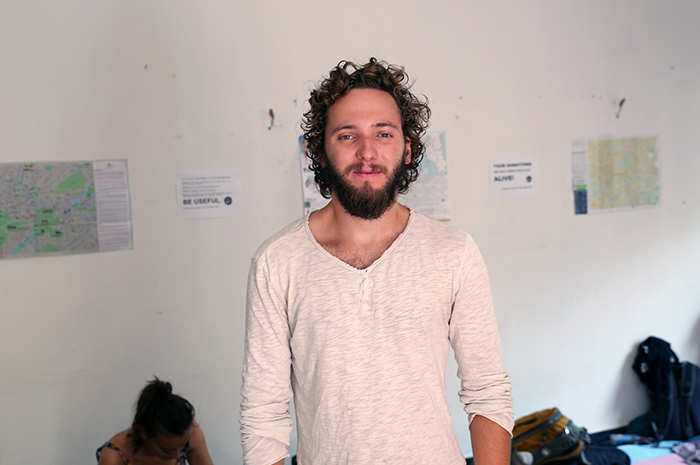 Iza and Kamil, Poland. "I started hitchhiking and I had already reached Serbia when Iza told me she wanted us to travel together. So I went back to Poland, and we hitchhiked together to the Travel House. We wanted to take the straight line from Poland to Athens, but we spontaneously made a 500 km detour to Bulgaria... because, why not? We really like this idea, common stuff is the best, and we also like that there are people from different cultures. The best thing of all is that here you learn something every day."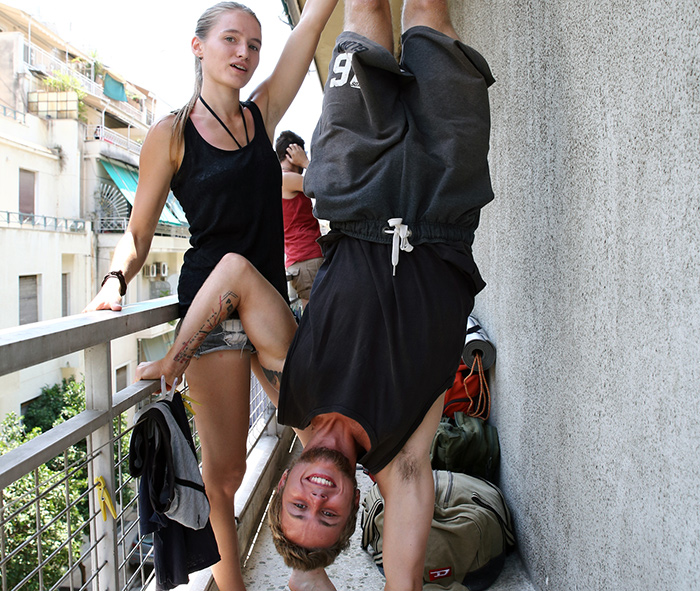 Sanja and Darija, Mostar, Bosnia and Herzegovina. "When you're looking at the map, it looks like Mostar and Greece are not that far away, but actually there is no transport that doesn't go through Belgrade. That's why this trip is way longer for us: first you travel north in order to travel south. Everything is complicated in Bosnia! In the end we gave up on trains and busses, and just came by plane. The Travel House is a great project, today is our last day and we are very happy, all along we've felt like this is really our home. Where is it going to be next year?"
Matt, France and Emmy, Germany. "We came here hitchhiking from Germany. We really like hitchhiking and that's how we travel most of the time. Back home we have nine-to-five jobs, but when we travel we like to play music, juggle, and do all kinds of stuff that we find interesting. You see these torches? We use them for juggling. In order to light them up you need petroleum, which we usually carry in a plastic bottle. The problem is that petroleum looks like water. We were camping with our friends in the mountains recently and we all drank pretty much, and then one of our friends grabbed the bottle with petroleum thinking it was water... he took two big sips before he realized. I think that in the future he will be checking even the bottled water from the store."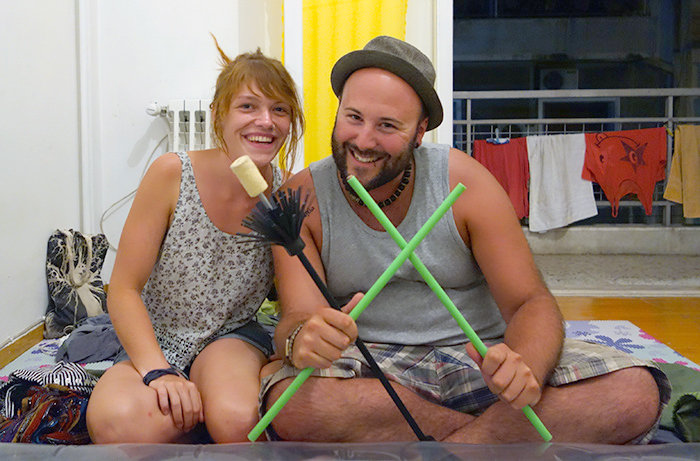 Tijana, Kragujevac, Serbia. "My first contact with the Travel Club was a few years ago, when Lazar and Uroš were holding a lecture in Belgrade with that Russian traveler, Krotov. Later I found out that it was their first lecture ever. Then this year I went to their book promotion in Kragujevac, and now I've come to the Travel House. I was making plans with a bunch of people to do this trip together, but in the end they all stood me up so I had to come alone."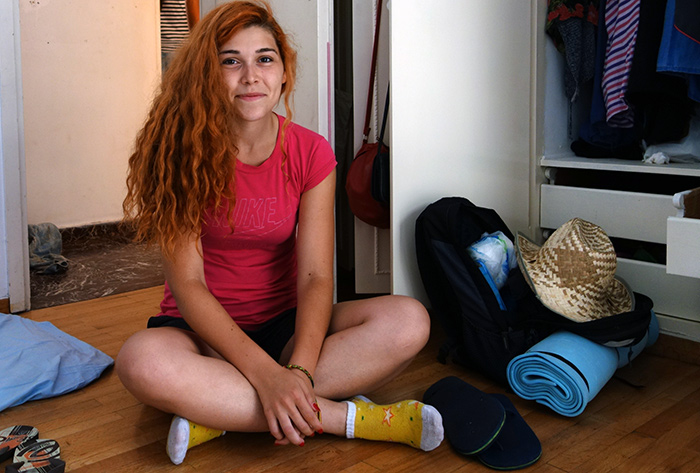 ---
21:39 17.08.2015.
For this week's common Greek dinner, Giannis, a professional chef, contacted us and offered his help.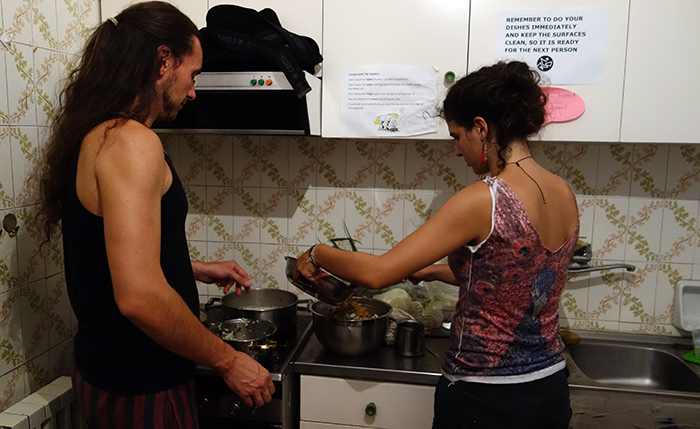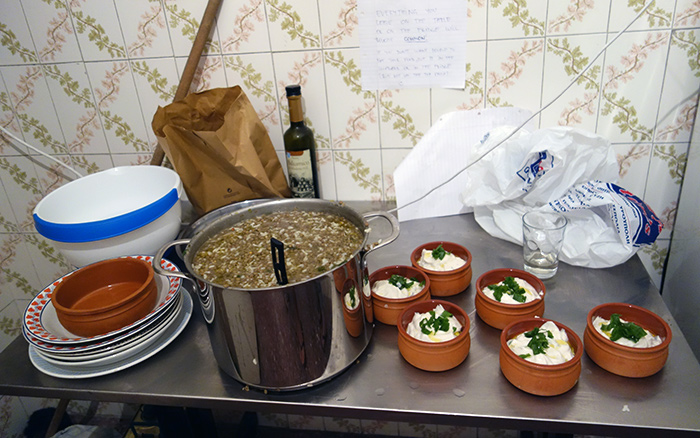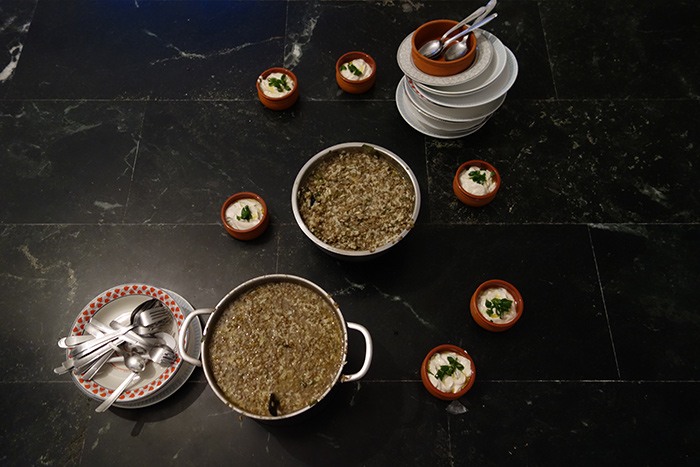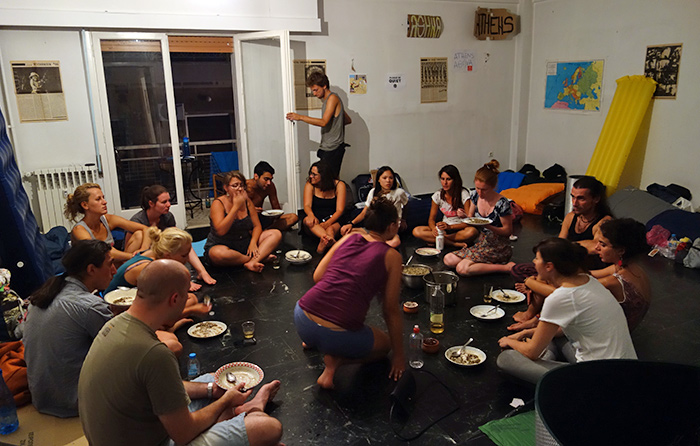 ---
20:30 15.08.2015.
Each year The Travel House starts with empty, barren walls, which gradually fill up over time.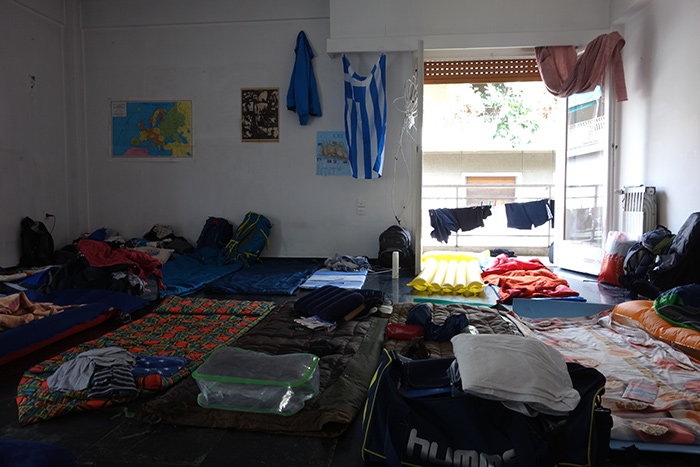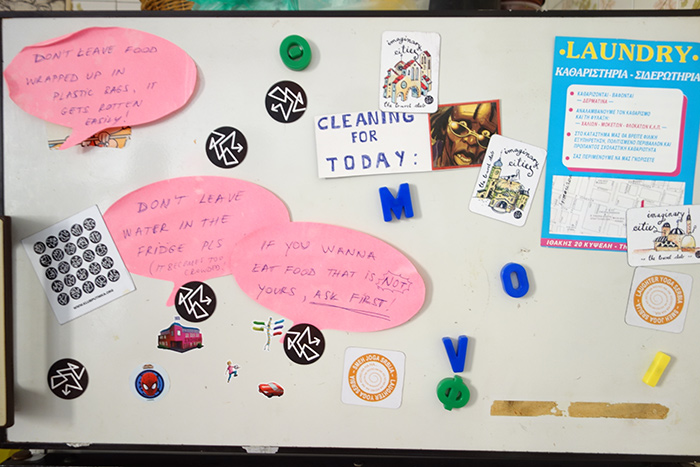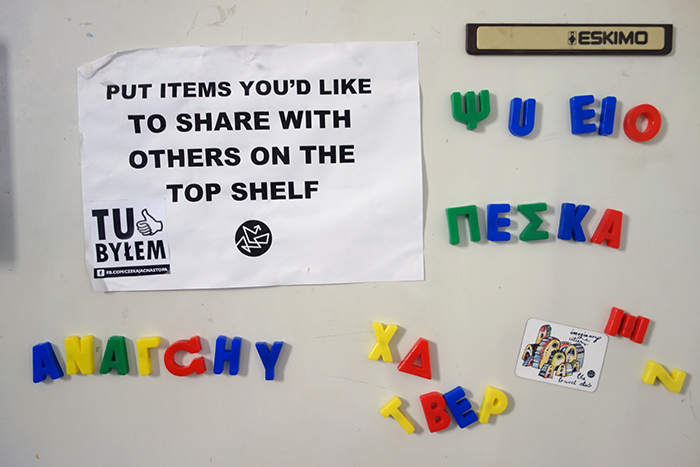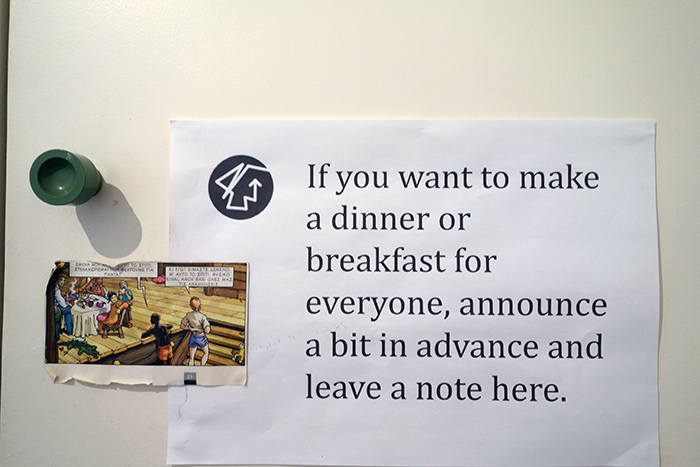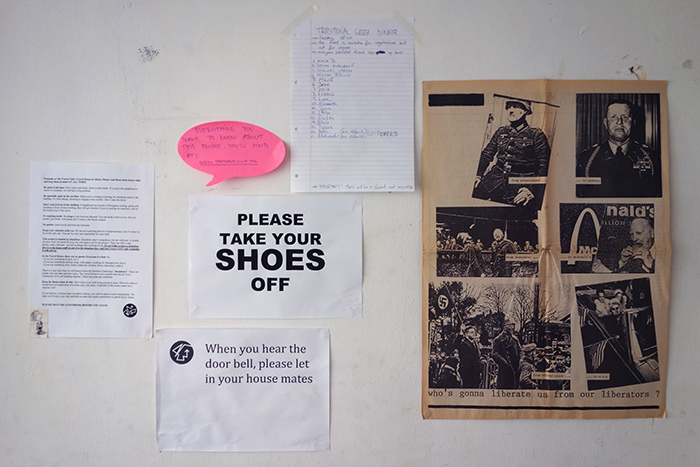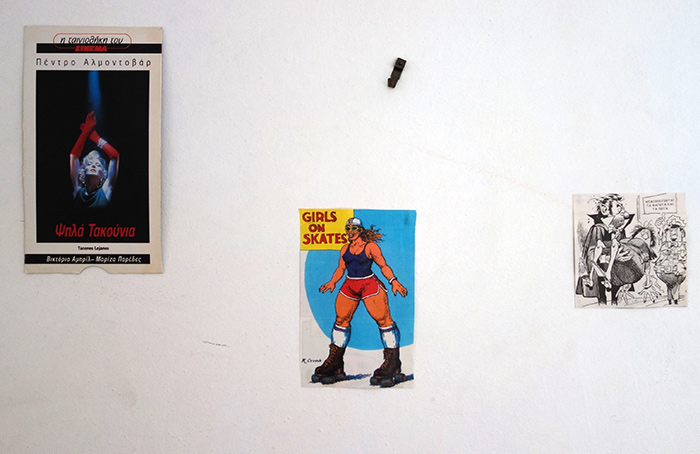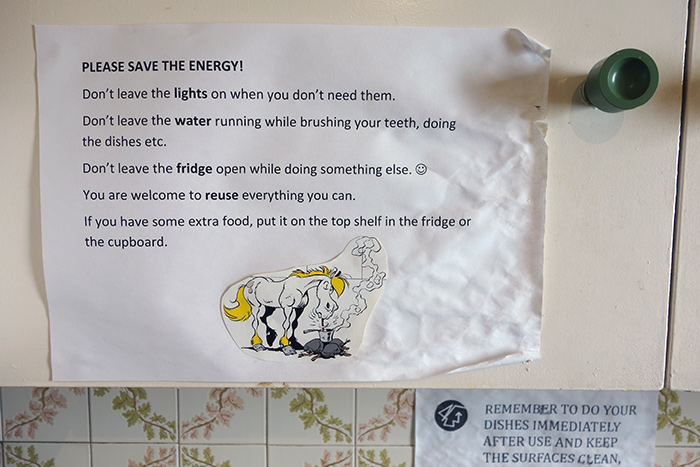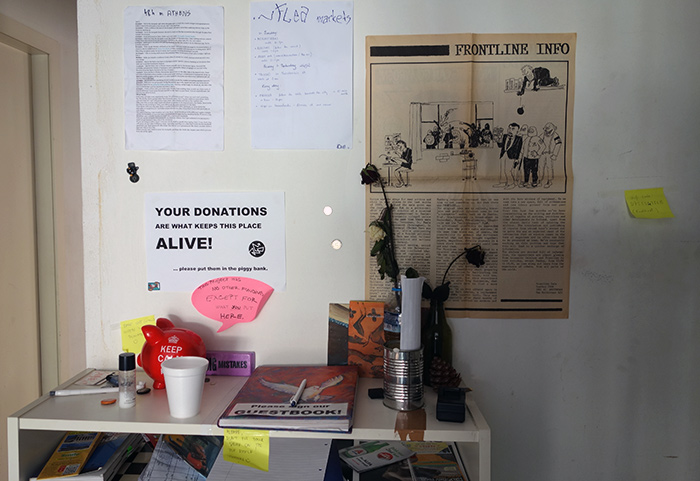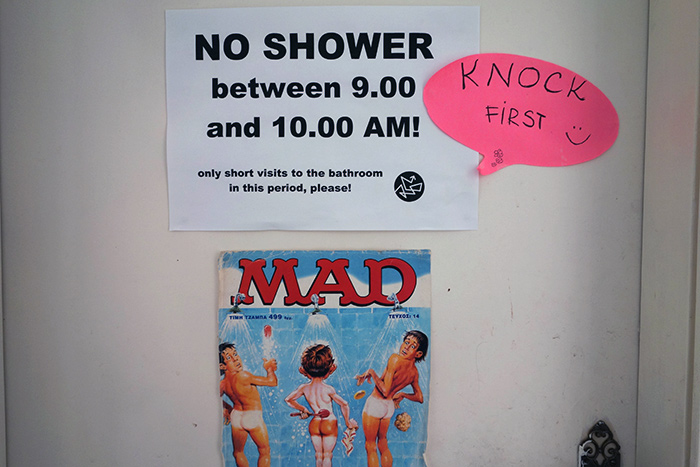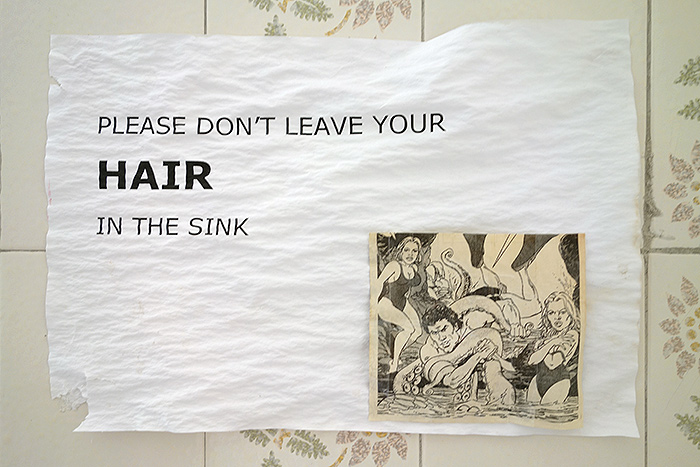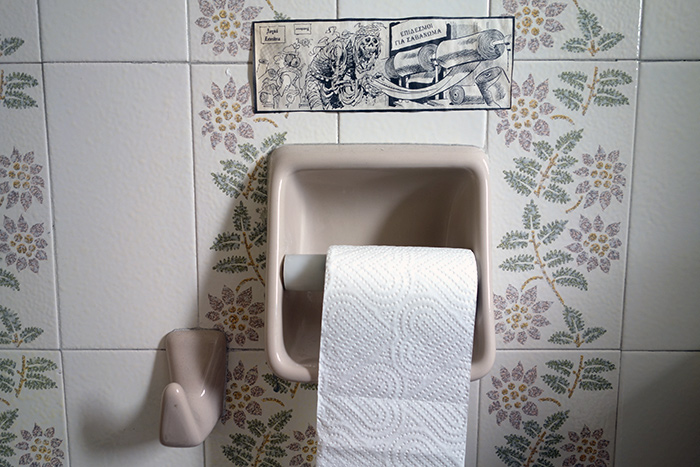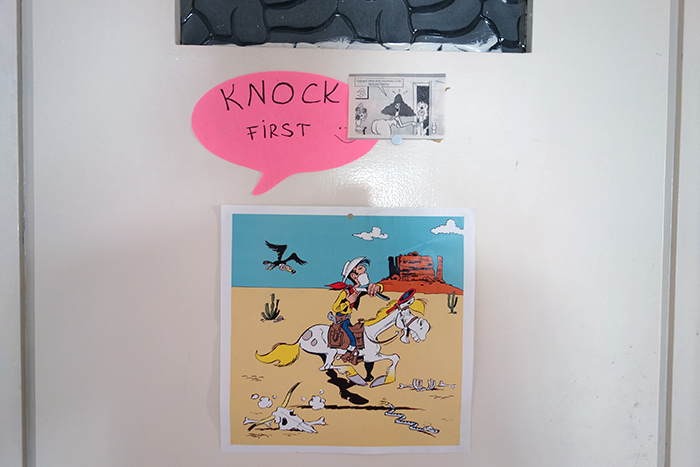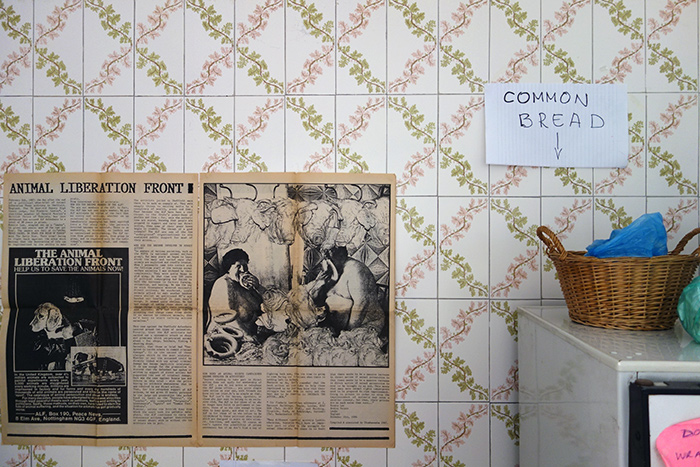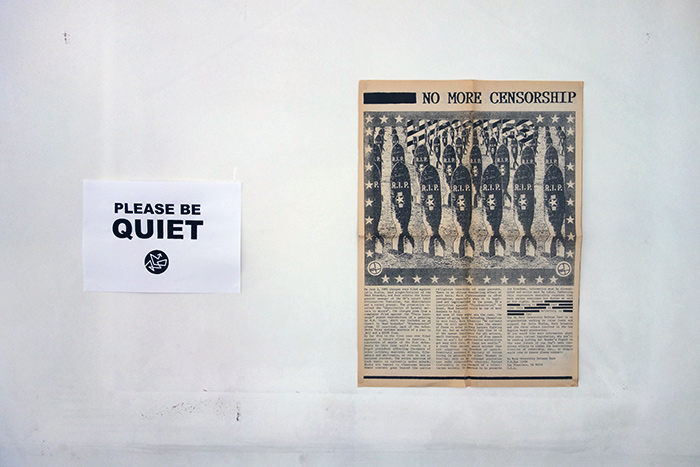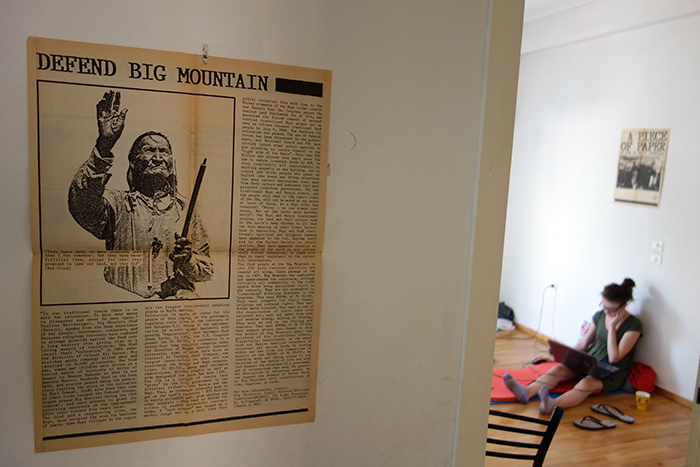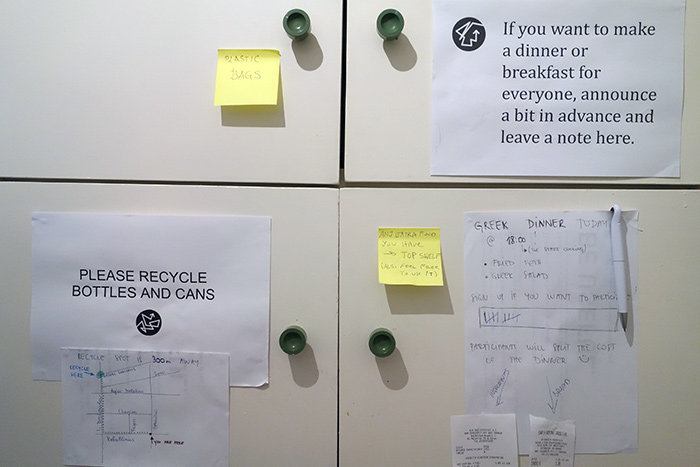 ---
09:52 10.08.2015.
Aleksandra and Stanisław, Poland. "I've started hitchhiking when I was 17, and he was even younger when he started. At first I hitchhiked only around Poland, and later also abroad. I traveled around Israel alone. In the autumn I'll travel around Northern Europe, also alone, because that's the best way, you meet so many people and have so many interesting conversations. Next summer we'll go to South America for three months. We have already bought the tickets for the Olympics."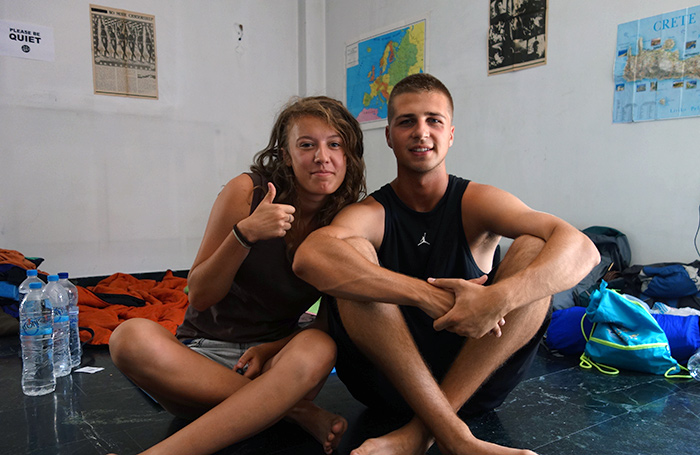 Damien, France. "As soon as I learned about the Travel House I immediately realised that I had to visit it. I strongly support all the concepts when people work together with no commercial interests, so I immediately donated even though I wasn't sure if I'd be able to come. The House doesn't resemble hostels at all, because everything depends on you here, and the atmosphere is good because there are so many different people."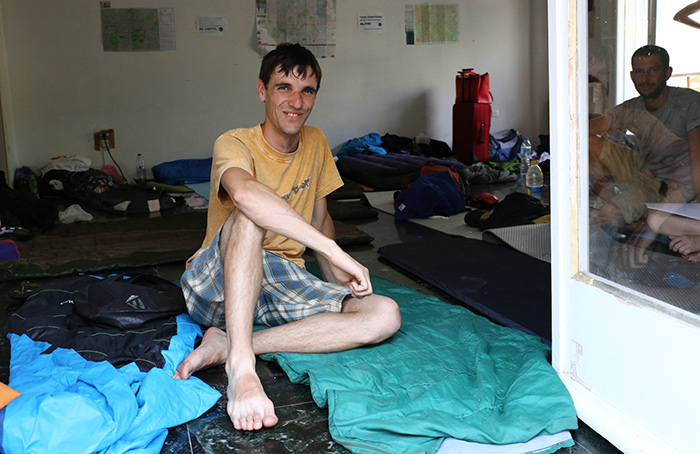 Krisztof, Hungary. "I travel by bicycle. I cycled from Corfu to Meteora and there I heard about the Travel House, from a traveler who heard about it from another traveler. When you have so many people, usually nothing functions properly, and here everything functions perfectly and everybody is getting along well. I really like it how everything is organised, it is obvious that someone has thought the whole thing through."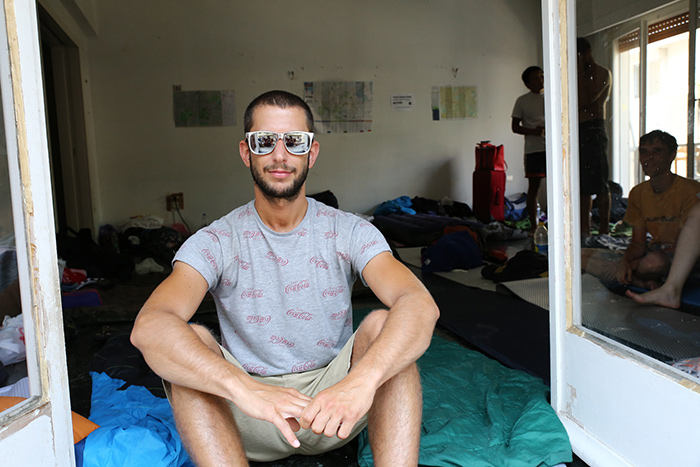 Dragan, Bosnia. "I came by train, with the Balkan Flexipass ticket. Greece surprised me a lot, I think I've never seen a country this beautiful. I want to learn the language, that's my next project, and then to come back here every once in a while. What surprised me the most were the camps. There are family camps, nudist, hippie, commercial camps... I had no idea it was like that! I thought the coast was more like a Greek version of Montenegro. In the camp you wake up and immediately get into the water, which is three meters from your tent. I especially like Athens because the city is so lively and varied, you can never get to know it all."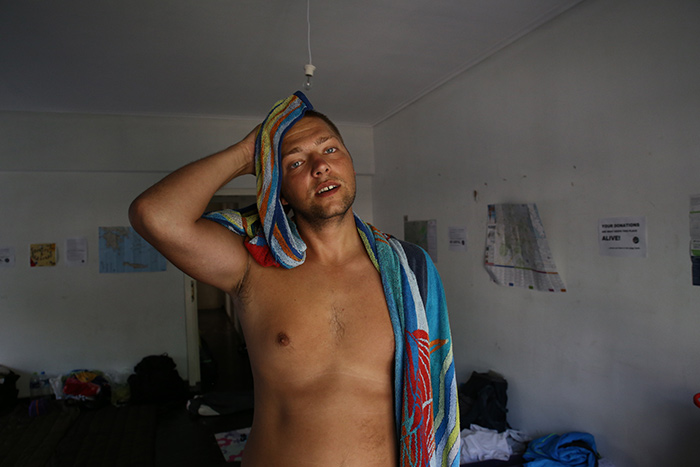 Leo and Marcos, Argentina. "When we graduated, we decided to start our trip around Europe, with some friends who have a trailer. When we saw we still have some money, we bought bicycles and continued the trip that way. The start was in Split and our final destination is Istanbul. The stops on the way haven't been defined yet. We heard about the travel house from Avito who also stayed here, he's also from Argentina. We met him by chance in Albania."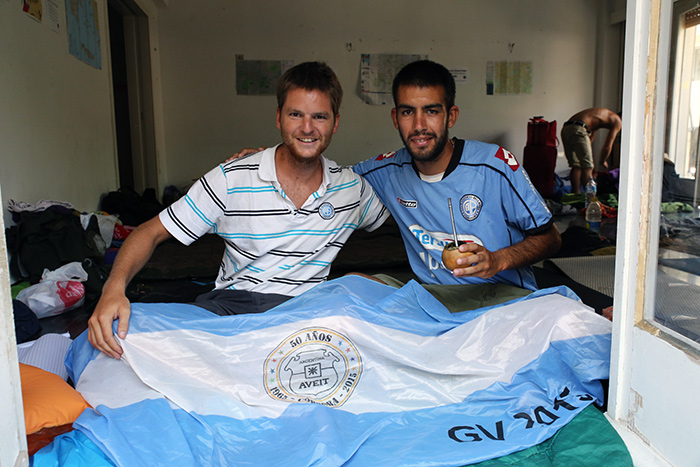 Annie, Sweden and Nina, Serbia. "We met when we were roommates at a college in Fargo, in the US, two years ago. Last summer Annie visited me in Novi Sad during the Exit festival. This year she came to visit me in the Travel House, where I've been volunteering for over a month now. Actually, I arrived on June 20th to find the apartment. Now we are going to the islands with the rest of the crowd we met at the college in Fargo."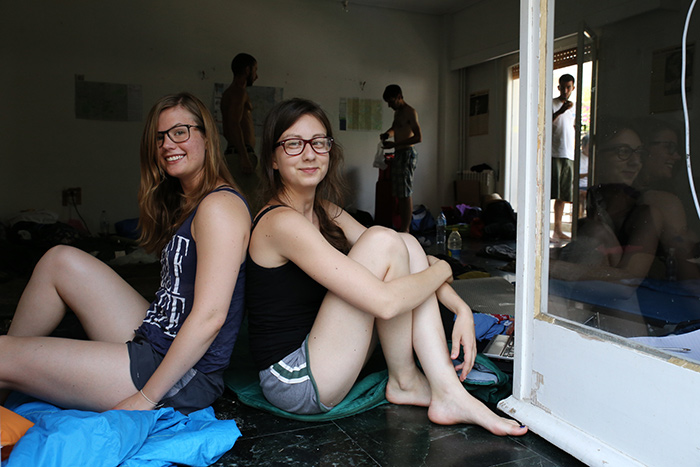 Boris and Sanja, Bosnia. "I found out about the Travel Club many years ago, and I joined it after I met Uroš and Lazar on a bloggers conference. I visited the Travel House for the first time when it was in Granada, two years ago. I wish I could've stayed longer, then in Granada and now here, but unfortunately with my job I barely succeeded to get these few days off. The vacation is over, and now we are mentally preparing for the marathon return by train, back to Bosnia."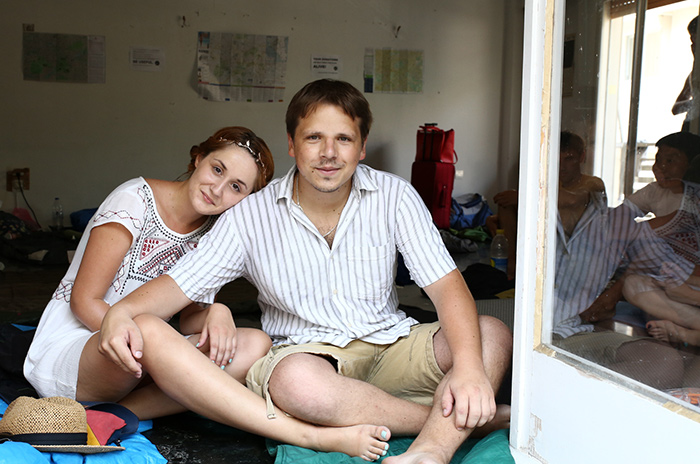 ---
22:01 09.08.2015.
Common dinner at the Travel House, usually on Saturdays, was postponed till Sunday. The chef is Dona from Athens, as usual, and the food is string beans with feta cheese. There are about forty people staying at the House tonight.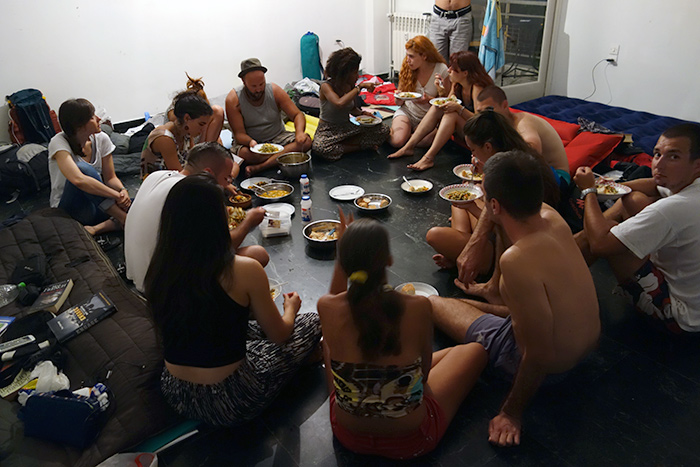 ---
22:12 07.08.2015.
The Travel House crew went to visit Sounion, a temple dedicated to Poseidon, the god of the sea. The temple is located 69 km from the city center and there's a regular bus line going there. It was built in the golden age of Pericles' Athens, around 440 BC, on the southernmost tip of of Attica, and is a popular spot for watching the sunset. Legend has it that the Aegeus, the mythical king of ancient Athens, committed suicide by jumping from these rocks into the sea, later named after him. Much later, a poet carved his name into the stones.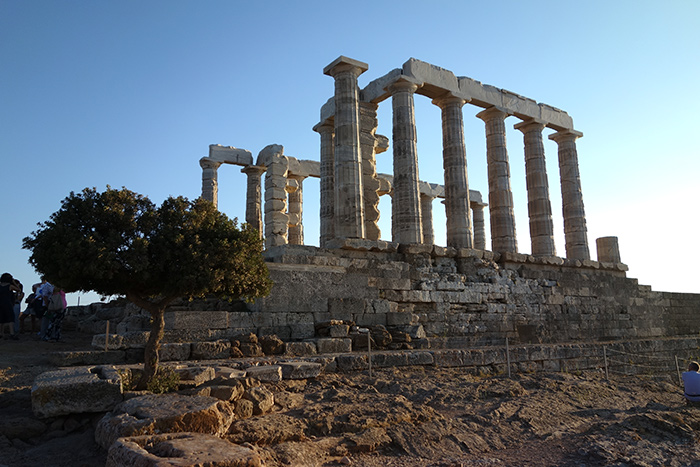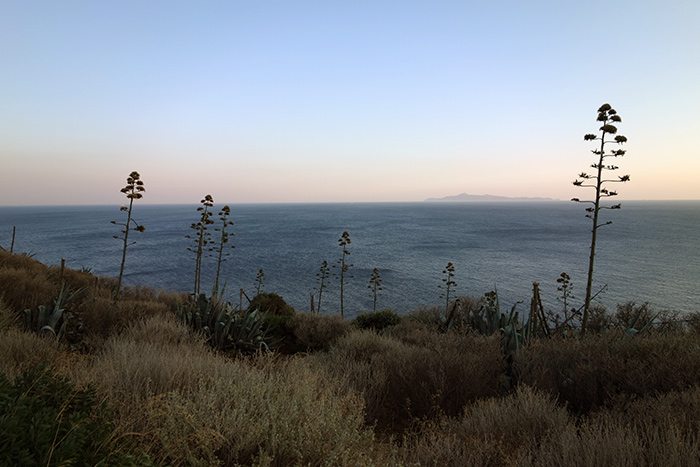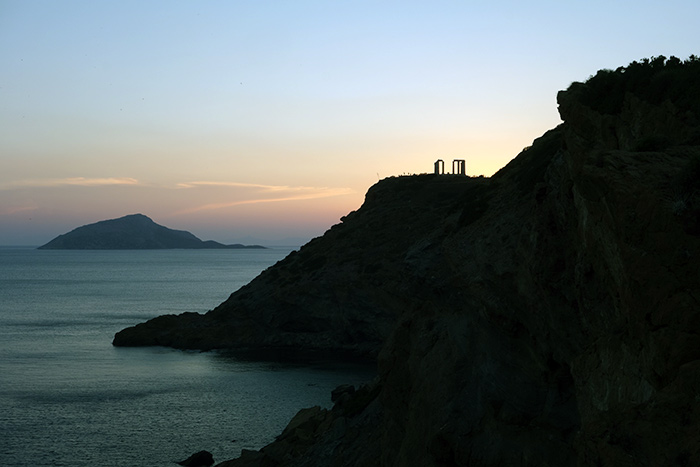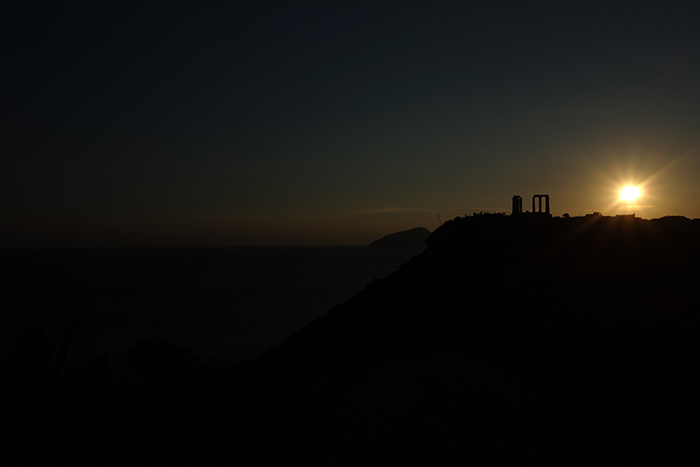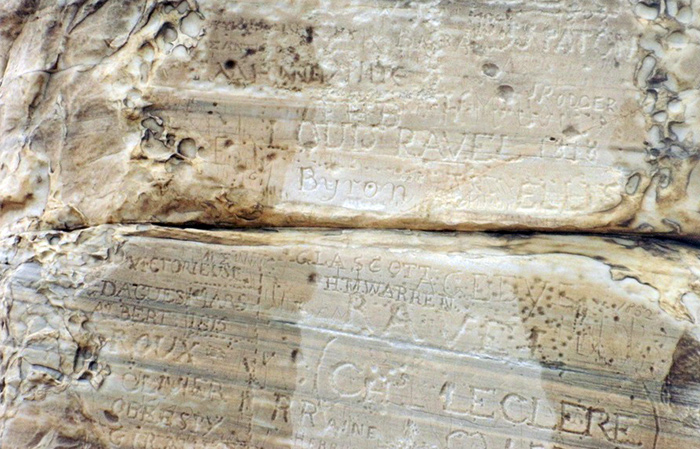 ---
11:27 03.08.2015
Ping Hung Yu, Taiwan. "I worked as a programmer for five years, I made websites. Then i saved some money, quit my job to go on a round the world trip. It's been three months now and it will last for about a year. I started in India, I was in Kenya, Tanzania, Egypt... Taiwan is a small country and we always feel a bit isolated because we are on an island. That's why I went on this trip, to see something except Taiwan."
Laura, Holland. "I live in a squat in Holland, and I wrote on the wall there: This revolution is eternal. That's my motto, but it is very complicated so I wouldn't like explain it right now. I travel alone, hitchhiking, and souvenirs from my travels are tattoos and piercings. In each country I get a tattoo or do another piercing. Here in Athens I just tattooed my motto: Esta revolucion es eterna."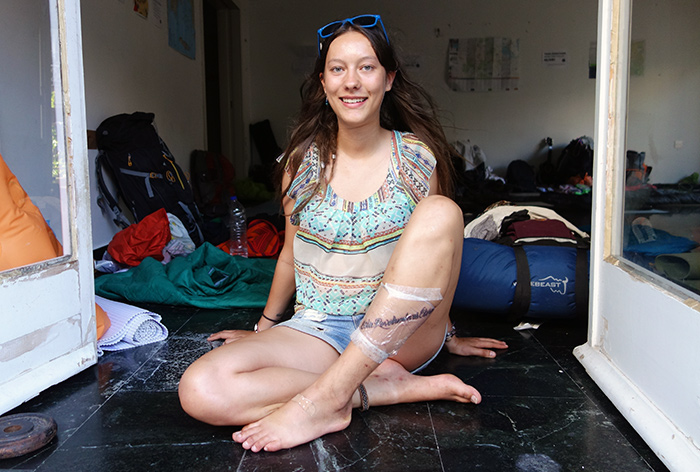 Ivana, Croatia: "I wanted to last year's Travel House in Georgia, but my friend cancelled before the trip. Then I said - I'll come next year! However, this time my friends cancelled too, so I decided to go alone. I travelled slowly: Sarajevo, Skopje, Thessaloniki and now I got here. I study computer forensics. If you want to completely destroy the data on your hard drive, you have to overwrite it at least 30 times with new data. Just deleting isn't gonna do anything, all the data are still here. There are some programmes that do that, overwrite thirty times. The strongest impression in Athens? I saw a man yesterday standing near a car, next to the rear-view mirror, putting a needle into his neck. There were two more addicts behind him waiting for their turn. In broad daylight, in a busy street!"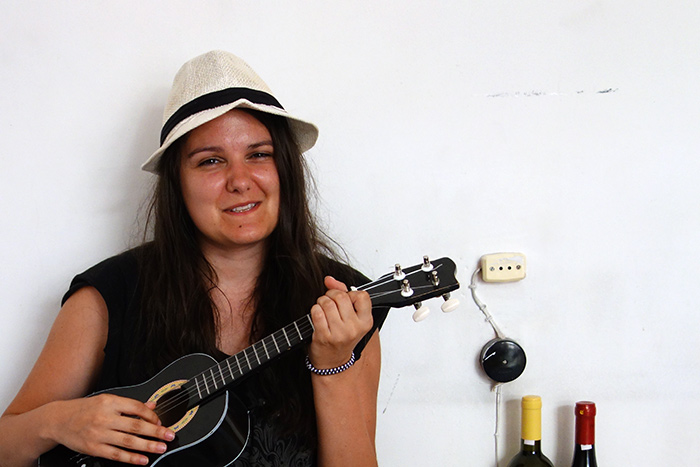 Gianna is an American who spent some time in Turkey, learning an old craft, metalwork, making kettles, dishes, plates and similar. Marius is a Lithuanian who hitchhikes and juggles. "Standing on the road and hitchhiking, you have plenty of time to learn to learn different things. Besides, juggling will often help you to get picked up - because you look harmless, fun and a bit silly."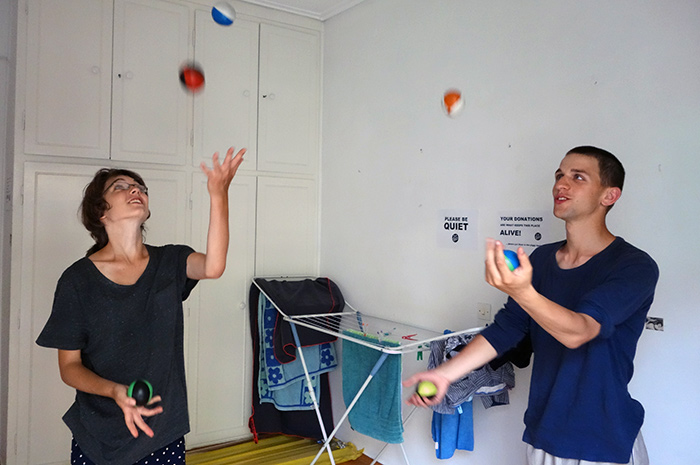 Ka Man Wong, Macau. "Given that I live in Macau, it's not surprising that I work in a casion. That's the main business there, because of the tax. Now I'm travelling through the Balkans: I was in Croatia, Bosnia, Serbia, Macedonia. Romania, Bulgaria... Macau has a passport different from the Chinese one. That's why on every border I have to explain what it is and where I am from, because we are China, but at the same time we're not. We don't need visas for most countries and the Chinese do. That's why they always torture me on the borders, they make me wait or think that I have a fake passport and that Macau doesn't exist. The border of Kosovo was the worst, it was impossible to convince them Macau is not the same as China. In the end I told them: if Macau is China, then Kosovo is Serbia. The policeman immediately stamped my passport and let me pass."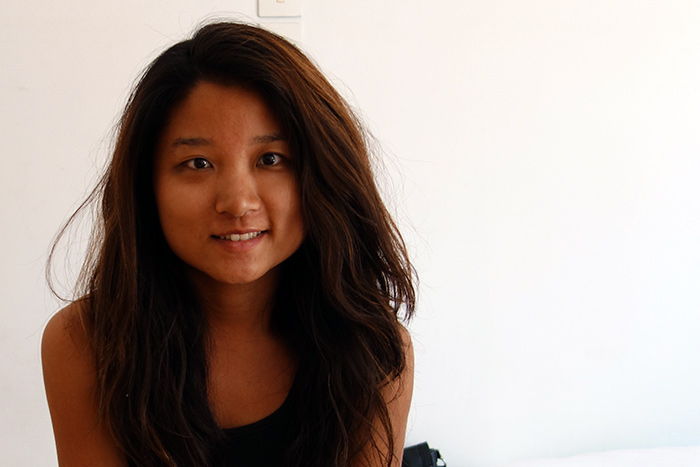 ---
14:22 01.08.2015
Last year in Tbilisi, this year in Athens - Laughter yoga is, say those who practice it, the easiest for me of yoga, the goal of which is not to sculpt your body, but to sculpt your way to happiness and health. Jelena and Dalibor took people from the Travel House to a nearby park, where they showed us this.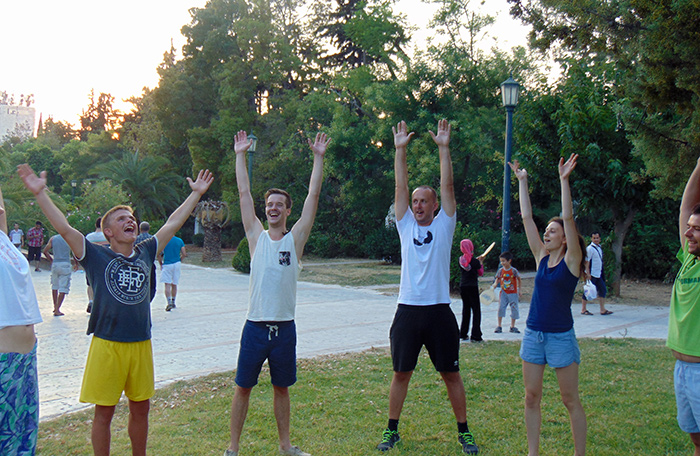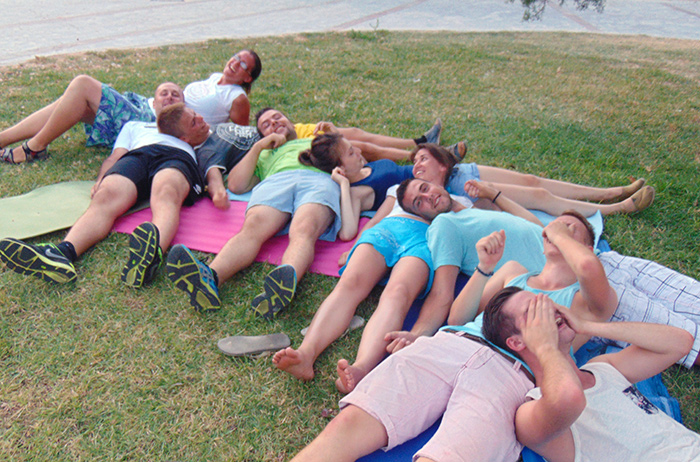 ---
13:54 28.07.2015
Jelena and Dalibor from Novi Sad, Serbia. "For years we've been planning to travel by hitchhiking, but this is the first time we've mustered courage for something like that. I am learning to play the djembe and he is playing the guitar. We are members of the Laughter Yoga Serbia organization, and we will show you tomorrow what that is and what it looks like. We are very pleased to be the thousandth guests of the Travel House!"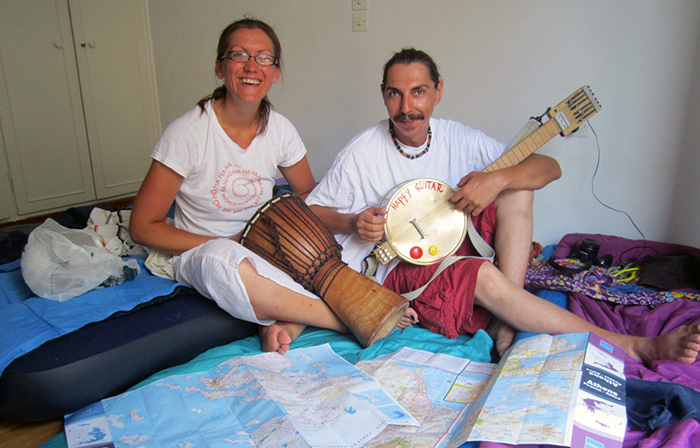 ---
10:08 24.07.2015
Brice, Belgium. "I always wanted to come to Greece, but I could never make up my mind. Then I told to myself: if "no" wins at the referendum, I'm coming! And "no" won so I took a flight and came the very next day. I wanted to see what was going to happen here, how people were going to react. The strongest impression is something I saw a day after "no" became "yes": I went to the main square, in front of the Parliament, to a protest, and I saw an old man, he must have been more than seventy, trying to smash a bank with a baseball bat. He didn't succeed, of course, the bank has tempered glass."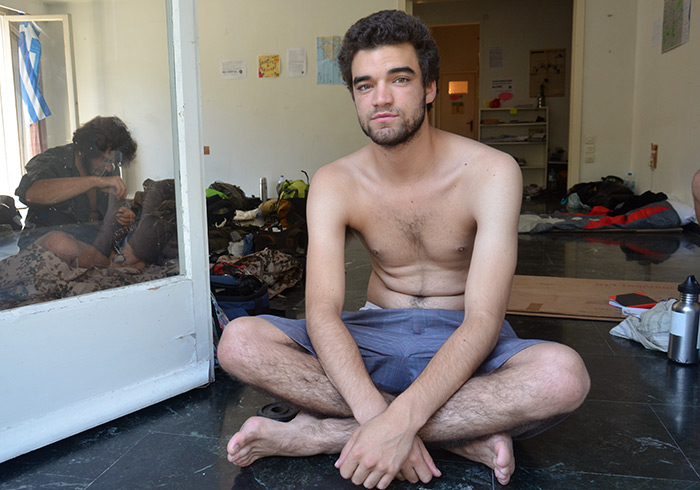 ---
20:14 23.07.2015
One of the guests of the Travel House, who (for obvious reason) wanted to stay anonymous, accidentally dropped his Balkan Flexipass rail pass from the balcony. Which wouldn't be that much of a problem if the ticked didn't fall on top of an orange tree and stayed there. Which, again, wouldn't be that much of a problem if the train wasn't leaving in one hour. The Balkan Flexipass rescue mission was very complex and involved a variety of techniques and technical equipment, but it ended successfully. Take a lesson out of this and know that travels, just like life, are full of danger! We've warned you.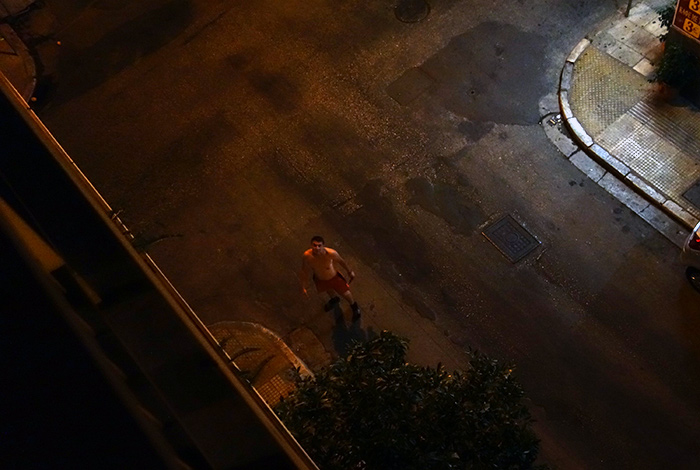 ---
20:25 21.07.2015
Every Tuesday - a new city tour! This time we walked around Plaka, an old part of the city at the foothills of Acropolis. At the moment there are 27 travelers in the House, and so far we had 151 travelers in total.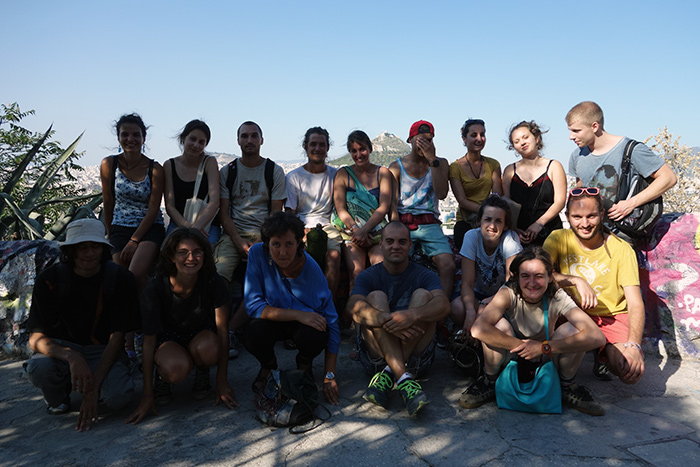 ---
10:37 19.07.2015
Marius and Benas from Lithuania started hitchhiking across Europe. Kevin and Eveliene - as well. These two hitchhiking tandems met at a gas station in Zagreb, Croatia. Word by word, they found out that they were all heading to Athens, and that they were supposed to stay in the Travel House. The Lithuanians traveled across Macedonia, the Dutch traveled across Bulgaria. Last night they met again, here in the Travel House.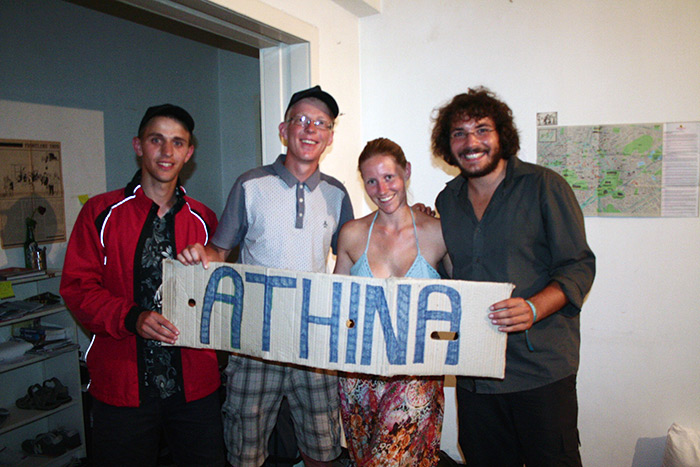 ---
21:25 18.07.2015
Every Saturday we have a common Greek dinner in the Travel House, prepared by our local volunteer Dona with the help of our guests. This time we had braised zucchinis and eggplants with yogurt, and the travelers currently staying here come from Germany, the USA, Syria, Hungary, Serbia, Brazil, Austria, France and the Netherlands.
---
09:53 18.07.2015
Yedda, Taiwan. "I used to be a professional soldier, then everyone started joining the army because of the money, so the atmosphere became awful and I quit. Since then I've visited Japan, Macau and Australia, and then stayed in Turkey for one month. I hitchhiked all by myself through Hungary, Romania, Bulgaria, all the way to Greece. I came to Athens especially for the Travel House. It's so much better than what I'd been told! When I go back to Taiwan I'll try to make something similar."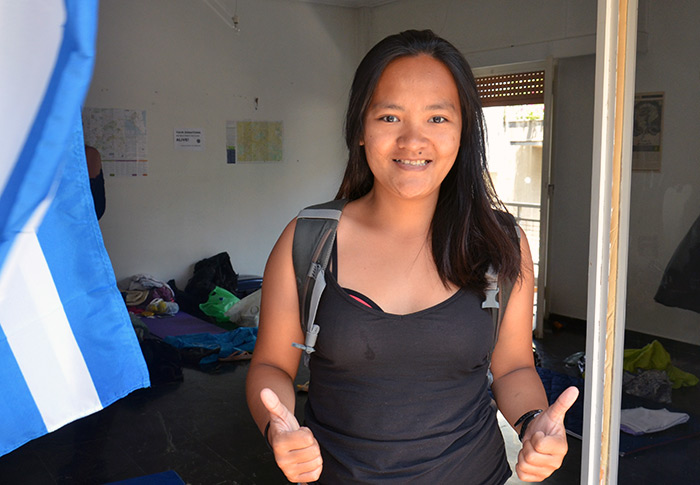 Ljuba and his two sons Mihajlo and Nemanja, Serbia. "I took the kids with me on this journey so they could experience all this, this way of life, because I used to travel like that. I didn't know whether they were gonna like it, I mean this is pretty tough, but so far they've adapted perfectly, everything is interesting to them. I wish it stays like that! Long journey by train, then sleeping on the floor among all these people from all around the world, where so many languages are spoken... I think this is very good for them, I want to try to sow that seed, as you wrote in your book "Bantustan".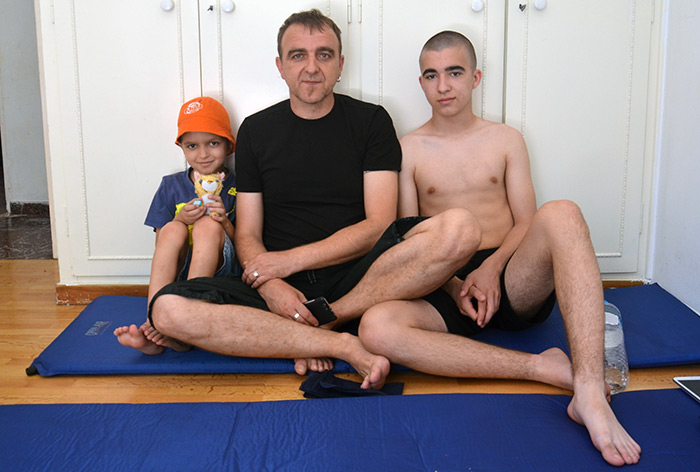 Elaine, USA. "I study geology. I've spent several months in Turkey, on a field practice. We were examining the edge where Eurasian and Anatolian plates meet. That was another world for me! When that ended I came here, to take advantage of being in Europe and visit Greece. This project is fantastic, it is unbelievable how the house is quiet even though is full of people. I was expecting much bigger chaos!"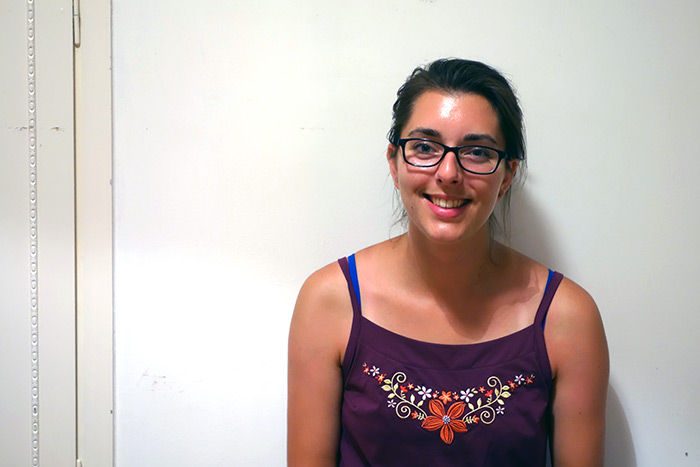 Jovana and Maja, Serbia. "We first met you guys in the Museum of African Art in Belgrade, on the promotion of your book, "Bantustan". We actually came to Hanioti for our vacation, but then we found out about cheap Ryanair tickets, so we bought the ticket and came to the Travel House for two days. Now we are going back to Hanioti to continue our summer vacations." (BAM!!! - the draft slams the door.) "Can you please take another photo?"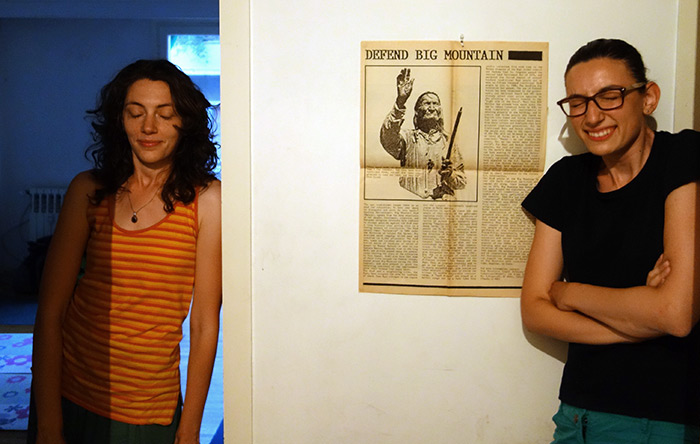 ---
21:35 16.07.2015
Several sights from today's walk around Athens.
1. Philopappou, one of the hills in the city center: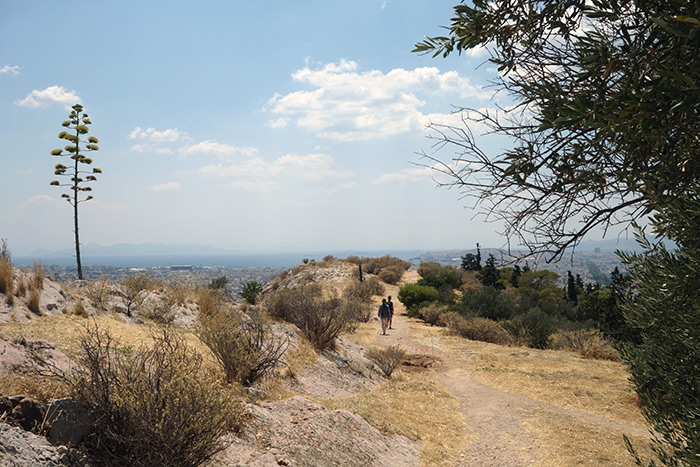 2. Exarcheia: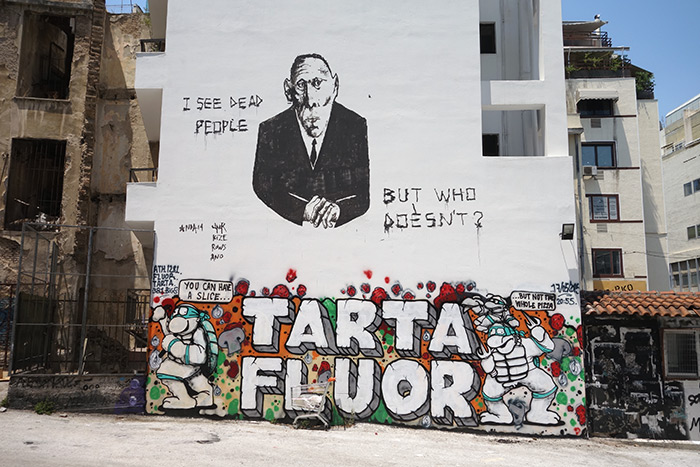 3. Kerameikos, a giant (sexist) graffiti: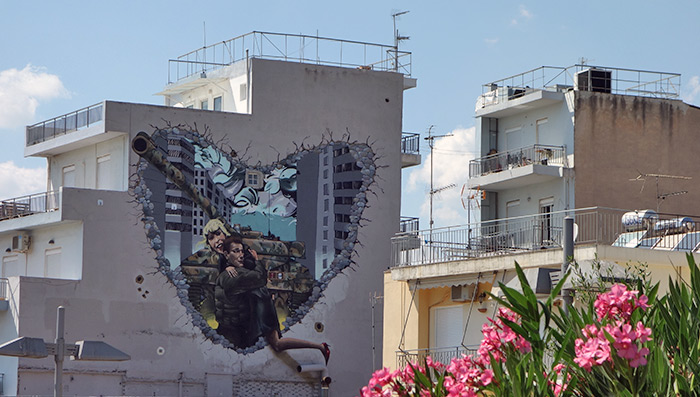 4. Once again, Kerameikos: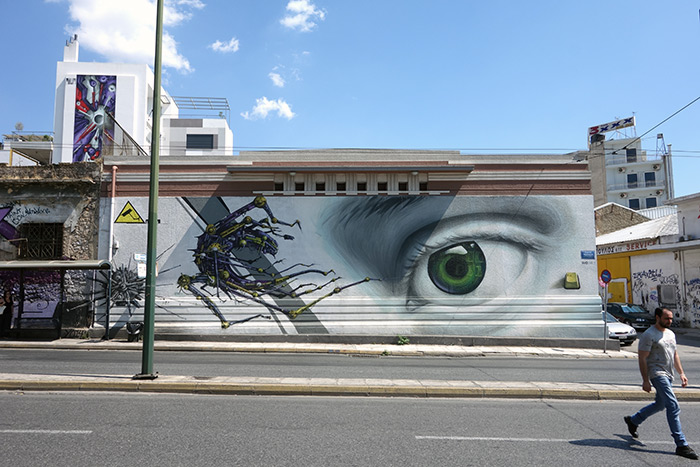 5. Metaxourgeio. OXI, a traffic cone and dog food: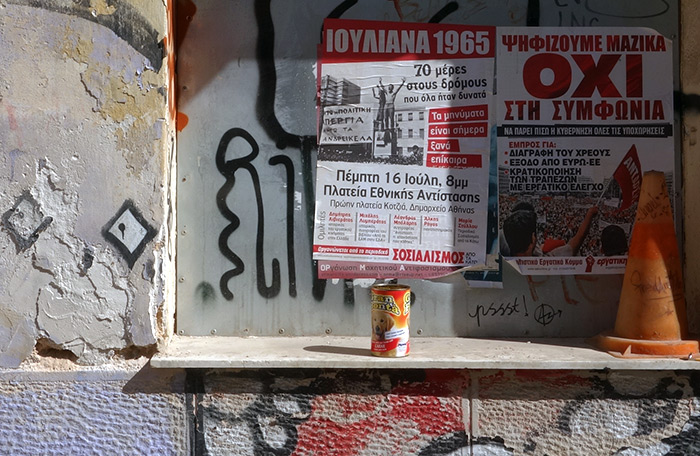 ---
19:30 14.07.2015
Every Tuesday we go for a city walk, on which we visit some new and interesting place. Today we climbed Lycabettus Hill, the highest hill in Athens, at 300 meters above sea level.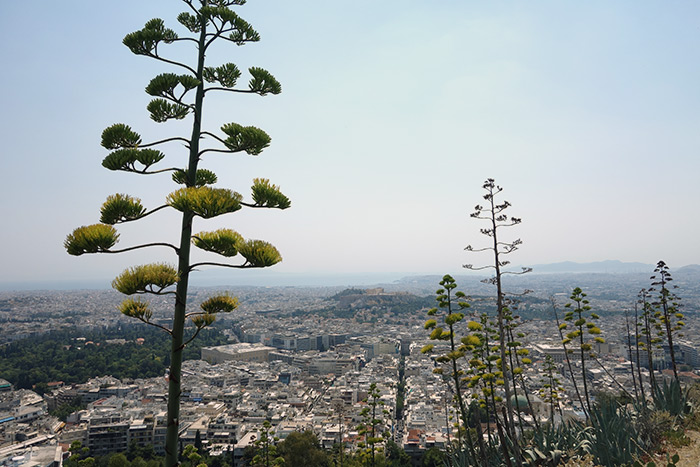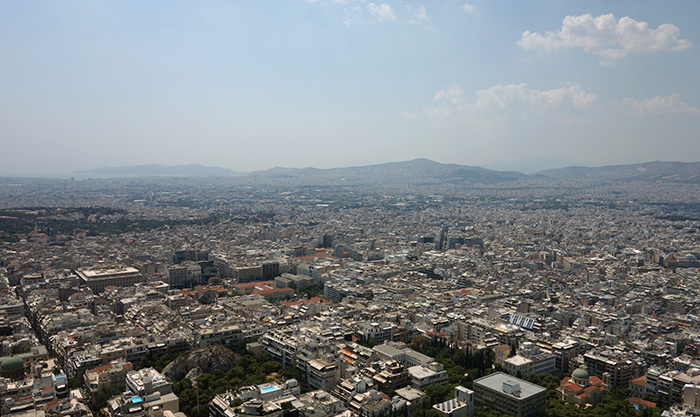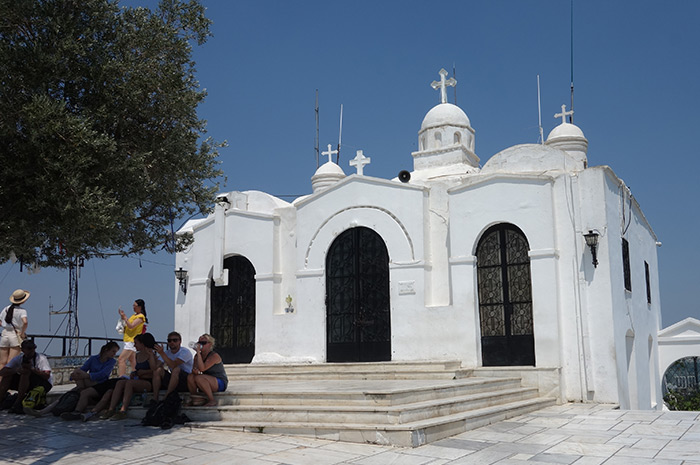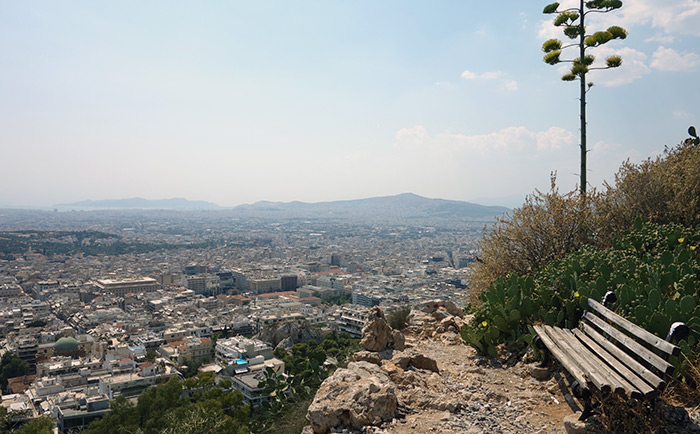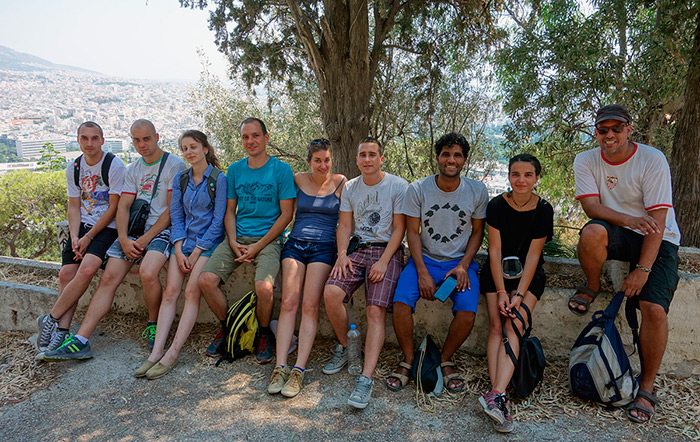 ---
10:11 13.07.2015
Bruno and Fernanda, Brazil. "We came to Europe to see Greece. For this we put aside 20 days. We are fascinated by ancient Greek culture, especially philosophy, and we want to see all the important places where all things were happening, because those places are important for the entire world. There is one more reason for visiting only Greece while we are in Europe. Brazil also has big economic issues, which can easily become even bigger. We want to see what is going on here, what people think about all that and how they are dealing with it."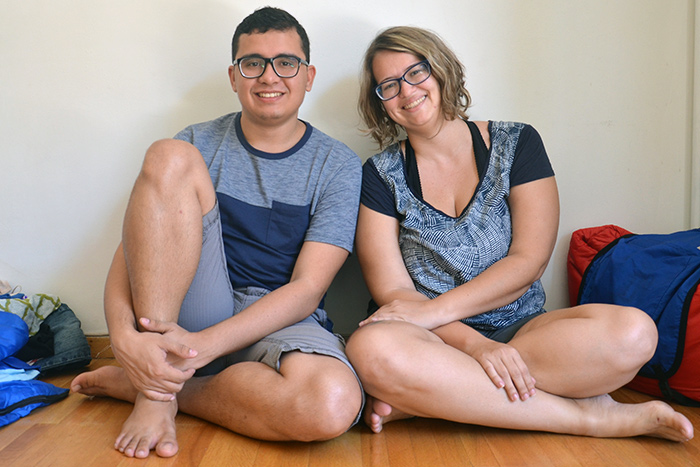 Andrey and his mom, Russia. "When Andryusha was a little boy, I used to take him to trips really often, because I wanted him to meet the world and to start loving it. When he grew up a little bit, he started writing poems - you can read them on his website - and Anton Krotov's father organized an evening of poetry. He told him: "My son is a special man, you have to meet him." That's how Krotov persuaded Andryusha to start hitchhiking even though he has a disability which makes it harder for him to move. He hitchhiked 300 kilometers all by himself! Then he persuaded me to hitchhike with him, I was 45 years old then. Since then, I hitchhike sometimes too. Oh yes, Anton says hi, he told us that you're in Athens."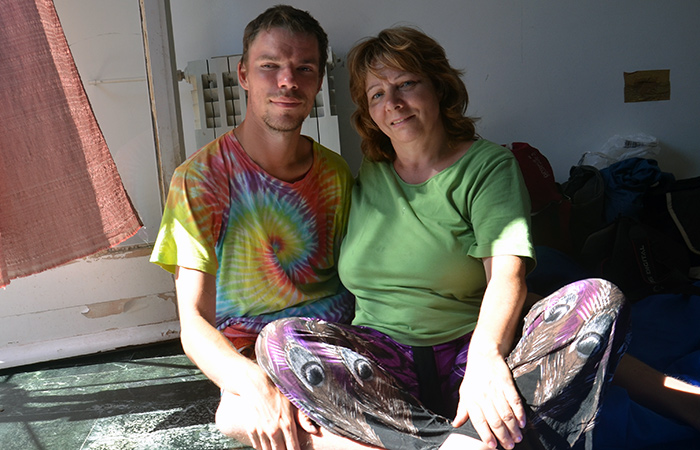 Inesa, Lithuania. "I've been living in Denmark for quite some time, where I teach piano lessons. This is my fourth time in the Travel House. I visited them all! I found out about the House in Istanbul by chance, and stopped by even though I wasn't planning to do it. As soon as I arrived, I started cleaning the floors and that's why I think Marko and Lazar invited me to volunteer in the next Travel House, in Granada. I stayed there for the entire time of the project, which is two months. In Tbilisi I stayed for a couple of days, and now I'm here in Athens, to volunteer again. I like this concept, a big house with a lot of people living here, sharing everything."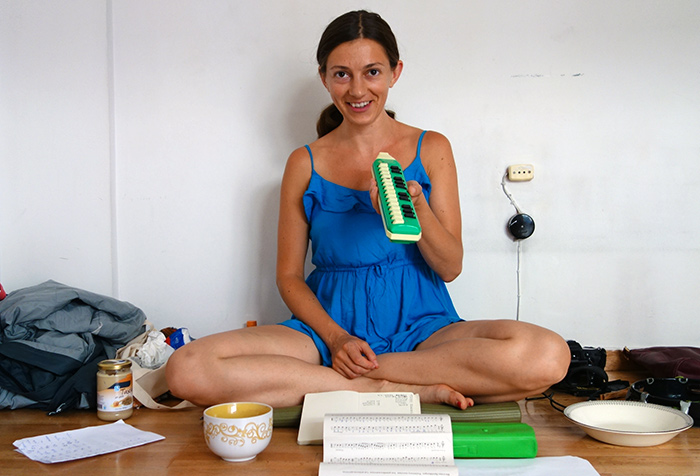 ---
11:45 11.07.2015
Dona is from Athens, a student of art, who contacted us and offered her help with the Travel House. We made a deal to have Greek dinner on weekly basis, during which we will - with her cooking and explaining - get familiar with different dishes from Greek cuisine. On today's menu we had fried feta with Greek salad. Currently, the guests who are staying in the house are from Peru, Russia, Ecuador, Spain, the USA, Venezuela, Scotland, Germany, Taiwan, Serbia, Poland, Israel, Brazil and Canada.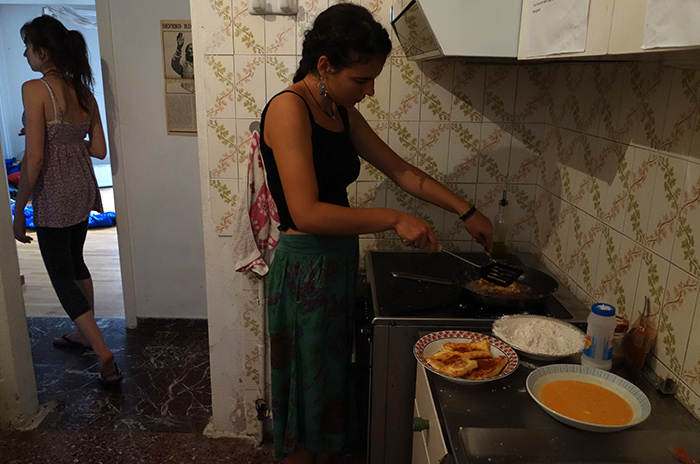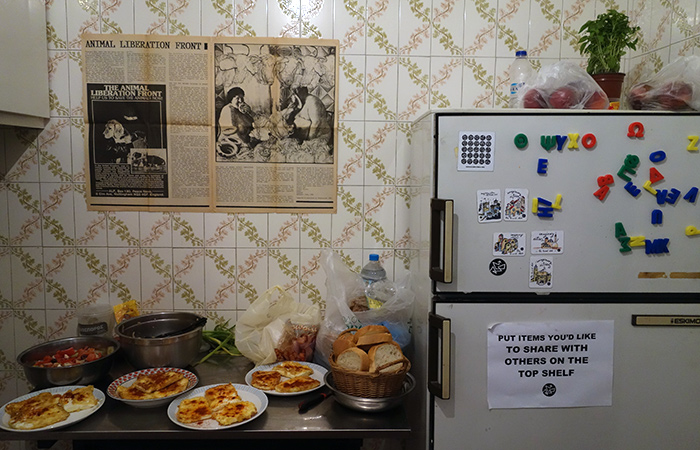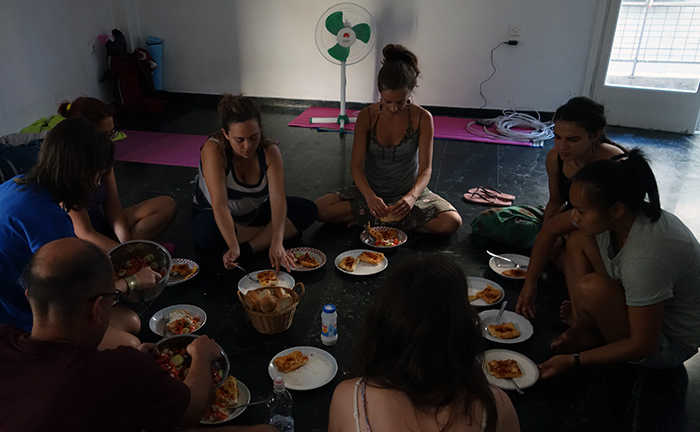 ---
12:45 10.07.2015
Kinan, Syria. "I live in Damascus, but I'm currently studying in Germany. I stopped by the Travel House because I'm waiting for my next flight, from Athens to Beirut. I live right next to the old city, if you know Baab Tuma? My brother and I are running an ice cream shop, it's called Coco Berry. How is it in Syria? Bad, of course. But, you know, even when it's bad you still live, because - what else can you do? Every few days they switch on the electricity, only for a couple of hours, usually there is no water, there's a bombing several times a week, but we still sell ice cream because we have to make a living. People eat ice cream even in a war! Thank you very much for your hospitality, here is my calling card so you can come for an ice cream when all this is over - inshallah!"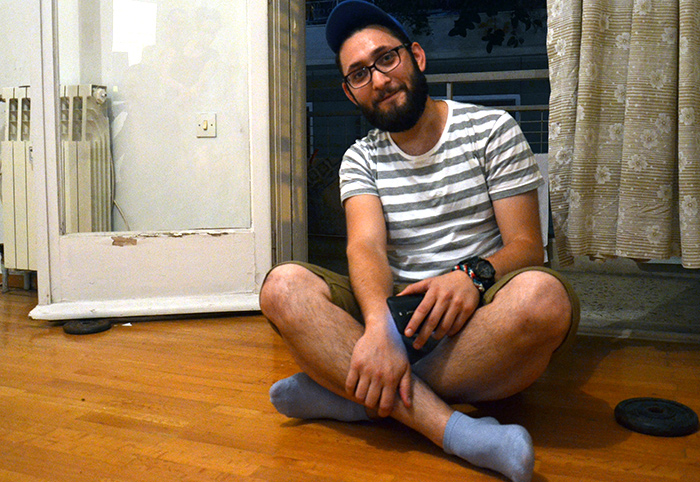 ---
21:20 08.07.2015
Gustavo, Buenos Aires. "I've been traveling for five years already. Sometimes I make a stop and work for a couple of months to earn some money to continue the trip. Why I started the journey? I used to work as a designer, had a long relationship, an 8 to 5 job, I call this a linear life. Then my girlfriend dumped me and I decided to change everything. At the time it was very difficult but now I understand that was probably the best thing that ever happened to me. Plans for the future? No, I have no plans. I'm getting on my bicycle tomorrow and heading to Albania. I know nothing about Albania, but I think it's in that direction... North is that way, right?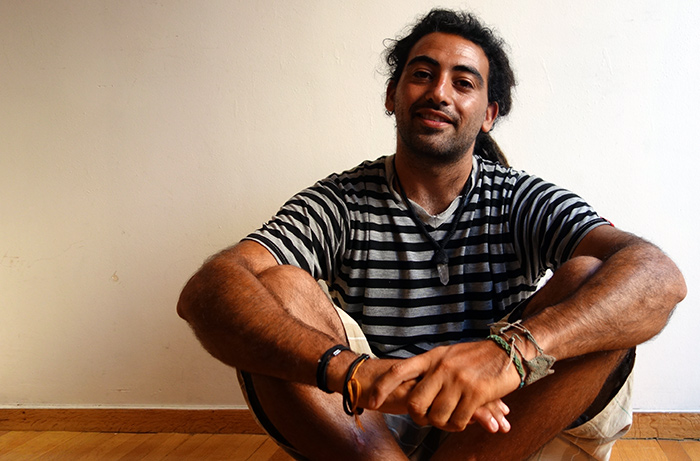 Claire, a blogger from France. "I've been traveling for a year, out of which the first six months I was traveling with my boyfriend, after which we broke up. He wanted to go back home, sit in front of his computer and play video games, and I wanted to travel more, to meet new people. I'm blogging, in French, and that's how I make money. I have no idea for how long I'll be traveling. Probably for a long time."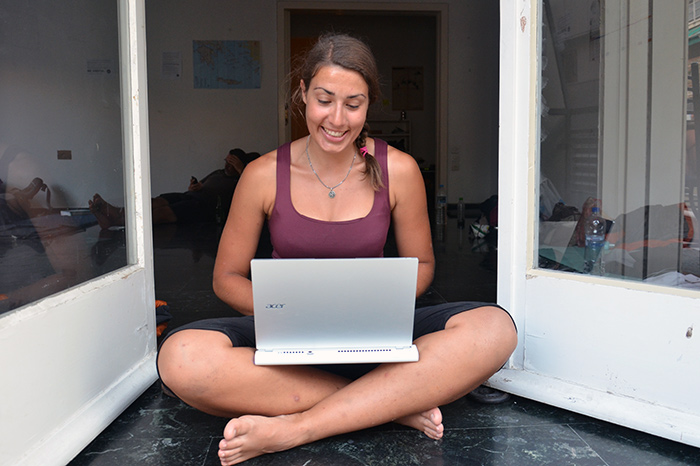 "I'm Jascha, a hitchhiker from Germany. I've been hitchhiking across Europe." "I am Nathan from Finland, I've been traveling by car and I picked Jascha up while he was hitchhiking. We've been traveling together ever since and we've been to six countries together. In every country we buy at least one CD that we listen to in the car. We have a pretty neat collection by now."
---
15:20 06.07.2015
Sel is just packing in order to continue his bike trip from Madrid to Nepal. "I've put aside one year to do this trip. I had an accident on Santorini, while I was sleeping on the beach someone stole my sleeping bag. Which wouldn't be that bad if the sleeping bag didn't cost 400 euros. I have to go through very high mountains in Pakistan, where it is freezing cold, so I had to invest a lot of money in my equipment. I also have my Facebook page where I write about traveling, and this way I want to show that many places can be reached by bicycle."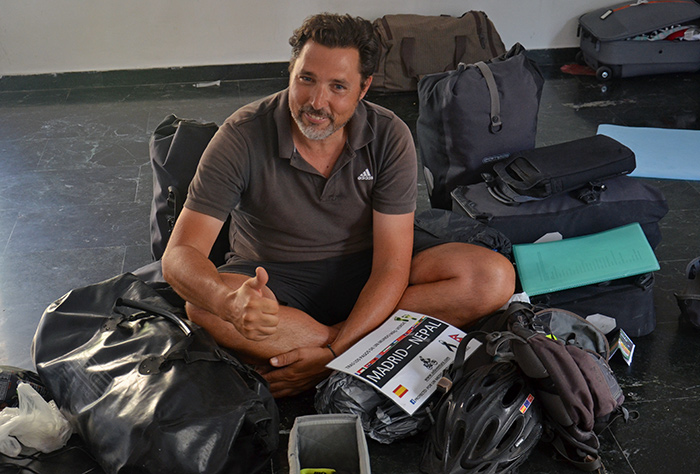 ---
21:30 05.07.2015
Get to know some of the guests who have stayed with us in the Travel House within the first five days. Each one of them has their own story, their reason for traveling and their own approach to travel.
1. Gabriel, a journalist from Uruguay. "I came to Athens to report on the crisis and the referendum. Economy is a really complicated thing and it seems like nobody understands it. To make things worse, I graduated in literature."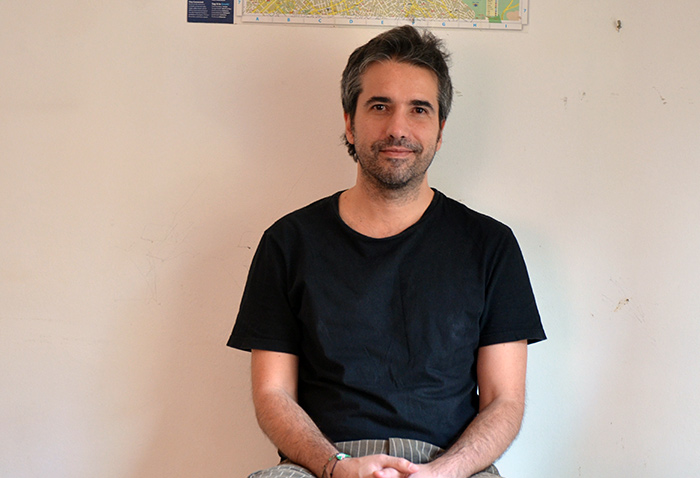 2. Lee, an airport technician from Sweden. "I've been riding a bicycle for three months, and I will continue riding it for four more. When I was in Hungary everybody told me to be very careful once I reach Serbia. But, actually, the most polite people I've met on this trip were in Serbia. And in Turkey."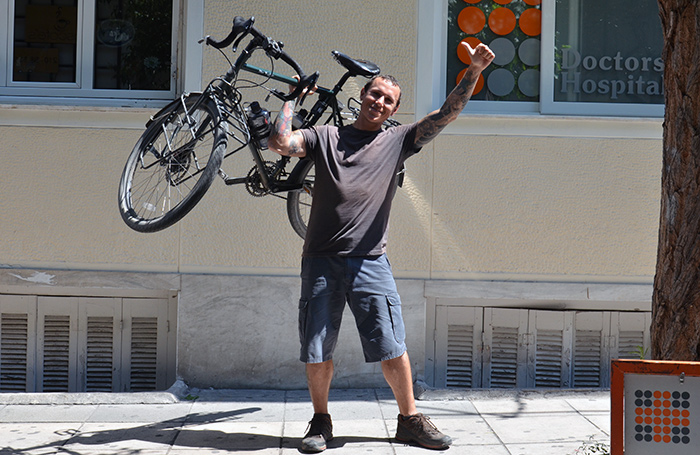 3. Steva, wall painter and musician from Pancevo, Serbia. "I came here to play in the street, and that's how I support myself. It's not like I cannot make any money at home, it's more like the atmosphere is horrible. Everybody's nervous and downhearted, everybody's telling you that whatever you come up with is impossible."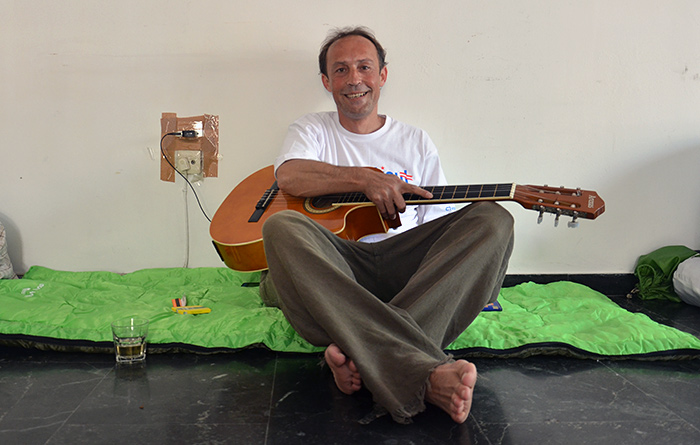 4. Tyler, a student from the USA. "This is my college scarf that I always carry with myself. So far we've been together in 72 countries."
---
14:25 03.07.2015
"We had a horrible day as our host for tonight and tomorrow canceled after we got off the train in Athens and had to spend too much on a hotel as all hostels were booked. On our way to the hotel we took the Green Line which was ridiculously packed since they are free and I was pickpocketed while carrying all my stuff. I lost €300 cash and my ATM card as well as both our passports. We have to go to the US Embassy in the morning and trying to get money wired via Western Union in the morning. Anyways, we desperately need a place to stay."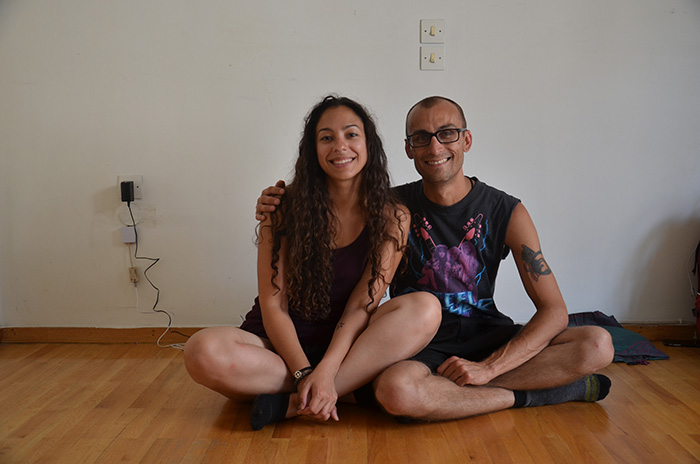 ---
09:32 02.07.2015
We've set another small record :) The oldest visitor in the history of the Travel House arrived last night. Richard Nadeau lives in Saint Petersburg, Florida. He's 66, sleeps on the floor and travels alone.
---
21:20 01.07.2015
We've got the cooking stove, too...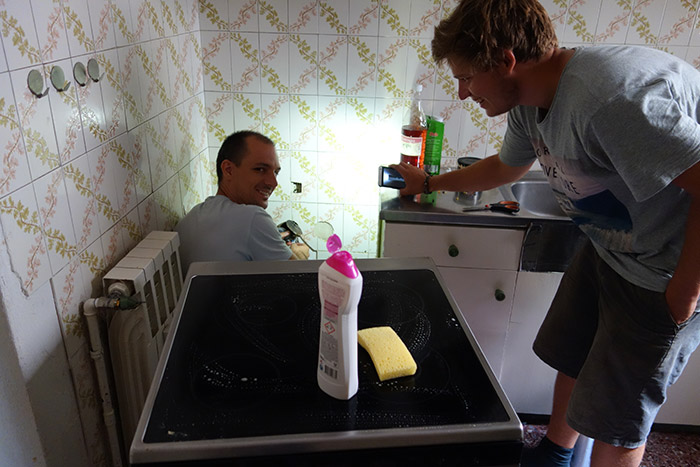 ---
15:49 01.07.2015
Guests have started arriving!
The first one to ring the door bell is Nathan Pesle from France. Still waiting for other 13 to come!
---
12:40 01.07.2015
We've got the electricity!
---
11:30 30.06.2015
We've found the apartment!
The Travel House in Athens opens in less than 24 hours. And all travelers are welcome! Check out more details about this year's appartment.
---
19:45 29.06.2015
One of the graffitis which reflect the current situation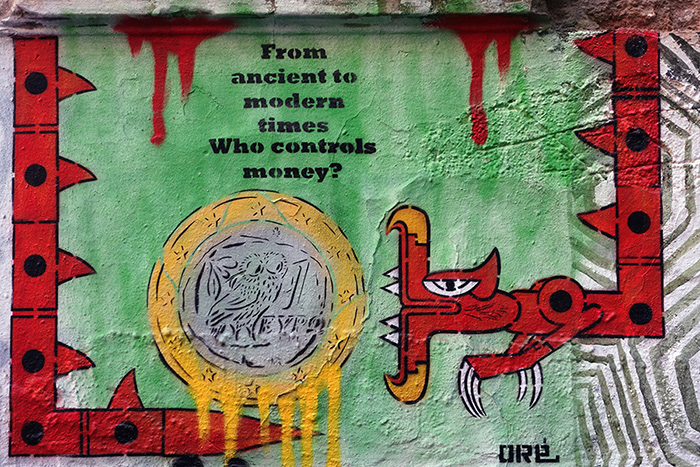 ---
15:54 28.06.2015
Buying stuff for the Travel House at a flea market in Athens. Back the project and help us spread the philosophy of sharing & caring! Only 6 days left!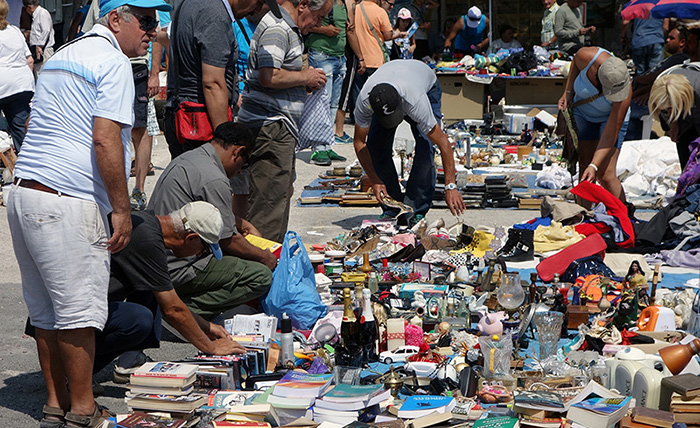 ---
10:00 27.06.2015
Yesterday on the streets of Athens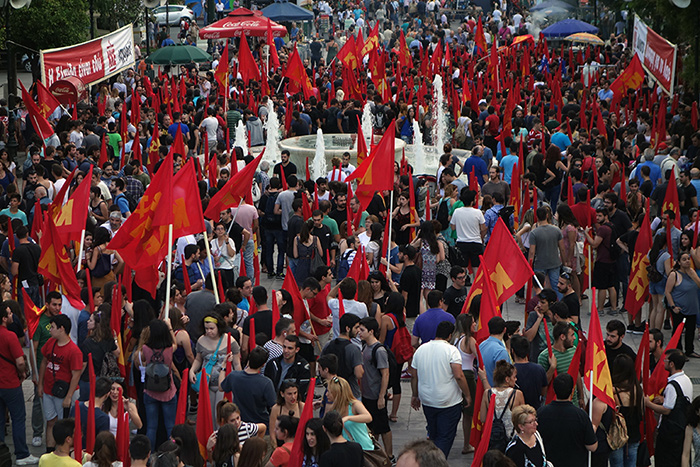 ---
11:09 26.06.2015
We are continuing with the flat search. Have you already booked your place in the house?
---
11:20 25.06.2015
Street artist Sonke has been making grafiti in the streets of Athens since 1995
I am influenced by Athens, the cityscape and the people of Athens. That's the reason for having sadness behind my works: maybe most of the people here are sad (beneath their smiley faces on Saturday nights)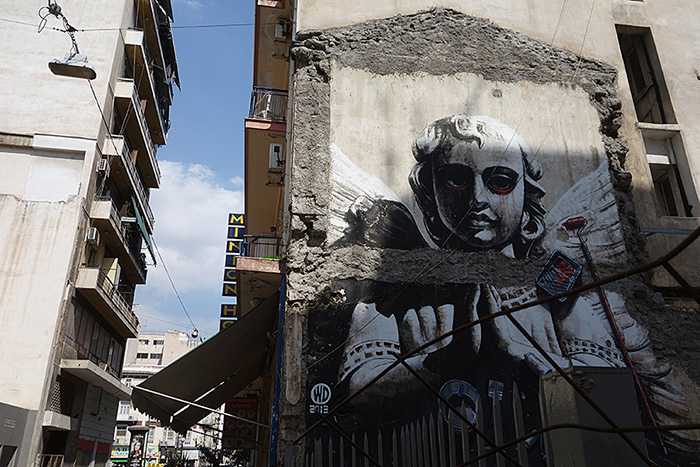 ---
12:13 24.06.2015
In just two days we have received two generous donations of 100$ and 110$, thank you!
---
10:13 24.06.2015
Take a breath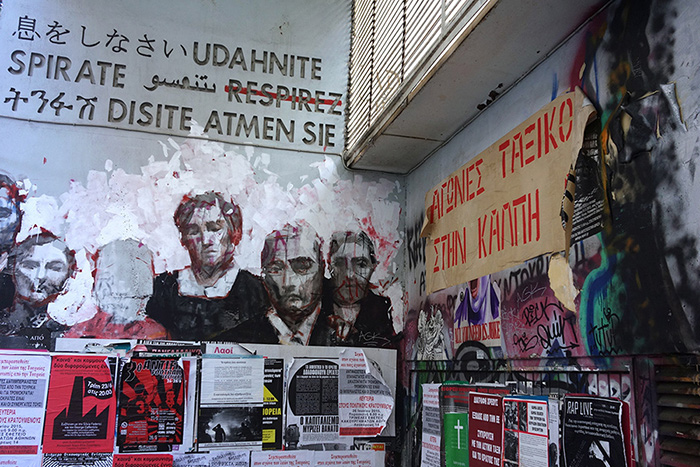 ---
12:34 23.06.2015
From the streets of Athens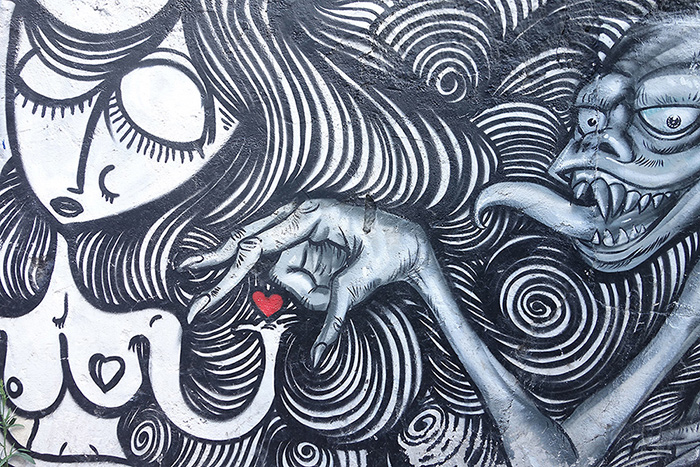 ---
09:32 23.06.2015
This week we started looking for an apartment. Read here about the day 1 of our search
---
14:07 21.06.2015
The appartment seach in Athens officially starts!