The first day of the apartment search was, like every year, exhausting and not very encouraging, full of phone calls, walking and getting lost in the city. There is one positive thing about this task: by searching for the Travel House apartment, you have an opportunity to see many faces of the city, the faces you wouldn't even think they existed, and at the same time snooping around many bizarre cribs.
Our favourite neighbourhood is Exarcheia, the part known for being the anarchist base point. It manifests at the first sight, through countless political/ideological graffiti and posters, and plenty of squats. They say the anarcho-tourism has been trending in the past few years; touring Exarcheia accentuating the main anarchist points. All this is, of course, very unusual, but this part of the city is considered to be the most safe, and certainly the most pleasant part of Athens. Many pedestrian streets, parks, cheap restaurants and positive vibes in general.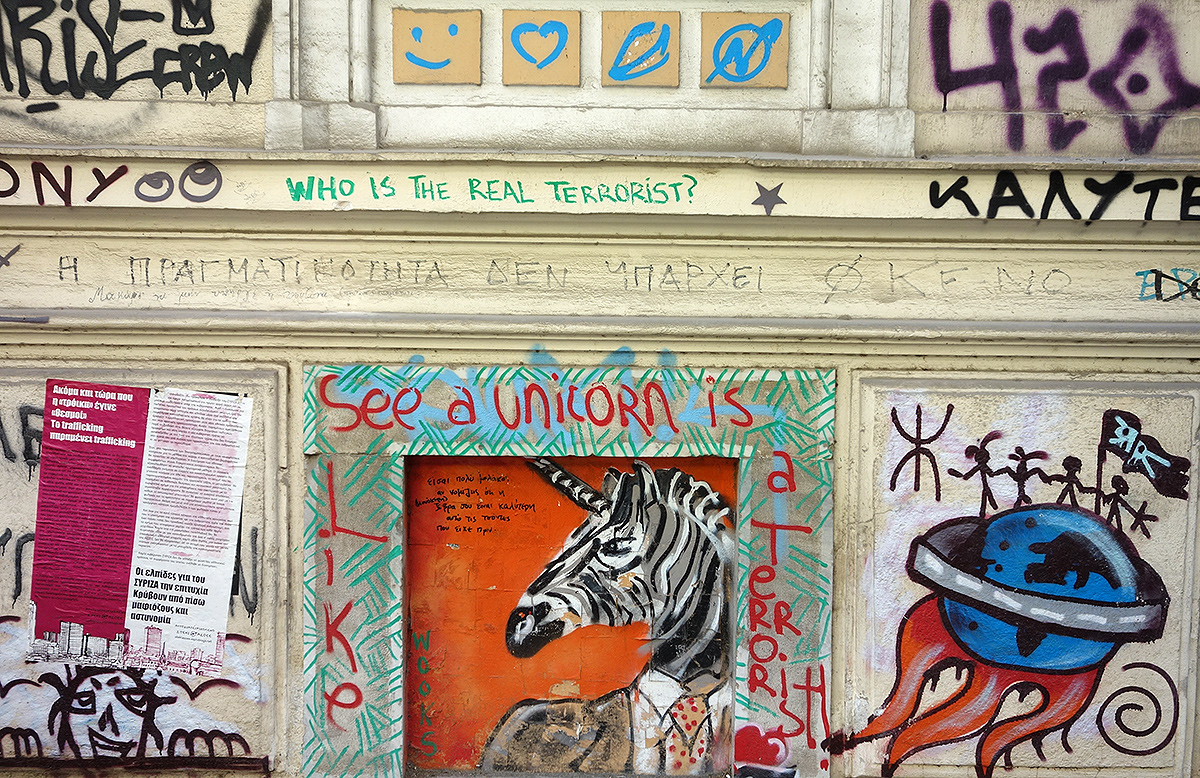 Who's the real terrorist?
The apartments in Exarcheia bigger than 100 m2 cost between €400 and €650, but the owners usually don't want to even talk about renting for only two months. If someone accepts, they give up after hearing there'll be a bigger number of people in the apartment. Having in mind the last year's negative experience in Tbilisi, we want the owner to be prepared as much as possible for the circulation of travellers. Exarcheia is very popular for living, so the owners don't feel any rush and can turn down all the potential tenants they don't like at a glance, because they know that sooner or later, they'll rent out the apartment.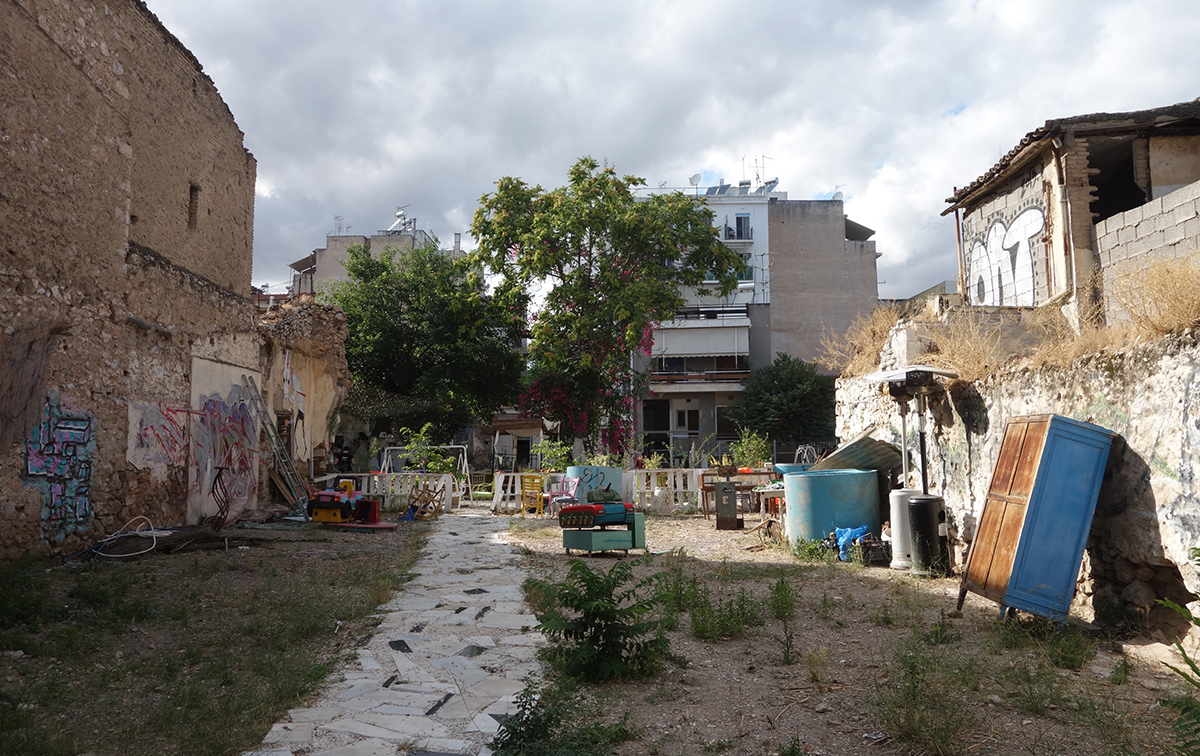 A yard with a small tank and some other stuff
Cruising the streets looking for the ads glued to the building walls, we noticed something unusual, and our local helpers have confirmed: studio apartments here are sold for €7.500 - €10.000. The crisis, they say. Here's an ad for a 29 m2 studio, selling at €7.500.


Buy it while you still can!
Omonia is one of the main squares in the city centre of Athens, but also the name of the city part around that square. These neighbourhoods aren't exactly pretty – mainly ugly new buildings – and they don't have a good reputation either. Quite often you can see drug addicts in different states of consciousness, walking around and not having any idea where they are, and seeing people taking drugs in the plain sight isn't very rare. They don't look aggressive, more like people that life didn't treat very well. The apartments in Omonia are much cheaper and the owners are open even for a short-term rent, because the people aren't really eager to live there. The prices are between €300 and €450 per month. Even though it's the city centre, we would like to avoid it if possible.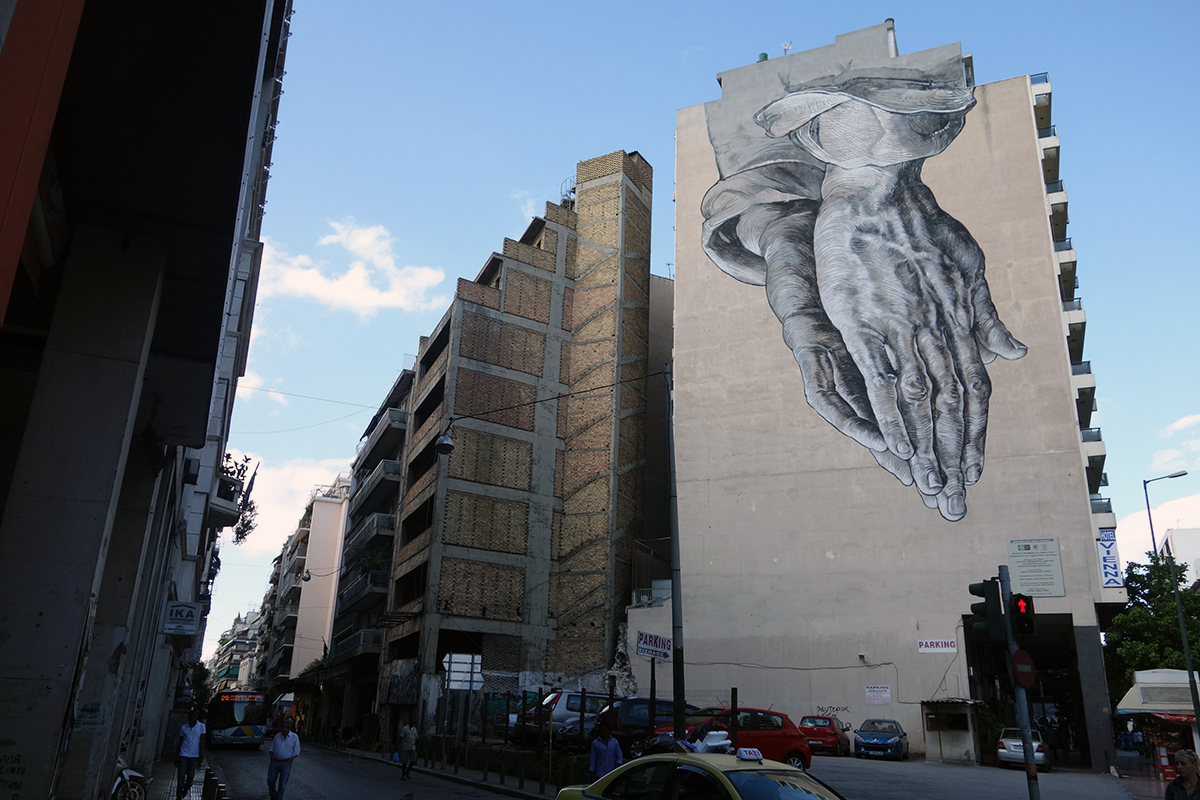 Reversed Albrecht Durer near Omonia
We also checked out two apartments in the area between Omonia and Monastiraki, which is geographically situated in Athens and culturally in Bangladesh. The streets are full of dark skinned people, you can't hear any Greek, people sit in front of shops and shout, sell, deep fry meat and just make noise in general. It's interesting how much the city changes in a relatively small space. One neighbourhood is African only, the next is Bangladeshi, and just around the corner there are none to be seen, but you can't make a step without seeing drug addicts and prostitutes, then comes the neighbourhood of ruined one-story houses with mostly Roma people, and just a few blocks away there is the anarchist part of the city full of revolutionary messages where you can see mostly young people, often with tattoos and piercings, walking small dogs and rolling tobacco. In one part of the city, bearded people in torn jackets are searching through the garbage bins looking for a piece of bread, in another girls with dreadlocks and nose piercings are looking for something to match their clothes. We haven't gone to the wealthier parts of the city, since we have nothing to look for there.

The view on the roofs of Bangladesh
All in all, even though the search is as exhausting and hopeless as each year, Athens seems like a much more interesting and diverse city than we expected. The most of the visits to this city – excursions, tourist visits or even those of independent travellers – are reduced to the surroundings of Acropolis (Plaka, Monastiraki etc.) which are full of tourists, café bars and pedestrian zones, and rare are the ones who get the opportunity to meet other faces, cultures and languages of this very populated Babylon. And exactly those faces are the most interesting thing Athens has to offer, and which call for discovering, exploring and thinking.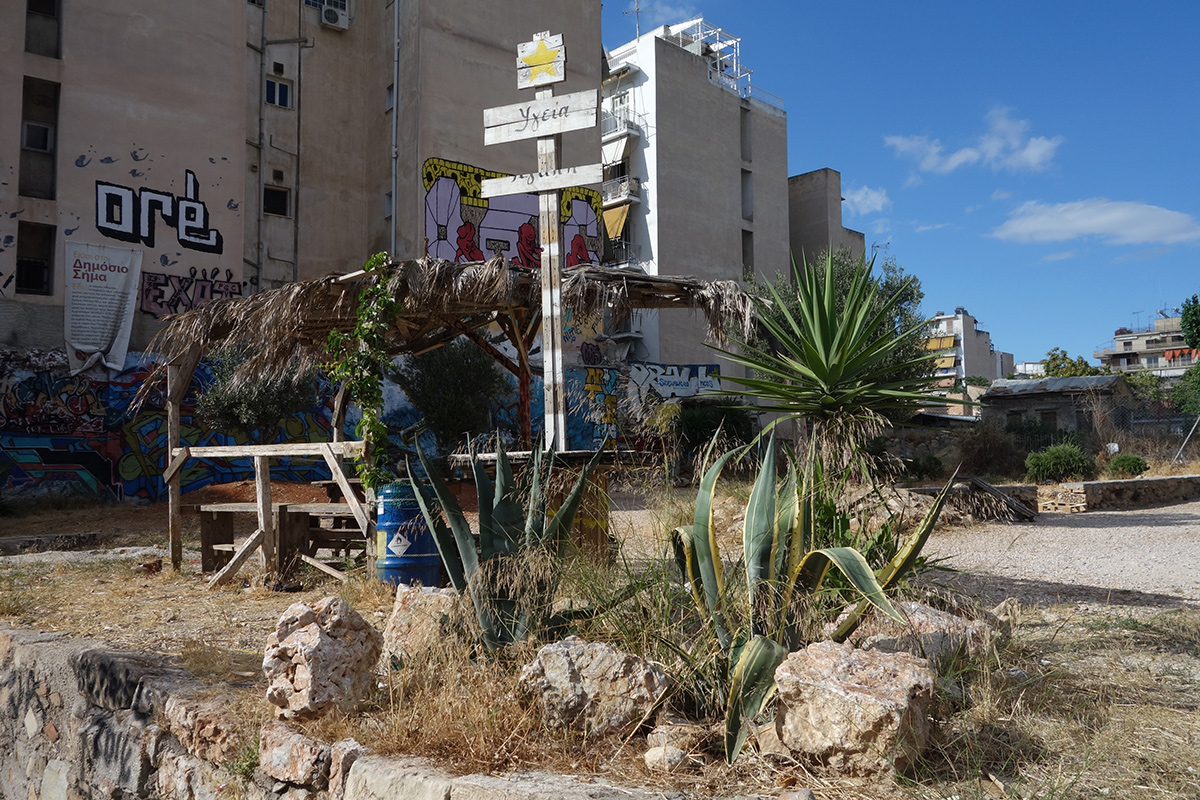 A park, desert-style
We continue our search. Wish us luck.