After Istanbul, Granada and Tbilisi, our Travel House is moving to Athens, the capital of Greece. All travelers can stay there for free, between July 1 and September 1 2015. The Travel House is a place for travelers to sleep, eat, get to know each other, connect, share stories, experiences and skills. It's a small step towards building a global culture of independent, exploratory and creative travels, but above all a step towards building a culture of solidarity and understanding of our planet.
Over the past three years, 784 travelers coming from more than 60 countries were hosted in our Travel Houses. The youngest was only 10 months old, the oldest 64 years. People traveled, explored, talked, cooked, played music, wrote and read, new friendships were forged and old were rekindled.
Support our Indiegogo campaign or donate now via Paypal:
Why Athens?
The capital of Greece is a metropolis of almost 4 million people, and the unofficial number is even bigger. Athens is a large city where plenty of different nationalities, cultures and subcultures are present and different languages are spoken. It has a long and rich past, as well as an interesting present, and it keeps changing at tremendous speed. This city offers a myriad of possibilities for wandering and familiarizing, for discovering, exploring and thinking.
Furthermore, southern Greece is a very good base for those who want to travel to Peloponnese, Crete, south of Italy (ferry from Patras to Brindisi), but you can also hop to Albania, Turkey, or to some of the Greek islands, which are a world in itself, more diverse than you can imagine.
If you have never been there before, it's high time to go now. If, by any chance, you have already visited Acropolis, Plaka and the Temple of Zeus on a brief tourist visit, now is the time to delve into other, hidden and more complex sides of the city. Also, in case the first image that pops up in your mind when you hear the words "Greek island" is an expensive, touristy and overcrowded place, you should know that Greece has 227 inhabited islands. Many of them are off the beaten path and on some of them free camping is allowed on beaches.
Staying in the Travel House
The limit for staying in the House is 4 nights. You will need to fill in an application form beforehand.
If there is room at the time you might be able to stay more, provided that you're willing to offer some serious help with the housework.
How to reach Athens?
There are several options. Here are some of our suggestions:
1. Balkan Flexipass, a one-month rail pass valid for Serbia, Bosnia & Herzegovina, Montenegro, Macedonia, Romania, Bulgaria, Turkey and Greece. If you're younger than 26 it costs 53 euros and, if you're older, 88. With this ticket you can go from Belgrade to Thessaloniki (a night train). From Thessaloniki it's easy to reach Athens by train or bus.
2. Hitchhiking.
3. Flying. Check out offers by Wizzair, Ryanair and Aegean airlines.
Donations
In the past three years, money for all the Travel Houses was collected through donations on our website and in the House, and all the costs were shown in detail in the final reports (2012, 2013, 2014). This year, our goal is to collect 2,000 euros, the amount necessary for the rent, water, power, gas and Internet for two months, as well as for some basic food and hygiene supplies which will be available to all visitors during these two months. Besides that, there are always some unpredictable costs; in Granada, for example, we had to paint the walls (soiled after months of use) before leaving, which added an unplanned 400 euros to the expenses.
The money is collected through the Indiegogo website, as well as on this one. We've decided to use Indiegogo in order to reach more international backers.
Donation is not required for staying in the House; it will be open to anyone able to comply with some simple rules of conduct. It doesn't matter whether you have the money to donate, just as it doesn't matter whether you'll be using the House or not. What's important is that we all do something together and help the independent travel community.
Not each man/woman for himself/herself, but travelers for travelers.
All backers will receive a symbolic gift:
1. 5 - 10 €: A thank you on our website + desktop cover
2. 11 - 20 €: Badge with our logo and travel sticker
3. 21 - 30 €: All that + backpack patch
4. 31 - 50 €: All that + fridge magnet
5. 51 - 80 €: All that + another fridge magnet and travel sticker
6. 81 - 100 €: All that + A3 travel poster
7. 101 - 200 €: All that + Travel House T-shirt
8. 201 - 500 €: All that + Travel Club T-shirt
If you live outside Serbia, Croatia or Bosnia and Herzegovina and you want your gift, please add 3 euros for shipping for donations up to 100 euros. Stickers, posters, badges and magnets are illustrated by our artists. Here are some examples of our new series of travel stickers and fridge magnets, by our artist Marica Kicusic.
When you donate, please send us your address to This email address is being protected from spambots. You need JavaScript enabled to view it. so we could send you your gifts.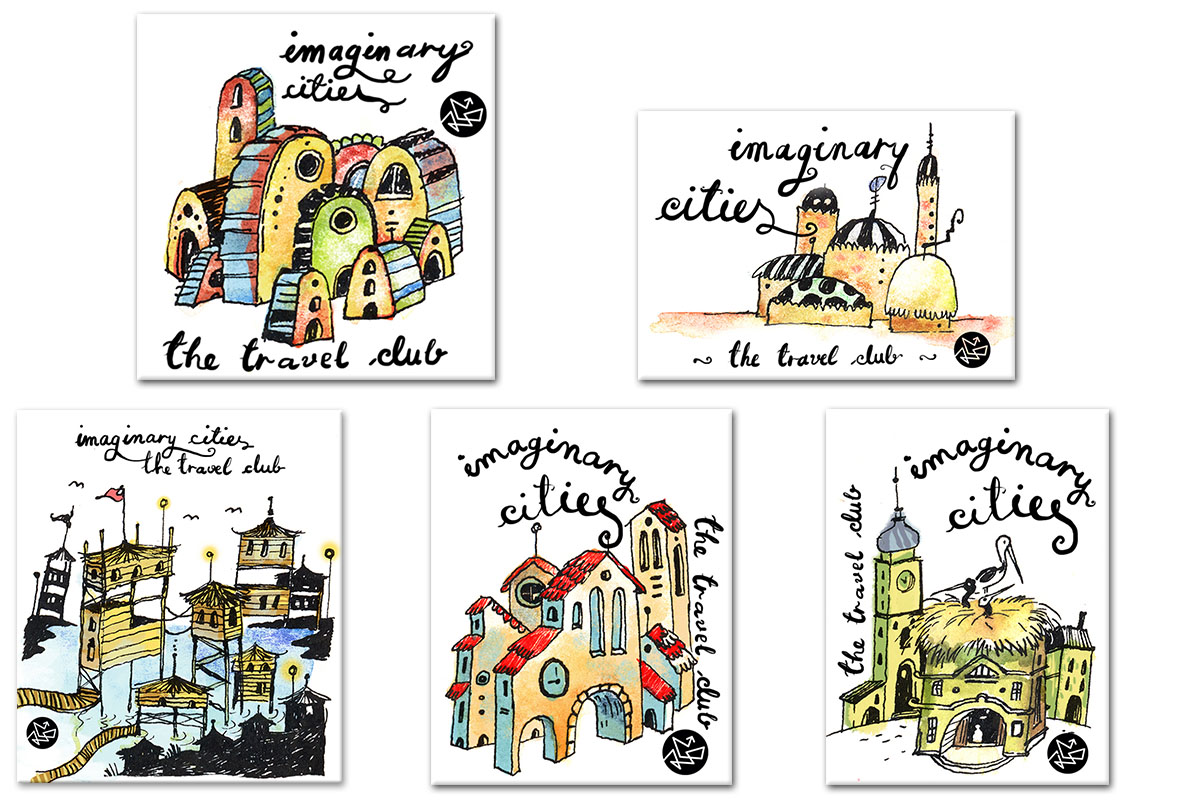 How to donate?
Via Indiegogo: The Travel House 2015 or
Via Paypal:
Your donation does not only help The Travel House in Athens, but does a whole lot more – it helps the dissemination of this idea, making The Travel House a traditional annual project and The Travel Club a sustainable organization. What's more, by doing this we are showing that good ideas don't have to be dependent on governments, mass media and corporations. We can carry them out without them, if we pool our resources and work together.
The registration form for the House is published. Donate and start packing, searching for tickets and unfolding maps.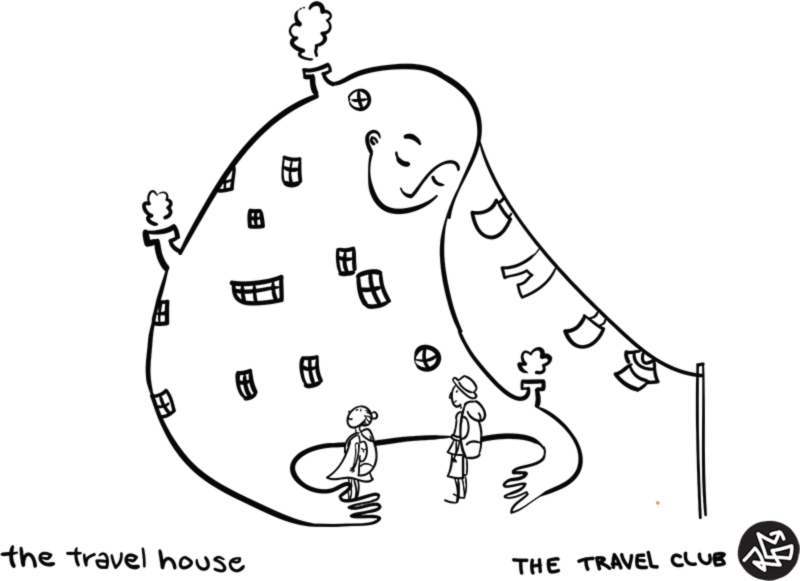 Illustration: Masa Avramovic