A detailed overview of the expenses, visitors statistics, how we chose the location and what we have learned from our mistakes, as well as other info regarding the Granada Travel House in 2013.
Location for the Travel House is not easy to pick; there are a lot of factors to be considered. Is it easily reachable from the Balkans, where most of our community comes from? Is it at an important crossroads? Do either the visitors from the Eastern or the Western bloc need a visa for that particular place? Are the prices acceptable and within our financial capabilities? Is there something interesting to see and do there? When we took all these things into consideration, it turned out that only Istanbul really qualifies, of all the places in the world. But we had already been there last year. In the end, we decided to take a risk and picked Granada, Spain.
And we barely pulled through.
Number of visitors: 219
Number of countries: 40
Duration of the Travel House: 60 days
The youngest visitor: 14 months
The oldest visitor: 46 years
Here's an overview of the number of visitors by country of origin: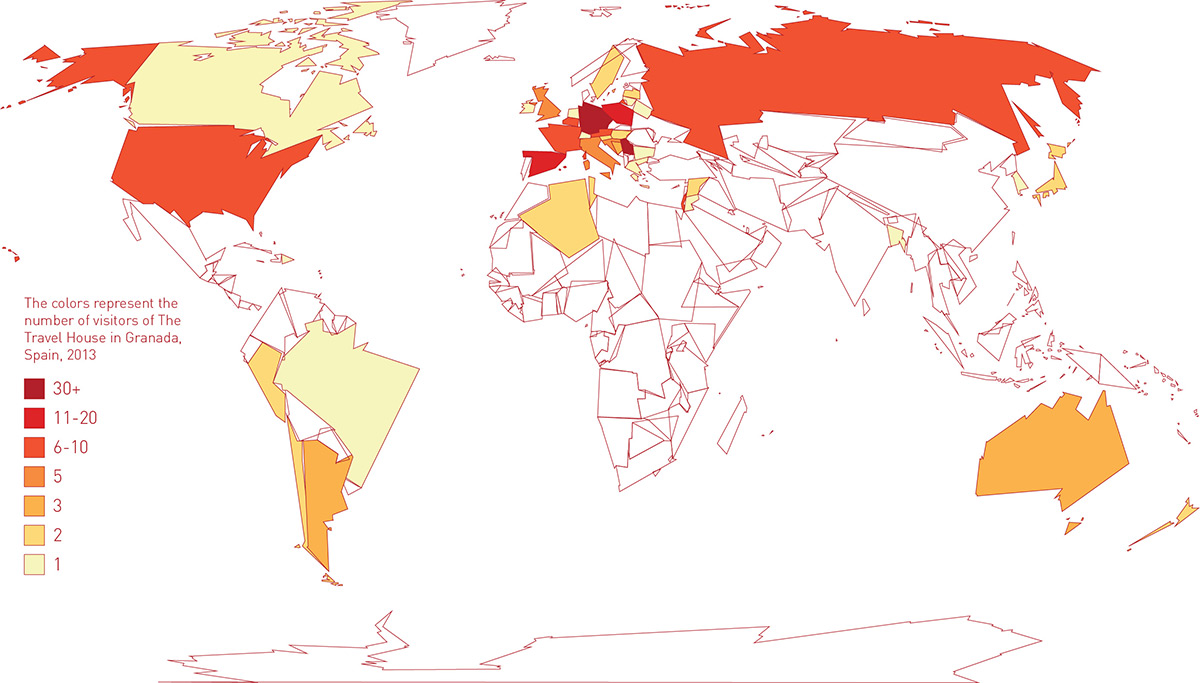 FINANCES:
Collected: 2,150 euros
Spent: 2,230 euros
Roughly half of the 2.150 euros was collected through this website, while the other half came from a donation box in the House itself. Here's a detailed overview of expenses, with links to bills included.
Rent: 2 x 550 = 1,100
Power bill for August: 79.84
Water bill for August: 67.51
Power bill for September: 163.06
Water bill for September: 156.15
Internet installation: 50
Internet bill for two months: 85
Painting the apartment: 400
Communal expenses: oil, salt, flour, shampoo, soup, toilet paper, detergent, mops, phone bills etc: 127.4 euros
________________
Total of: 2,228.86 euros
We have had far more visitors in September than in August, so we've managed to hit red tariff zones for electric power and water. In September we spent 861 KW of electricity priced at 0.1389 euro per KW, plus 21% tax and other electricity related costs (por potencia: 6.67 euro; alquiler equipos: 2.02 euro; impuesto de electricidad: 6.64 etc). Also in September, we spent 56.35 cubic metres of water priced at 1.266 euros per cubic metre. Our landlady said she had never seen such a thing in her life. Neither have we.
Walls were black from sweaty palms, every once in a while somebody would hit the wall with their backpack etc, so we had to pay for the painting of the apartment. Judging by the standard prices in Spain, found on the Internet, 400 euros for painting was not a bad deal. Landlady didn't allow us to paint the apartment ourselves.
All in all, financially, we barely pulled through, with a minus of 80 euros.
Previous Travel House in Istanbul yielded an extra 887 euros - find more details in the last year's report. In the meantime, we paid for a complete redesign of our website, and we bought a camera for the Club that we used to film interviews with visitors of this year's Travel House. Camera used in Istanbul last year wasn't that good, so most of the videos from the first Travel House are of poor quality and generaly useless.
WHAT WE HAVE LEARNED
Granada turned out to be a great place for the Travel House. Alhambra alone was enough to bring in a lot of visitors from all over the world, while the south of Spain was a good springboard for travels to Morocco and further into Africa.
We've come to learn that the Travel House, when organized in an expensive country, can cover its costs only when full. If visited by fewer people, donations will naturally suffer.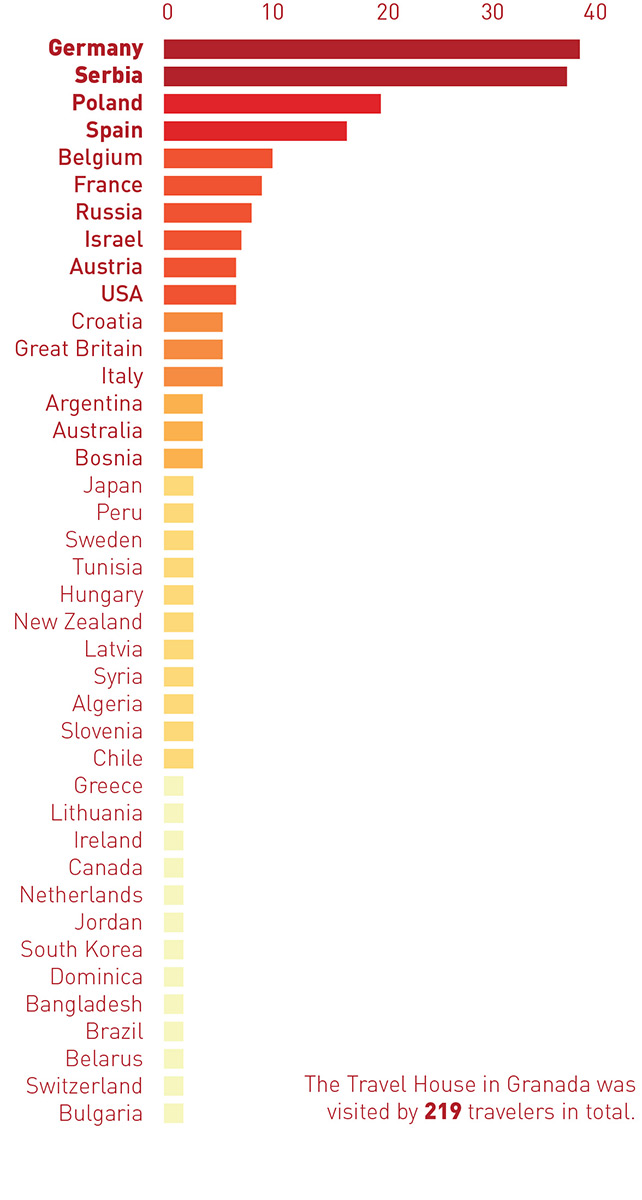 During the first month, August, Travel House was half-empty most of the time, due to a Couchsurfing dysfunction. All of the residential staff had changed their addresses to Granada, but because of an error in the CS system, nobody could actually find us there when looking for hosting. After a tiresome and endless correspondence with CS administrators, in early September that problem was finally solved. Afterwards, the House was full, which was reflected by our power and water bills. In other words, we've learned that the project wouldn't be successful without Couchsurfing.
We've also learned that a lot of travelers are not so skilled at finding cheap flight combinations. Next year we will have to do a more thorough research on how to reach our next destination and publish it on this website.
We've learned that the atmosphere in Travel House is far more pleasant if there's a communal space where nobody sleeps. This apartment was larger than the one we had in Istanbul, so this year we were able to do that, except at times when the House was most crowded.
Another thing we've learned, or confirmed, this year, is that it's almost impossible to rent a suitable apartment without a local help.
We've learned that a Travel House, simply, can not stay hidden. Owner of the apartment will sooner or later figure out what's happening; there is no way to host two hundred people and remain unnoticed. The owner is not the only one to find out - the whole neighbourhood will. Alas, if we had told the truth from the start, nobody would have rented us the apartment. So, when renting a place, we have to use half-truths ("A lot of our friends and relatives will often come over"), and later on be careful to remain quiet so there is no reason for anybody to complain about it.
We've learned that it's better to have a donation box in the House, so people can donate as much as they want, rather than taking the money in person. People often feel uncomfortable giving the money in person, while the box is anonymous. The only fallback is not knowing who donated how much to the project - but that doesn't really matter anyway.
Landlords, also, sometimes can't add and subtract. Our bill was larger than it should have been, due to an error made by the landlady. Fortunately, Marko noticed this while we were still in Granada, so we gave her a call and got 61.58 euros back, with an apology.
We've also learned that it's better to have more people working in the House. That way the work can be more evenly distributed, so that we can travel as well. Being in the Travel House is a pleasant experience, but it gets tiresome to live like that for two months. This year the House was taken care of by seven different people at different times. Kristina, Lazar, Laura, Milana, Marko, Inesa and Miloš.
WHAT'S NEXT
Considering the fact that the second Travel House was also successful, it would be nice if it became a tradition, so that we can have a Travel House each year, at a different location. The location of the next House hasn't yet been decided on, but as soon as we get our bearings we'll start working on it.