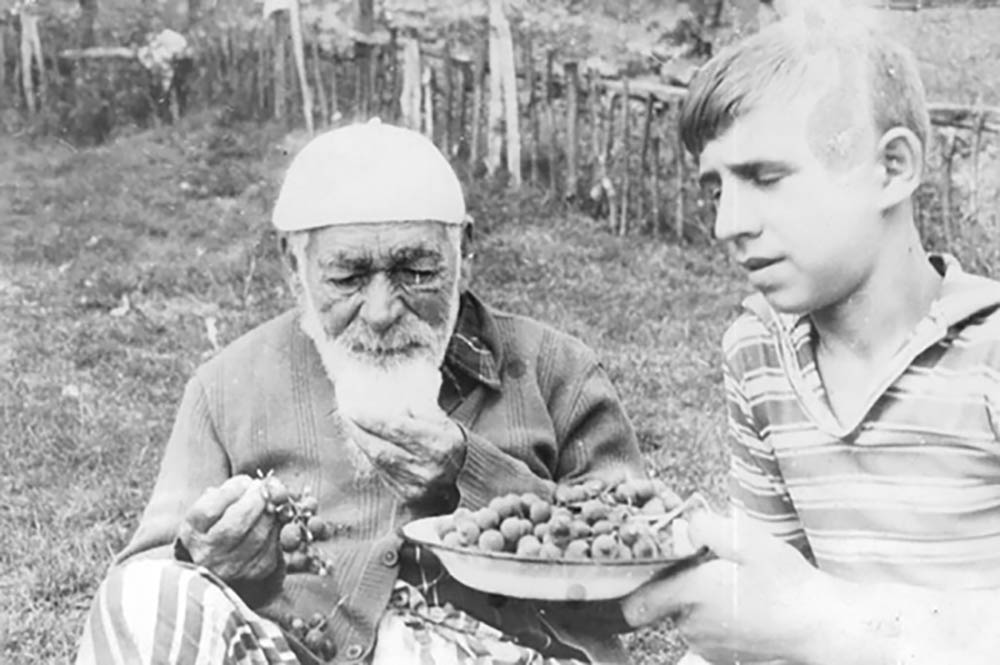 Meho Hadzic, 130, was the oldest man in Yugoslavia
Arena Magazine's "We are looking for the oldest Yugoslav" action seems to have found its hero. This is 130-year-old Meho Hadžić from Oraš-Planje, one of the most remote villages in the municipality of Tešanj, who was a hired worker for most of his really long life.
The municipality of Tešanj is located in the northeastern part of Bosnia and Herzegovina and covers an area of ​​223 square kilometers. There are about 40 settlements in the area, with about 38,000 inhabitants. The area is extremely overcrowded. There is an average of about 170 inhabitants per square kilometer. The town itself is located on the slopes of hills and partly in the valley of the river Tešanjka, a right tributary of the Usora. It has about 6,000 inhabitants. Nearby is the village of Oraš-Planje, about ten kilometers away from Tešanj. We went to visit it because Meho Hadžić lives here - probably the oldest resident in our country. He is one hundred and thirty years old!
Meho never smoked or drank alcohol. He fed exclusively on milk, cheese and cream, and when he was with the goats on the pastures, he often sucked their milk, instead of water, which he very rarely drank.
The road that led us down the gentle hills, along the stream that flows through the village, was muddy and uneven. The day was chilly. All that could be heard was the murmur of the stream and the occasional barking of dogs. The wind brought the smell of dried plums. Then came the merry children's voices coming from the dilapidated shacks and small squat houses. In one hut sat an old man with deep wrinkles on his forehead. He had a hat on his head. As we approached, we saw his gaze. His eyes twitched. He wanted to say something. He then took his cane and rose to his skinny legs. He looked for the shoes that stood by the hearth. He got dressed, put on a leather vest and came out to meet us. He sat on a bench, looked around… And then he started talking: "I remember when there were only six houses in this village. Interestingly, there was only one in Teslić at that time. I was more than 30 years old when I was invited to build the Usora-Pribinić railway. It was 1884. A mill was blocking the section of the railway that went towards Teslić. It needed to be torn down. I asked them not to do that. "But, people, you're not going to tear down that mill which brings us bread," I said. We will be hungry. Where are we going to grind our grain ?"
He spoke in a raised voice. He is hard of hearing. And we found out: Meho Hadžić was born in 1848 in the village of Oraš-Planje. He had five brothers: Mahmut, Muja, Ahma, Fehra and Rexha and a sister Fatima. They all died a long time ago. Ahmet's brother is survived by his son Flamo, who is now 68 years old and who also lives in Oraš-Planje. Meho Hadzic's father's name was Arif, and his mother's name was Cura. He has already forgotten them. His wife Ajka died 70 years ago. She was 50 years old. He had a son, Muharrem, with her. Unfortunately, he drowned in the Usora River, at the age of 12. Meho Hadžić was a hired worker for more than a hundred years. He worked on farms, cut wood, and spent most of his time tending goats.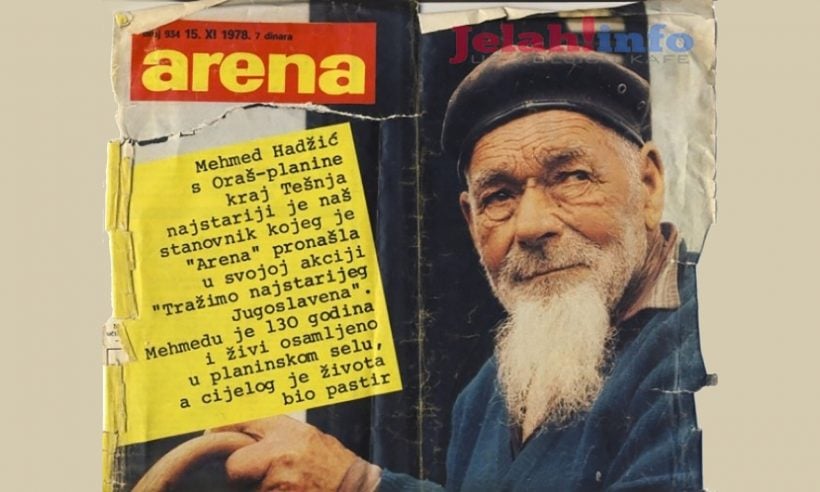 We also talked to Osman Ćorić, who is close to seventy and is a living witness that Meho Hadžić kept goats with his father Meho, who died in 1937. "Meho was about eighty years old when he wandered the hills like a young man and looked after the goats," said Osman. "I remember that he would not return from the pastures for days. He ate goat's milk and cheese there… "
He got his third teeth 30 years ago.
Meho Hadžić did not serve in the army. He has a congenital defect, a shorter left leg. That is why he still carries a stick today. Meho never smoked or drank alcohol. He fed exclusively on milk, cheese and cream, and when he was with the goats on the pastures, he often sucked their milk, instead of water, which he very rarely drank. He got his third teeth 30 years ago. Interestingly, they are all still good. To prove his strength, he used to be able to lift a kid weighing between 30 and 40 kilograms with his teeth. He always defied the burden of years. He lost the last one of his family members 40 years ago. He was adopted by Mehmed and Rukija Ćorić. They built him a house, and recently installed electricity in it. They feed him, clothe him, buy him firewood. When it is very cold, Mehmed and Rukija get up at night and light a fire for him. They take care of Meho's health.
Until 34 years ago, Meho Hadžić never sought medical help. He was always cheerful and strong. He remains so today. When the weather is fine, he goes out in front of his house, gazing at the clearings and paths he had walked a thousand times. He looks nostalgic. For, time and paths have changed, but his heart has remained the same. Still ticking merrily. He looks as if he would like to get up again, and start roaming around with the goats, as he used to do.
--
Arena Magazine, Yugoslavia, 1978