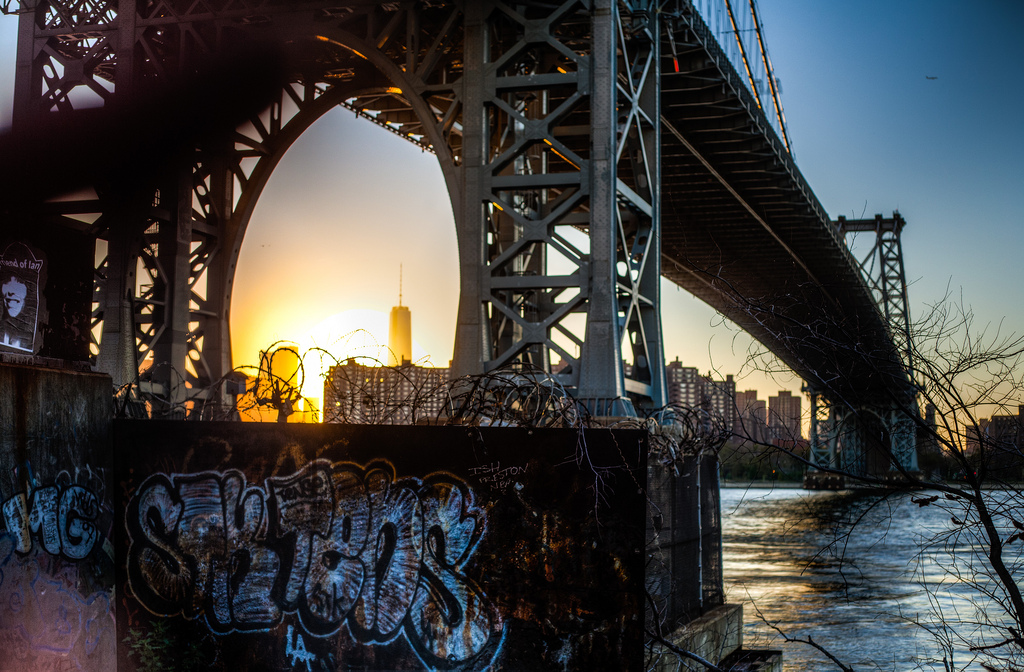 PHOTOGRAPHY BY: BEE COLLINS, "UNDER THE WILLIAMSBURG BRIDGE"
New York, summer 2011. I was about to have a beer with a friend after work. While I was resting my weary legs in the metro, a guy with a guitar got on my train and started playing. He wasn't bad at it, but he wasn't exactly Jimi Hendrix either. But, you should've seen his joy while playing the guitar. Eyes closed and an ear-to-ear smile. And he wasn't interested if someone will throw a buck in his money box. He wasn't singing, he wasn't speaking, he was just modestly playing and smiling with his eyes closed.
Faces of New Yorkers are nervous, anxious. After more than two months of watching their sullen faces, I was craving to meet someone with a positive attitude. The guitar player had a cardboard sign in front of his money box: "I offer guitar lessons" and his phone number. I wrote down the number.
Upon leaving the station, I sent him a message. "Hey, I don't want to learn to play guitar, but I do want to meet you. I'm going for a beer with a friend. Wanna join?" He replied that he'd come, asking for the meeting point and how to recognise me. "Union and Metropolitan Av. crossroads. Black shirt, black pants, black Converse and a hippie bag with a large peace sign." Within a minute I got his answer: "How beatnik! I'll be there in five."
I sat on a park bench near the stated intersection and waited for him and my friend. (My friend was called Đurđica and, although this has nothing to do with the story, try to imagine what kind of problems Americans had when pronouncing her name. It ended up with her getting the nickname Jeetsa.) Jeetsa was late, of course, but the guitar player arrived on time.
- Matt, nice to meet you – he extended his hand and smiled.
- Nina, nice to meet you too – of course it was nice to meet him. For the first time in a long time I was in the company of a person who radiated positivity.
When he told me that he had moved to New York just two months ago, I shouted: "I knew it!" to which he replied with a puzzled look. "I knew you could not be from New York! If you were from New York, you wouldn't be so peacefully happy."
Matt was 29 years old at the time and his best friends were his guitar and an amplifier. Apart from those two things, he had nearly nothing. Before he came to New York, he lived like a bum. He spent five years hitchhiking all over the US in the company of his guitar and the amplifier.
When Jeetsa arrived, we took Matt to Union Pool, our favourite pub. All night we were buying rounds of beer. As usual, the best friendships rise from getting drunk together. Over the next few weeks, Matt met our friends and we met his, and we bar-hopped in a herd all over Williamsburg.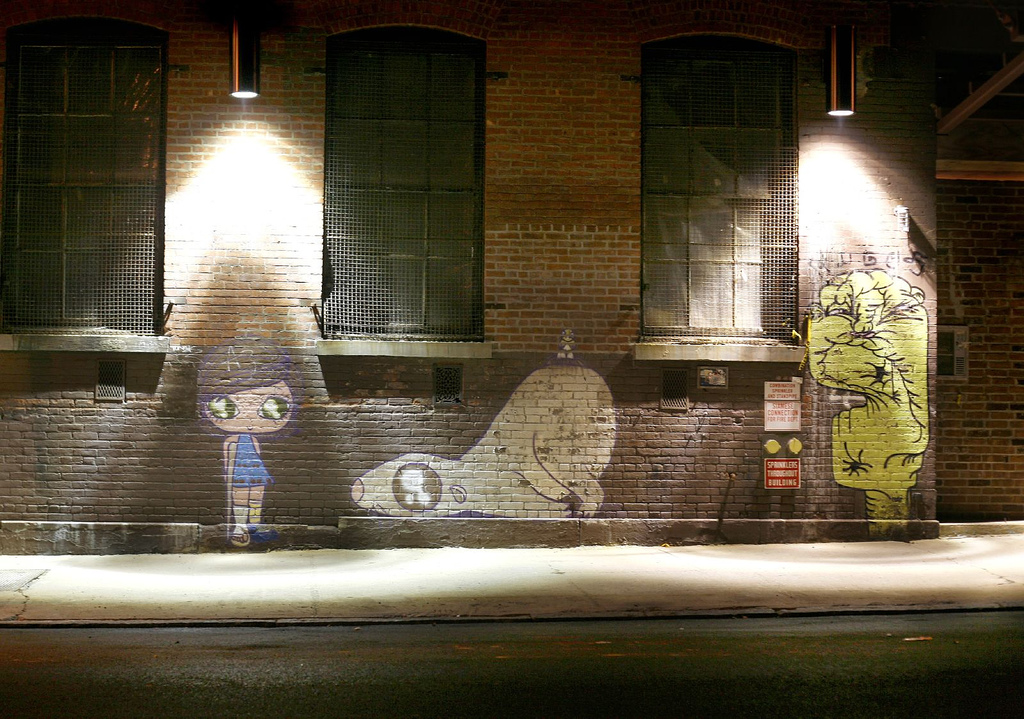 Jeetsa and I have wisely arranged our summer. We worked in Manhattan, where the best money was and went out to cheaper places around Brooklyn, usually Williamsburg and Greenpoint. These two neighbourhoods are filled with artists, free or cheap gigs and quite affordable beer. It is clear why we were going to those particular places.
At the end of the summer I was supposed to quit my job and go travelling around the United States, but I didn't have a strong desire to go to any particular place. Matt told me that he had a gig with a band in Florida and that, if I wanted to, I could go with him.
We spent a week in St. Petersburg, Florida. We were hosted by a family he knew from his bumming and busking years. Mom, dad and a 15-year-old son. Son talked openly with his folks about weed, mushrooms and other drugs of natural origin. There was no smoking cigarettes allowed in the house, but you could light up a joint without any problem.
Not only the family was unusual! St. Petersburg is an unusual city itself. St. Pete celebrates every first Friday of the month. The Central Avenue (where the most of the bars are) is closed for traffic so that people could drink undisturbed, without fear of being run over someone while staggering from one bar to the other.
Every Sunday, there's a drum circle organised on the beach where residents come to drum out and dance out the accumulated stress to have a relaxed start of a new work week.
Every now and then they organise festivals and that year Matt played at one of those festivals with his band.
Those seven days with routine "beach – party – lazying around" passed quickly. I had to continue wandering around the US, Matt had to go back to New York. He accompanied me to the airport. I had a flight to San Francisco. It was Tuesday and it was raining. Matt and I haven't seen each other again.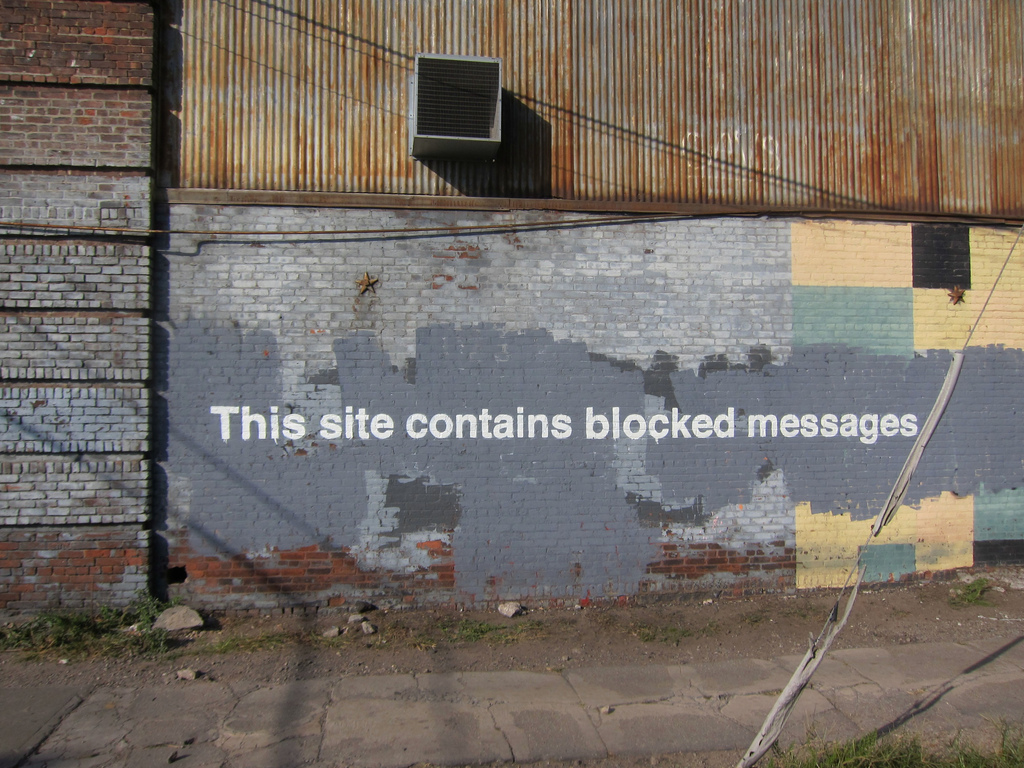 *
Three years have passed. Although we rarely talk to each other, I often end up "stalking" his Facebook profile. Nostalgia, I guess.
We often miss people who do not exist. They aren't dead, they just don't exist in the form in which we miss them. If Facebook is to be trusted, Matt is no longer that zen being whom I met three years ago. He became a true New Yorker. His statuses are filled with anxiety and frustration, and I haven't seen a smile on his photos in a while.
The happiest man in New York has become a New Yorker.
—
The author of the first picture is Bee Colins ("Under the Williamsburg Bridge"), second by Luke Redmond ("Street art after dark, Williamsburg Brooklyn"), and the last one by Scott Lynch ("Banksy NYC, Greenpoint, This Site Contains Blocked Messages"). All pictures are under Creative Commons license.