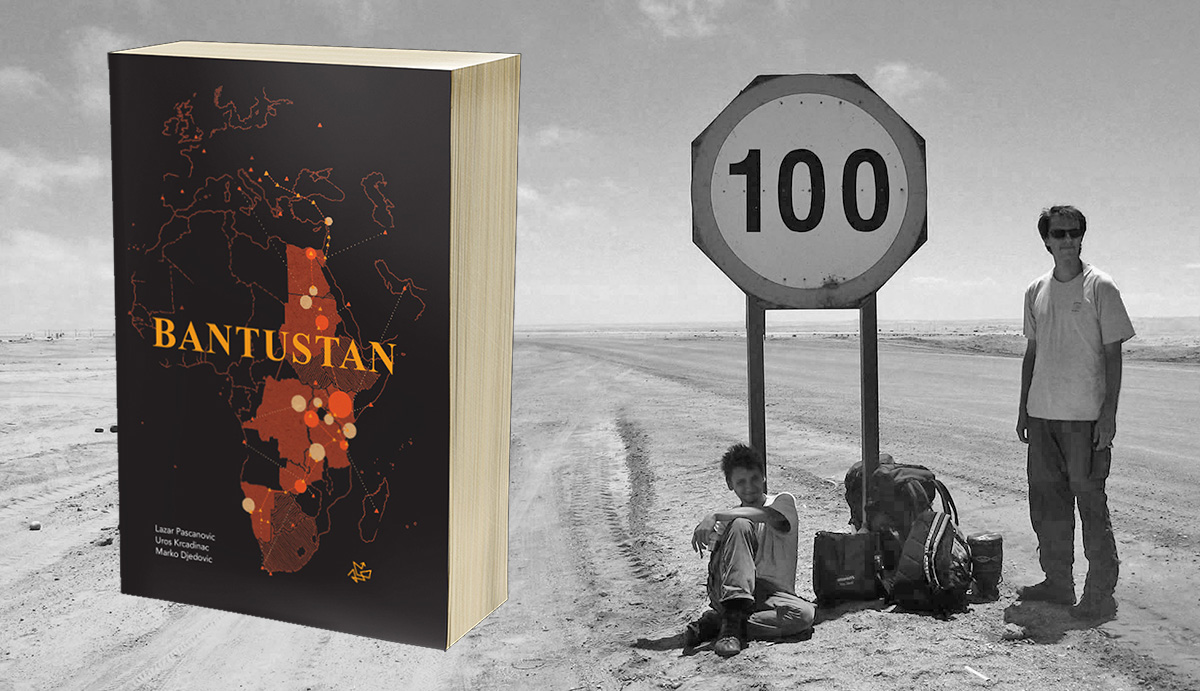 Our book, BANTUSTAN, is now available in English, after almost a decade in the making. As a small non-profit from a small country, we have little means of spreading the word about the book to any potential readers outside the Balkans. This is why we must rely on friends, acquaintances, and basically everyone we can think of who might be willing to help. But before that, let's talk about what exactly you would be helping us with, and why.
The Travel Club is a community of travelers, explorers and creators founded on the ideas of free sharing, free movement, and personal exploration of the world. All our projects are crowd-funded and non-profit. Any money that comes our way is reinvested into the Club (for the running costs, or community projects such as The Travel House/School), or donated to charity. The bulk of the proceeds from the sales of the Serbo-Croatian version of Bantustan were donated for the schooling of several primary and high school children in Kenya, through two organizations: Osiligi, and Hatua Likoni.
The book sold well in the Balkans because The Travel Club had already had a vibrant community there, which allowed us to spread the word. This data visualization shows that the geographic area of our readership largely corresponds to the cultural space of former Yugoslavia. However, that is where our reach ends. Without any international following to speak of, the English version of Bantustan will remain absolutely invisible, just another drop in the vast ocean of self-published books by unknown authors from obscure places; it won't even have a fighting chance. That is the curse of small countries and small languages: whatever sprouts in them is almost destined to remain trapped there forever; the chance to break through that barrier is infinitesimally small. But that is exactly what Bantustan is about: crossing the borders, climbing the walls, breaking the barriers that surround us - against all odds.
This is why we need your help. And we really, really need it. Seriously. Or we wouldn't be asking for it.
So, here's what you can do:
Buy the book. As always, our goal is for the fruits of our work to be affordable to everyone. The Kindle edition costs $3.99. The printed version costs $12.99, which is a modest price for a book of that size (360 pages, 16.99 x 24.41 cm or 6.69″ x 9.61″). To fully enjoy the illustrations, we warmly recommend going with the printed version.
Leave a review on Amazon. This is crucial for the rank of the book; if we reach a certain number of sales, ratings and reviews, Amazon will start recommending the book to other people. We need to hit that critical point where that starts to happen - an almost impossible goal, but well worth trying. Each and every sale, each and every review is a step towards that goal.
Tell your friends. If you like the book, please think of anyone you know who might enjoy it too, and let them know it exists. The word of mouth is a powerful weapon - and the only one we have. When recommending the book to someone, please refer them to www.bantustanbook.com rather than to Amazon; that will give them a chance to learn more about the book and its background story.
Spread the word even more. Do you know of any organizations, groups, online or offline communities, mailing lists, forums that serve as gathering places for people who might be interested in reading this kind of book? If so, you can help us by sharing the link there.
Join our mailing list. We hope to make many more Travel Houses, publish more books, and carry out other projects in the future, creating value for ourselves and others; joining our mailing list is a way to stay up to date with our activities. (If you are from the Balkans and already a member of our Serbo-Croatian mailing list, there is no need to join the English one).
Consider becoming a regular supporter on Patreon.
Yeah, but what about the dough?
Why would I help you guys line your own pockets? - we hear those more paranoidly inclined of you ask. Since its creation in 2005, The Travel Club has always insisted on transparent finances. So here's the book price breakdown:
Paperback list price: 12.99$
Amazon's share: 40%
Printing cost: 5.17$
Tax: 30%
Our profit: 1.8$
As for the ebook, we get 1.1$. So - no worries there, nobody is getting rich (except Mr. Bezos and the IRS).
Having an international audience will motivate us to create more stuff in English, which is something we've been wanting to do for a long time. It will also enable us to publish new contents on our English website more frequently, organize more community projects for travelers, and donate more money to those in need.
We hope you enjoy our book. We guarantee it is unlike any travelogue you've ever come across.
The Travel Club