13:15, 16.08.2016
The Travel School 2016 is closed! This morning we all took brooms and cloths and started cleaning. Our apartment was again shiny and clean. Afterwards, we all had a glass of Porto wine in the little store run by lady Teresinha, just across the street. We took some glasses from the apartment, because we knew that our favorite neighbor doesn't have enough. We were 10. After a group hug last travelers packed their stuff and left the School.
Huge thanks to all travelers, to all who donated or just spread our idea.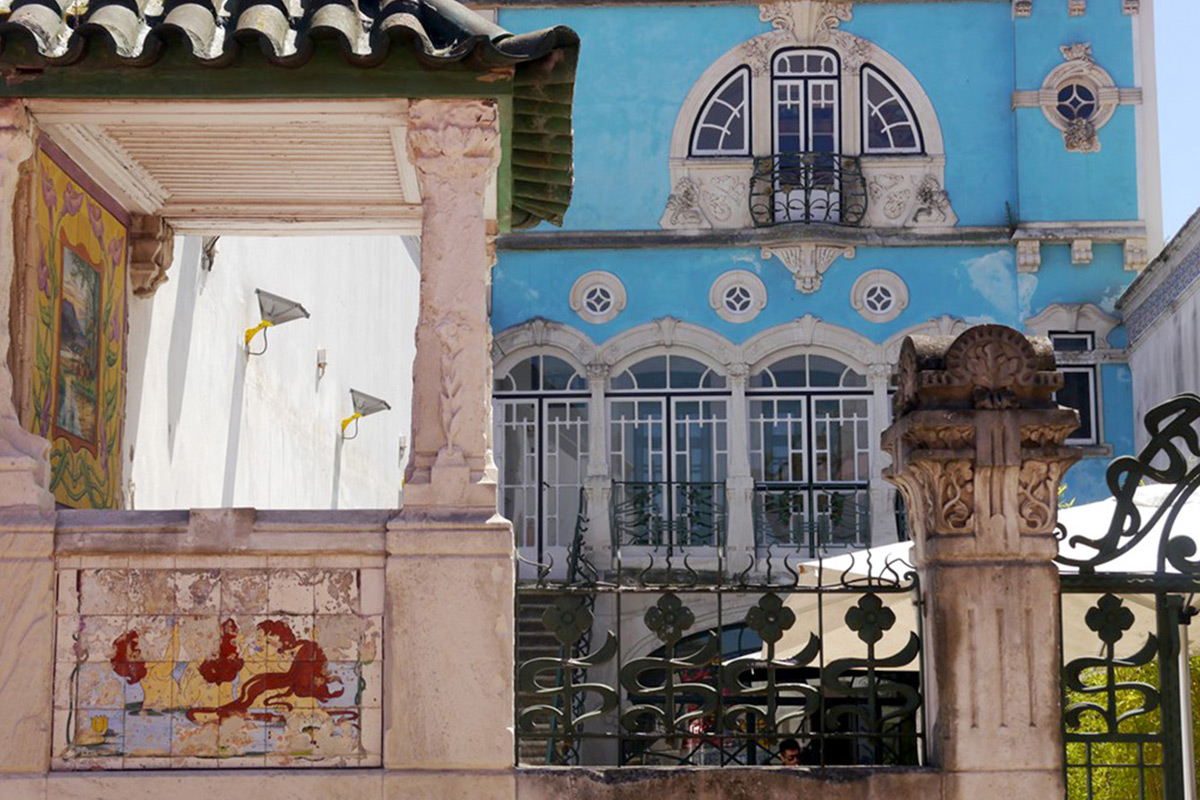 ---
12:15, 15.08.2016
Lee (21), China. "This is my third year of living abroad. I first moved to Russia and then to Italy. Now I study political science in Milan. It was only in Italy, after I met my Serbian friend Ivan, that I felt that I've made a real friend for the first time in my life. He is from Smederevo.
Ivan changed my life. He helped me overcome the limits I had. In China, I had to follow many rules and there were all kind of limits. When I first entered diskoteka (tooltip: Serbian word for disco), I didn't know what to do, and he told me: Just do what you feel like doing. He taught me many Serbian words.
After 30 minutes in the Travel School, I already felt at home and totally accepted among so many people speaking the common language of the Balkans. Today we even cooked some food together."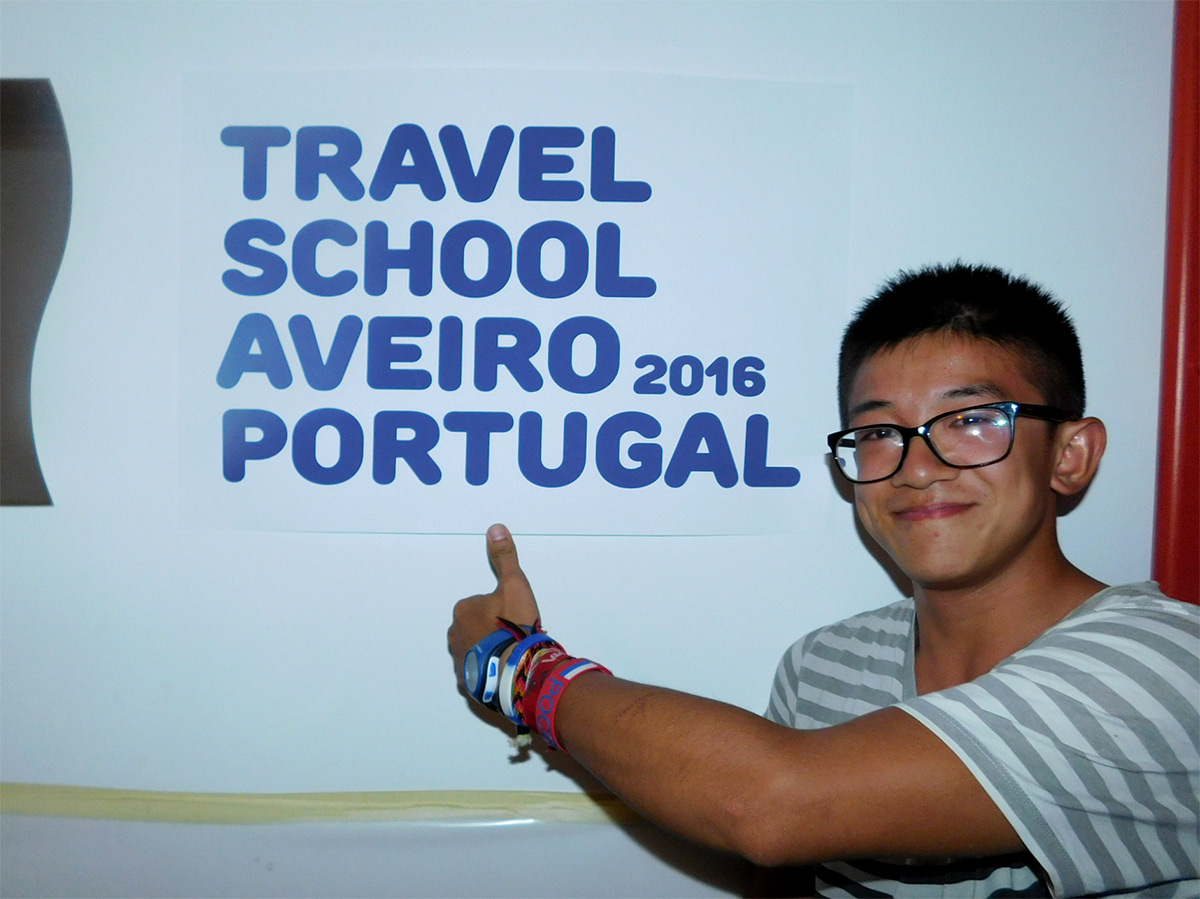 ---
16:59, 14,08.2016
Gustavo, Portugal. "I know how does it feel. It's a real Hell. OK, it was fun for some time. But afterwards... everything was cracked in my life. Few years in Colombia I used to sniff everything, every day. After coming to Lisbon I've started using heroin. Look those scars and bruises on my arm. I hate that city, really hate! Only junkies. I am OK now. I am not using any kind of drugs for a few years. Yesterday I bought this car. M? You like it? I wouldn't be able to buy it if I haven't stopped using drugs...
Now, I have an organization that helps junkies to get over that shit. I make them busy every day, not to think about drugs, a also they can sleep at my place as long they want. Some of them give up after a week, some stay longer even more than a year. Now there are 13 of them. This region of Portugal is more quiet. Better people. It's easy to resist."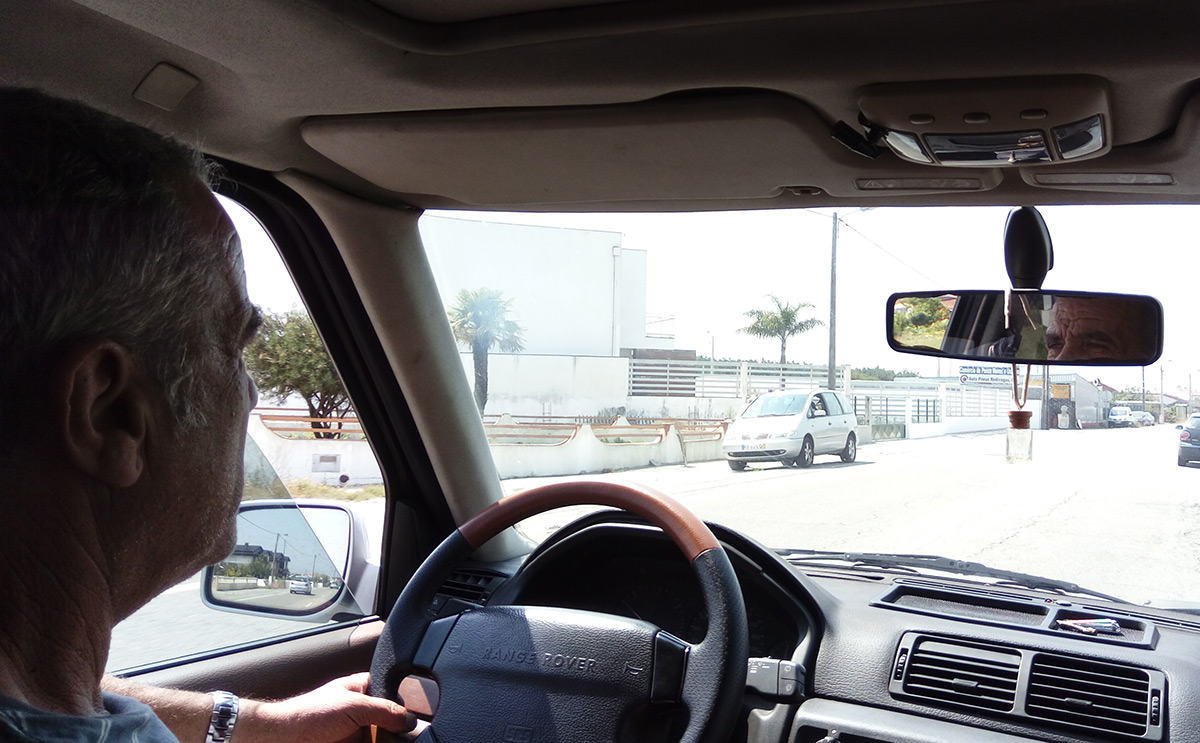 ---
13:11 13.08.2016
- We met 12 years ago, when Reject Bear was packed up and sent to Romania, to befriend a lonely Romanian child. When he and 199 of his fellow Teddy Bears were not received as gratefully as we expected, my fellow volunteers and I, who were volunteering at that kids' orphanage there, we decided to adopt one each, as our own. He and his brothers and sisters were painstakingly knitted, came into the world through the knitting needle of a little nice old lady somewhere in the south of England. She made 200 all together.
The kids didn't want a single one.
They came in all different shapes, different sizes, colours... And I chose the ugliest one because I thought he had the least chance being adopted. Oh, he's looking at me suspiciously.
- Has he been travelling with you ever since?
- Well, he wasn't supposed to be a travel bear, it just turned out that way. Since then, he visited, I believe, Germany, Morocco, Korea, I guess, Spain, Portugal, and... He's probably been to France as well.
He came into this world just in his birthday suit, but, for a short time he was the leading star of an orchestra in Scotland, so he became a mascot of the Edinburg Youth Orchestra. He changed names, temporarily, to Julian Garry Reject Bear, named after a famous cellist and a famous conductor, but we noticed that he wasn't really dressed well enough for a concert, so one of my dear friends purchased some clothes for him – a nice pair of jeans and a tank-top, but as the weather was getting hotter, we decided to cut the jeans and turn them into shorts.
He really likes to go by train, because he enjoys slow travel – slow, comparison to trains – he takes time to write postcards on the journey, look out the window, walk along to the buffet and get himself a nice drink
- Is he a good fellow-traveller? A reliable one?
- He's ok... He doesn't take really good care of his appearance... He's a little bit shabby. He's never got lost, he's stayed with me through the whole time and he hasn't tried to stray too much... He's a hit with the ladies.
- Has he had any girlfriends yet?
- None that I know of.
Listen the story about Reject Bear.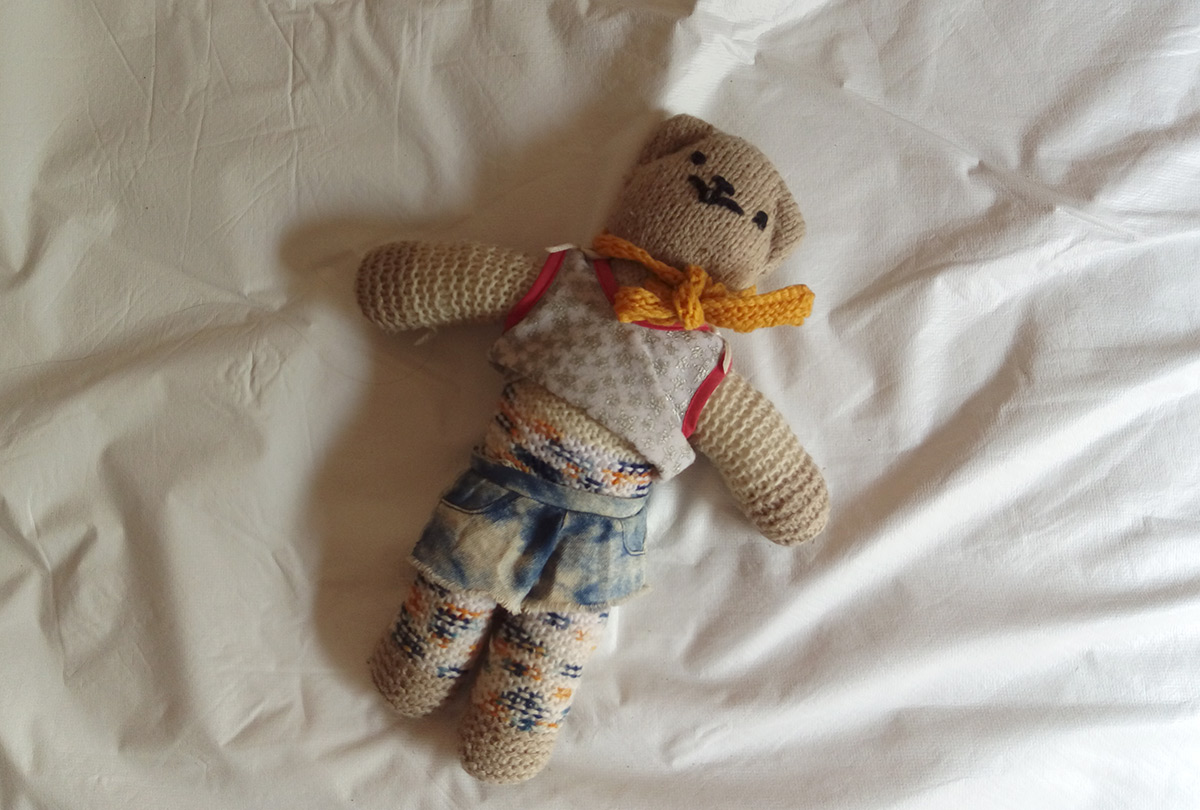 ---
13:01 12.08.2016
Unlike the first not so visited workshop - Let's act on stage, where we had only two participants, Marko's last workshop was more than successful. Boys and girls were divided into three groups, they played and improvised short performances. Then they made difficult tasks in order to improve performances of others. Performances were more funny and original. It was two hours of pure laughter.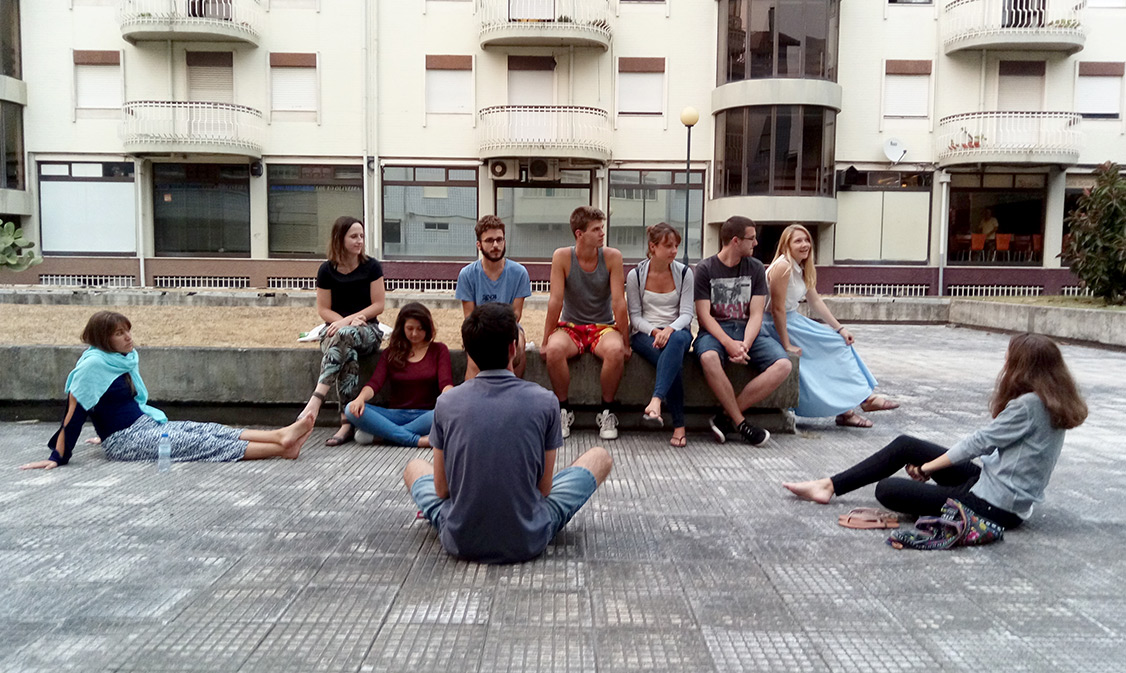 ---
11:35 11.08.2016
The first sightings of flamingoes in Aveiro were in 2001. They are white with pink parts under the wings and on the neck. Dozens of years ago poaching was discovered when when from 16 birds flock disappeared eight. After the investigation it's been said that flamingoes were stolen and sold in Spain for 1000 euros per piece. Today in lagoon around Aveiro (Ria de Aveiro) one can see hundreds of flamingoes. After a few failed attempts to find them, finally we found them in the salt factories near by the city.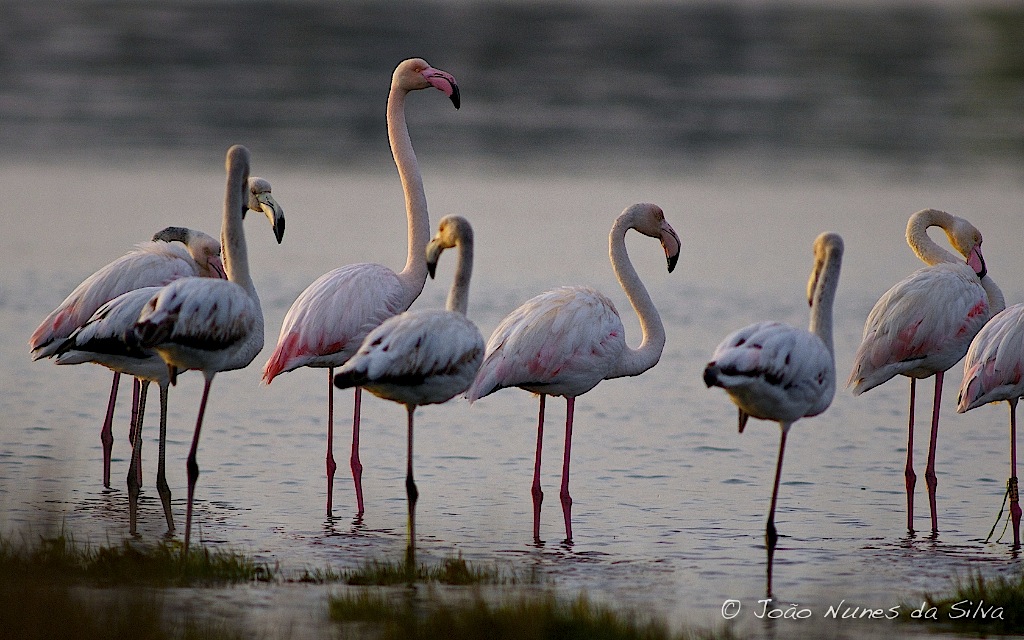 ---
9:30 10.08.2016
We had a special guest these days - our editor Kristina held the workshop (Body percussion), the first one outside of the Travel school. using our arms, hands, legs and fingers we all together made music. Little bit we were singing. Also, we had an audience - they were our curious neighbors. The workshop was ended with exercise dedicated to breathing techniques. Big thanks to Kristina for moving our bodies and relaxing our minds.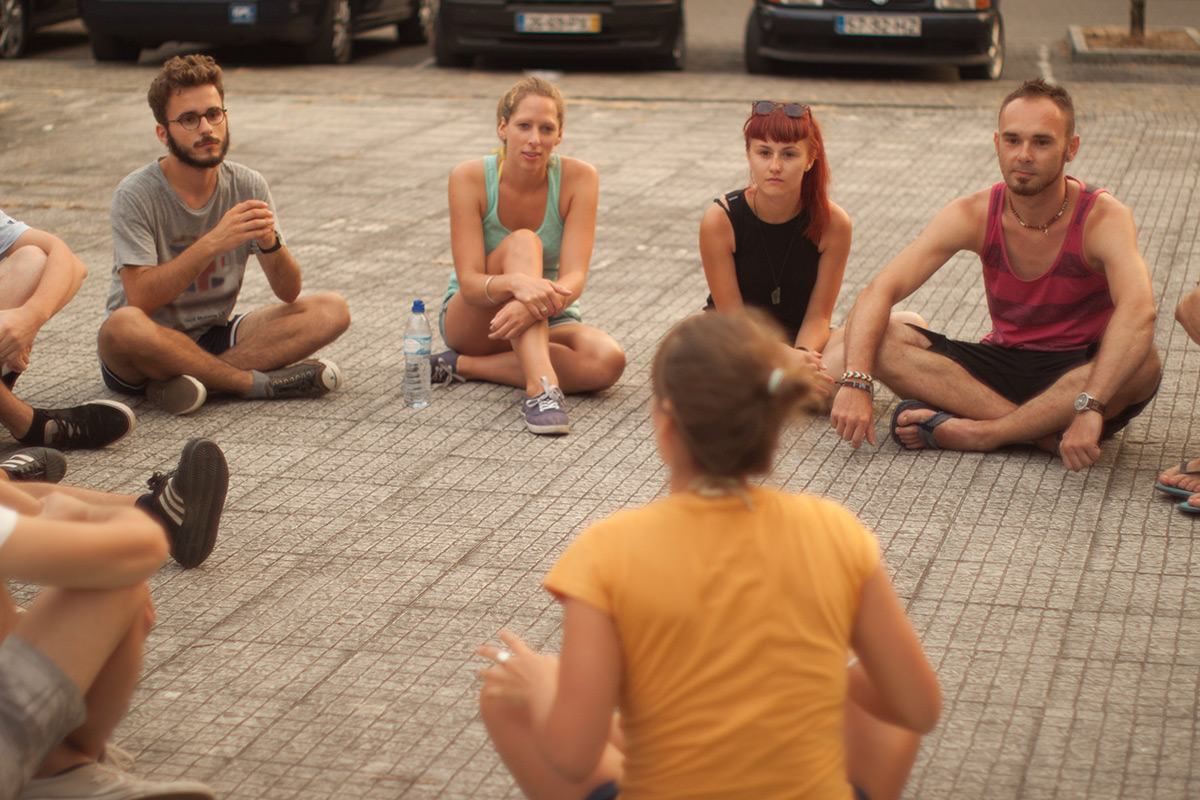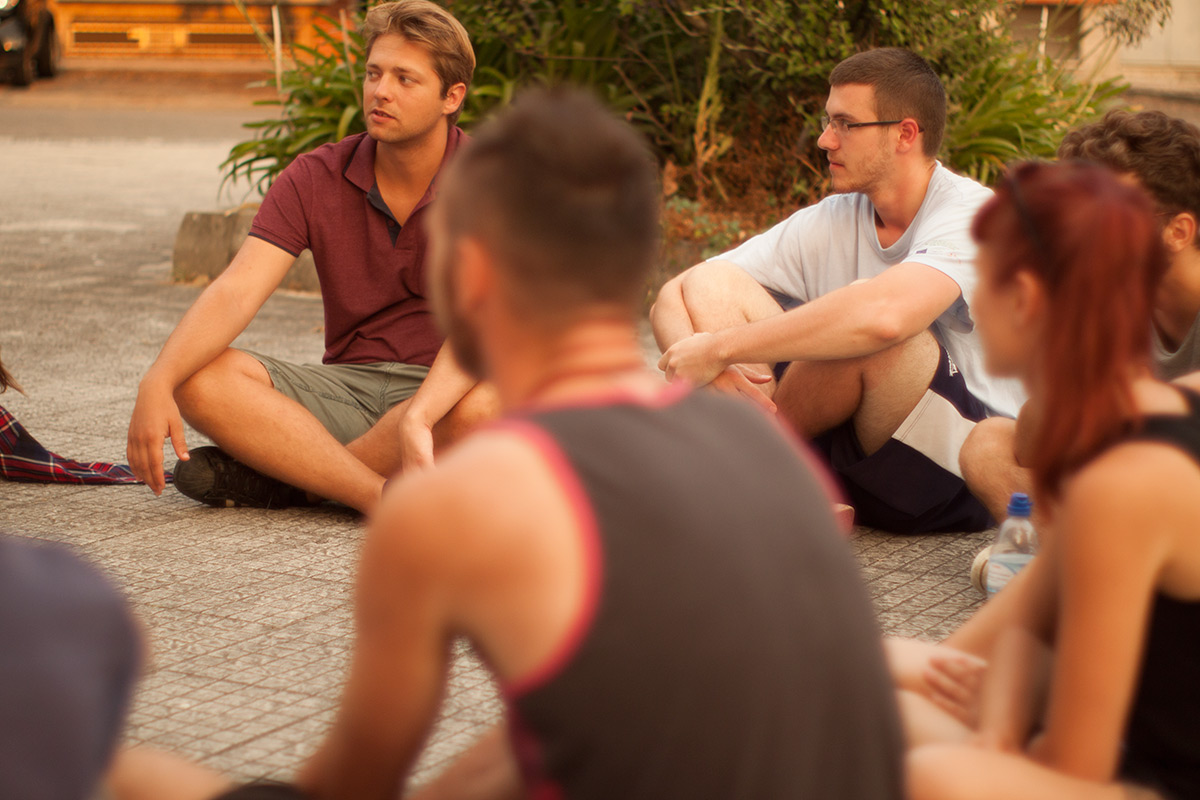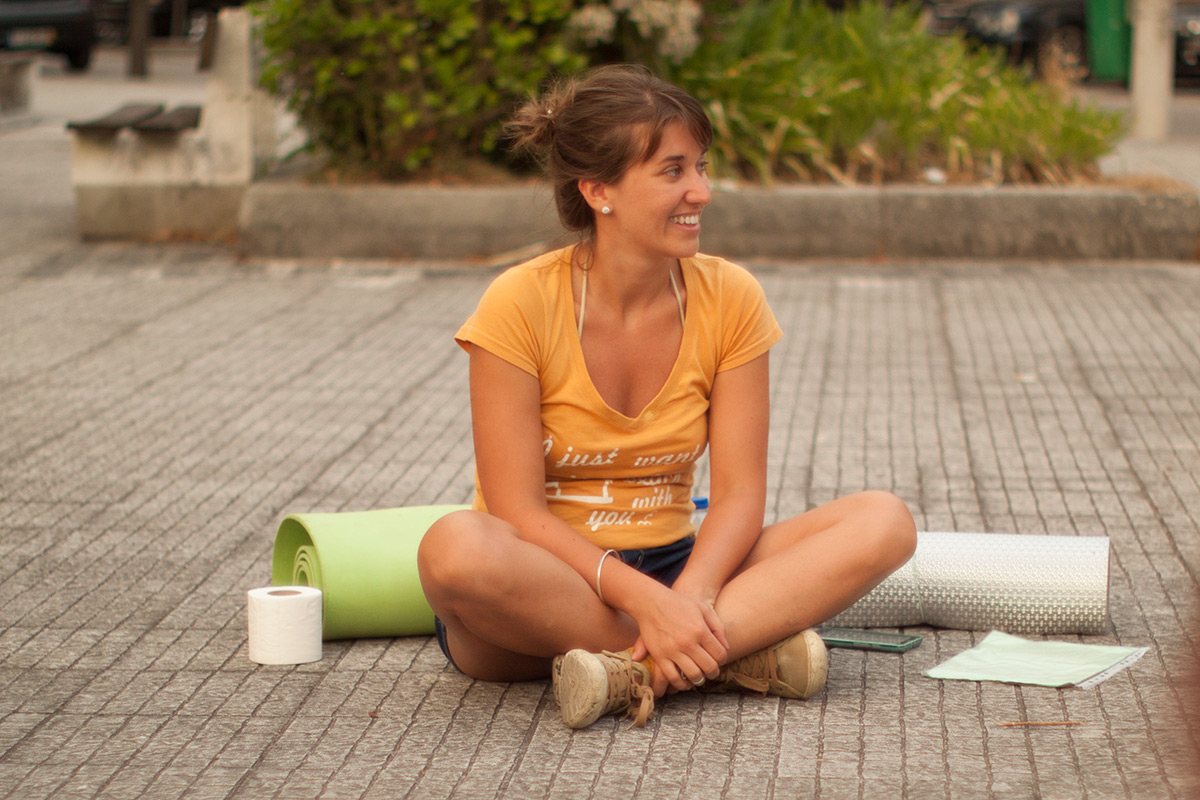 ---
14:59 09.08.2016
Yellow color around and above Aveiro these days. We thought it's because of weird clouds, but actually - it was a smoke. More than 4.400 firefighters are trying to calm down fires at more than 100 spots in Portugal. Fire is caused by strong wind and very high temperature and three out of eight biggest happened near Aveiro, 50km radius. In the north of Portugal state of emergency is declared and luckily no casualties or wounded people. Some families are evacuated, some farms are burned down, lots of forests are destroyed, and clouds of smoke above Aveiro look like this:
---
09:30 09.08.2016
The organization Agora Aveiro, coordinated by our dear editor Nataša, did a great thing - made graffiti "I ♥ Aveiro" at the biggest stairs in town. Since the graffiti have been here for more than three years, the color faded away. The Agora volunteers together with the School participants gathered enthusiastically yesterday to re-paint the graffiti. We needed 20 color sprays, 18 ice-creams, kilometers of paper-tape and just 2-3 hours of work.
The whole action first had to be approved by the mayor. Interestingly, many tourists were already there to take photos even before the work has been done.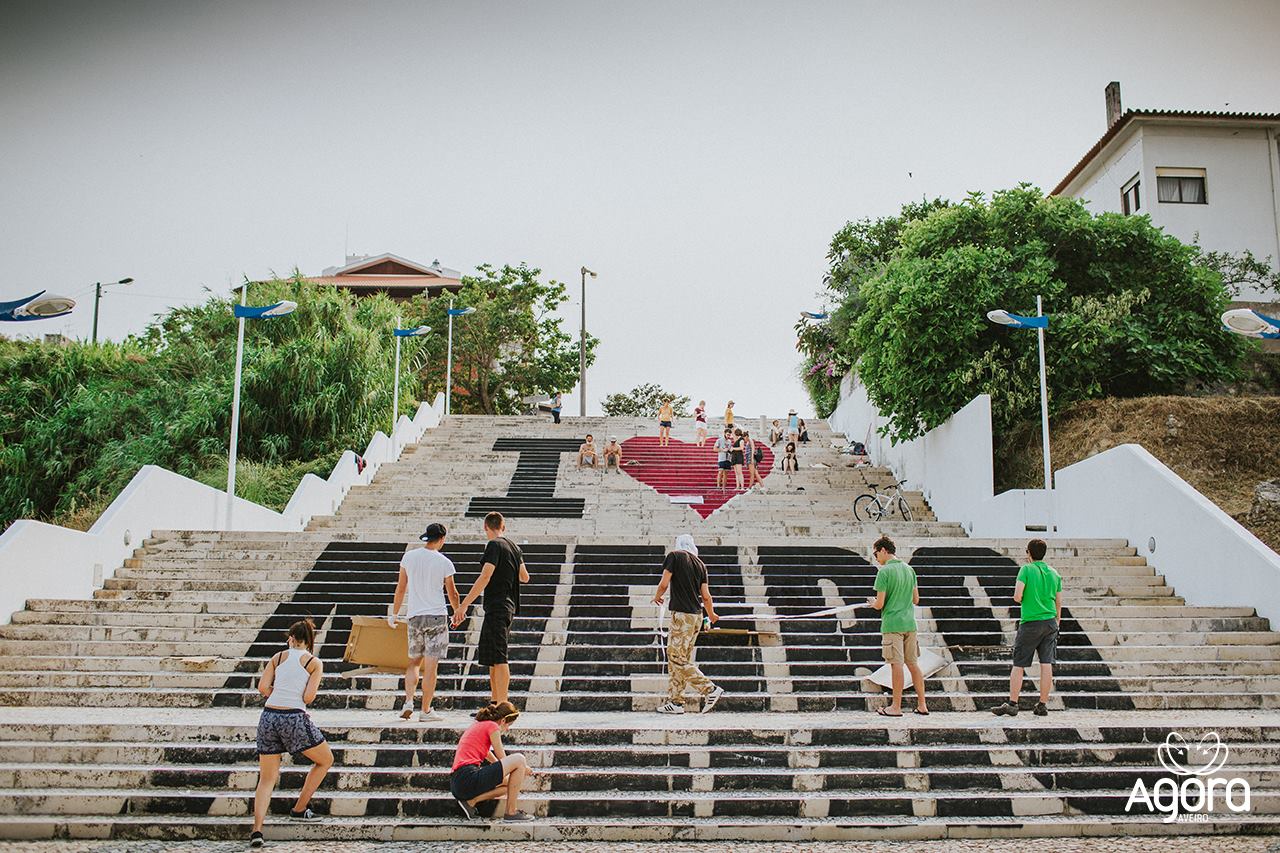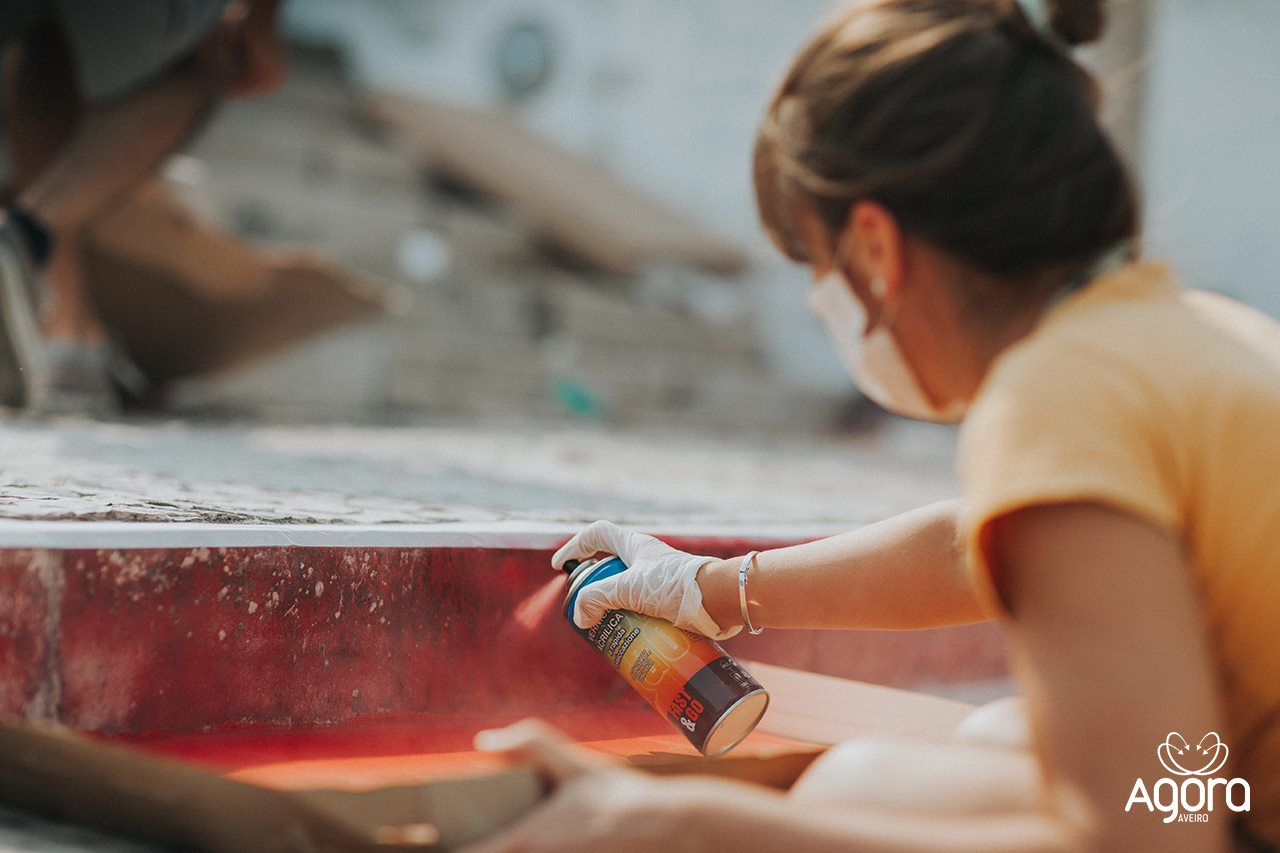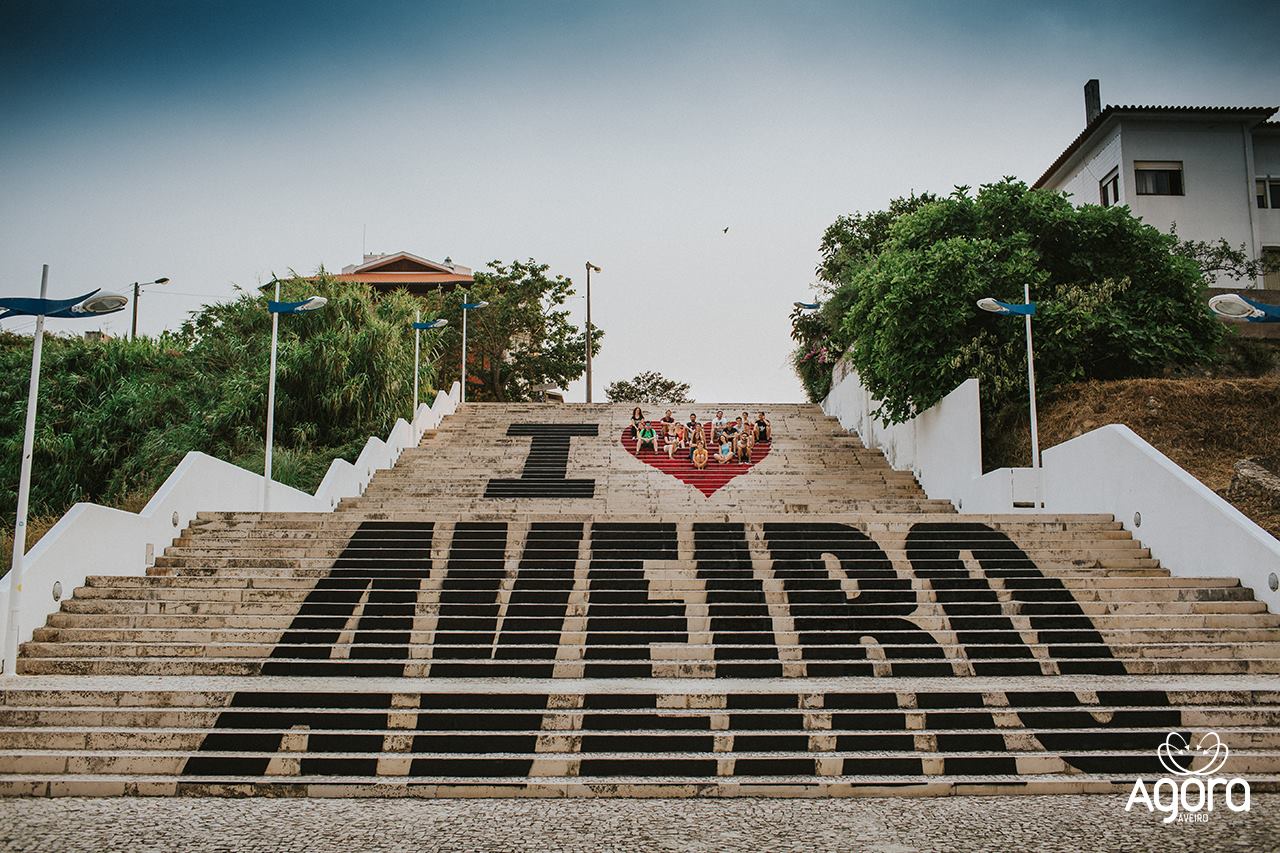 ---
10:00 07.08.2016
Yesterday our pipe in the kitchen was broken. The problem in the house. We couldn't use cold water and more and more unwashed dishes was around. (Our travellers weren't so crafty to wash the dishes in the bathroom.) We asked for help our landlord but the weekend has just started. Plumber only can come on Monday... We thought - what to do now? Nah, we will survive. But, like a saviour Branislav from Belgrade came. After two-three skilled movements, water started to flow again.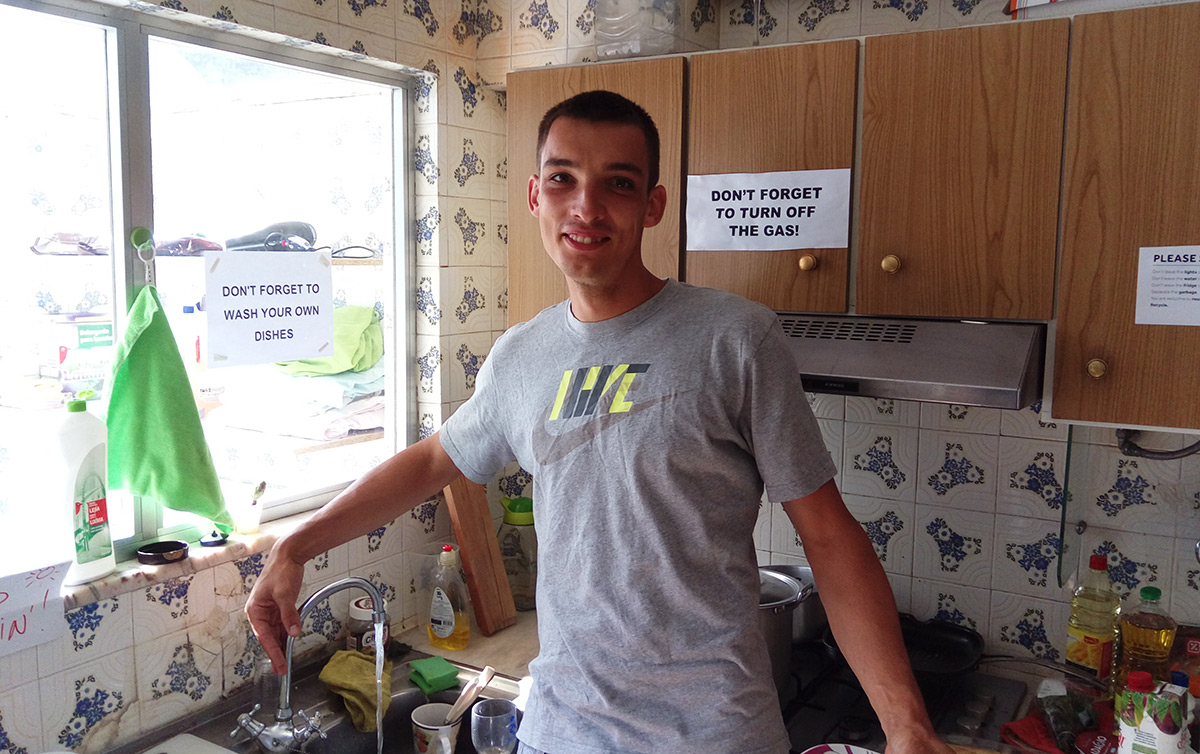 ---
21:45 06.08.2016
Nowadays a lot of food gets thrown from houses, restaurants, and supermarkets. Big markets are throwing packed food which has just expired. Fruits and vegetables are thrown after assessing whether is immature or not. A lot of people in the world are using now that opportunity; they are coming to well known place close to ending hours of shops, wait the clerks to pull out the dumpsters and then - picking and grabbing starts. New term which is used to describe this is dumpster diving, and we also wrote a line about that. We've decided today to help the Planet, even on this micro-level. This is our catch: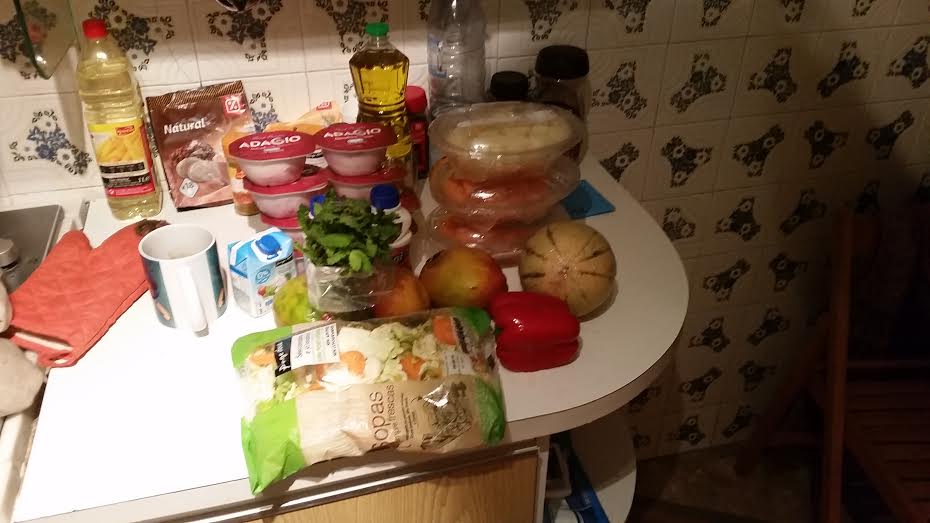 ---
17:31 05.08.2016
Magic exists! Our traveller Antonio proved it. He is our school psychologist and sexologist and he is the one of the rare ones who stayed longer, besides Max. We liked them, and they liked us. Look what Antoio drew for us in the guestbook.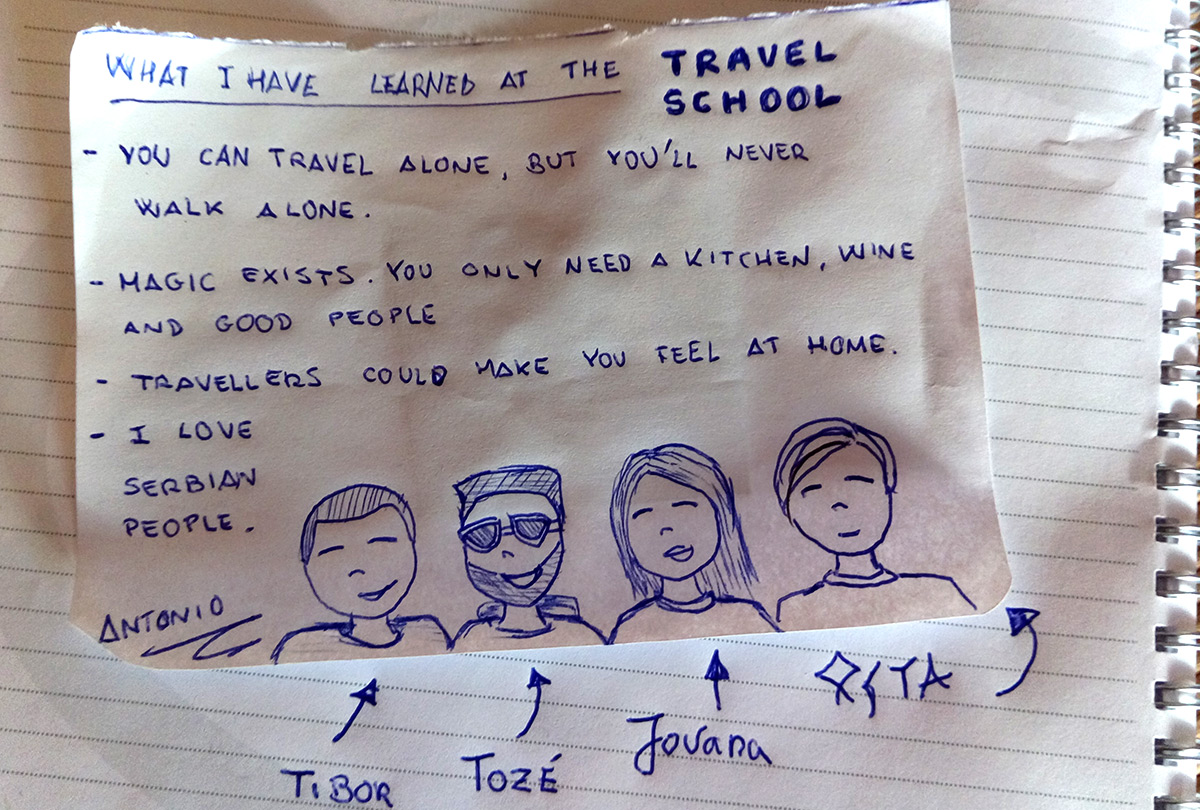 ---
15:41 04.08.2016
Ida and Mikkel, Denmark. "The other morning we woke up in the city of Guimarães. It was a hiking day. It was explained to us that very close to the city is a trail that is about 17 km long, up the hill and back. It turned out that out of 17 km, 13 km was through the industrial zone and suburbs. So our "nature hike" failed. We repeated hike in São Jacinto, near Aveiro and since we are passionate ornithologists, we gave you our report from that day in the guest book."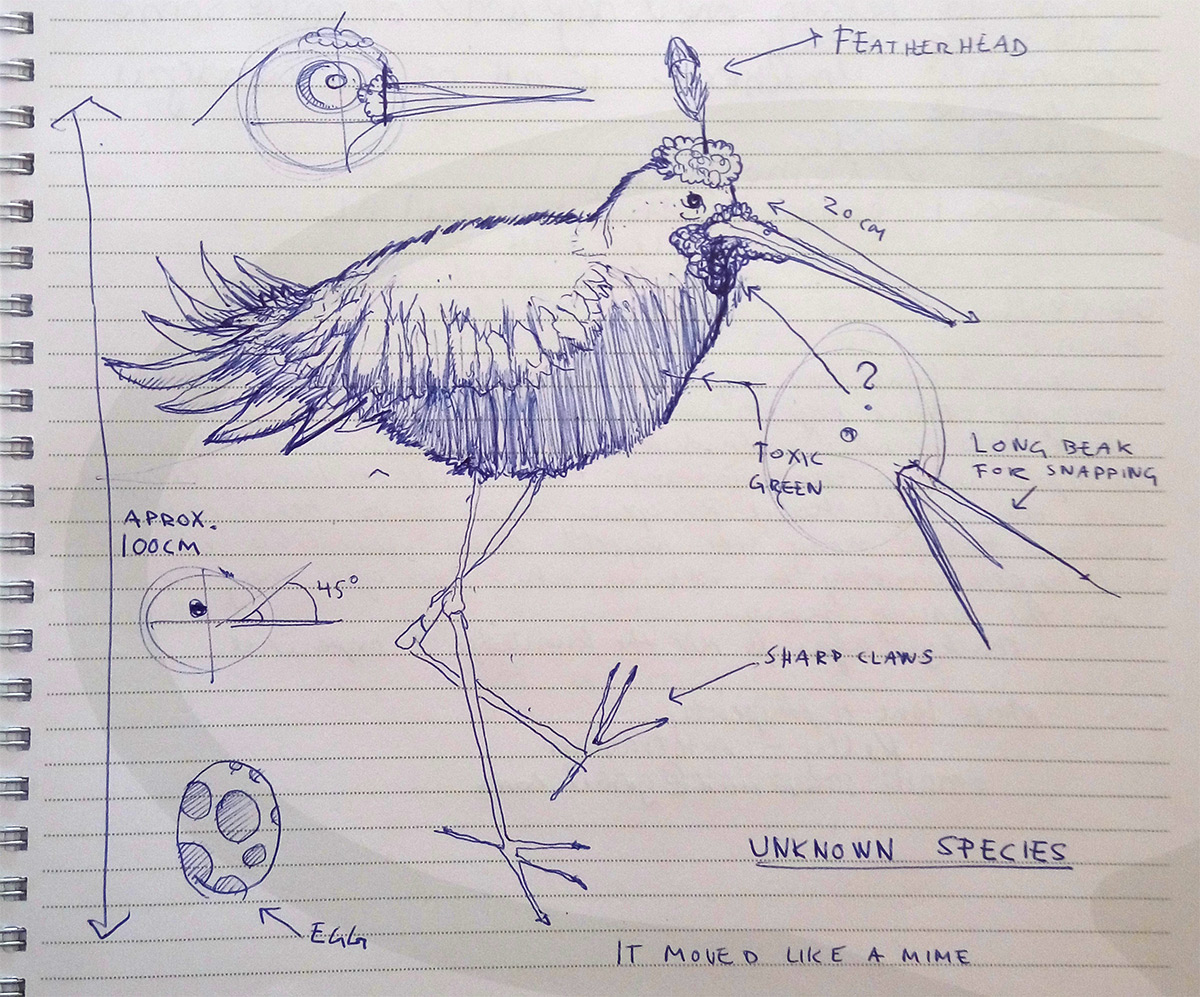 ---
10:21 03.08.2016
Margot (18) and Cléo (17), France. "We flew to Lisbon and from there we went by bicycle to Boom Festival. At the airport they refused to pack Cléo's bicycle into the airplane so she left it at the airport in Marseille and she bought the new one after we landed. On our way we met Arnau from Spain. Do you remember him? He was in the Travel School. He told us about this place. He was so mysterious. He said that the address is secret, but he told us how to apply. The same day we've got the answer and - voilà. We are here."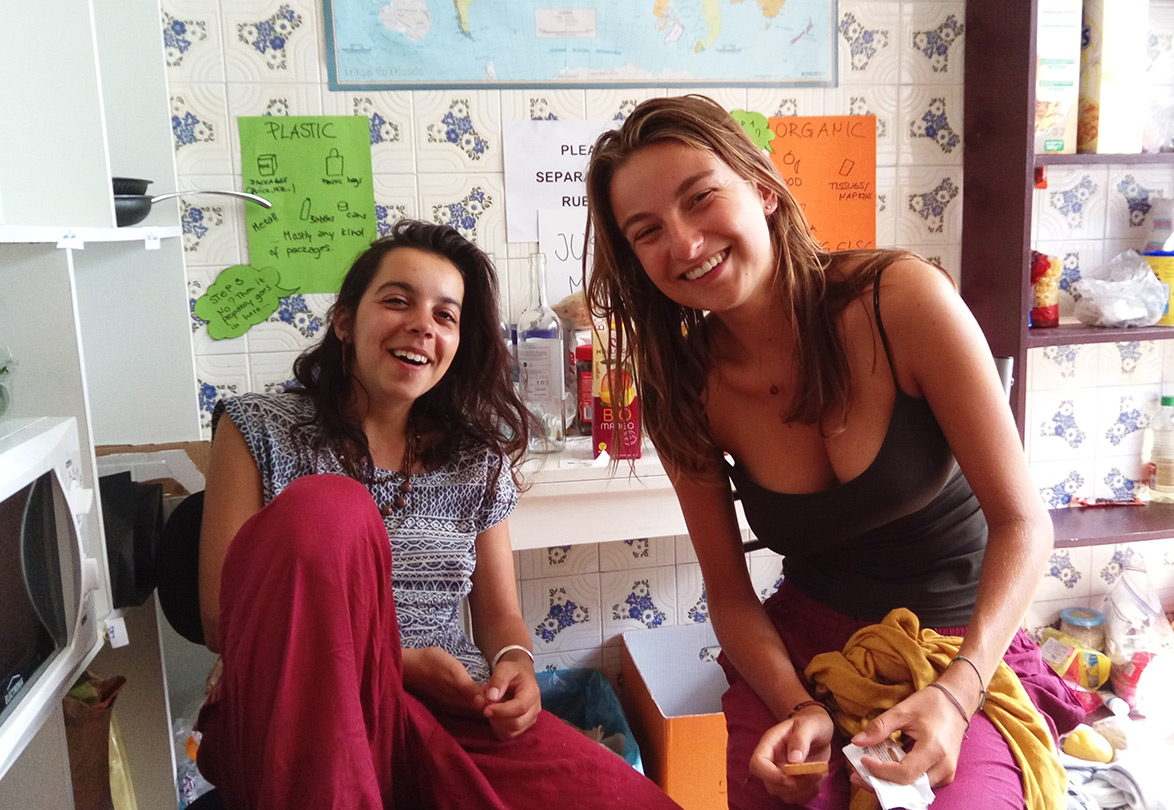 ---
22:15 02.08.2016
Max, Austria. "I don't write travel stories but I take photos of the people I meet on the way and that I like. When I see their portrait picture I remember everything. I took photos of the volunteers in the School.
What did I learn here? Well, about 20 useful sentences in your language. For starters, the most important one is: Let's drink a glass of wine! Or two."
---
17:55 01.08.2016
Antonio, Spain. "Seven yeas ago I was in Cádiz, Andalucía, with my Erasmus friends from Italy. During that time one night photographer made a photo of us in night out. After few months my friends started calling me telling that my photo is in newspapers within the news about drunk people during the bachelorrette and bachelor parties. Now friends again call me asking me if I were again in Cádiz because newspapers are still using the same photo for the same story. Today, after 7 years finally they blurred my face. It's very uncomfortable because I am in Health promotion for young people program."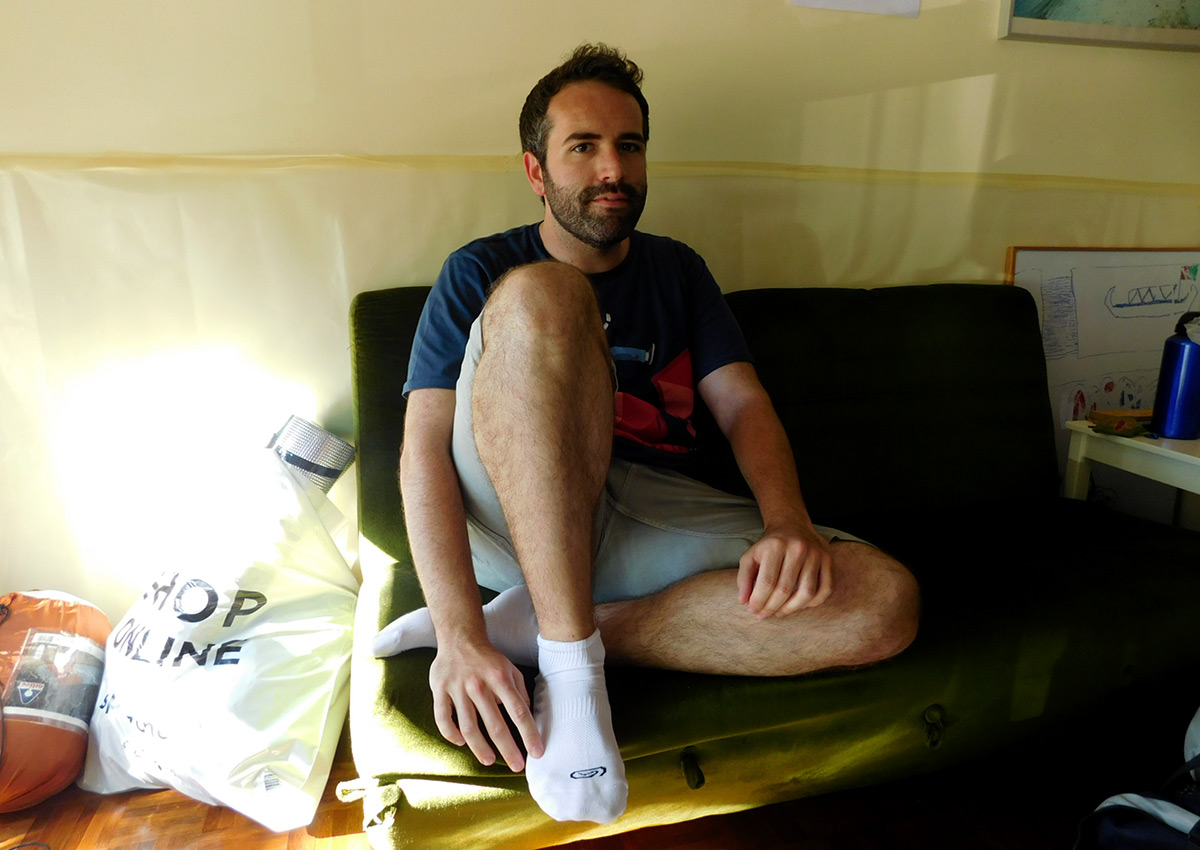 ---
20:20, 31.07.2016
From today on we'll be having book exchange in the flat! For now, we've got a book and a magazine in Serbo-Croatian, Joyce in English, Tolstoy in Portuguese and a novel about saudade - the feeling of longing, melancholy, or nostalgia that is supposedly characteristic of the Portuguese temperament.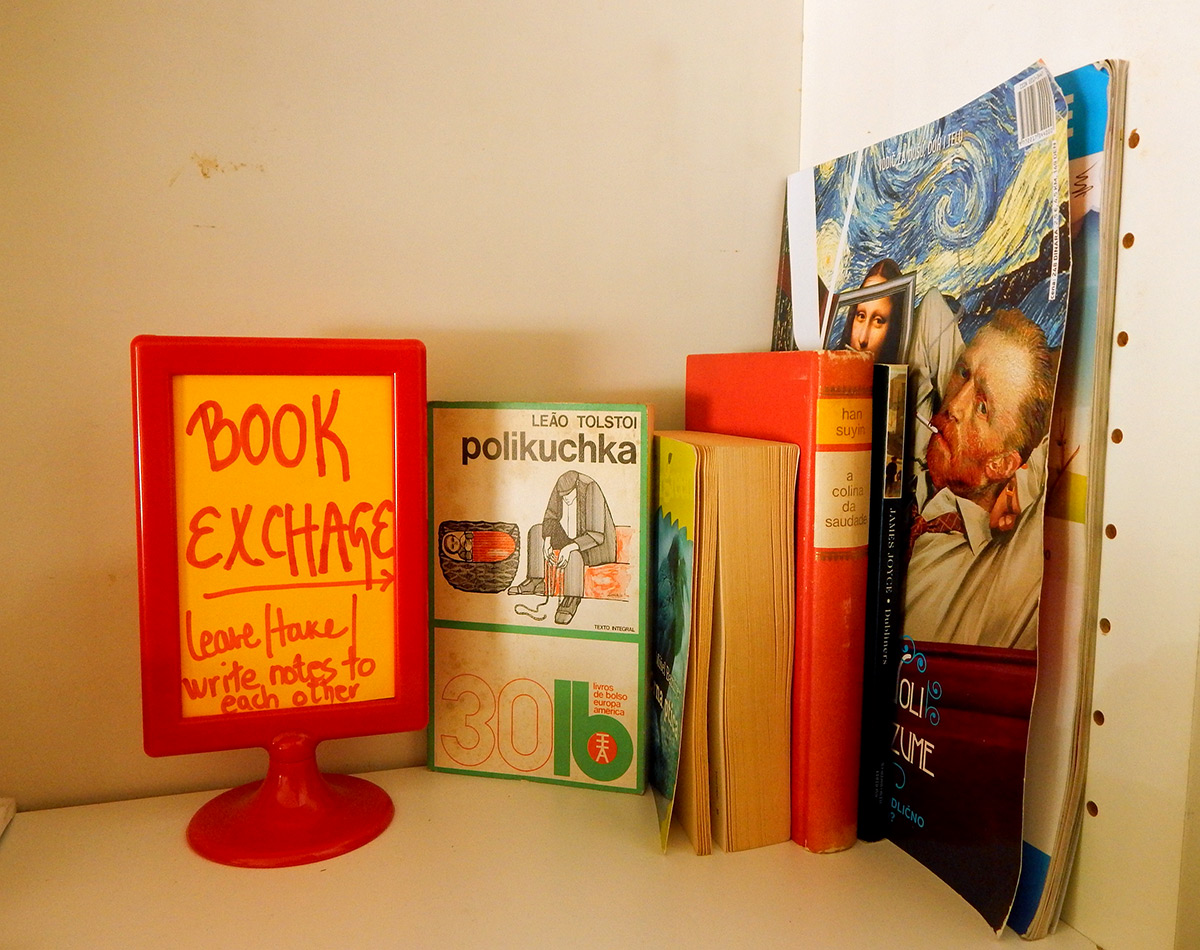 ---
13:01, 31.07.2016
In the ID I am Bogdan, guy from Užice, born in 1994, without beard and hair. With Miloš, my compatriot, I was in volunteering camp in Famalicão and then we headed to south. The Travel School was perfect fit for us. We came with our new friend Gerard from Poland and during this trip we want to be as far as possible from the confort zone. However, we have great time here - no stress, all drivers will stop on the crosswalk, and it feels so good to be under this sun. Hat off to the team from Aveiro Travel School - and the message for those who read this: hurry up in Portugal. Adeus!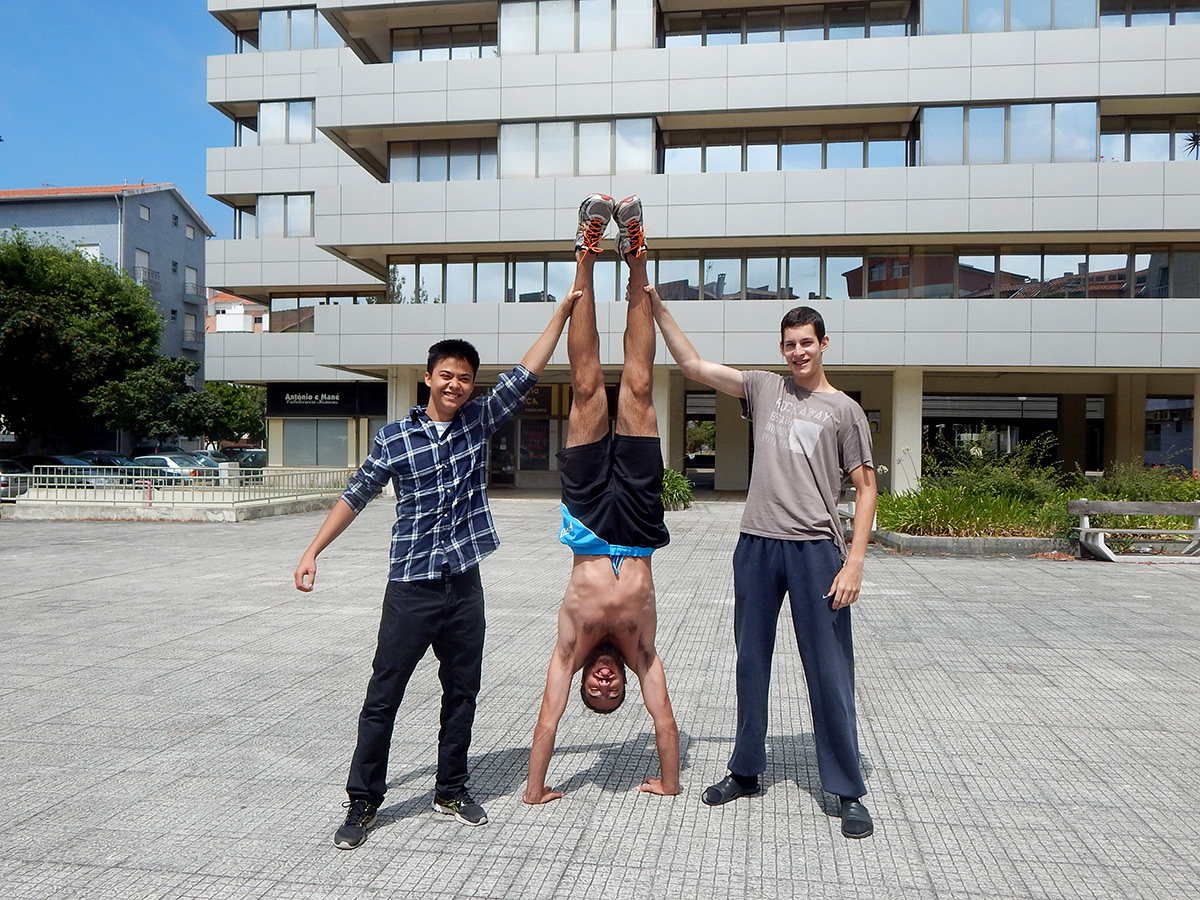 ---
20:39, 29.07.2016.
Duvan, Mexico. "It was ten days ago, when I arrived in Lisbon. I didn't have any accommodation. I was wandering around searching for the bench to sleep. In one moment a man show up asking people to go sailing with him. Everybody refused his offer. I couldn't wait for his question and in one moment he asked and I accepted. I needed place to sleep, he needed a companion. Three days we were sailing by the shores of Portugal. The plan was to get to Huelva in Spain, but because of the wind our tour was 2 days longer. After arriving in Huelva we went for dinner in some restaurant. After the dinner we separated: he went back on his boat, and I took a bus for Faro. That ride took an hour and half - same distance we crossed by boat in 12 hours. No matter what happened, it was great."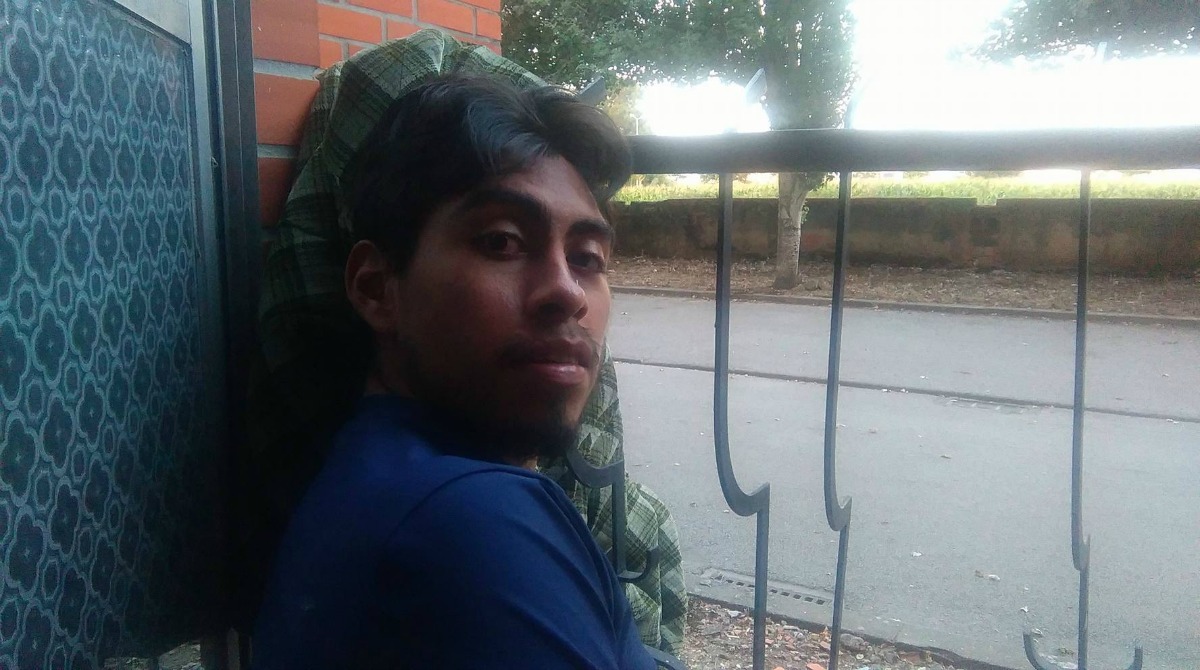 ---
16:23, 28.07.2016.
Shortly after we moved into The Travel School, our volunteer Osta planted oregano, thyme and coriander in cans. Today we noticed that the first sprout of coriander is here.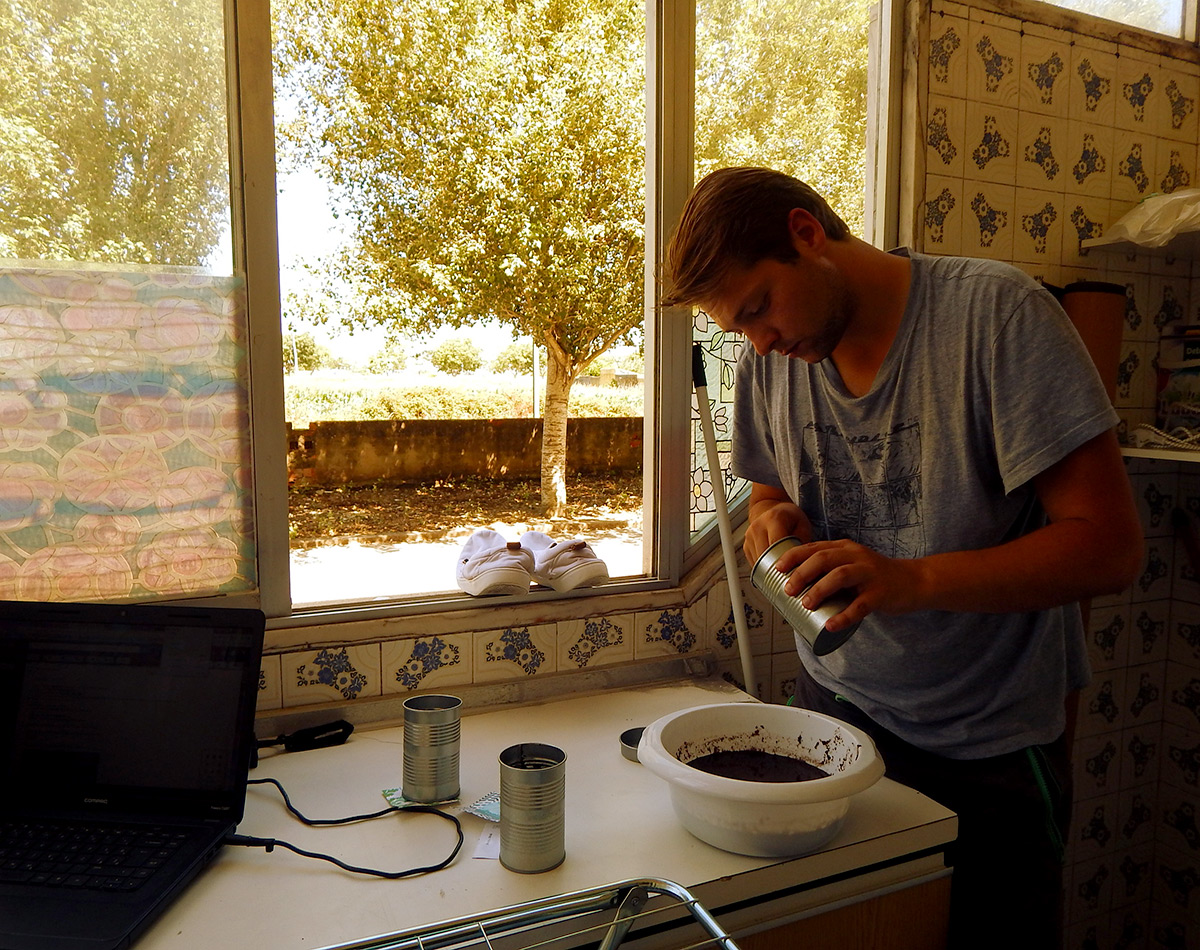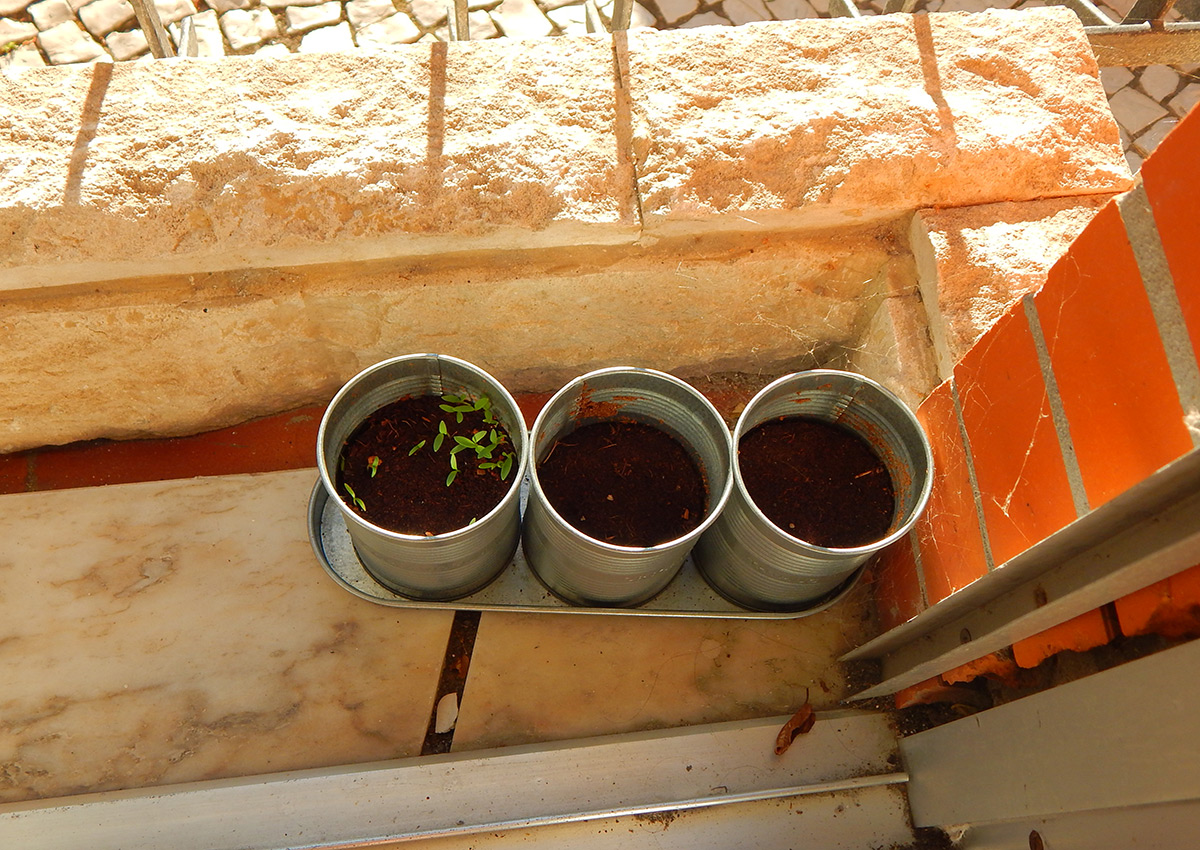 ---
10:36, 28.07.2016.
Patricia, Aveiro. The Travel School wouldn't have been the same without help of the local volunteers. Patricia is our local guide through Portuguese culture and our teacher of Portuguese language.
"I started teaching in Agora Aveiro a year ago. I teach Portuguese language to foreign volunteers and I saw it as an opportunity to learn about my own language. It is different every time, with different students, and I give my best to meet their needs.
We also do other things together. Yesterday we made a trip to Buçaco Forest. We missed the train early in the morning and the bus that was supposed to take us there didn't show up. Then someone suggested hitchhiking to Luso, and I was reluctant at first, because it was 6 a.m, not much traffic and I had never done it before. It took about 10 minutes to get the ride and the man that stopped was really cool. We used a paper to write where we were going and when the man told us it was his first time to have hitchhikers in his car, we gave him the paper, as a reminder of this experience. I am so glad that we did it. Now I can finally cross hitchhiking off my bucket list! I think now I'll be more willing to give rides to hitchhikers. In Portugal it is not very common to travel this way."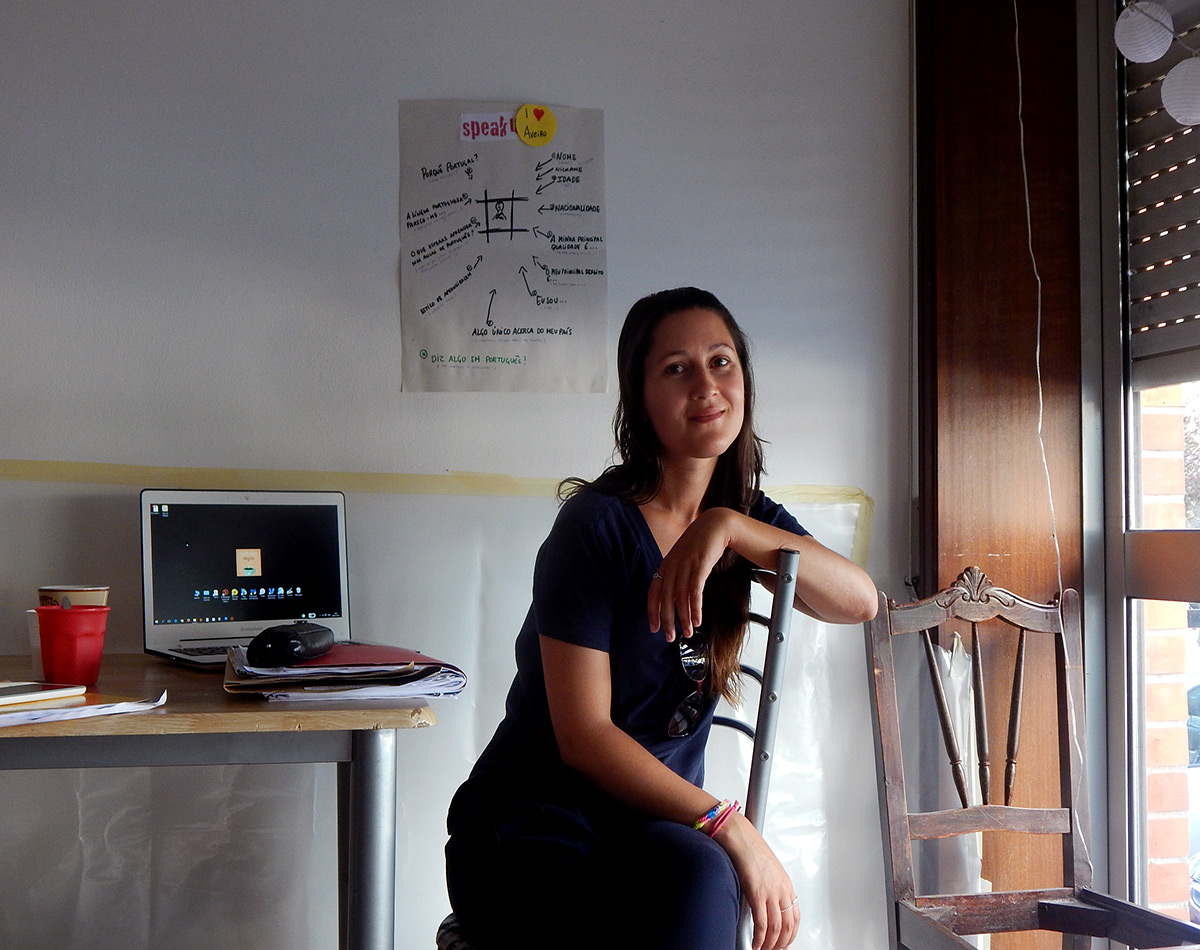 ---
18:45 27.07.2016.
Last night we didn't sleep enough. Today we woke up at 5 a.m. and ran away from our city. We have changed two trains and - the walk has started. We were visiting national park Buçaco. Bye, bye!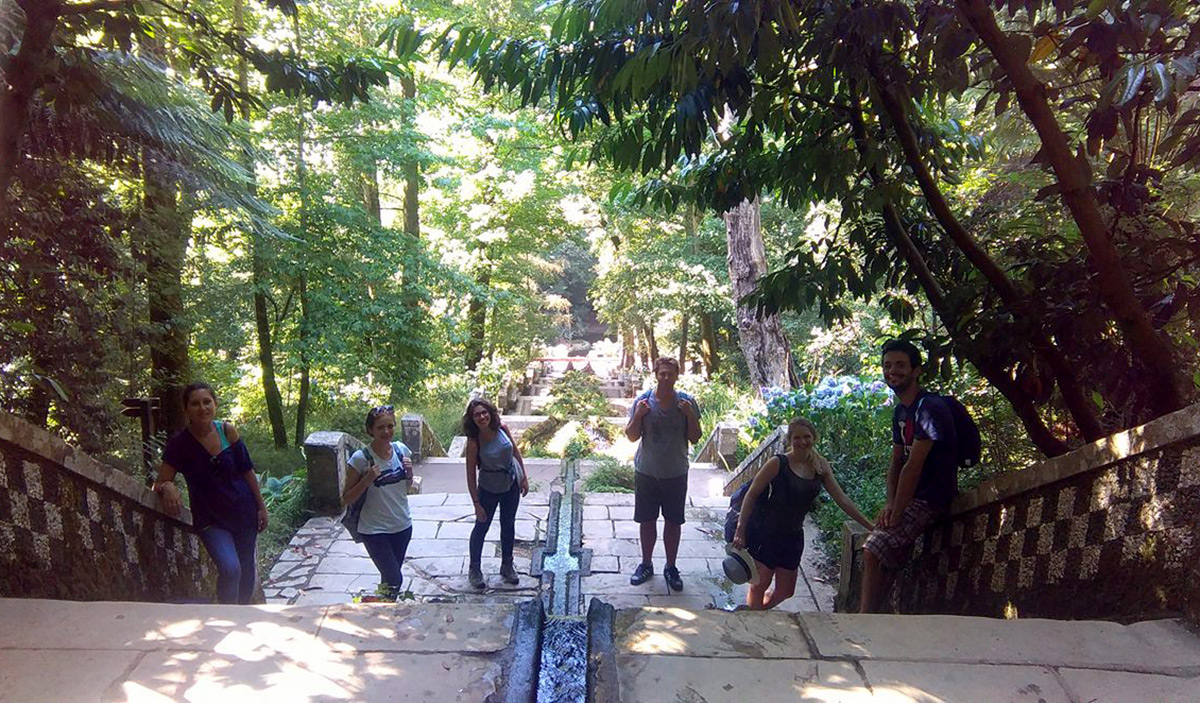 ---
13:47 27.07.2016.
Ana, Croatia: "During the last year I was working in Ireland. Not long from now, all of my friends will go back home, so I'll go home too, to visit my family. After the Irish adventure, I decided to travel a bit for my own pleasure.
A couple of years ago I hosted some French couchsurfers, while my mum was at the countryhouse. They asked me to go to Sarajevo with them for a day or two, wishing to return the favour of hosting them. Then, they invited me to continue with them, because I could speak the language and I can easily make contact with other people. And I thought - great!, this is the opportunity to go to Kosovo, because I didn't know at all what was there. When I was there I felt culture shock. Wherever I go, I see separation. It even turned out that in Kosovo people could barely speak our language.
I fell in love there – the French guys left and I stayed for a little longer.
Regardless the stories, I recommend people to travel and widen their horizons, because not everything works in the way the newspaper says."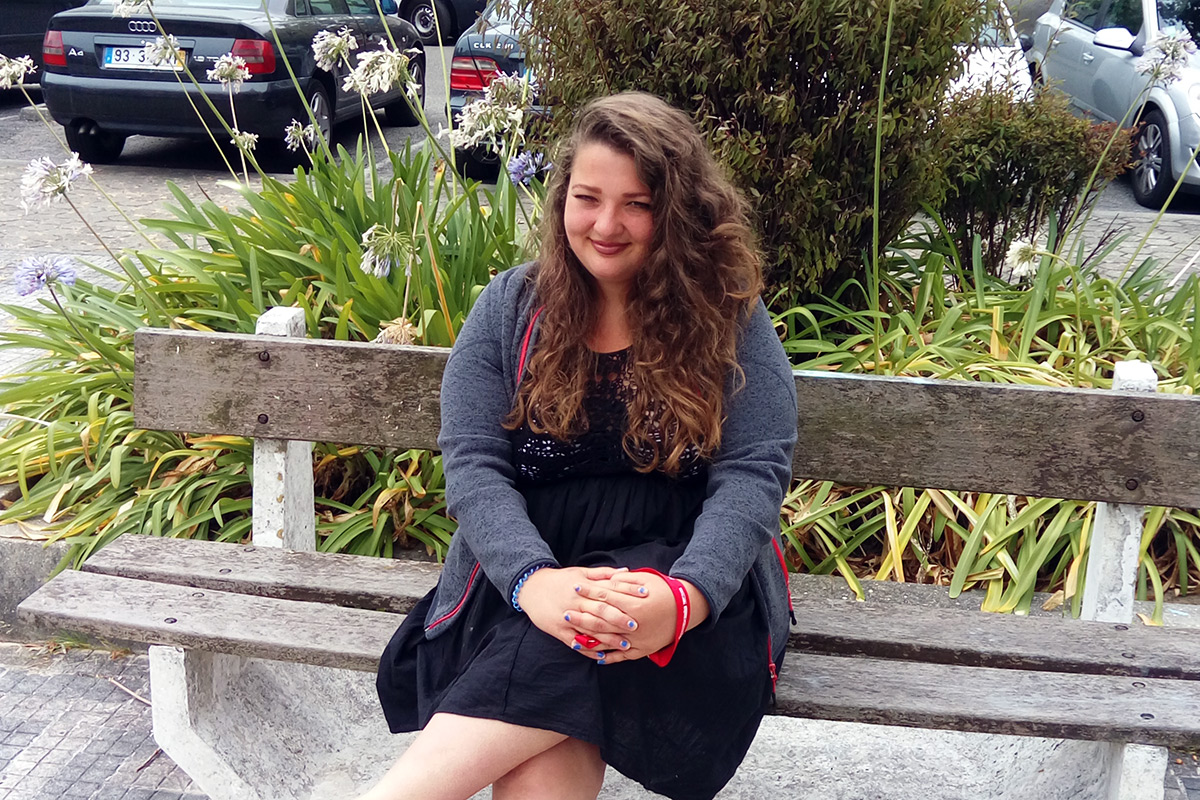 ---
18:47 26.07.2016.
Maria, Serbia: "Everybody thinks that during the summer I teach English abroad, and I take my child with me. But, in fact, we travel. To travel with a child is very exhausting, because you cannot be totaly relaxed whenever you want, you must be present all the time. At home we don't talk too much about our travels - where we live, it's not that possible to act outside of the established pattern.
We were in so many volunteer camps and we have met wonderful people. Few years ago, while I was searching for the travel opportunity I discovered The Travel Club webpage. Every year we do our best to move the boundaries - so, here we are in Portugal. Being here is just like a movie that you watch - and then you jump in it..."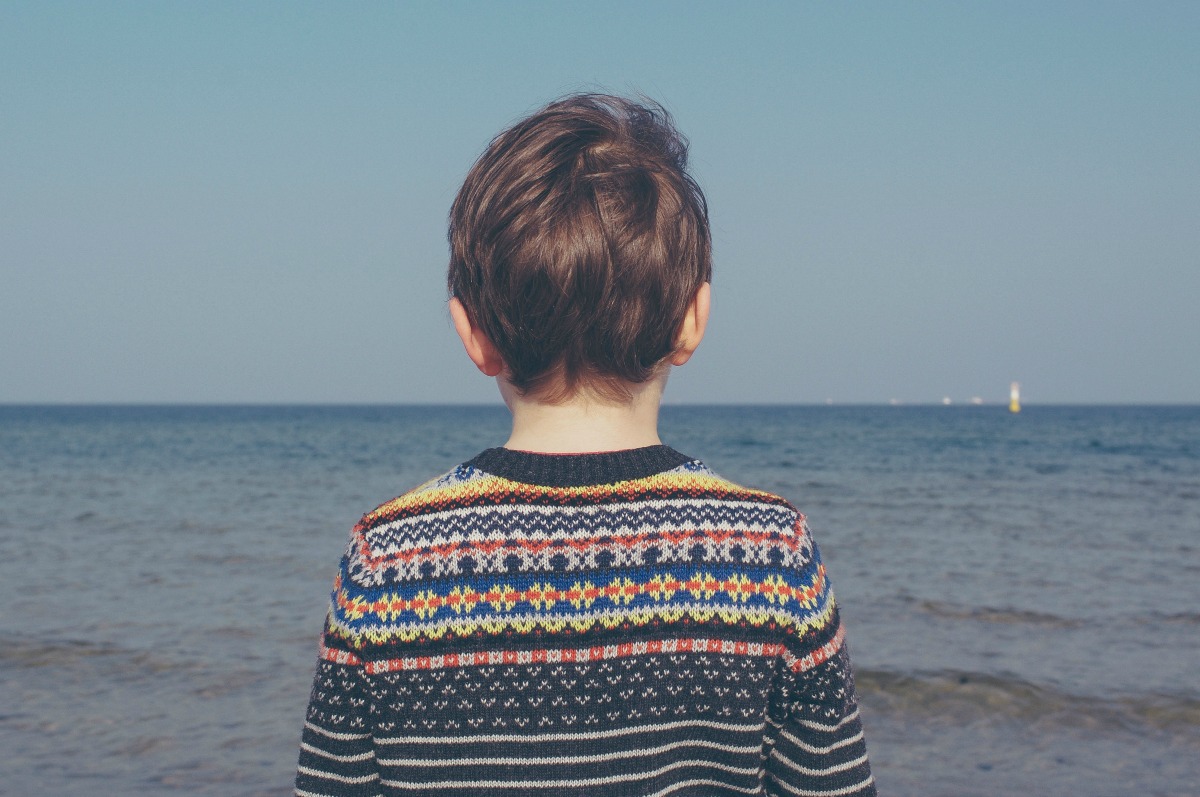 ---
18:37 26.07.2016
This bridge is a part of the highway that connects ocean shore on the left and our city on the right side.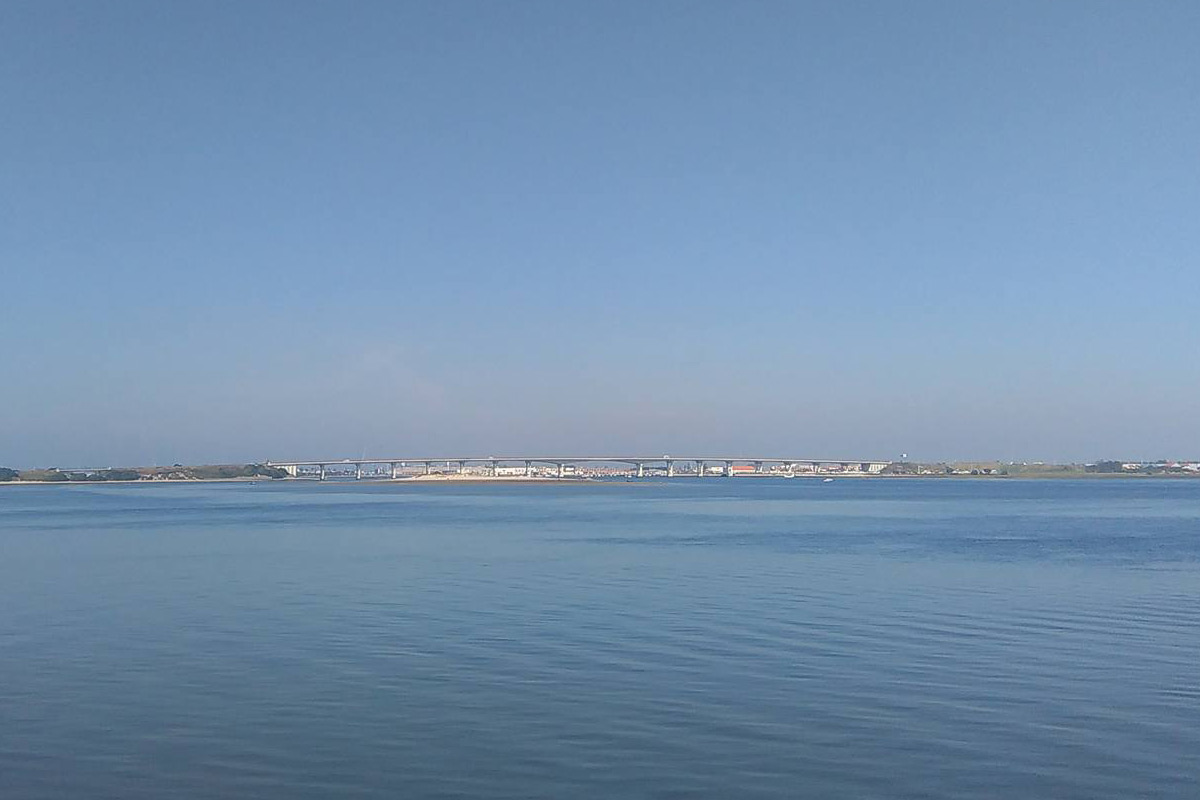 ---
22:38 25.07.2016
We've just finished today's workshop. We exchanged the stories and talked about the reasons why we travel.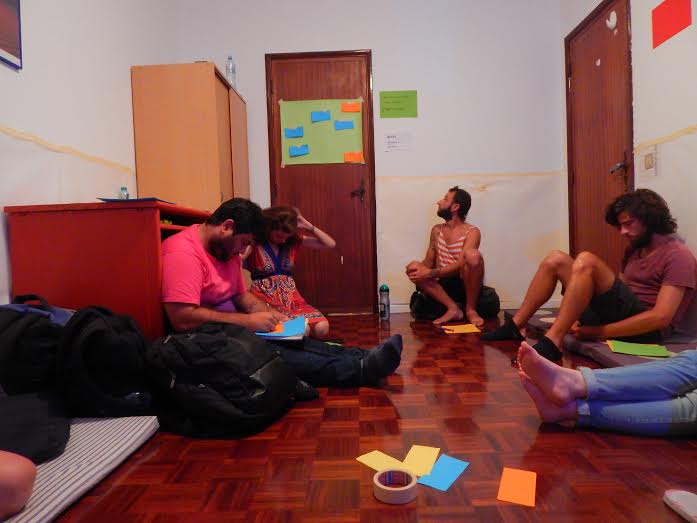 ---
12:38 25.07.2016
Jamie, Scotland. "I left home over two year ago and I've been traveling and working since. I usually travel by bicycle and I've cycled more than 17000 km so far. I heard about The Travel School while traveling thorough Coimbra. On my way north to the Travel School I met another touring cyclist going the opposite direction and he suprisingly had just come from the Travel School. I'm trying to cycle around the world and I am writing about my experiences on my blog - BikeRamble. I've had a really great time here and I've met a lot of great people."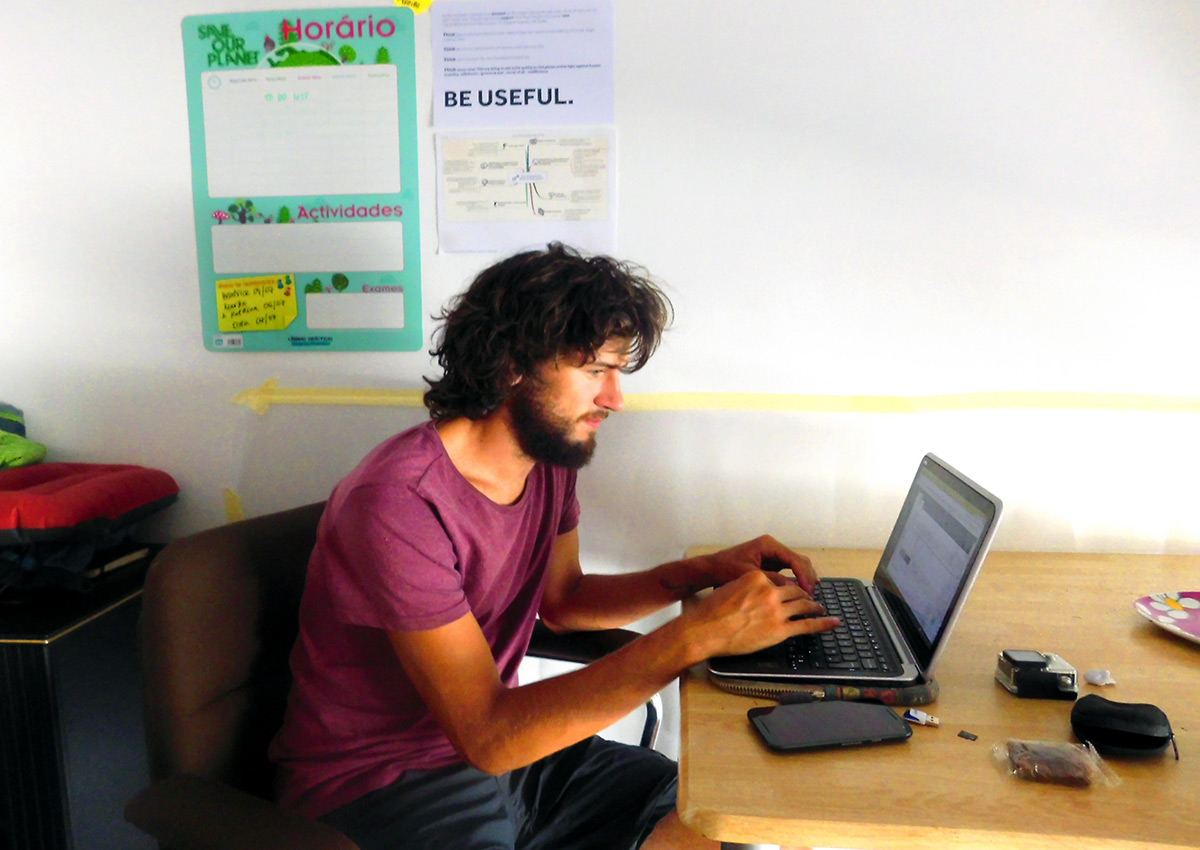 ---
21:56 23.07.2016
The youngest traveler in our Travel School is 11 years old. "My name is Nino, I play football and I play accordion. I travel with my mom. We are traveling through Europe. Before Portugal we were in Spain, and before Spain we visited Hungary. I like Portugal, it's a nice country."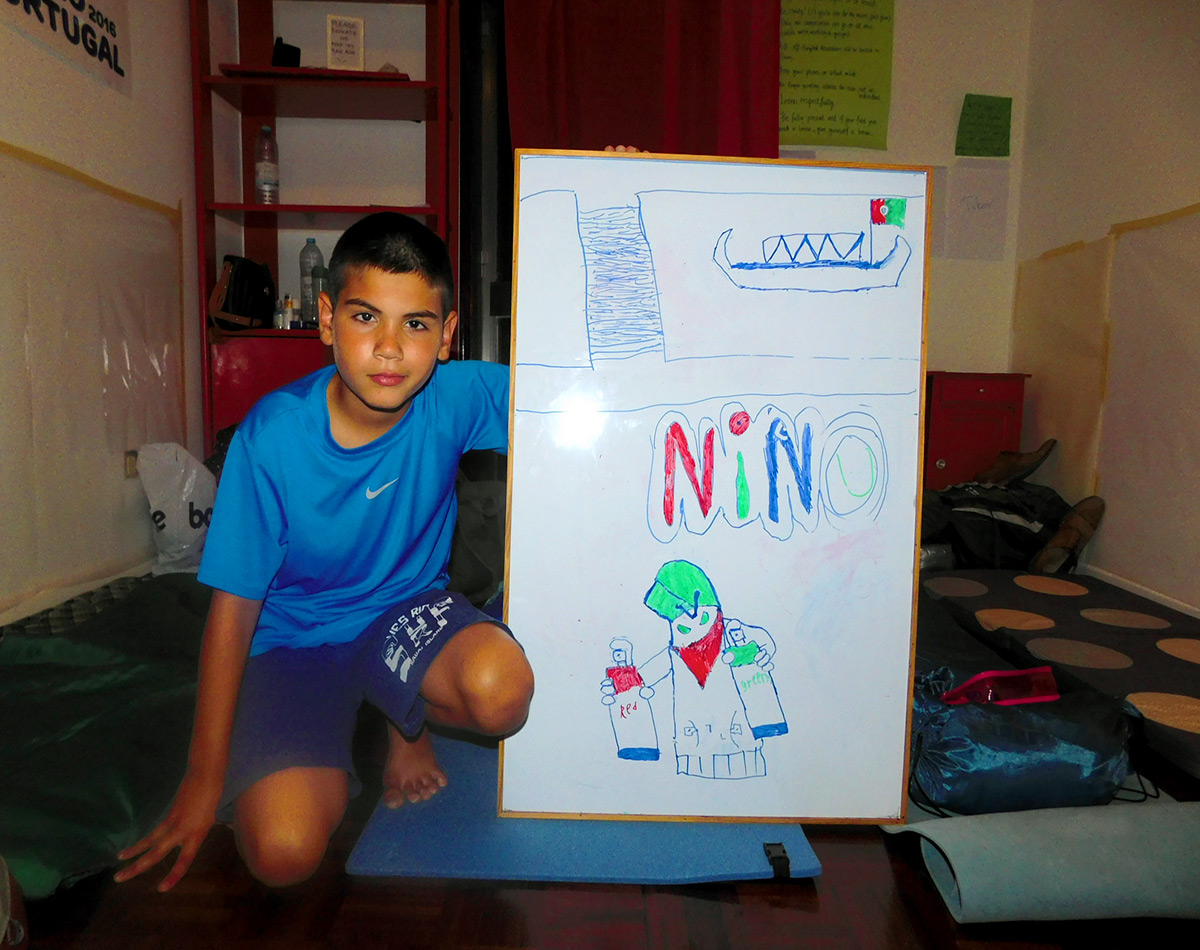 ---
14:20 22.07.2016
Every weekend, our Osta gives a "Free walking tour" in Aveiro. He has collected the most interesting stories from the locals and found the best places in town to see. Walks are every Saturday and Sunday from 2 am. The tour starts from the main square: Praça Joaquim Melo Freitas. And here's one photo from the latest tour: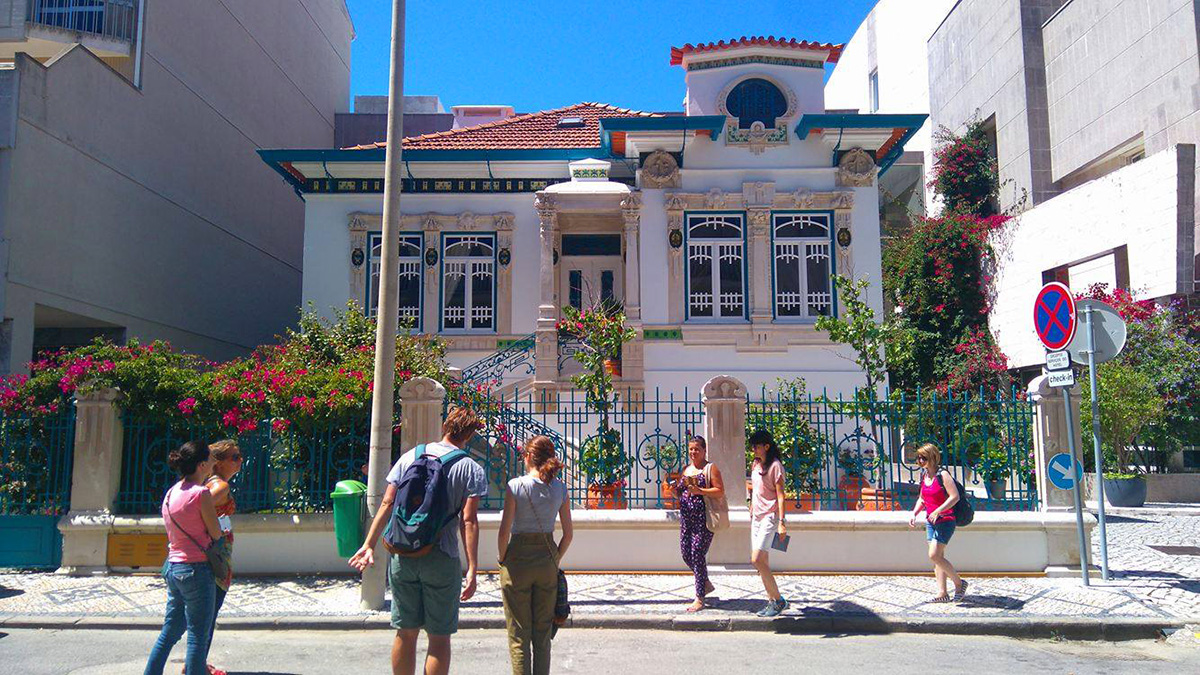 ---
15:36 20.07.2016
Experience exchange is followed by the goods exchange. That was the case today after the lunch. Matt lives and works as a teacher in Brazil so when he was about to continue his trip he gave his Brazil jersey to Arnau, in return Aranu gave him his glasses.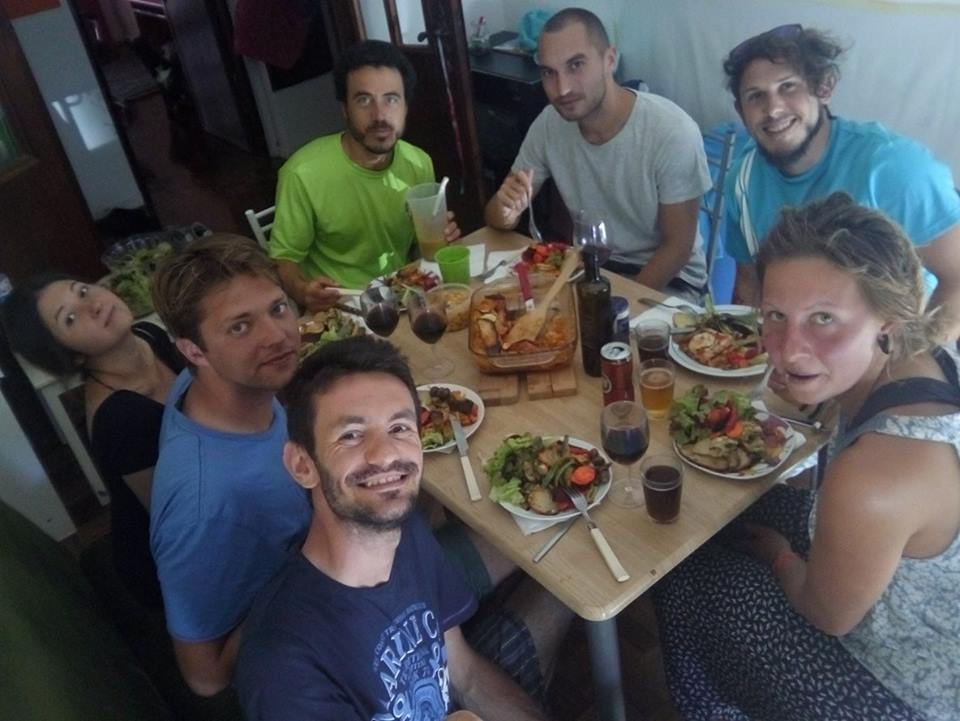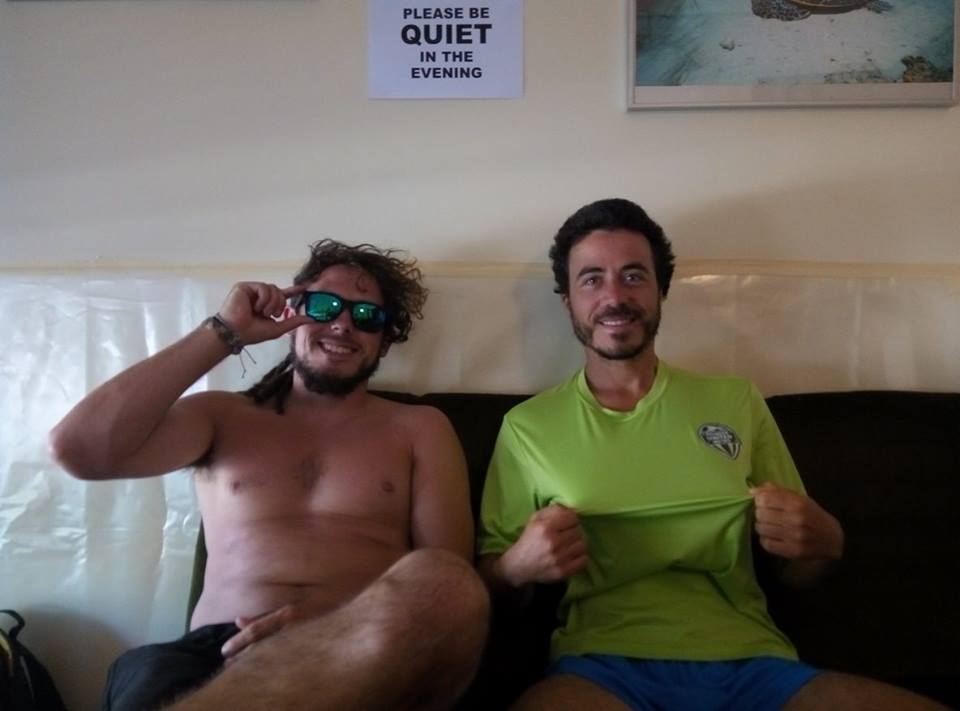 ---
12:04 19.07.2016
This morning/noon we were eating healthy - we had an oriental style breakfast.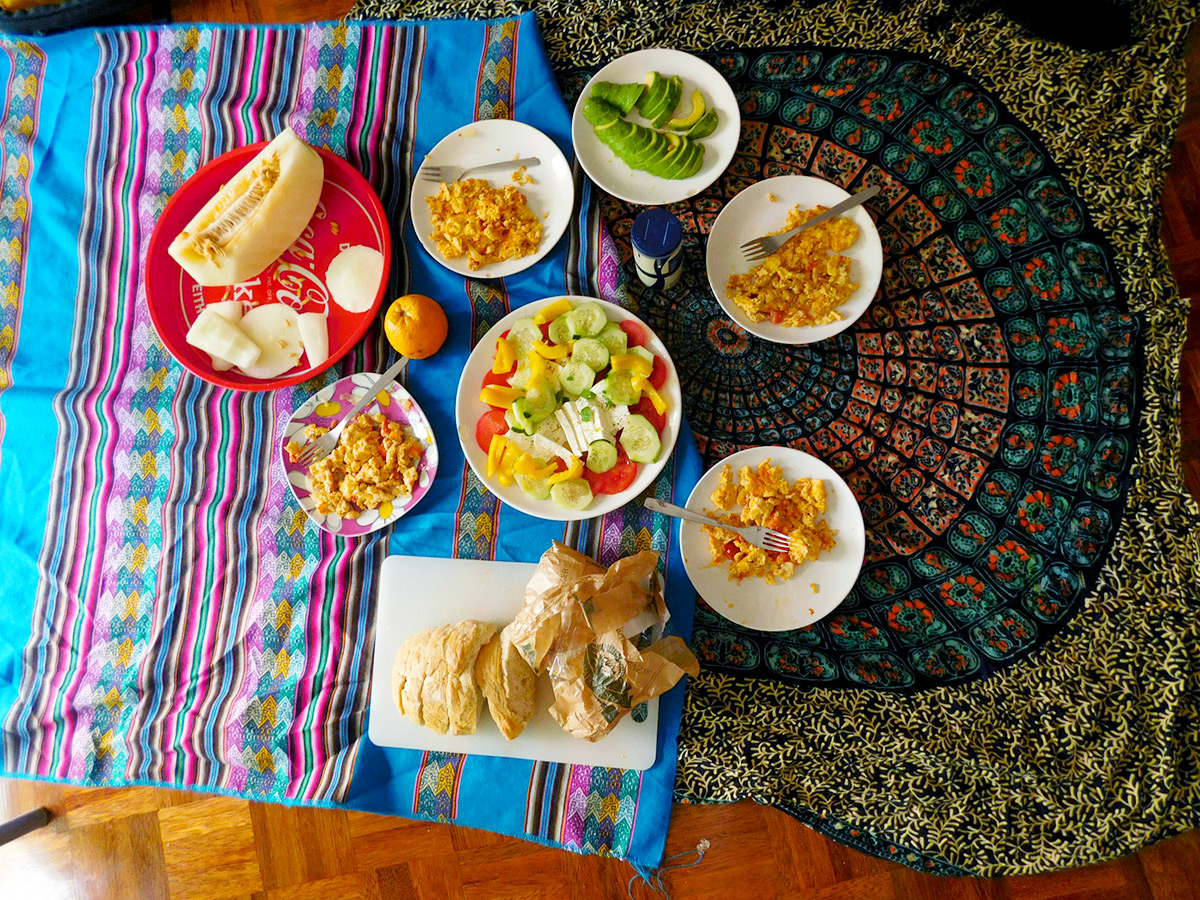 ---
14:18 18.07.2016
Samira, Germany. "I was volunteering in Nicaragua for a year with my boyfriend. We arranged a lot of puppet shows for kids to teach them about the environment and the nature. In the most of South and Central American countries the sitiuation is really bad when we talk about environmental awareness. The project name is "Buscandoandar" and we have a Facebook page. After that project I've started studying Psychology in Maastricht. I've just finished my first year".
---
10:44 17.07.2016
The squad after the morning house cleaning. Some people are leaving, new ones are coming to the school.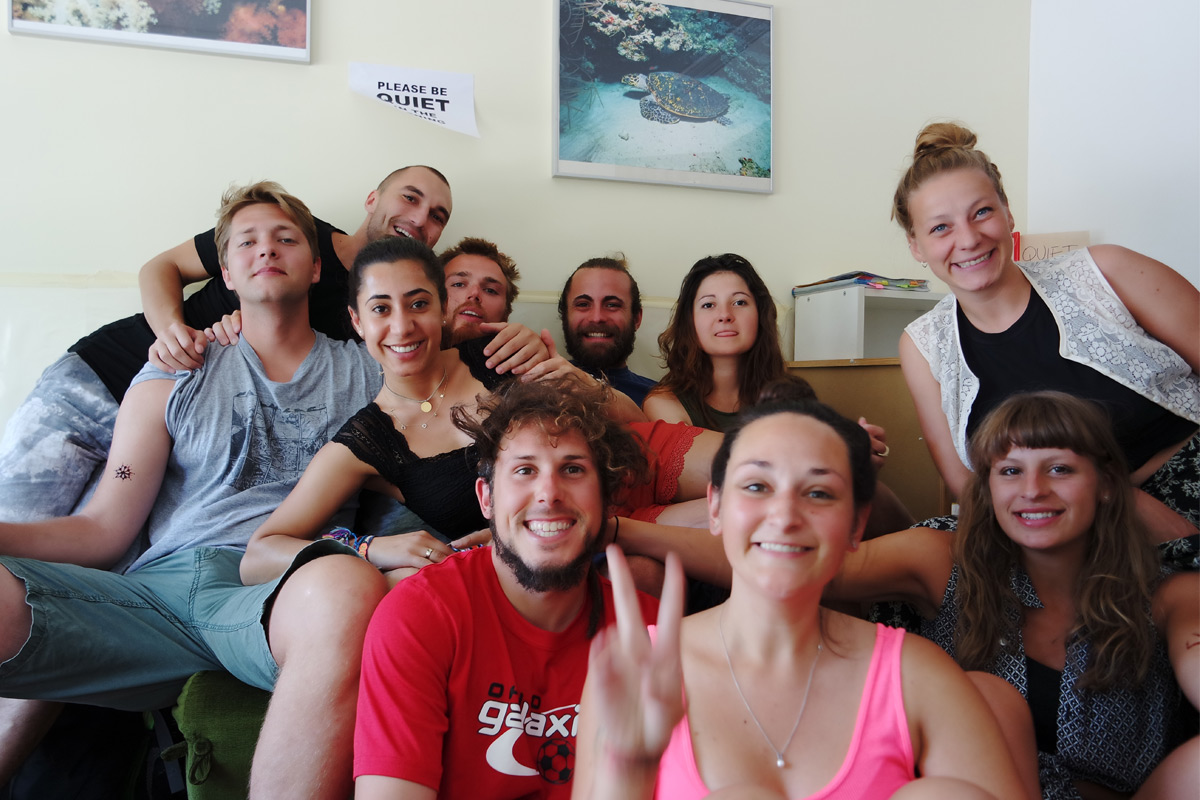 ---
10:44 17.07.2016
Julia has just finished her 800 km Camino. After it, she headed straight here to the Travel School. These are the diplomas she got in Santiago and her Camino passport. On average, Julia walked more then 30 km every day. That is quite fast! On the way she met other people who will join us in the School.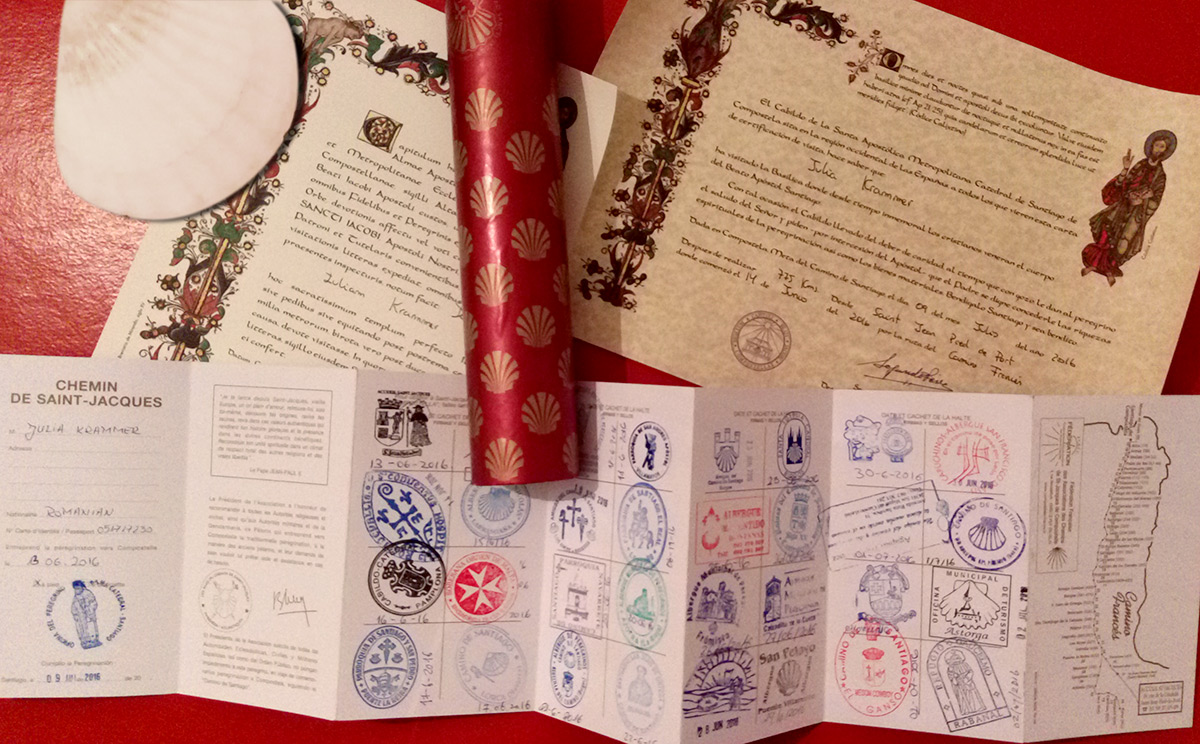 ---
19:00 16.07.2016
Travel Writing was our first workshop in the School. It was conducted by Jovana and Tibor. At the end of this workshop we all together read The Club's favourite travelogue "Requiem for a Backpack".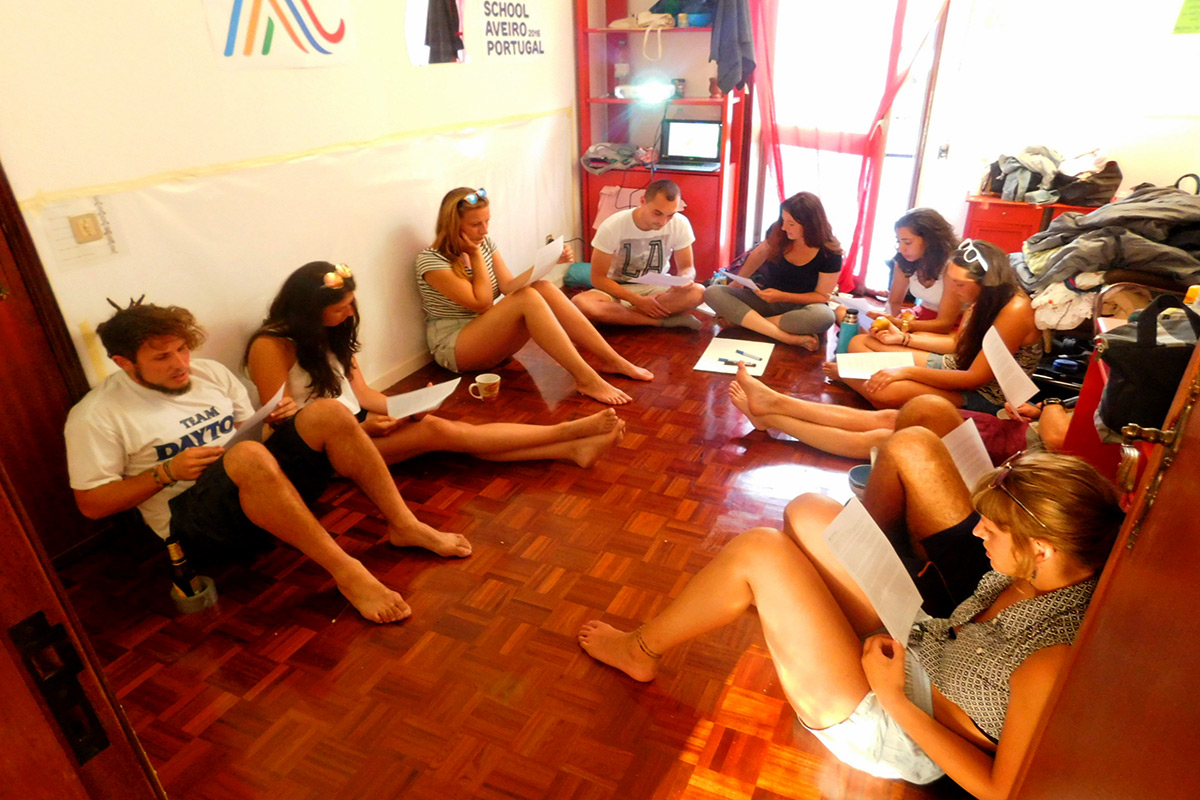 ---
19:05 15.07.2016
The School is officially open!
---
19:20 14.07.2016
Hello all! I am Tibor and I am the unofficial principal of the Travel School, so I am going to be the bad cop in the house. :) Like all of the volunteers I will also have my own workshops, Creative cartography, How to Travel Cheaply (with Marko) and Travel writing workshop with Jovana. See you soon.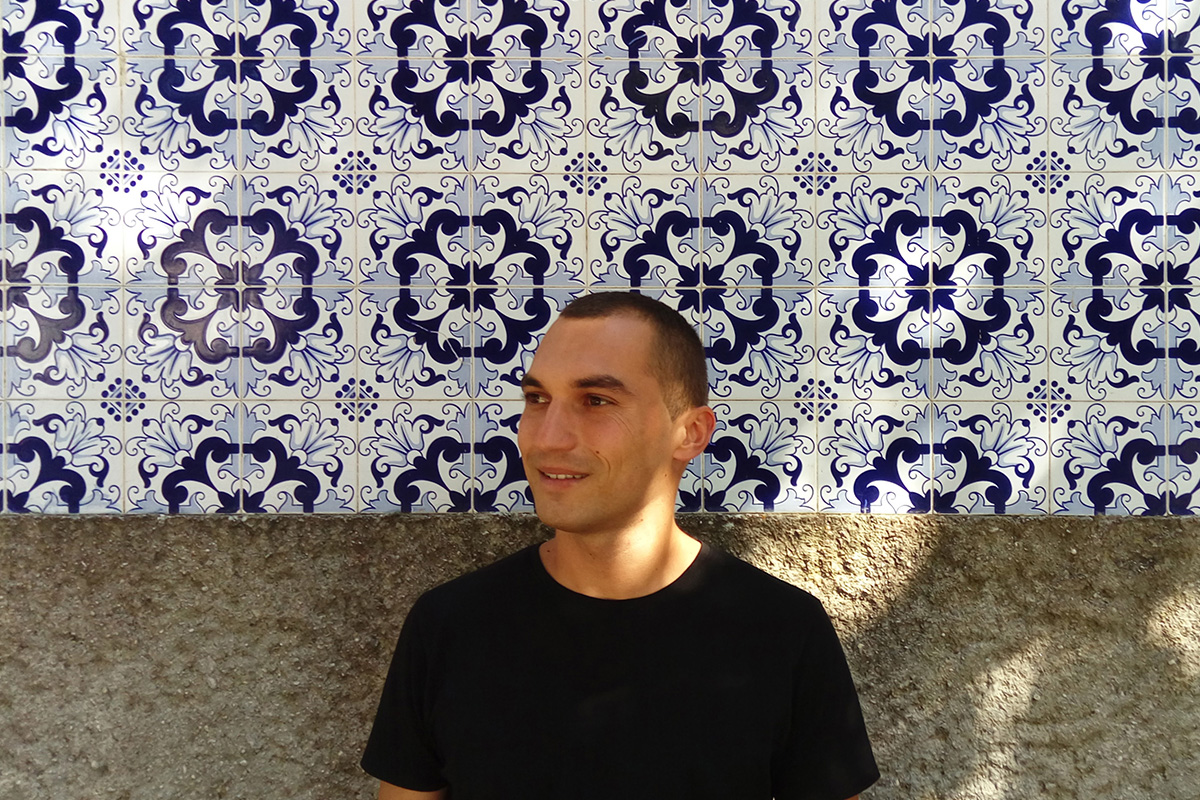 Bom dia! My name is Marko, but I prefer Tózé. I'm the one who will always remind you to separate the garbage (so mind the color of the bags). We will try to understand "mysterious" Cyrillic alphabet (Slavic countries for dummies) and we will act together on the "stage" (Lets act, with Osta). There are some other workshops that I will conduct with Tibor and Jovana.
I am Osta, I will help you to get to know the beautiful city of Aveiro. Also, I'll take you through the world of plants on my workshops.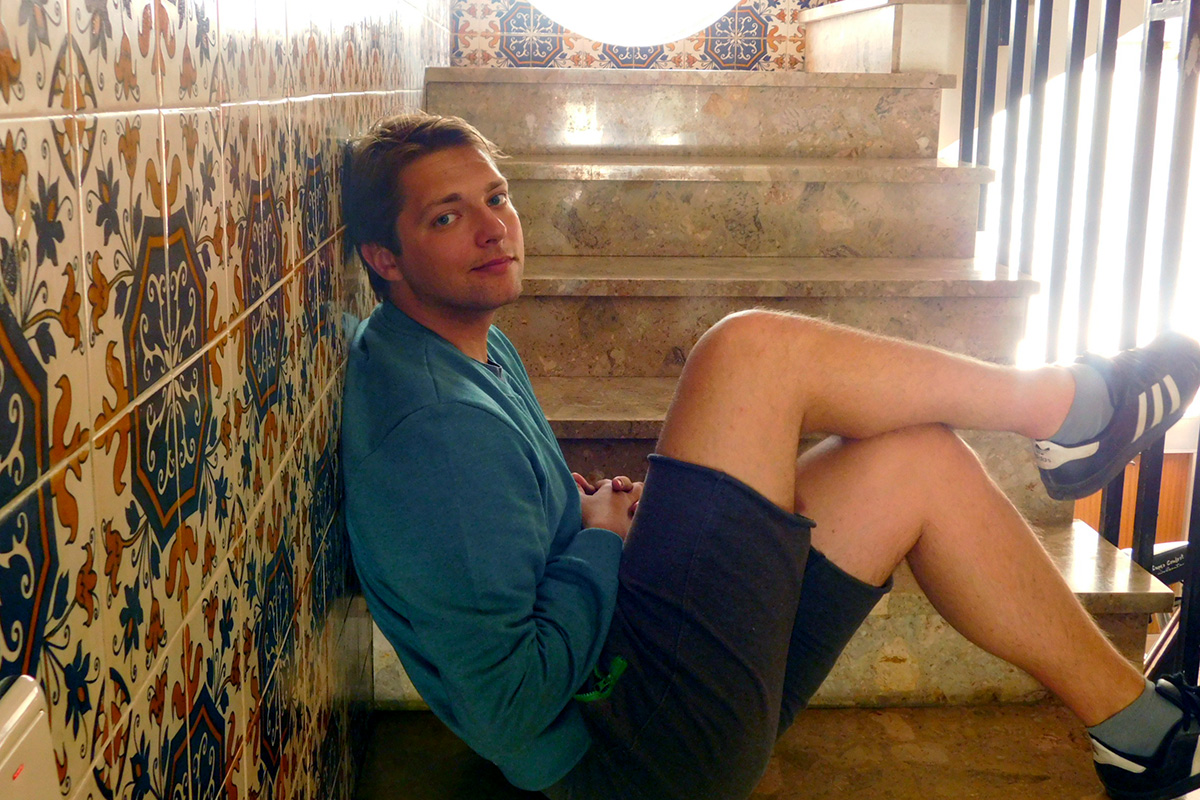 I am Jovana. This is me.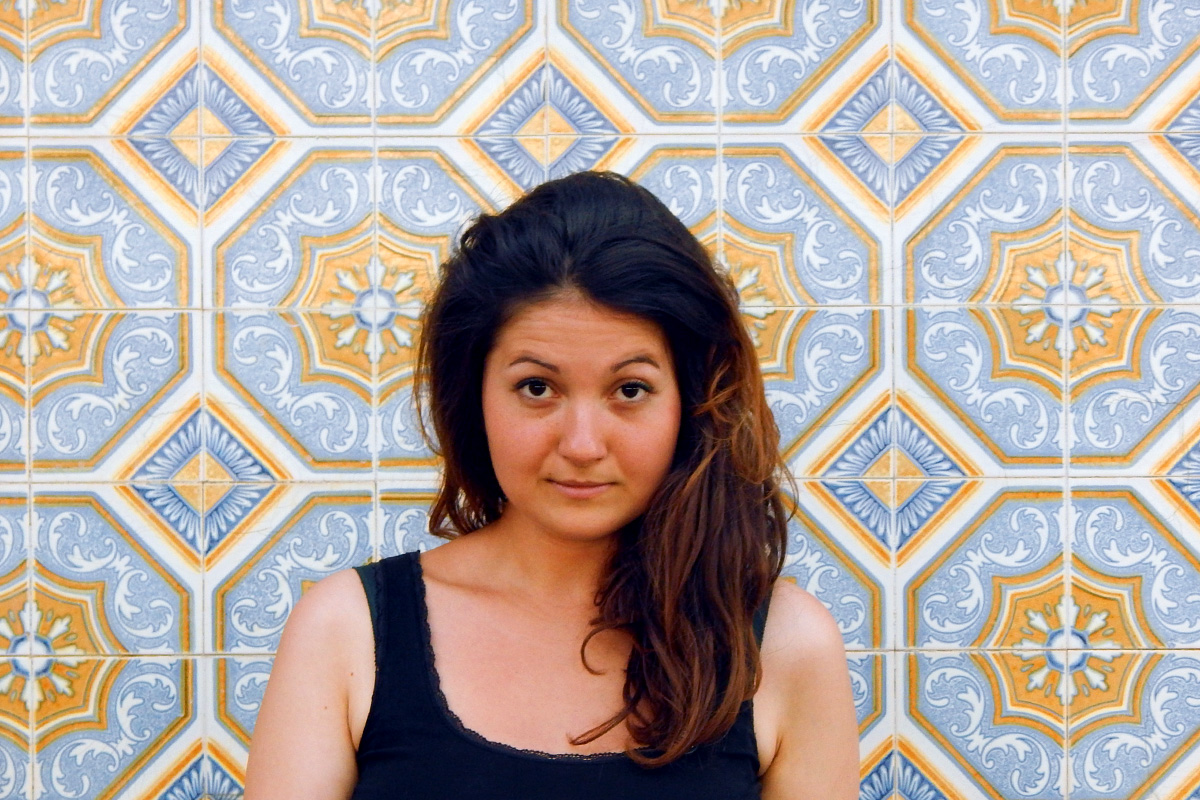 ---
15:20 14.07.2016
The School is ready, our volunteers are more than ready. Our Travel School starts tomorrow. In the next post all the volunteers will say a few things about themselves.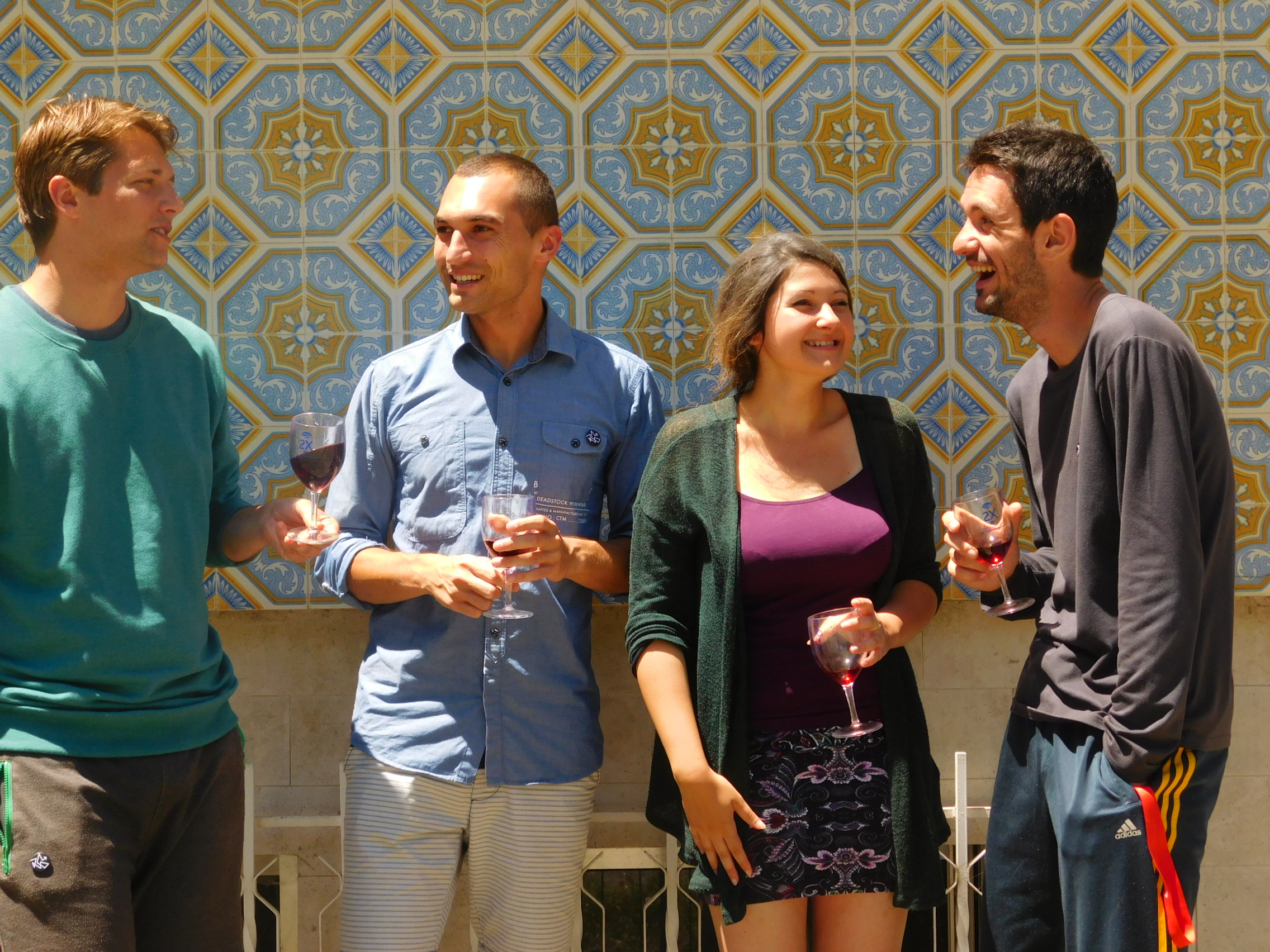 ---
00:35 14.07.2016
Tonight the Travel School crew went out to a concert of Deolinda, an acoustic Portuguese "neofado" group, whose music often deals with social and political critique. The concert is a part of a five day festival (Festival dos canais), so our first Travel School students will be able to see some of the performances, after the afternoon workshops.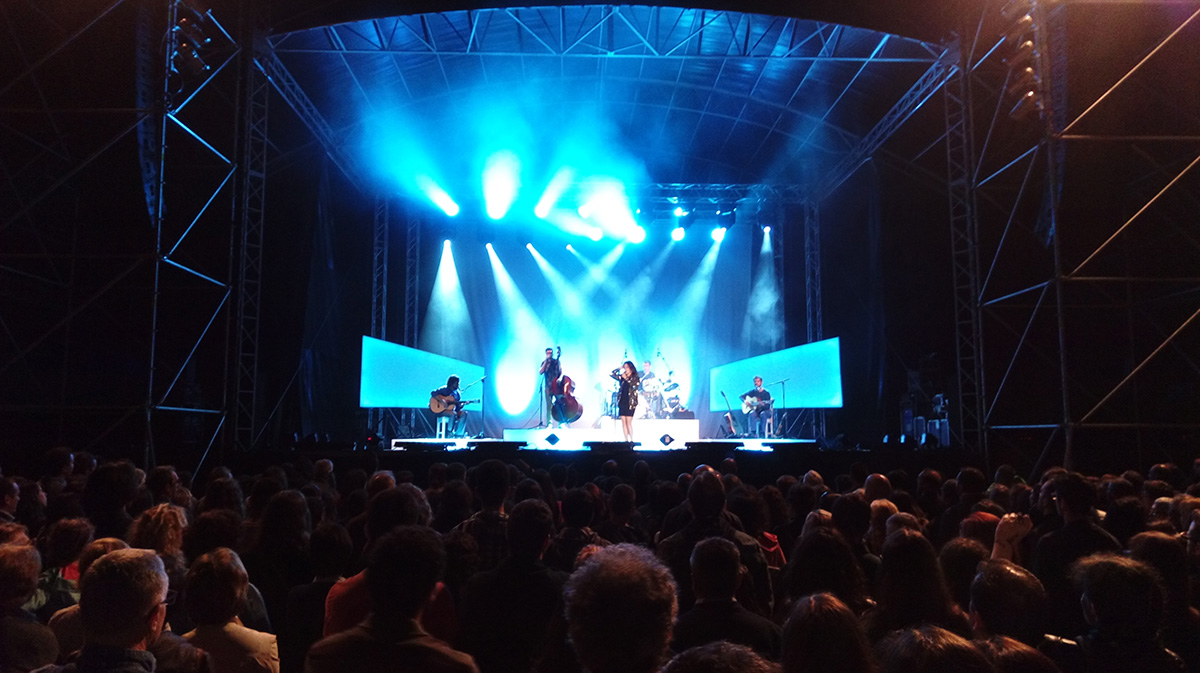 ---
14:07 12.07.2016
The search for the aparmant in Aveiro is officially over. We moved in and we open our doors for the first visitors on Friday, 15th of July. On the picture you can see the atmosphere in the School just before todays lunch.