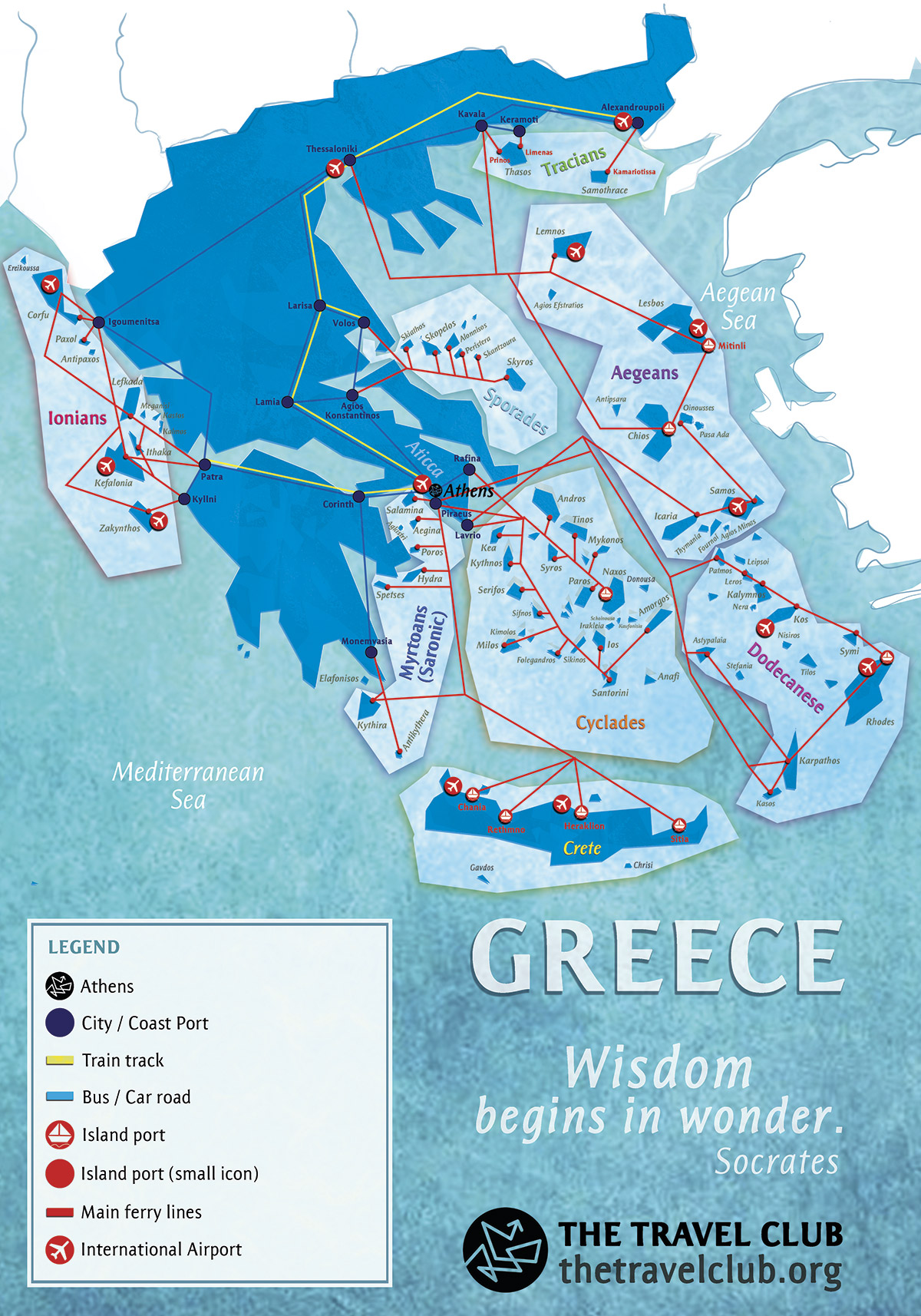 The Greek archipelago has between 1200 and 6000 islands, depending on what counts as an island. There are no precise data on how many of them are inhabited: they say between 166 and 227. More than half a million people live on Crete, while some other small islands have only one or two inhabitants. Only goats live on some of the islands, there's vegetation on some of them, while others are just bare rocks in the sea.
The Greek islands are grouped in the clusters: Thracian, Aegean, Ionian, Saronic, the Sporades, the Cyclades, the Dodecanese and Crete.
The guide to the Greek islands is a result of the joined forces of The Travel Club and their friends. Having in mind a large number of islands, this guide is inevitably incomplete; we'll be filling it as the information flow in. We invite you to contribute.
How to use the guide
All the important information are on the maps. The main map shows all the islands grouped in the belonging clusters, as well as the main ferry lines that are coloured red. The rest of the maps give a detailed display of individual cluster, including main and local ferry lines that are coloured yellow. Have in mind that almost all the inhabited islands are connected between each other by local ferries.
Use the legend to find out where are the ports, airports, touristic localities and inhabited places, which islands are suitable for wild camping, for partying and which ones have the organised camp sites. Click on any of them to see it enlarged.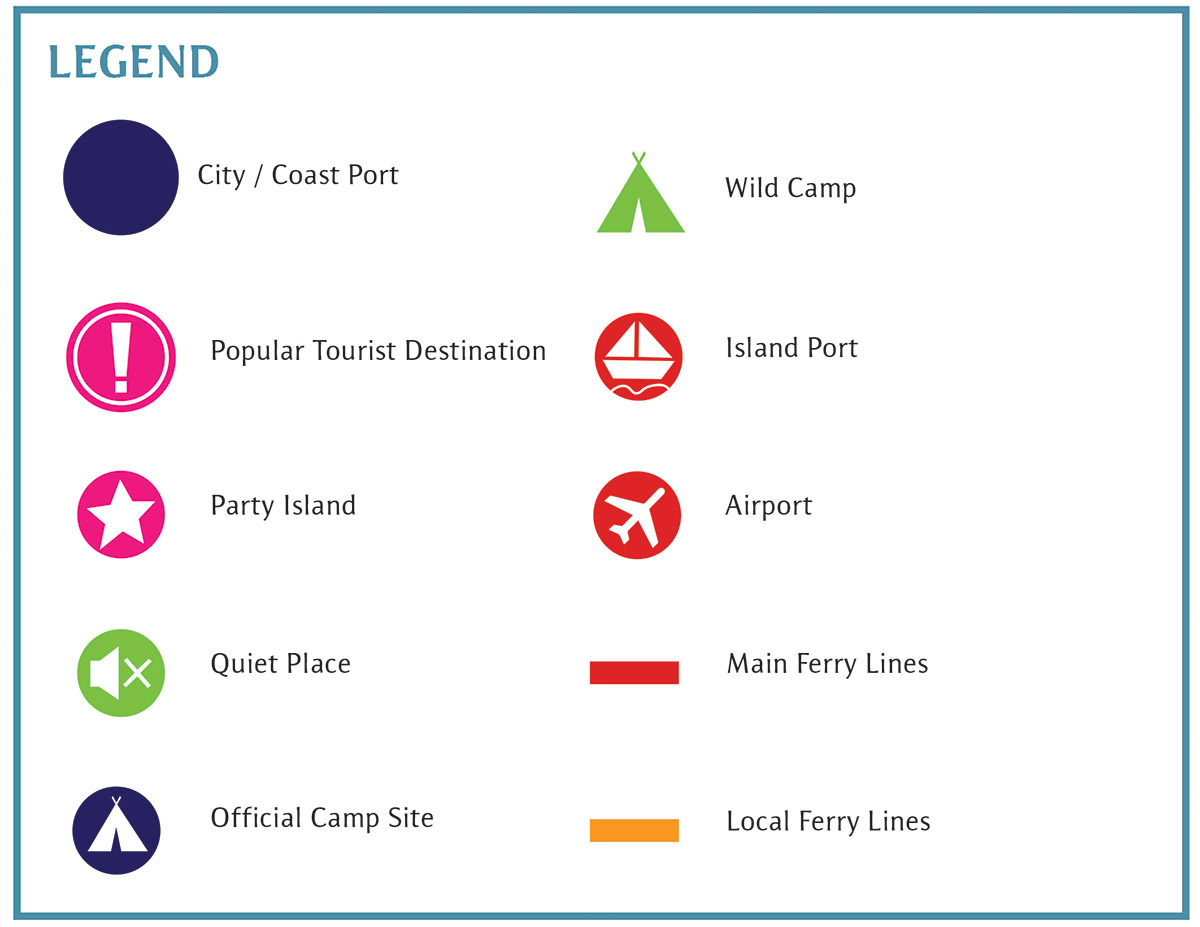 Table of contents:
1. Ferries
1.1. Where can you go by ferry
1.2. Ticket prices
1.3. Online shopping
1.4. Discounts
2. Accommodation
2.1. Rooms
2.2. Wild camping
2.3. Paid camping
2.4. Camping equipment
3. Tourist agencies
4. Transport
4.1. Car rental
4.2. Gas prices
4.3. Vehicle transport by ferry
4.4. Motorbike and bycicle
4.5. Hitchhiking
4.6. Airplanes
5. Several islands for camping
5.1. Crete
5.2. Gavdos
5.3. Donoussa
5.4. Angistri
1. Ferries
1.1. Where can you go by ferry?
Just mainland part of Greece has too many ports to count them all, but the most known and the most important ports are Piraeus in Athens, as well as Rafina and Lavrio (also the southernmost point on the peninsula Attica, near the Poseidon temple on Suni) that are about 50 km away from Athens. From these three ports you can reach about 80% of Greek islands. During summer, ferries go to the main islands on daily basis, even a few times a day. You can reach some remote islands, as well as to Turkey and Italy, three or more times a week. The names of the ports and cities they are in are often different, so while searching for ferries you can use this detailed map with port names.
Ports for the islands in Thracian sea are Kavala, Keramoti and Alexandroupoli.
Ports for the Aegean islands are Piraeus, Thessaloniki, Lavrio and Kavala.
Ports from which you can reach the Sporades are Volos and Agios Konstantinos.
To Ionian islands you can get from Patra, Kyllni and Igumenitsa.
To Saronic islands you can get from Piraeus and Monemvasia, located on Peloponnese.
To the Cyclades and Dodecanese islands you can get from Piraeus, Lavrio and Rafina
The Crete can be reached exclusively from Piraeus.
1.2. Ticket prices
The ticket price depends on whether you travel by fast or slow ferry, is it a deck or a cabin ticket, during the high season (July and August) or low season. The cheapest ticket is a deck ticket for slow ferry. If an island is quite remote, it might be cheaper to buy separate tickets from one island to another than to buy a direct ticket. The prices are fixed so buying in advance isn't necessary. However, if you don't buy your ticket on time, they might be sold out and you can be left without transport. Peak day for travelling from Athens is Friday and for travelling to Athens is Sunday.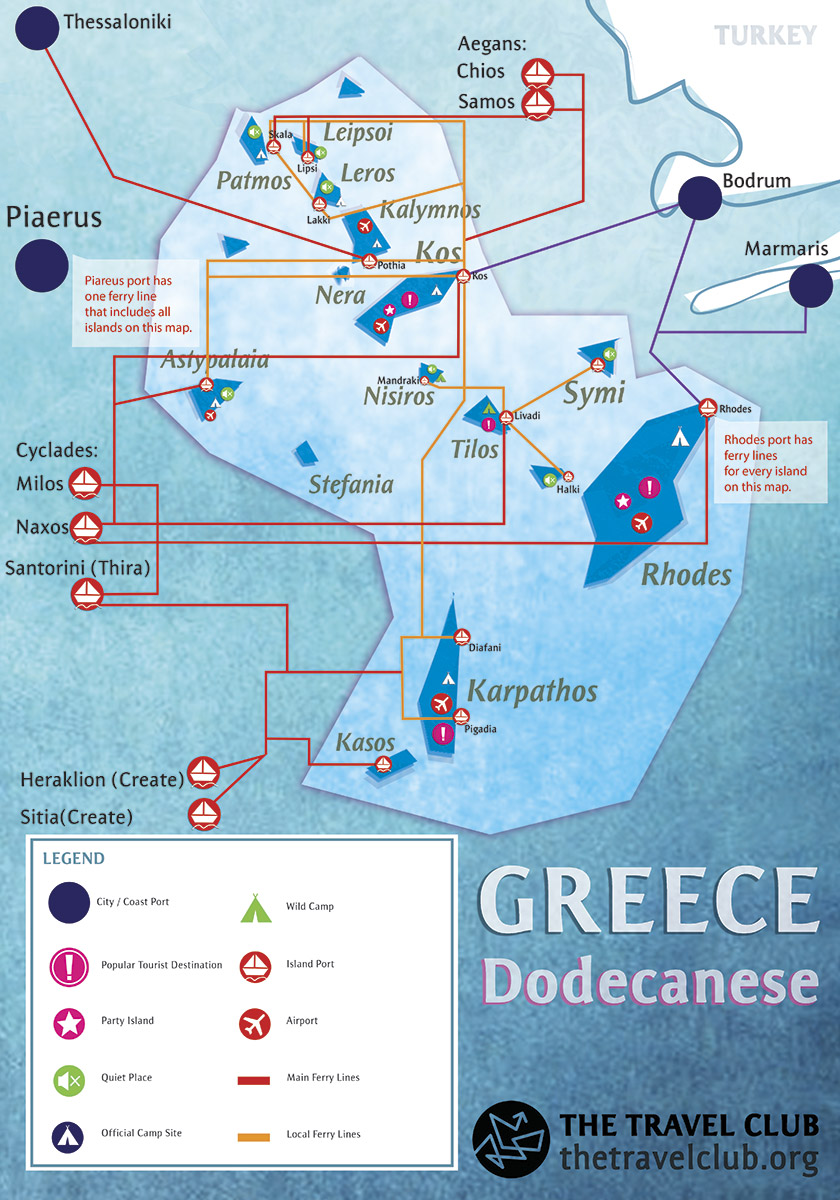 map of dodecanese: Astypalaia, Kalymnos, Karpathos, Kasos, Kos, Leros, Leipsoi, Nisiros, Patmos, Rhodes, Symi, Tilos
1.3. Online shopping
The tickets can be bought in the ports as well as online. In the case of online shopping, there are a few possibilities to pick up the ticket, depending on the website you bought it through. If you don't receive a ticket by e-mail, you can ask for it to be sent via post service, and those two possibilities aren't available, then you have to go to the port and pick up your ticket there. In most of the cases, the tickets are cheaper on the websites of transport company than on the website that offer the search of all ferry lines in Greece.
The websites of a few ferry companies:
If you're buying a round trip ticket via websites for the overall search of ferries, you have to choose the same company for both ways. Because of that, it's cheaper to buy separate tickets for departure and return, unless there is a special discount for buying a round trip.
The website for an overall search:
1.4. Discounts
Ferry companies usually don't have any special discounts apart from the standard discount for the students of Greek state universities. One of the rare companies that offers more kinds of discounts is Hellenic Seaways. Discounts available:
1. 15% discount if you buy a ticket in advance. Those ticket are coloured green on their website.
2. Free return ticket for all the users of Cosmote mobile network. Send an empty text message to 19019, priced €0.50. After you send a message, you'll get a code that you will enter in the window on the right side of the website during the process of buying. For every ferry there is a limited amount of free tickets, usually up to 50; if you don't have the option to enter the Cosmote code, that means all the free tickets are given away. More information you can find on their website or here, and Cosmote SIM card you can get for free or for €1 on metro stops all over Athens. You can recognise the promoters by their green shirts and caps at the metro entance.
2. Accommodation
2.1. Rooms
In the case that you want a paid accommodation, know there are many factors that affect the price. The rooms on Greek islands are the most expensive during the high season, and the price depends on the popularity of the islands and the accommodation capacities. For example, Mykonos is a popular island, but it offers a lot of accommodation which lowers the price a bit. Megalo Koyfonissi is, despite its name, a very small island, wild camping is out of the question because the local police is very prompt, which raises the price of accommodation.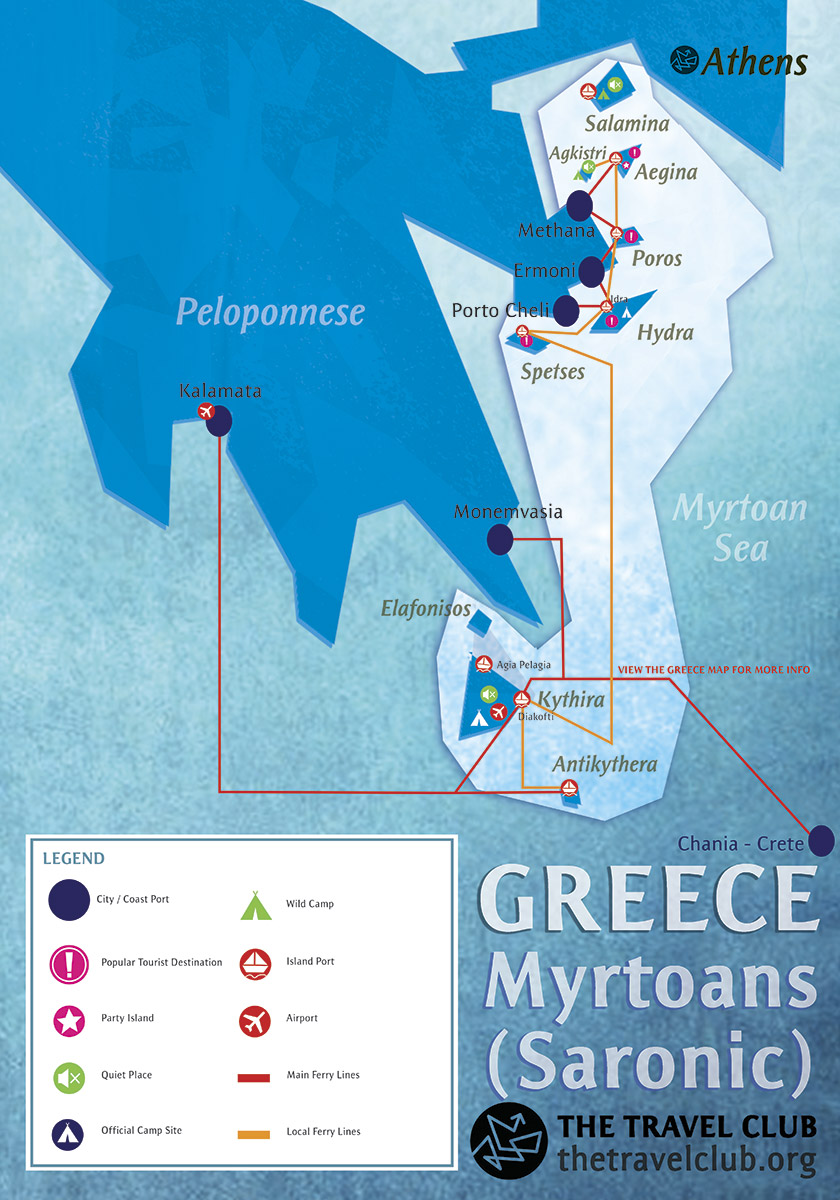 Map of Saronic Islands: Salamina, Aegina, Poros, Hydra, Spetses, Agkistri, Elafonisos, Kythira, Antikythira
You can look for rooms on Greek islands over the website booking.com or airbnb.com. Apart from that, there are big chances of locals offering you accommodation upon your arrival to the port. The prices are negotiable, so be ready for bargaining. If you're staying more nights, use that to lower the price.
On average, the cheapest twin rooms on Greek islands cost between €25 and €50 per room per night. Of course, have in mind all the mentioned factors, and don't ever count on just showing up there and finding a twin room for €25.
If you are wild camping, maybe it's a good idea to interrupt you camping trip with a night or two in a room, just to have access to a normal bathroom.
2.2. Wild camping
Wild camping, that is, camping outside of organised camps, is officially forbidden in Greece, mainly due to the pollution of the environment and because of the possibility of a fier, due to the dray and windy climate. If they catch you wild camping, the penalty is €300, and the process can last up to 6 months. Luckily, this happens very rarely in the real life. In most cases, the police will only warn you and ask you to go away, but the next time they can take away your camping gear or make a bigger problem.
There are many islands, so the practice of the camping prohibition varies from one island to another. There are island on which the locals will call the police if they see the campers, because they think they damage their rental business and pollute the environment by leaving trash. On the other hand, there are islands where the locals approve wild camping because it helps the local businesses. Such islands are Gavdos and Donousa and the polices doesn't go there.
Besides these two, there are several alternative and hippie islands where locals approve or tolerate camping, and are very popular among the campers. Those islands are: Anafi, Amorgos, Astypalaia, Agkistri, Tilos, Nisiros, Schoinousa, Irakleia, as well as Chrisi near Crete and Ereikoussa near Corfu. Popular islands are Samothraki and Ikaria, but people planning to camp there are no longer welcome.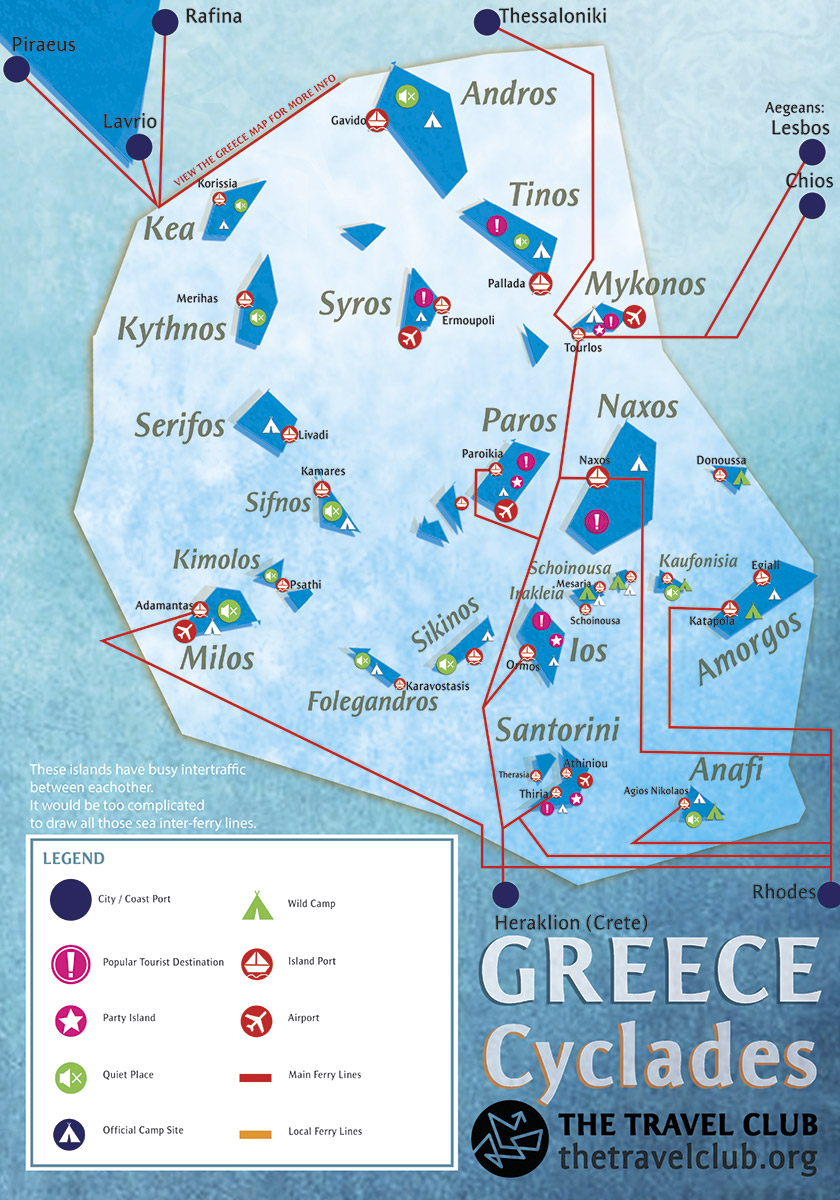 Map of Cyclades: Amorgos, Anafi, Andros, Ios, Kea, Kimolos, Kythinos, Milos, Mykonos, Naxos, Paros, Santorini, Sifnos, Sikinos, Syros, Tinos, Folegandilos, Kaufonisia, Schoinousa, Irakleia, Donoussa
If you're planning to camp like this, the best is to keep to the parts of the island which are suitable for that. Look for isolated parts, far from the busiest roads, avoid lighting a fire if you don't want to have problems with firemen. Police sometimes go to the islands to check if there are campers so it's best to camp in big groups - the news about police travel fast that way. Have in mind that if a place was safe for camping one year, it doesn't mean it will be the same next year.
2.3. Paid campsites
Website to search for camps in Greece:
The camp price depends on the popularity of the island, high/low season, and the privileges the camp offers. The more popular the island and the more comfortable the camp, the price is higher. Camp price is paid per person and per tent a night. The cheapest camps are €2 - €4 per tent plus €5,5 - €8 per person per night. For example if there's two of you, and the price is €6 per person and €4 per tent, in the end it costs €8 per person a night. In some camps there is a possibility of renting a tent, which additionally raises the price.
2.4. Camping gear
In addition to regular camping gear which includes a tent, sleeping bag, lining, equipment for food storage, lamps, don't forget the mosquito repellent! There are repellents in the form of stickers you can put in your tent. They are odorless and last for 12, and can be found in almost every big supermarket in Athens. Also the mosquito net can be very useful. These nets you can buy in the majority of outdoor equipment stores in Athens.
Apart from that, it's desirable to have some sort of travel insurance because of possible alergies or other problems. Don't forget to bring enough cash money. On some less touristic islands, there are no cash mashines or they are located only in the port, and the payment in almost all of the island stores is in cash only.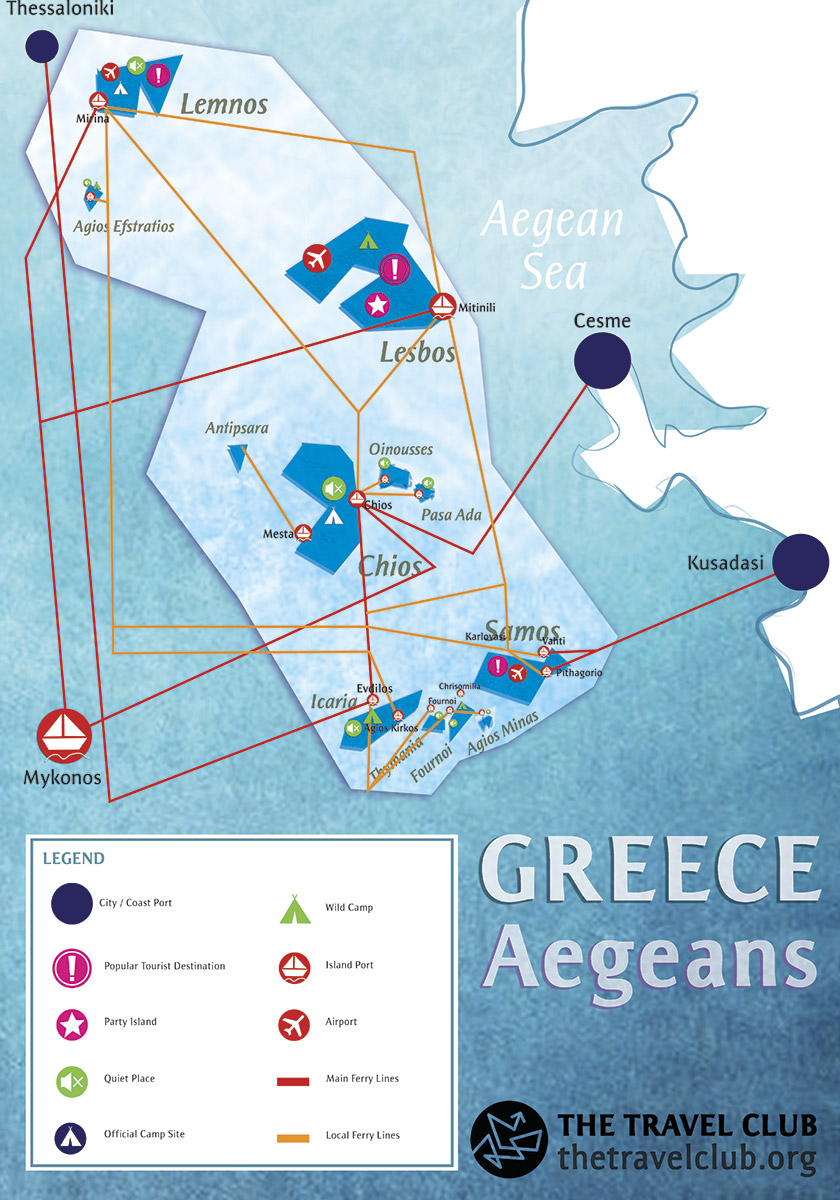 Map of aegean islands: Lemnos, Agios Efstratios, Lesbos, Antipsara, Chios, Oinousses, Pasa Ada, Samos, Icaria, Agios Minas, Fournoi, Thymania
Tent with two entrances - front and back - or tent with multiple windows is certainly much better than a tent with only one entrance, that will turn into an oven at 6 a.m. On many Greek islands, the vegetation is scarce and so don't count on finding a tree that will shelter you from the sun.
When wild camping, one of the main problems is the lack of potable and shower water. Some of the campers solve that by going once a day to the nearest restaurant or monastery and filling the bottles
It's not a bad idea to bring a hat or a cap. Beware of sunstroke.
3. Tourist agencies
Almost all travel agencies on the territory of Serbia offer arrangements for Greek islands, which we wouldn't mention if they weren't extremely cheap. 10 days (9 nights), with a return bus ticket, you can find for €100, especially if you go there off season. During high season, the prices are doubled. The cheapest islands you can go to that way are Lefkada, Corfu, Thasos, Evia and Kavos.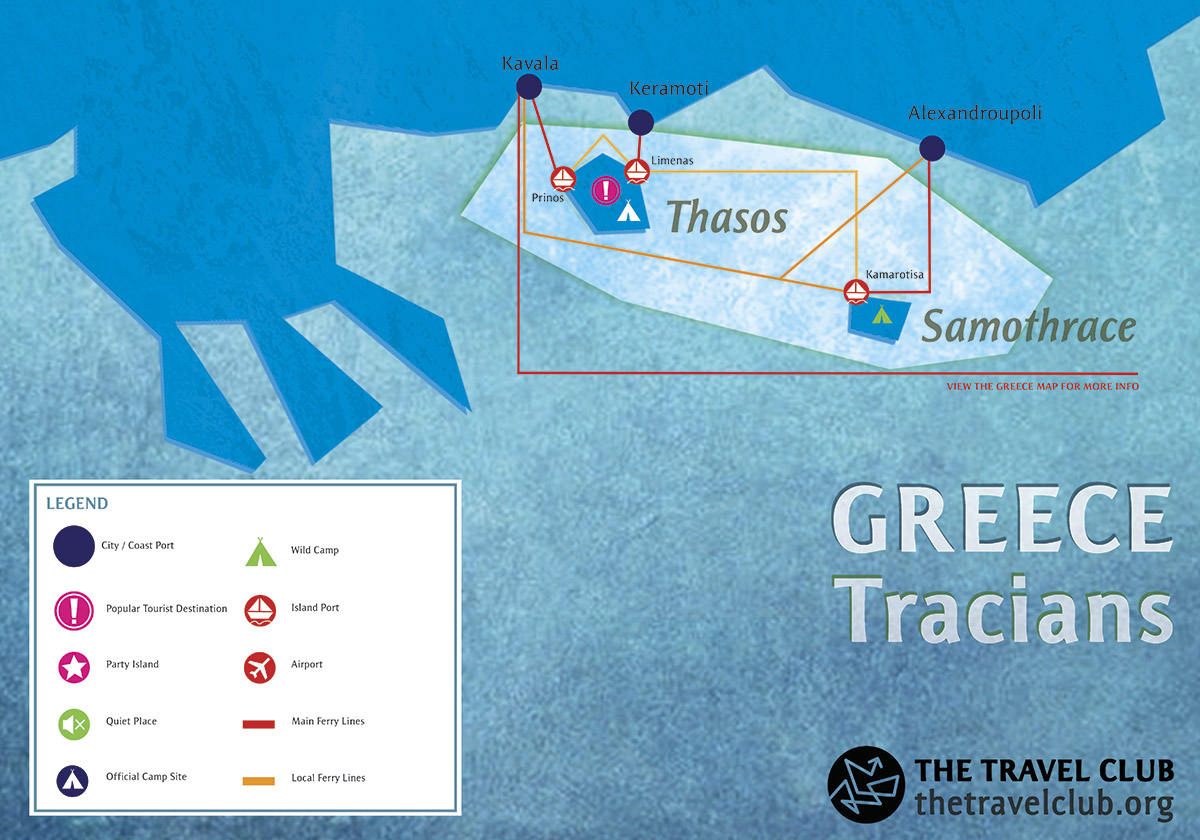 Map of Thracian islands: Thasos, Samothrace
Agencies are going to Rhodes as well, but it's more expensive due to airplane tickets.
The cheap transport and accommodation can be combined with camping, especially if the island in question is big and you want to explore it in details.
4. Transport
4.1. Rent a car
Renting a car costs between €25 an €40 per day. Multionational companies like Hertz and Avis rent cars at €35 per day. Smaller companies, like those on islands, charge it about €60 to €70 per day. Bargaining is welcome.
Even though the driving age in Greece is 18, no company will rent a car to a person under the age of 23 nor to a person without a vaild driving license. There is a possibility that the price goes up if your driving license was issued less than a year ago (for insurance purposes). When you rent a vehicle, don't forget to photograph the car from both outside and inside, to avoid being blamed for the damage you didn't do. If you go to a smaller island, it might be better to rent a motorcycle or a bicycle.
4.2. Gas prices
Oil prices in Athens is from €1,55 to €1,8 per liter, while prices of diesel start from €1,1 per liter. The cheapest oil is €1,5 per liter on a gas station in the street Pireos. The islands have higher prices because the oil is brought from the mainland, so the prices are abou €1,8 - €1,9 per liter.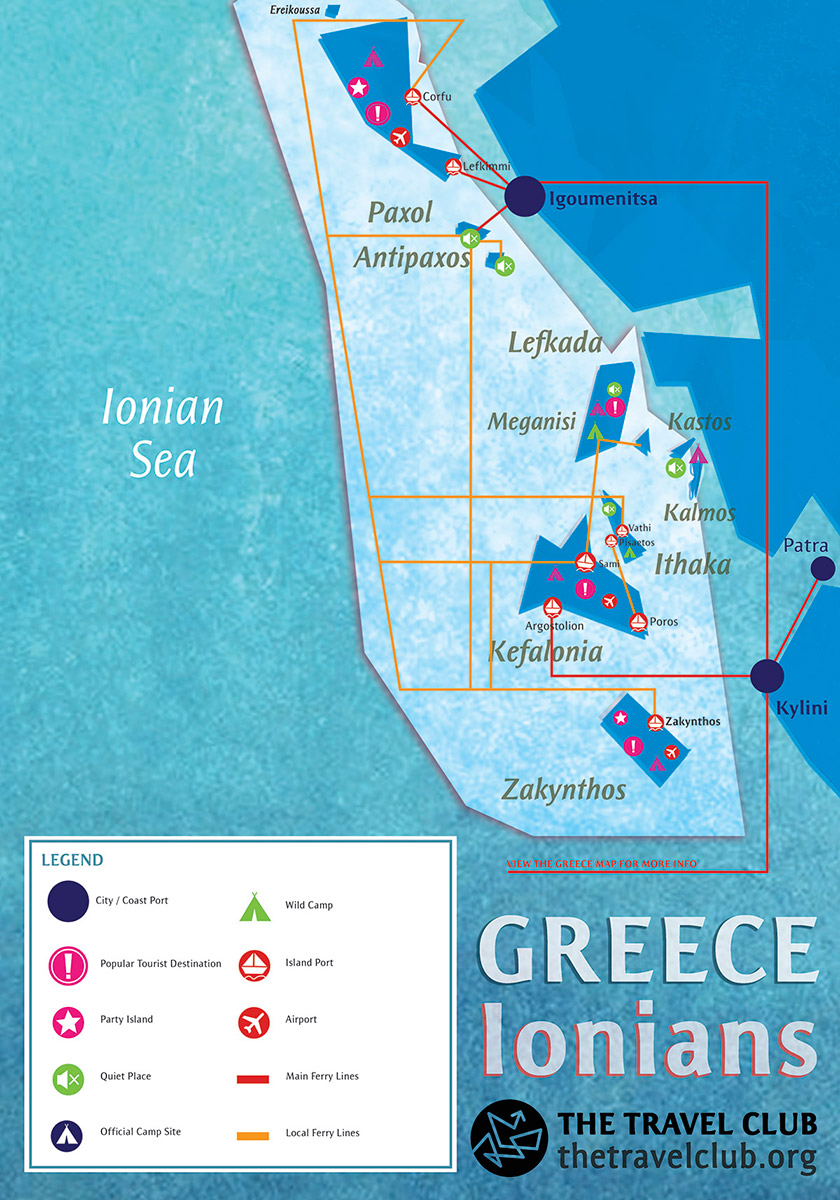 Map of ionian islands: Ereikoussa, Corfu, Paxos, Antipaxos, Lefkada, Meganisi, Kastos, Kalmos, Ithaka, Kefalonia, Zakynthos
4.3. Transporting a car by ferry
Transporting a car by ferry costs almost as much as a passenger ticket, so it also depends on where are you travelling to and which ferry company. Prices can go up to €100 for a return ticket, and you can check on the websites of the ferry companies, as well as on viva.gr.
4.4. Motorcycle and bicycle
You can rent motorcycles and bicycles on the islands. For small islands, a bicycle is just enough.
4.5. Hitchhiking
Hitchhiking on Greek islands works far better than on the mainland. The islands have less crime than on mainland, so people trust more, are less scarend and therefore more willing to pick up hitchhikers. In addition, the distances are much shorter, so the people will take you because they know the trip won't last long.
4.6. Airplanes
Airlines that connect mainland Greece and the islands are RyanAir and Athens. Ryan Air connects Athens with Thessaloniki, Rhodes, Santorini and Crete, and it connects Thassaloniki with Athens and Crete. Round trip from Athens to some islands can be as cheap as €20, while Aegean Airlines is much more expensive.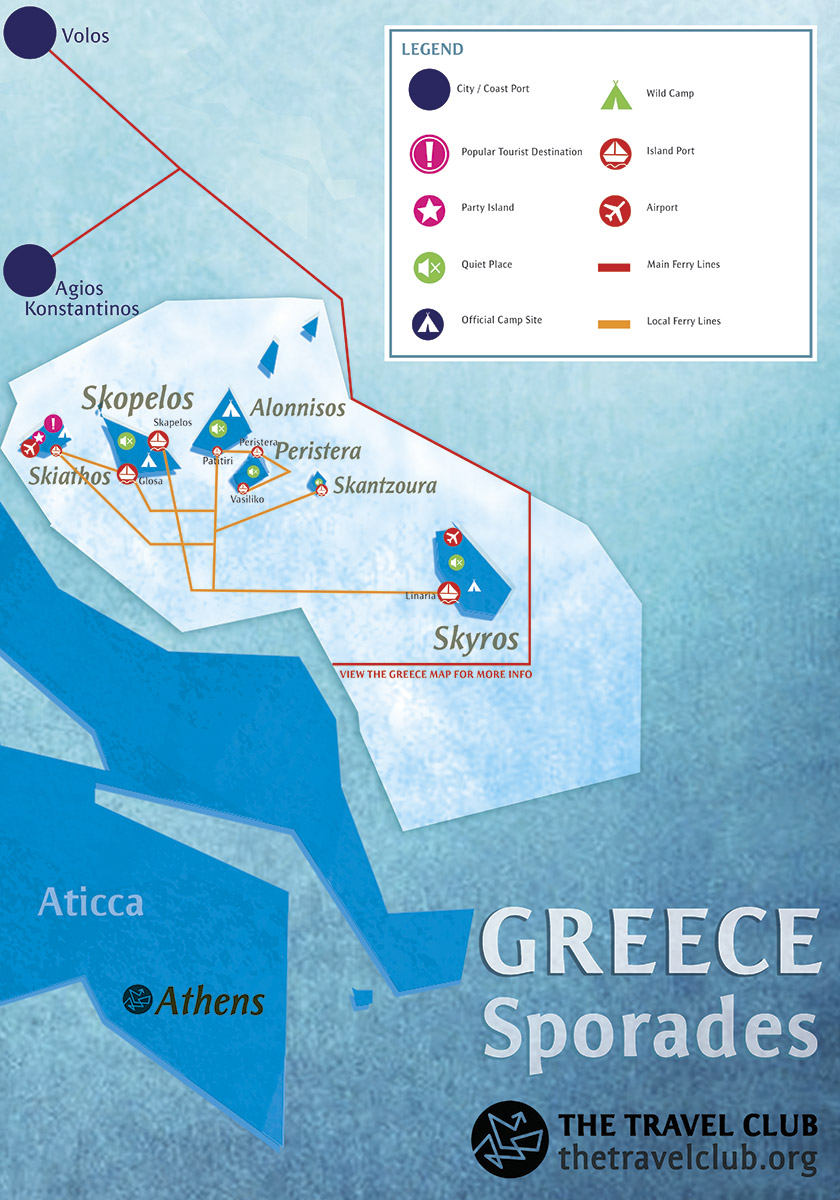 Map of sporades: Skiathos, Skopelos, Alonnisos, Peristera, Skantzoura, Skyros
5. Several islands for camping
5.1. Crete
Crete is the biggest Greek island and, in many way, a world unto itself. It has 623.000 inhabitants and it certainly deserves a special guide so we will provide only the basic info here.
The biggest cities on Crete are Chania, Rethymno, Heraklion and Agios Nikolaos. You can fly from Athens/Thessaloniki to Crete and back for only €20 if you buy the ticket in advance. Another option for arriving there is €65 euros round trip by slow ferry, deck ticket, but that ride can last for 8-9 hours. For moving around Crete, it is recommended to rent a car or a motorcycle, and the best locations for wild camping are on the southern coast of Crete. Avoid the proximitiy of big hotels and crowded beaches. The most of the campers decide to go even more to the south, to the island Gavdos.
5.2. Gavdos
Gavdos is a paradise for campers. It's the only island more south than Crete, which is also the southernmost point of Europe, and has about 40 inhabitants. The island has great conditions for those who want to try camping for the first time. The most popular camping spot is the beach Ai-Yiannis, and 10-15 minutes away you can find showers, toilets, small shops and taverns with WiFi. Also, the locals offer rooms for rent and it's possible to rent motorcycles and bicycles so you could move faster around the island. For those who prefer walking, the good news is that you can walk the whole island. Among other things, Gavdos is famous for its hippie spirit and nudist beaches.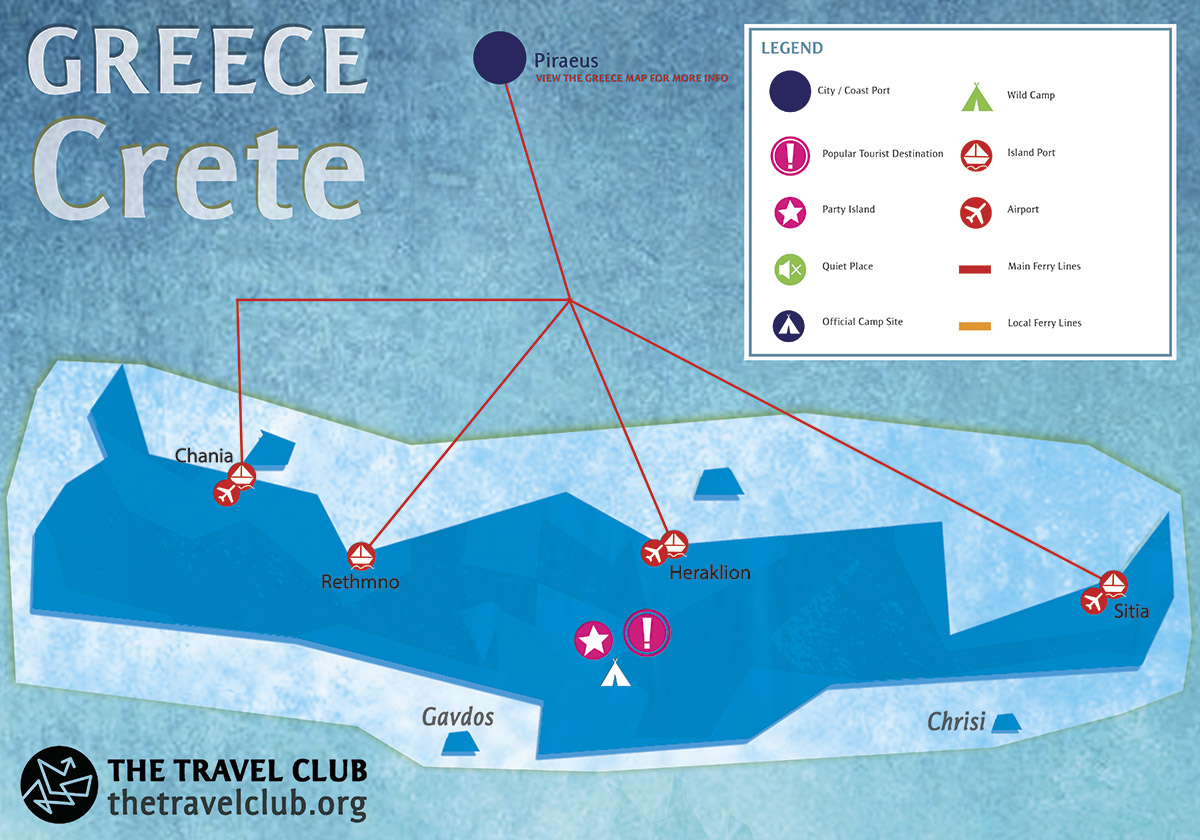 Crete, gavdos and chrisi
5.3. Donoussa
Donoussa is a small, wild island that belongs to the Small Cyclades and has the accommodation capacity of about 100 rooms. The locals largely tolerate wild camping and the police consist of only 3 officers. If you don't want to camp on the beach near the café bar, you have to be ready to work hard to reach the suitable place for camping. One of those places can be a bay that can be approached only by boat, and only when the weather allows it.
5.4. Angistri
The island Angistri belongs the group of Saronic islands and is located near the mainland, not far from Aegina and Salamina islands. It can be reached in about an hour by ferry from Piraeus, and is suitable even for day excursions. If you sleep in Athens, you can go to Angistri early in the morning and return in the evening. This island is perfect for wild camping and it's full of campers in July and August. Given that Angistri is a very small island, we recommend renting a bike.
—
Contributors: Natalia Kastravelli, Adrian Stavrakis, Christos Kabi, Anna Binietoglou, Eftychia Souti, Nassos Anagnostopoulos, Ana Ćasić Nedeljković, Lazar Pašćanović.
The maps were created during the workshop "Infographic: Data Storytelling", organized by Uros Krčadinac and the Youth Center Pančevo.