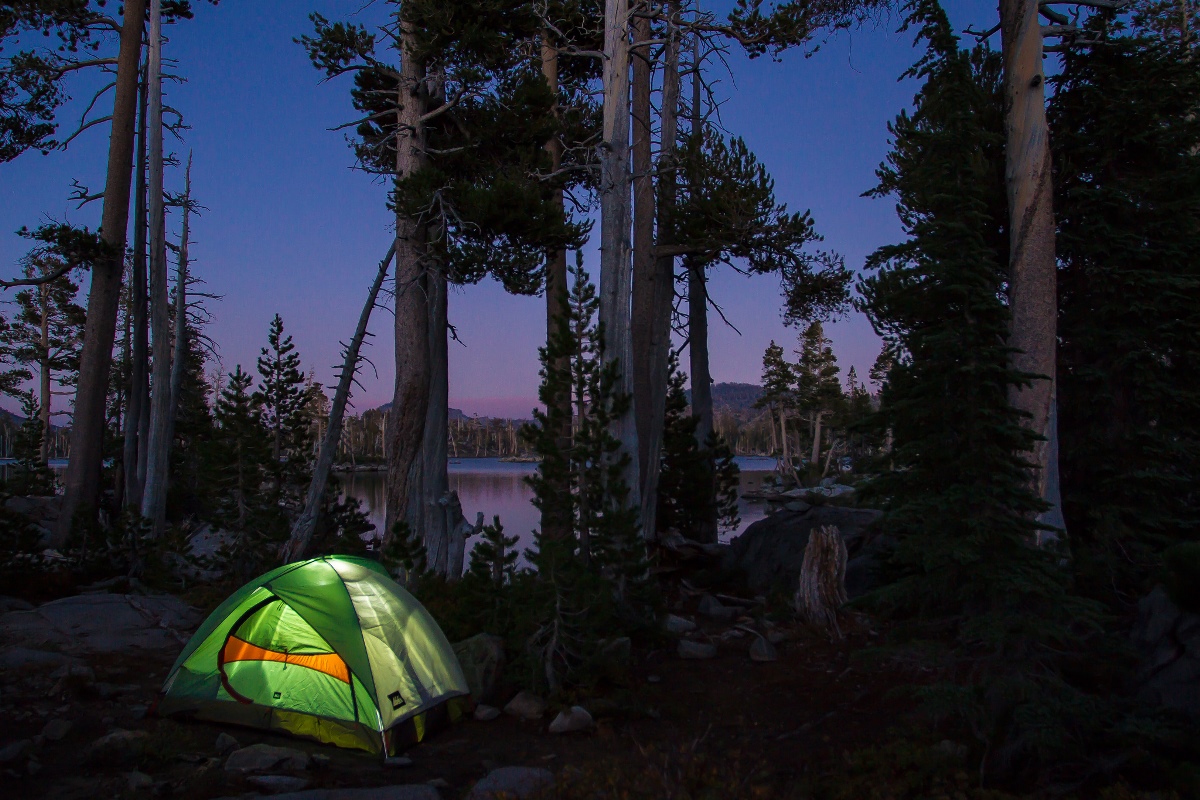 PHOTO: CHRISTIAN MOUNTAIN-HAWK
If you're a shoestring traveler, accommodation might be the single most expensive item on your budget. A small, light tent can save you a lot of cash if you're willing to give up some creature comforts in exchange for a more adventurous approach. Here are some helpful instructions for traveling with a tent, written from personal experience.
1. Choosing a tent
1.1. Weight of the tent
1.2. Size of the tent
1.3. Parts of the tent
1.4. Tent prices
2. Choosing a camping spot
3. Best terrain for camping
4. Weather conditions
5. How to set up a tent
6. Traveling with a tent
7. Inside the tent
1. Choosing a tent
There are several types of tents - canvass tent, dome tent, hiking tent, teepee, pop-up, multi-room, inflatable, with metal bars, large expedition tents, etc. As solo travelers most often need a small, light tent for moderate temperatures, here we will only deal with dome tents.
There are four things to look out for when choosing a tent: weight, size, structure, and price.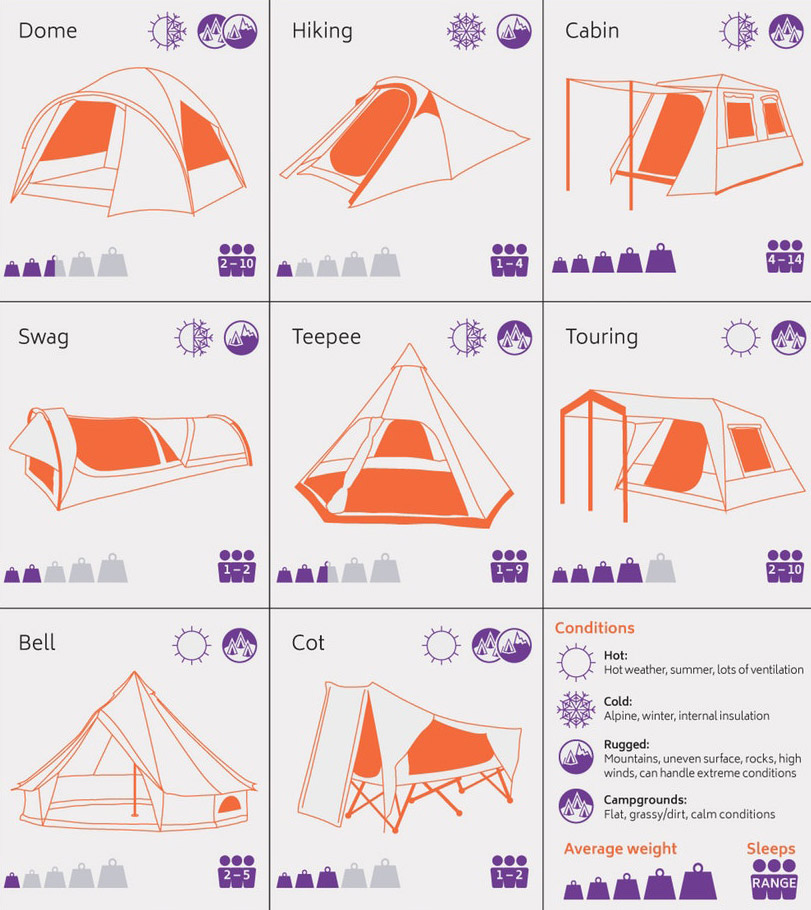 Types of tents
1.1. Weight of the tent
A very important factor. A modern dome tent for two people weighs between 1.5 and 3.5 kg. This difference may not seem important, but after a few kilometers of walking, every gram becomes a sworn enemy. The weight is usually written on the label, which is sewn to the tent bag. If it is not written, you'll have to weigh it or estimate the weight.
1.2. Size of the tent
Two-person tents are the ones most commonly found in camping gear stores. However, single-person tents are still quite rare - probably because most people prefer to camp with a company. Some tents also have a porch, a separate section in front of the entrance where you can leave your shoes (which after a day's hike take on specific olfactory properties), backpack and so on, leaving you more room in the tent. When thinking about the size of a tent, remember that you should also put all your luggage in it. Tall people should also pay attention to the height and length of the tent, which should also be written on the label so that they do not have to sit with their backs bent, or sleep with their feet outside the tent. The height of a person in a sitting position is between 90 and 105 cm. Of course, you won't spend much time sitting in a tent - you'll only enter it when you want to sleep. However, if it rains for a long time, it is not too bad to be able to sit properly.
1.3. Parts of the tent
Poles are what tent skeleton is made of. Modern tents have fiberglass poles, which are light, thin and resilient - a huge advantage over old-fashioned tents with metal poles. The dome tent usually contains two sets of poles. The poles of one set are connected together by an elastic rope, and together form one long flexible pole. Two long poles cross and bend, and the rainfly is put over them. The life of the poles is usually much shorter than the life of the rest of the tent: they tend to break, especially with lower-quality tents.

Rainfly is an outer cover that protects the inside of the tent from wind, rain, etc. Single-layer tents are, in fact, just the rainfly, but they are rarely seen nowadays. The two-layer tents consist of a rainfly and an inner tent (also known as tent body). For better two-layer tents, the rainfly is placed in a way that it does not touch the inside of the tent, which allows the condensed water to slide down the inner side of the rainfly during sleep and go directly to the ground. For cheaper tents, the rainfly and the floor are all in one piece, so the condensed water has nowhere to go, so it hangs in the form of droplets on the inside of the tent, making you wet every time you touch it.
Inner tent: While you are sleeping, the air inside the tent warms up from your body heat and respiration. As the inside of the tent is warmer than the outside, the water vapor from the air we exhale condenses on the surfaces around us in the form of many droplets. Most of the moisture condenses on the inner side of the rainfly, but also on sleeping bags, backpacks, etc. Ventilation of the tent helps to remove this moisture, but this reduces the temperature in the tent. The solution to this is an inner tent - a thin, breathable layer of fabric that sits under the rainfly. Moisture passes through this layer and condenses in the form of droplets on the rainfly, leaving the inside of the tent dry. The single-layer tents do not have an inner layer, but only consist of a rainfly, so after a night spent in the tent the inner walls will be covered with droplets.
Before folding a tent, it is necessary to wait for the condensed water to evaporate, which is done best by leaving it in the sun for a while. Folding and packing a wet tent is not a good idea, because the next time you opent it, it will smell bad. A two-layer tent, i.e. a tent that has both an inner tent and a rainfly, still does not mean that there is no condensed water, but rather that it is located between the two layers, and it must also be allowed to evaporate before folding.
Waking up in a wet tent is nothing to be afraid of, as the water sticks to the inside of the rainfly and does not drip onto your head - just be careful not to touch the rainfly.
Tent floor is usually made of much rougher plastic so as not to tear, with raised edges that prevent water from getting in. Unless you are camping on a perfect lawn, this bottom is not hard enough to protect you from rough terrain or the cold. Therefore, it is also necessary to bring a thermal insulation pad, also known as the sleeping pad, to put under your sleeping bag.
Groundsheet is a slice of thick plastic or foam that is placed under the tent. This extra floor serves to protect the original floor from ripping, as it is much cheaper and easier to replace. It doesn't come with the tent, but needs to be purchased separately. Any waterproof material of appropriate dimensions can serve as an additional floor. Basically, this extra floor is not necessary, and is rarely used unless you're camping on a very rocky terrain.
Tent pegs are metal pegs that serve to secure the tent to the ground so it does not fly off at first breeze. There are usually 4 tent pegs - one for each corner of the tent - plus four additional ones, which are used in the event of a storm, when ropes are also used.
Since your tent usually contains your belongings, and you sleep in it, there is a very low chance that it will fly away even without pegs, unless you are in a hurricane. However, if you leave the tent all day in the meadow while you go hiking, it is not a bad idea to fasten it with tent pegs. When driving them into the ground, always do so at an acute angle.
The traveler who plans to set up the tent in the evening, sleeps over, and folds the tent in the morning to continue the journey, generally won't need to use the tent pegs.
Tent ropes, also known as guy ropes. The tent usually comes with several long pieces of rope, to be used in the event of high winds. These ropes are cast over the tent and tethered to another set of pegs, stuck a small distance from the edges of the tent, and serve to hold the tent in place. For these tent pegs that serve for tying the tent ropes it is especially important that they are driven into the ground at an acute angle.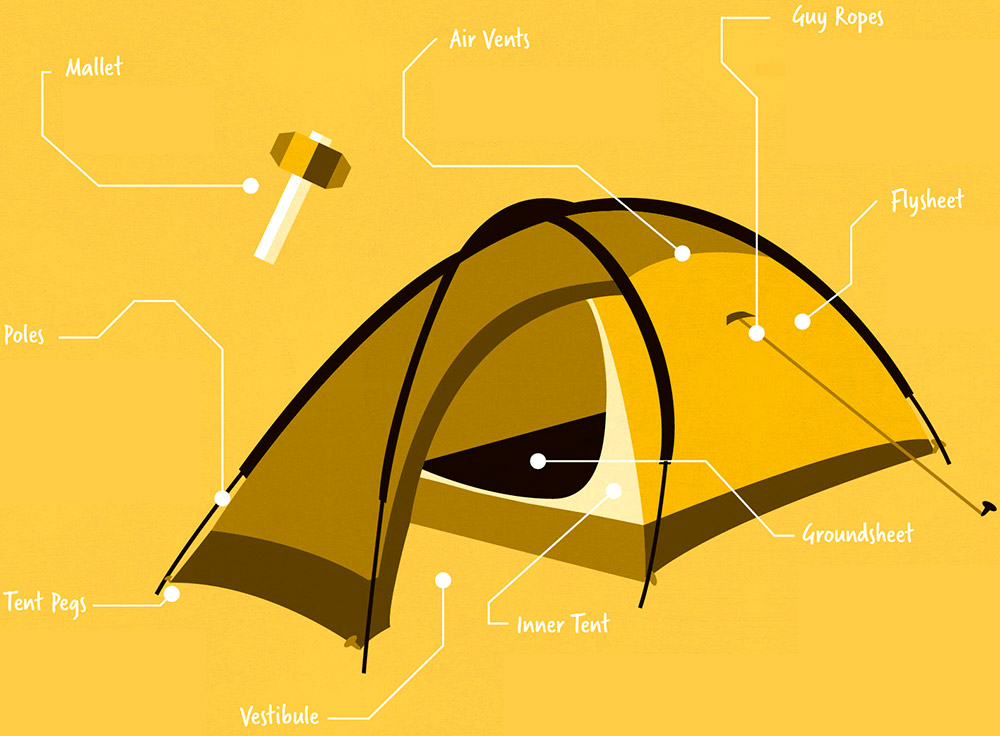 Parts of the tent
1.4. Tent prices
A simple two-person dome tent can be found for as little as 20-30 euros. A tent like this proved great on various terrains and in different weather conditions. If you want something of better quality, for camping on extreme terrains and in extreme weather conditions, be prepared to spend a much higher amount. However, if you go camping twice a year, each time for several days, the cheapest tent is more than enough for your needs. You won't even notice the difference.
2. Choosing a camping spot
Campgrounds exist in most countries. These are designated places where you can pitch your tent in exchange for a certain amount of money. The campgrounds have a toilet, showers and drinking water, there is usually a security fence around them, and in many you can rent a tent if you do not already have one. They are usually open only during certain seasons suitable for camping.
Free camping is when you pitch a tent wherever you see a convenient place. However, there are certain rules.
If you are in a big city and have no place to sleep, but you have a tent, you can pitch it in a large park. However, as this is illegal in most countries, you should wait for the sun to set, and then find a hidden location among the trees. Be very careful, find a sheltered, secluded spot, do not use any light and make sure nobody notices you. Fold your tent and leave at first light, before people start coming to the park.
If you do not find a convenient city location, simply check the map and walk or take the bus to where the city ends. Experience has taught us that even the largest cities end somewhere, although to reach forests and fields it is often necessary to get through many kilometers of suburbs, industrial zones and wastelands.
In less populated areas, you can ask someone if they would let you pitch a tent in their backyard.
Generally, it is not advisable to pitch a tent by the side of the road, or near someone's house - unless you have first contacted the host and made your presence and intentions known to them. It is ideal to find a hidden meadow or grove where your tent will not attract attention so that no one even notices that you are there. This will spare you unpleasant visits by the police who will tell you that camping is prohibited, dangerous and so on, and might even fine you for pitching your tent there.
3. Best terrain for camping
Ideally, the ground for pitching your tent should be flat. If it is a slope, you'll be slowly sliding all night and waking up somewhere in the lower part of the tent. If you are camping on a slope, turn the tent in such a way so that you lie with your head higher than your feet.
The land where you pitch your tent should not be lower than the surrounding terrain, as water will collect there in the event of a storm. Some recommend a gentle slope as ideal terrain, because no water will collect there.
It is not a bad idea to pitch your tent under a tree, as it will partially shelter you in the event of prolonged downpours (the tent, in theory, should not leak, however in reality it might happen if it rains long enough) as well as from the sun, which from the early morning turns the inside of the tent into an oven, so much that it's impossible to stay inside. And you might not want to get up at 6 am. However, a lone tree in a mountain pasture may not be a good idea, as it could attract lightning.
The tent should be set up in a place where it will be in the shade in the early morning, which usually means west or southwest of the treeline. If it is a lone tree, this location should be carefully selected depending on your geographical location and time of year.
Then there is the wind. Care should be taken that the place where you pitch your tent is not exposed to the wind. If it is a hill, it is better to camp at the base than at the top, despite the fact that the view may not be that great.
Perfect lawns from camper's dreams are, in reality, thin on the ground. Usually, before pitching a tent, you will need to remove some of the largest rocks or pluck some sods of grass. Manually removing and tamping down the largest bumps in the terrain usually produces good results.
Ideally, there should be a source of drinking water in the proximity of your camping spot. Even if the water is not drinkable, it will come in handy for washing.

Inner tent (left) and rainfly (right)
4. Weather conditions
Needless to say, it is best to go camping or traveling with a tent in summer or late spring, when the weather is generally dry and warm, and there is no need to wear warm clothing that usually takes up too much space in your backpack. Camping is, of course, possible both in winter and in the snow and at temperatures below zero - but this requires serious camping gear.
In the event of storms, and especially strong winds, there are tent pegs that should, theoretically, hold the tent in place. There are also ropes and extra pegs that provide added stability. If that is not enough, it is not a good idea to put a few large rocks in the corners of your tent.
Some tents might have a label, usually on the tent bag, stating the weather conditions and temperature ranges for the optimal performance of the tent.
5. How to set up a tent
A standard dome tent can be set up and folded in five to ten minutes. First, spread the tent out on the ground so that the thicker part that forms the bottom of the tent is fully extended. Then assemble the bendy poles (usually connected with a rope that runs through them) so that you get two long flexible poles, which should go through the corresponding holes or nooses on the inner tent. Cross the poles in the center of the tent, and tie them together together with a piece of ribbon. The poles can be located on the inside or outside of the tent, depending on the design giving the tent its shape and stability. Now you still have to stick the pegs in the ground - most often you can just push them in with your hand. In case the tent also has an inner tent, it is necessary to go inside and attach it to the hooks that hang from the inner side of the rainfly.
Of course, it's a good idea to get acquainted with the new tent before the trip: set up the tent and fold it at least once, to make sure you know how to do it. It is not a nice feeling to discover, in the dead of the night, in a rainstorm, that you don't really know what goes where, or that you have missing parts. Also, it is a good idea to open your tent at the beginning of the season and check that it has not accumulated a bad smell, in which case you should leave it open for a while to air it propely.
6. Traveling with a tent
You can use the tent to go camping in the countryside, but it can also be used for longer trips. If you are traveling with a modest budget or simply don't like hotels, you can always bring a tent. The tent bag is usually compact and has a handle. If the tent is light enough, it won't be a huge burden to carry with you - the sleeping pad can be rolled up and strapped to your backpack, while the sleeping bag usually fits inside a backpack.
The biggest problem with a trip like this is personal hygiene - you may occasionally want to take a shower, wash your clothes, etc. For this reason, tent travel can be combined with occasional visits to hotels or hostels, or using hospitality exchange networks on the Internet. In some countries there are showers at train stations in larger cities, as well as at truck stops by the highways, where you can take a shower, usually very cheap. In addition, you can simply go to the public pool - keep your luggage in your locker, the entrance fee is certainly lower than the price of a night at the hotel, and each pool is equipped with showers. Of course, the most common bathrooms for low-budget travelers are fountains, springs, streams, etc, depending on where you are. In Muslim countries there are usually public fountains at mosques.
If you are hitchhiking, you can tell the driver to leave you just outside a populated area, before you enter the city or right after you exit from it, so that you can set up your tent and spend the night there.
If you are cycling, start looking for your camping spot at least one hour before sunset. Keep in mind that setting up a tent in the dark may not be so simple as in daytime.
Finding the perfect camping spot will probably require a little walking - and sometimes you'll have to settle for the less ideal one, or simply spread your sleeping mat on a park bench or train station floor. If the weather is particularly nice and warm, the tent can stay in its bag - you can sleep in the open, provided that there are no mosquitoes. For good sleep, comfort is not as important as fatigue - something that budget travelers usually have in abundance.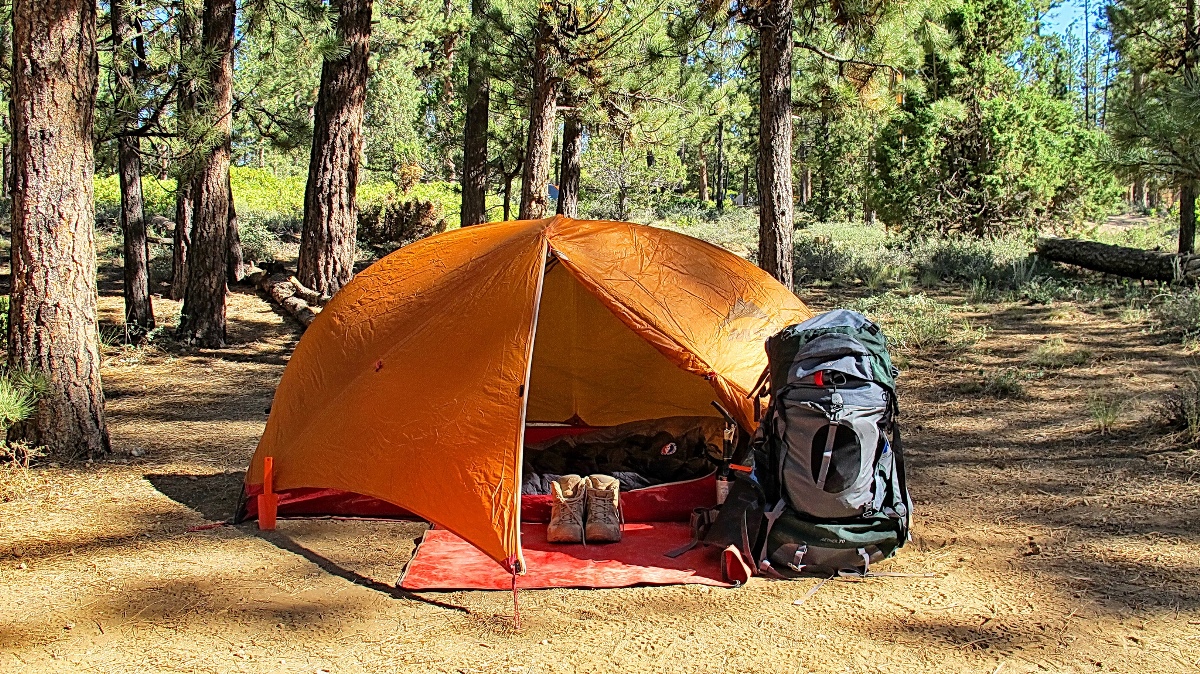 7. Inside the tent
Your sleeping bag sack can make a cool pillow case, especially if you turn the inside (clean) side out. You can stuff it with some of your clothes to make a comfortable pillow.
Before going to sleep, arrange the things you may need during the night so that you can find them quickly and easily. Leave the flashlight withing reach, or hang it from a rope from the ceiling of the tent (where the poles cross). You will also probably need the jacket, as it is sure to get cold during the night. Leave the shoes outside, near the entrance of the tent, and turn them upside down for dew.

When going camping, it is a good idea to have an LED headlamp. Among other things, it is very convenient for reading in a tent. It also leaves your hands free in case you need to set up or fold your tent in the dark.