Fifty days since we opened the Travel House in Istanbul, here is, first of all, a bit of boring statistics. The house has so far accommodated 196 travelers, and the number of countries they came from can not be determined without an extensive research of the guestbook and the complicated organizational tables with names, dates, countries, info on the number of free spaces etc. We will publish all that later, when we gather enough courage to look into it.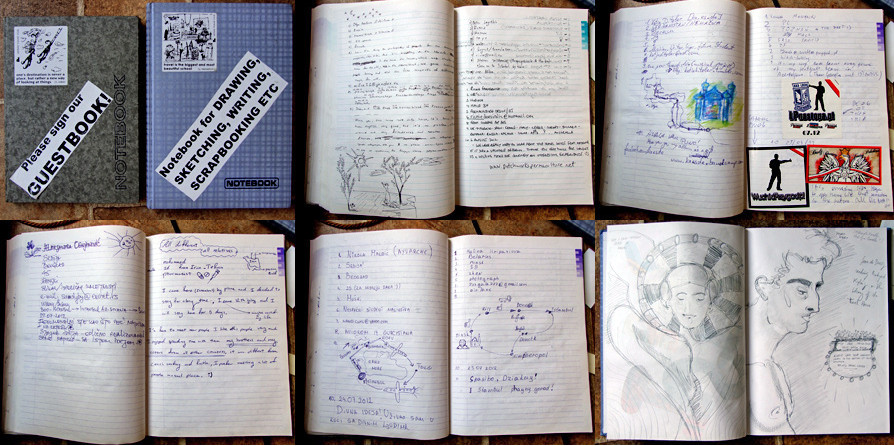 The biggest number of people who slept at the house at once was 28, and that was a couple nights ago, when we had – now here's an interesting thing – a girl from the Republic of San Marino.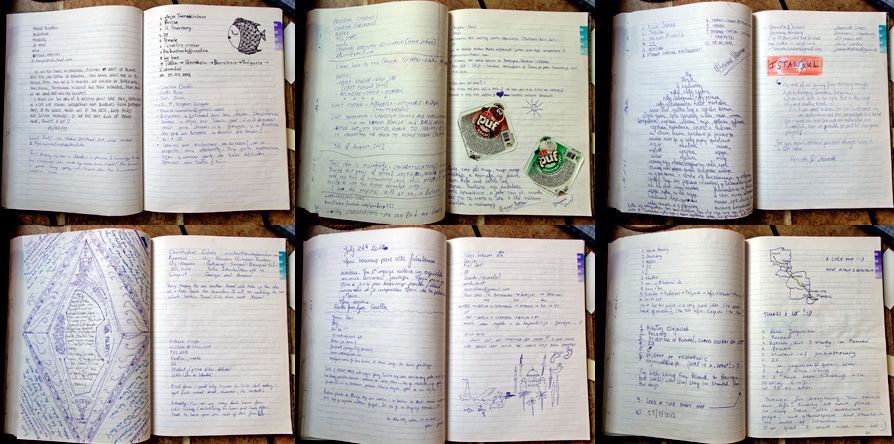 We've been visited by a couple of people who had previously participated in similar projects, and they were all surprised by our organization and efficiency. Many people come expecting chaos, noise, crowd, a mountain of shoes and a floor covered with sleeping bags; however, if someone walked into the house they would have no way of determining how many people live here. The Travel House, with a little help of threathening messages barking from the wall, regulates itself spontaneously: people clean, tidy up, do the dishes, return the keys, leave the donations, sign the guestbook, buy the daily necessities and hush the loud ones.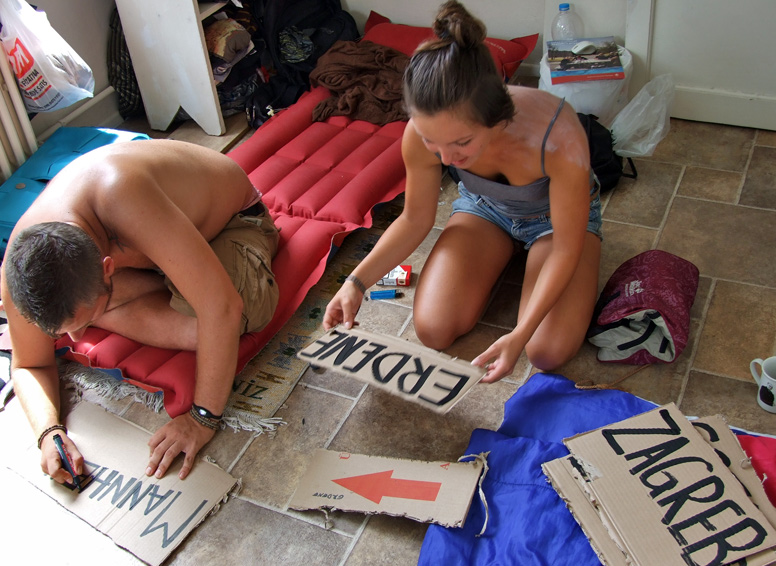 One thing we haven't managed to solve is when people reserve places and don't show up. Due to the limited capacity, we refuse someone else thinking there is no space, and when they don't came we have free space and someone is left without the opportunity to experience the Travel House. We usually solve it by accepting way more people than the maximum capacity, hoping that they won't all show up.
Of course, sometimes they all show up, which is an excellent opportunity to explore new ways of bonding.
We've been visited by Paivi and Santeri, a couple from Finland whom Iva and Lazar met in Mongolia in 2007. They are nomads, which means they have no home, and have been on the road for eight years already. Now they ocassionaly work for Finland's national TV, who gave them the professional recording equipment.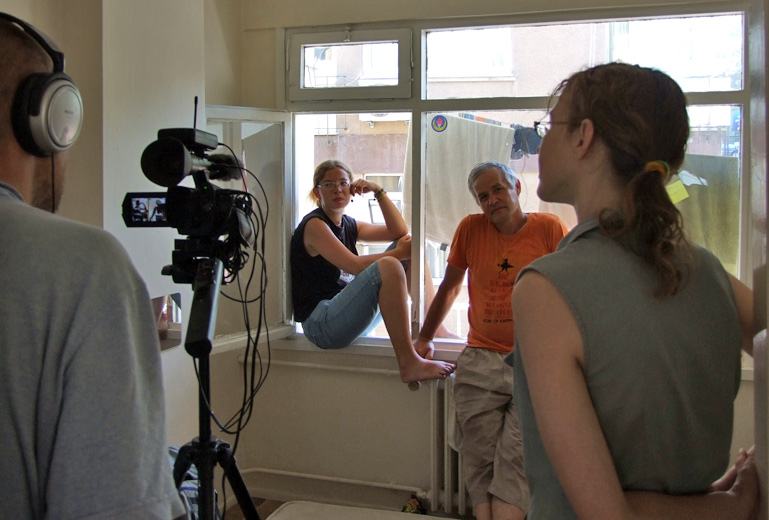 They came from India to make a documentary about the Travel House and spent a day and a half chasing people around it, managing to record a number of interviews despite the camera's cold electronic eye. They left us all the recorded materials, so we may try to compile some kind of a film or something.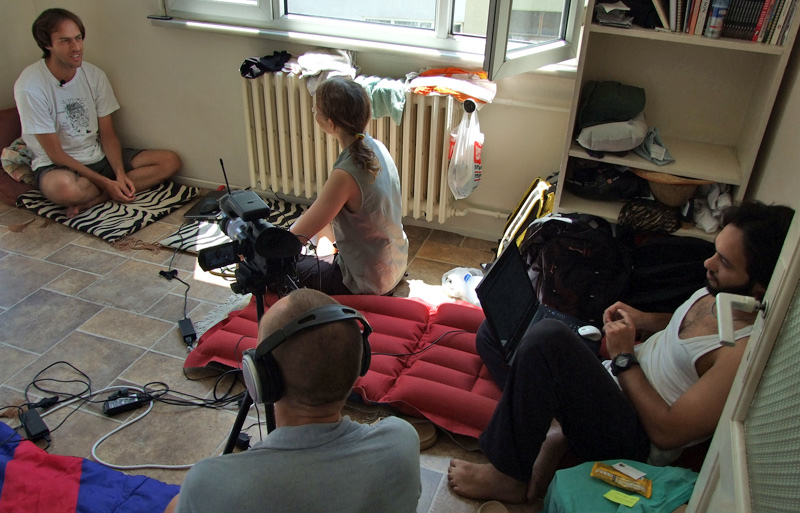 Paivi and Santeri told us about a similar project in Berlin that failed after only three days, because of utter chaos, mess and filth. They were also surprised at how clean and tidy the Travel House is.
Many people visit the Travel House on their way to somewhere, then travel somewhere and re-visit us on their way back. Denis and Grigori, a father and a son from Perm, Russia, successfully completed their mission of writing the word Turkey on the surface of Turkey by hitchhiking with a GPS tracking device. They left us a map on which you can make out their geographic calligraphy:
Cracking our head over what to do with Mawaheb from Syria when the house closes down, we went to the Serbian consulate to ask if he can get a Serbian visa. We put on angry faces prepared for the bureaucrat gastropodes who will sadly shake their heads, but we actually found nice, civilized people who took their time to explain to us what to do. Even now, when we talk about it, we are not sure if it wasn't a dream.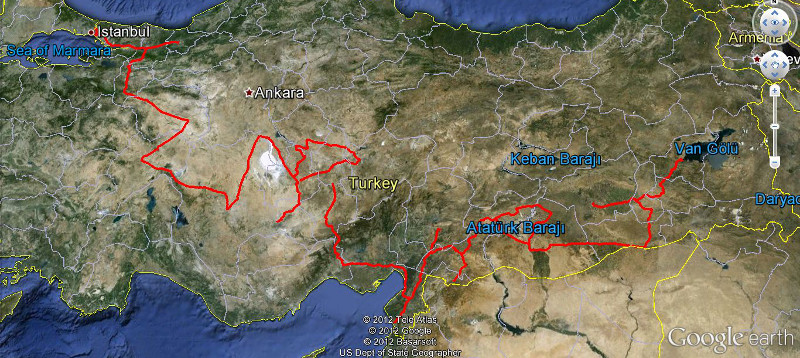 Anyhow, in the meantime Mawaheb managed to find a job and a room in Istanbul, so he will, after all, stay in Turkey.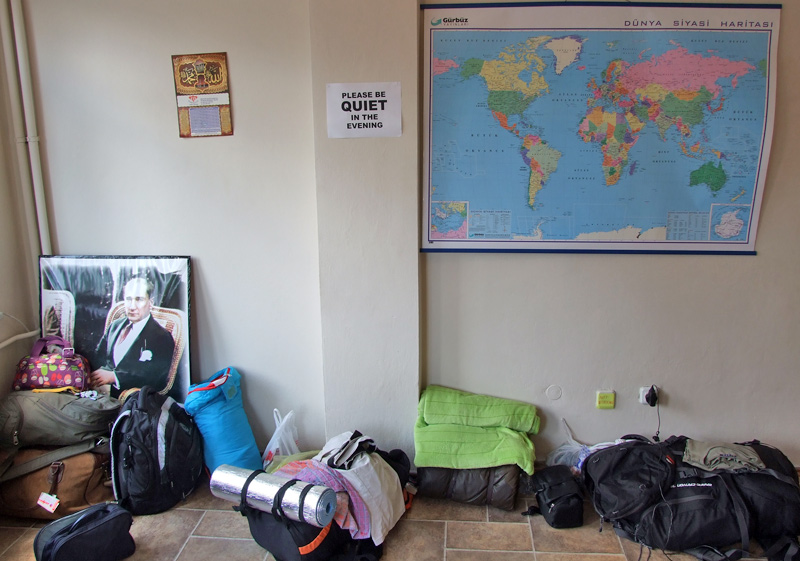 We've been visited by Ester, a comic book artist from Belgium who loves maps, and she drew us a detailed map of the center of Besiktas, as well as the surrounding of the Travel house. Both maps have been multiplied and left for visitors to use. Here is the map of the center of Besiktas: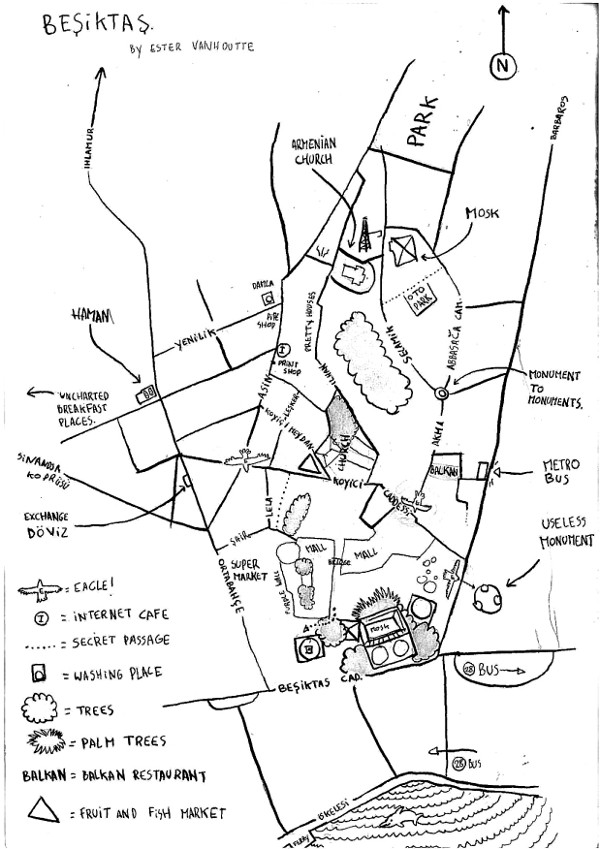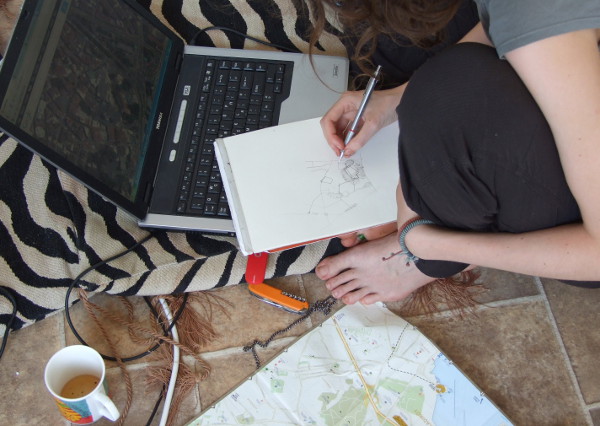 This gave us the idea to organize a cartography workshop suggestively named Blind Cartographers, where Uros and Ester will rant about philosophical, artistic, practical and other aspects of cartography, about how to make a map, what a map can be, and how it can be used for telling travel stories. The link for the workshop can currently be seen on the front page of the website, so feel free to apply.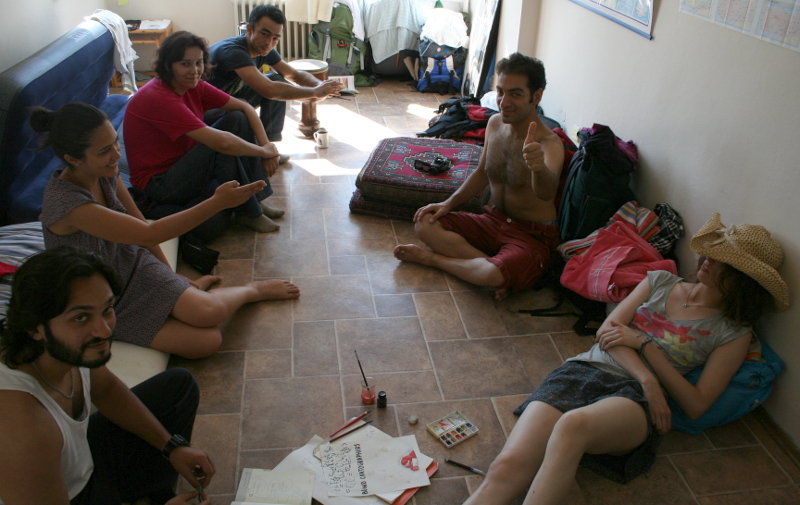 The Travel House, as a unique social experiment, occasionally gets unexpected turns. One day we noticed that most of the people had a military-style haircuts, although not very professionally done, and found out that Mohammad from Iran brought a hairdresser's machine. Another day we noticed that most of the people had tattoos, and found out that Natalia from Novosibirsk brought some henna on her way back from India. We will discreetly mention that we've even had one marriage proposal in the House.
Another interesting thing is that, by our expedition for the New Year 2012, launched Northern Iraq as a travel destination. Over the past couple of days two expeditions came back from Iraqui Kurdistan: first Jovan and Vlada (aka Djera and Kuvar), and then Jelena and Tibor.
The Travel House will work for 8 more days, and then we have to pack our stuff and disappear from here. In the meantime we have to do away with the fridge and other stuff, return the apartment to its previous state, inshallah retrieve the deposit and give the key to the landlady. We still haven't decided if we should give her all the copies of the key as well (around ½ kg of solid iron). On the one hand, we would like to see her face (and what to do with all the keys?). On the other, we are afraid that she might pass out, call the police or run away screaming.