It's been two weeks since we opened the Travel House in Istanbul. From July 1st to 14th, we had 34 visitors from the following countries: Serbia, Germany, Lithuania, Denmark, Italy, Poland, Argentina, Russia, Syria, France, USA, Chile, Austria, Costa Rica.
The house is usually empty during the day, because everyone goes out to explore the city, alone or in small groups. The evenings are spent socializing over a watermelon, maps, travel anecdotes and conversations covering a wide range of topics, from discussing student protests in Chile to describing wine making techniques in Georgia to comparing (with live demonstration) the ways of preparing yerba mate in Syria and Argentina. In the mornings, we socialize in the bathroom queue.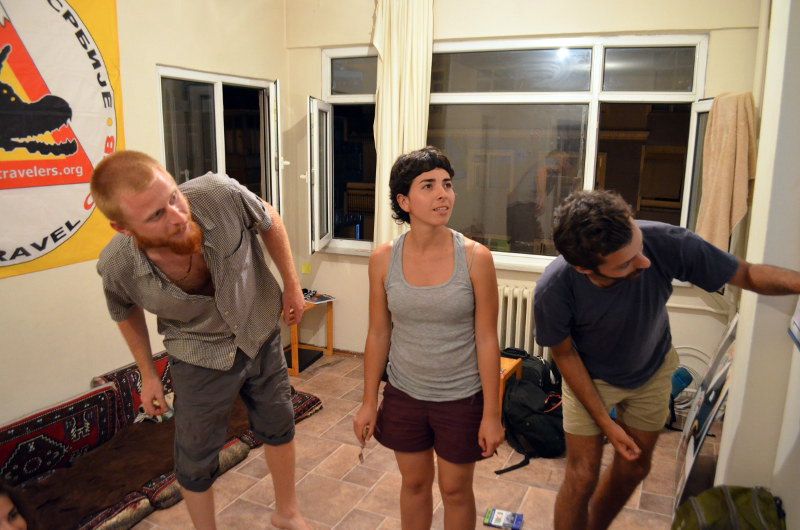 So far, everything has been going well: people are polite, quiet and careful. Everyone loves the idea and the fact that something like this exists, and everyone feels that special kind of excitement so common for being on the road, so the atmosphere in the Travel House is just as it should be. The neighbours are peaceful and friendly – we borrowed scissors from the students from across the corridor, and a hammer from the old lady from upstairs, so that we could install the bathroom lock. We learned that this kind of lock is called maymuncuk in Turkish, which means little monkey.
We've found a cheap small restaurant called Balkan, not far away from the Travel House, with (for Istanbul) incredibly low prices. We've found a free beach on one of the islands. For most beaches in and around Istanbul you have to pay, and it's not cheap: it costs around ten euros to enter. We've also found a cheap supermarket in our street.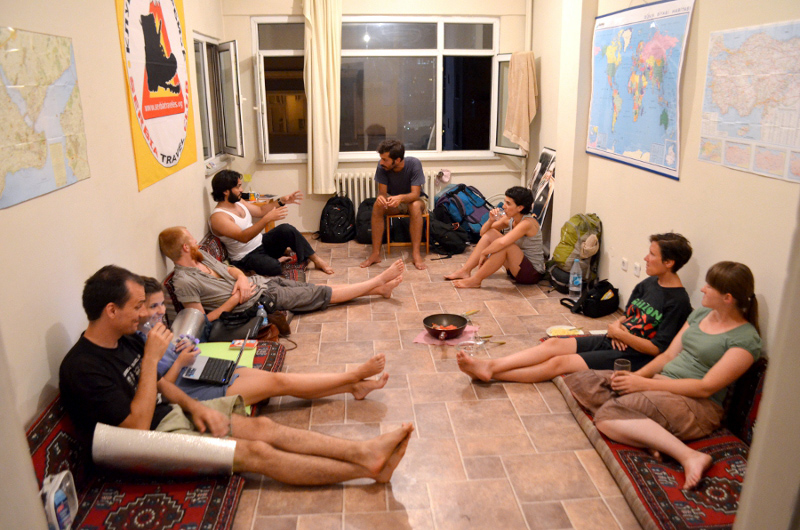 Most guests left a small donation, but some didn't, so we pasted a note on the wall. This kind of wall literature has been growing in volume on a daily basis, and exploring simple topics from everyday life: buying water, cleaning the kitchen, leaving hair in the bath tub, making noise in the evening and so on and so forth. The visual wall art is not to be neglected either: it consists of geographical maps and Ataturk.
Most visitors of the Travel House managed to get lost on their way here, finding us only after hours of walking around the mazes of Istanbul, so we updated the instructions and furnished them with detailed maps, arrows, lines and other trinkets, which dramatically decreased the percentage of lost and frustrated guests.
New people apply for the Travel House every day, peaking in late July and early August, when some days are already full (including the sleeping space on the balcony). So, if you're planning to come – do not hesitate and apply as soon as you can.