We moved into the Travel House in the evening of June 27th, and the next day we started preparing everything necessary for it to start functioning. In this post we list all that's been done together with the costs, in Turkish liras. At the time of writing, 1 euro = 2,25 TL.
- Changed the gas tank for the kitchen stove: 75 TL
- Signed the Internet contract: 2x113 TL
- Bought a fridge: 125 TL
- Bought a set of oriental cushions: 50 TL
- A large map of the world (for the wall) 15 TL
- Two thick notebooks (guestbooks) and other stationery trinkets: 25 TL
- A large used frying pen: 5 TL
- Mattress: 5 TL
- 5 l of olive oil: 32 TL
- Salt, sugar (2 kg), flour (2 kg), detergent: 12 TL
Altogether 570 TL or 249 euros.
Here's how it was with the fridge. We saw on the craigslist website that some foreigners are moving out of Istanbul, so they're selling out their stuff. What caught our eye was an oriental set of nine square cushions with backrests. They also had a fridge, but they asked 200 TL (87 euros) which was too much for us, and they didn't want to bargain. But once we got there, the huge Irishman said: Give me 150 and take the fridge. In the end, he gave it for 125. So we got a new, huge, barely used fridge for 55 euros – something we just had to take.
And so, quite unexpectedly, we found ourselves standing in the street at 10 PM, next to a fridge the height of an average man, which we had enough trouble taking down the stairs. We stood there without any idea how to take the behemoth to the other end of the town. To make it more interesting, we had the set of oriental cushions, a large mattress, a frying pen and some other stuff. That's when Lazar remembered Sedat, a friend whom he hadn't seen in years, and sent him a message asking if he would be so kind to help us.
While waiting for Sedat – somewhat longer than two hours, at night, in the street, with a fridge – we had no idea what kind of a car did he have. If they aren't big, the fridge won't fit. Even if they are big, and if we, by some miracle, manage to put the fridge inside, the other stuff surely won't fit. But we left these reflections for later, and stoically commited ourselves to waiting.
Sedat came with a huge Land Rover, which just barely squeezed through the narrow street. We managed to stuff everything inside, but there was no room for Marko, who had to take a taxi.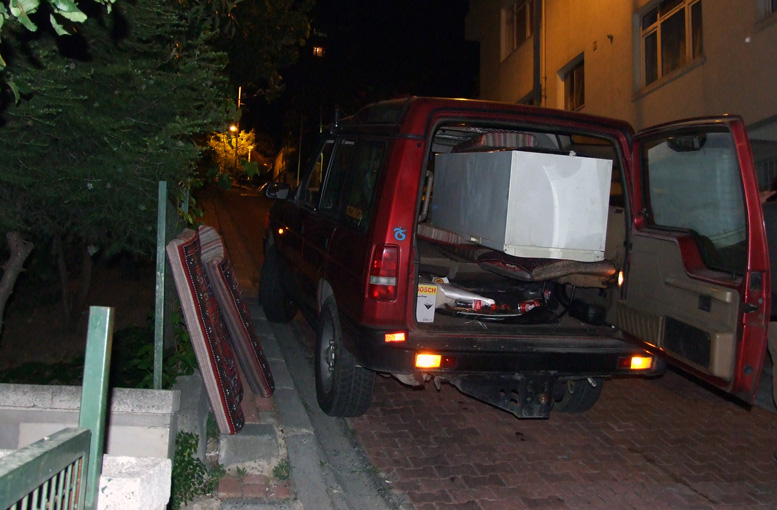 What ensued was the carrying of the monster fridge to the 3rd floor without an elevator. A bit scratched and dented, it now proudly sits in its kitchen spot.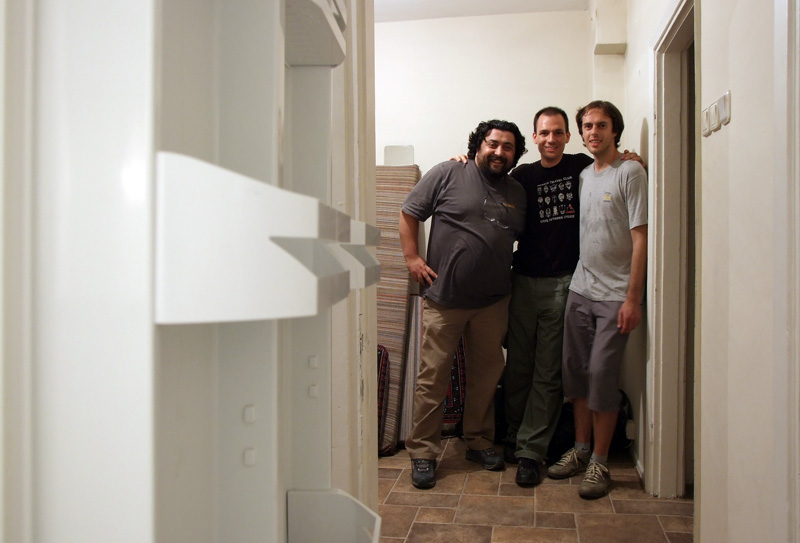 Image above: Taken from the fridge.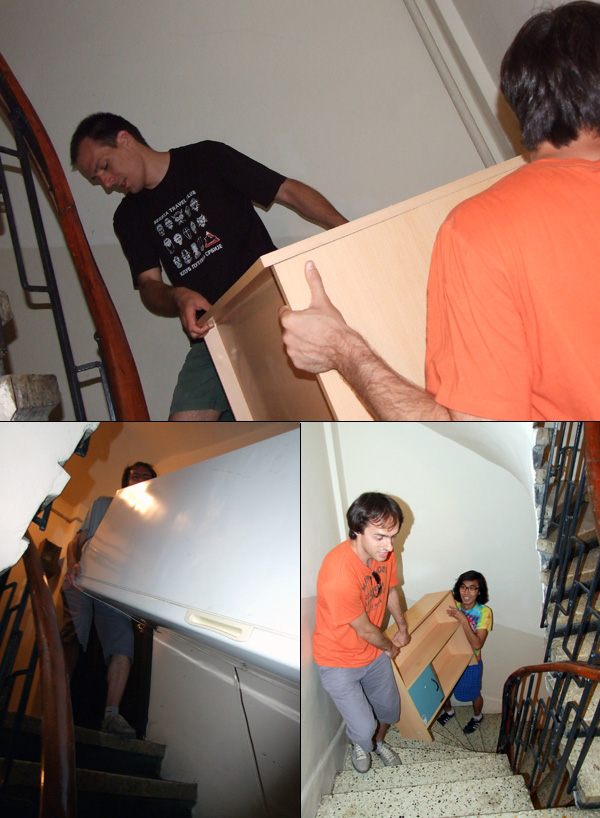 One unfortunate thing is the Internet. We bought two USB modems, 4 GB a month each; however, when we checked how much we had spent in 3 days (using it extremely frugally – no youtube, no downloads etc), it amounted to almost 1 GB each, which was completely incredible.
We asked around a bit and found out that this kind of stealing is common for Vodaphone in Turkey, and that thousands of people keep complaining but that's about all you can do. In other words, Internet will be used economically in the Travel House: for email only. No facebook, pictures etc. That's the only way to have enough for everyone. For the larger things, there's the Internet cafe (2 TL per hour).
The Travel House is now ready. We have a complete kitchen, bathroom, and even some furniture. Apart from Ataturk, there are maps of the world, Turkey and Istnabul on the walls, as well as house rules and timetables of all the city buses for coming and going.
The house rules and the application form have been posted on the website. The sooner you apply, the more certain it is that there will be room for you. The apartment is large, but nevertheless has limited capacity.