The search for the apartment for the Travel House project started on June 20th 2012 anno domini at 7:00 AM, when Lazar and Marko met on the main Istanbul bus station also known as Otogar. On the very first day we discovered a couple of things.
- Renting apartment in Istanbul is usually done through agencies. That's how the owners rent them out and how the tenants find them. Of all kinds of classifieds, agencies are 99%. In every block there are a couple of agencies, so the people who want to rent out their flat in that area go there and leave the ad, and then the agencies put them online, send them to newspapers etc.
- The standard agency fee for this kind of service is one monthly pay. So if the apartment costs 500 euros per month, the agency takes another 500 for finding you the apartment. That might make some sense if you want to live there for a year, but paying three months for two is a complete nonsense.
- When talking directly to owners (the 1% of the ads), they don't even want to discuss renting out for two months. As soon as two months (iki aylik) enter the story, the conversation comes to an express ending in form of a categorical no. About every 20th owner says he or she might think about it, and only after we offer them a significantly larger sum. However, if the two months didn't put them off, the news that their tenants will be foreigners (yabanci) and that they will have a lot of guests definitely will. Ayse, a girl who made dozens of phone calls for us, said that she had never heard so many decisive, clear "no" in her life.
To disperse suspicions, Ayse explained the landlords that we were good people (iyi insanlar), halal in every way, her childhood friends, that we had virtually grown up together and that she would sign the contract for us. Rukiye, another girl who helped us and even went with us to check out some apartments, made up the whole story about how we lived together abroad, how our parents were house friends who visited each other regularly, and that she had never seen nor could she ever expect to meet better people than us. Yener, a guy who also offered his help, said that we'd known each other forever and were close friends (even though we'd actually known each other for half an hour), and that he personally guaranteed that we weren't up to any mischief.
- The landlord takes a deposit equal to one monthly pay; however, since we are foreigners, we are automatically way more suspicious (which is understandable: we can damage something and then run off to our country), so all of those who agreed to negotiate asked for a two-month deposit, plus two monthly pays in advance. For an apartment that costs 500 euros per month, that's a down payment of 2.000 euros, half of which shall be returned in case there is no damage in the apartment.
- Without the knowledge of Turkish, there is no way to find a normal apartment. The agencies where English is spoken are sharks' lairs, and the conditions are such that make you think you didn't hear it properly (in one agency they told us that, in case we want to receive guests, we'll have to pay extra 25 euros for each guest – believe it or not).
- Out of several couchsurfers from Istanbul who had offered to help us with finding the apartment, most have simply stood us up. Same goes for almost all previous CS contacts we had in Istanbul. When we arrived to town and called them to help, they simply ignored us. Some nonchalantly told us that they have no time, while others chose not to reply to our messages. So we spent one day, from the morning till the evening, just sitting and waiting for people to call us, and even though they had promised to do so, nobody cared to stay true to the promise. Luckily, there were a couple of people, friends or new CS acquaintances, who agreed to really go out of their way to help us, and whom we are hugely indebted to for their help, enthusiasm and good will.
- When an apartment is empty, the owner switches off gas (the water boilers, as well as kitchen stoves, mostly use gas here) and electricity. To have them switched back on, you have to pay couple hundred euros, which you'll receive when you switch it all off again, of course after a lot of complicated paperwork.
Among the apartments we've seen there were a couple of mildewy basements, a couple of flats located in problematic, immigrant areas (labyrinths of decrepit houses and dirty streets), and even one luxurious apartment with golden wallpaper, plaster ornaments, fancy furniture and crystal ceiling lights (the owner gave his best to convince us that it's all actually very beautiful and sexy, and that a man surrounded by beauty of that apartment will inevitably feel better and richer – which justifies an exorbitant fee). The flats with the fridge were too small, the big flats were too far away or too expensive, and so on and so forth.
Before we came to Istnabul, Anton Krotov from the Russian Academy of Free Travels posted in his blog detailed data on expenses for their apartment (their similar project ended on June 1st). A 60 sq. meter apartment, in a neighborhood of Yedikule, costed 660 euros a month (without running bills). That seemed very expensive to us, having in mind that it was a rather small apartment (and especially since, at one time, they had 34 persons staying there!), and also judging by the prices we had seen online earlier. However, we knew that Krotov is not a man who wastes money, which got us quite worried. Here is the page of Krotov's blog, with all the detailed expenses quoted (in Russian, use Google Translate for English):
http://a-krotov.livejournal.com/492785.html
While walking around Istanbul, in dog days of the summer, uphill and downhill, we've learned a couple of things about the city itself – things to which we had never given any thought.
- Almost nobody lives in the very heart of the town. The parts that we usually move around – such as, for example, Eminonu, Karakoy, Galata or central Taksim, are not residential at all. Actually, between Aksaray and the Taxim Square there are no residential buildings whatsoever. Those are just companies, institutions, warehouses, small factories, workshops and so on.
- Istanbul is a home to a certain kind of geographical segregation – something we aren't really used to expecting. A large part of central Istanbul, known as Fatih, is reserved mostly for more conservative, religious people. The landlords in Fatih are looking for tenant families, and don't want to have anything to do with foreigners – especially not with a bunch of them. Same goes for Uskudar, on the Asian side but still in the center.
- Some neighbourhoods are rather poor, and mostly inhabited by immigrants. The locals say that these streets aren't safe at night. Those are real labyrinths of poor houses and buidlings around which it's very hard to find your way, even though they are virtually in the center. It is possible to find an apartment there, but one walk around these streets will assure you that it is not the right place for our project.
- The parts of towns for students, foreigners and generally more modern and liberal people are Sisli and Besiktas on the European, and Kadikoy on the Asian side.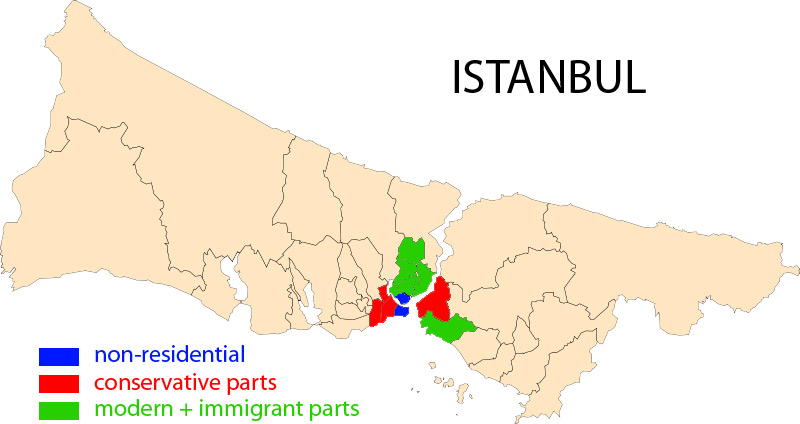 On the fourth day of our search we already felt the desperation creeping up on us. Our time with our CS host had ran out, so we moved to a hostel. One positive thing, that made us feel good, was that there we met two guys from our forum (forum nick: blizanci). On the 5th day, a guy from the CS answered our call for help, offering us accommodation for two nights and help with our search. With him we called (actually – he called) absolutely all interesting classifieds from the biggest website for rentals in Istanbul, and from dozens of calls, only one lady was interested to show us her apartment.
After a zillion of phone calls and (according to our rough calculation) more than 50 km on foot, we have a couple of options we are currently considering. We hope the search for the Travel House flat will finish in the next day or two. As soon as that happens, the news will be posted on the website.