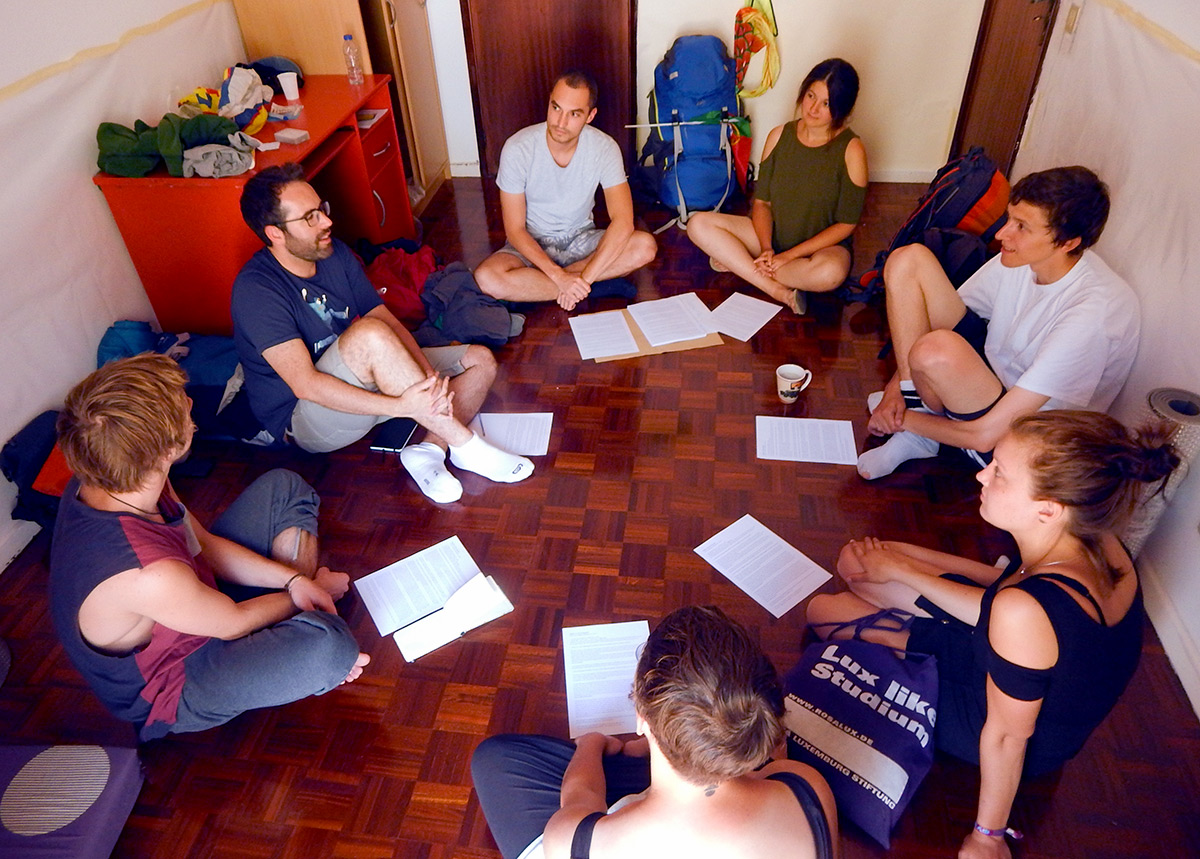 Waking up, jumping over sleepy travel-students. Waiting in line for the bathroom, brushing the teeth on the corridor or in pairs on the bath-tub, washing the face in the tub. Waiting in the kitchen for the micro-wave, waiting in queue for the cornflakes bowl. Again, waiting for spoons to be cleaned, then for water to be heated. Dressing and running in the shoes and – silence. Part of the day when our School in Aveiro is empty is the time between morning rush and evening workshops. Some travellers are going to old town to lay down on the grass and got burned in the sun, some of them are on the roundabout and hitchhike to the beach to dabble the legs in the frozen Atlantic. Some are walking around, some are riding a bicycle, hanging out in the parks and others are coming back disappointed from the chase for flamingos near the salty pools in the city suburbs. And then, well known road to the School all ways by the Portuguese cobblestones. Again rush, but less one and sitting on the floor – the workshop starts. Endless talks, heat from the projector, millions of accents, words, and sights. Interesting is when some of the volunteers of the Travel School as well as the travellers manage to solve some workshops problems. In the meantime new travellers are coming and the other ones are just about to leave.
Again little rush for the bath and then – straight to the Fish market to party. Volunteers are also guides besides roles of workshop conductors, housekeepers, guards of the peace and order and discipline about the recycling (after 20 days we might already figure out how to separate the garbage). Nonetheless, we are happy when our travellers become hosts and organize apartment cleaning by themselves or when they start to take people to the city centre. Sometimes we come home late or early in the morning and then ultra-silently we are packed on the floor like sardine in the can. Next morning, same story is again and again.
Now we have already surpassed the two-thirds of this year's Travel School. We are now in the second semester. Our money box weighs more than before and the guestbook is every day more and more filled – we raised 300 euros and 39 passengers from 21 countries and four continents.