"Do you always go to war zones with people you meet at parties?", my coworker asked as I explained that I wanted time off to go to Goma with this Serbian guy I met at an art studio party. It was a fair question.
It's funny because it just goes to show that everything is relative. Congo is world renowned as a dangerous place but then, in a way, so is Rwanda. People think of Rwanda and think of one thing--genocide. I suppose the readers of this blog can probably relate. When I told my former coworkers that I was leaving my job in San Francisco to move to Rwanda, in general, the reaction was one of unmitigated horror. A couple of people were positive (usually people from Russia or India or somewhere else who themselves were in a foreign country), but generally people fell into two categories--quiet (a.k.a. polite) or openly horrified. My mother called me the night before I left. "You know you don't have to go". My reply, "I know I don't 'have to' but I am going." Case closed.
I arrived in Kigali and the first thing I noticed when I got off the plane was the air here didn't smell foul or polluted. The second thing was that there wasn't trash strewed all over the ground. Having lived in the developing world before, this realization came as a pleasant surprise to me. Over the next couple of weeks, the fact that Rwanda is a rare place in Africa was driven home. There is a real sense of optimism that pervades Kigali. If you stop and chat with the waitress, invariably she is working at night and goes to school during the day. If you talk to the guy that checks your bags at the supermarket, he is studying at night. People here work incredibly hard. It's no accident that many bars and supermarkets throughout the country are named Vision 20/20. The president has a plan for the country with goals to be met by the year 2020. The goals seem overly ambitious on the one hand but on the other, I think people are just happy to be reaching for them. Things have come a long way since 1994 and the community as a whole seems proud of that.

Rita's Students
The optimism and dedication that I see were good news for me work-wise too. I teach a 9 month intensive course for students who have recently graduated from university with degrees in Computer Science. We teach them enterprise Java Web development and in specific, we teach them how to work on an open source medical records system called OpenMRS which is being used here in Rwanda. I find the students smart and hard working. It makes my job very rewarding to be a part of a practical course which trains students in a hands-on way to apply what they learned in school. Often times, the education they had in university is very theoretical. They may have memorized many definitions and formulas but they haven't had much practice in writing code. In fact, a lot of their code writing was probably done on paper. It is a pity to have so many people who invested years in something be so close to being proficient at something and yet not really able to contribute meaningfully. It's like studying a foreign language for 5 years in school but never really speaking it in the real world. Our class aims to give the students the practical knowledge and practice they need to apply what they have already learned. We have one set of students who have already graduated and it is great seeing them working for the Ministry of Health, developing computer software that is being deployed and used in hospitals and health clinics throughout the country.
When I am not working, I try to stay busy doing things that wouldn't be possible at home. Here I have a personal trainer who comes to my house, Charles. He boxed in the Olympics for Rwanda. I never would have predicted that I would be a boxer a la Million Dollar Baby. My first lesson with Charles I didn't really have a plan. He didn't either really and it was an awkward hour. What I have learned is that personal training here is not personal in the sense that you get someone to tailor a workout to you. It is personal in the sense that it is one-on-one and the person comes to your house. So anyhow, as Charles was packing up after our first lesson, he turned to me and asked, "Do you like boxing?" Now, full disclosure, boxing is one of the few sports on this earth that somewhat repulses me. I used to do Tae Kwon Do. I will try almost any sport but boxing seems so barbaric to me. Repeatedly getting punched in the face until you get really hurt or manage to hurt the other person first--it seems awful. When it comes on the TV, I change the channel as fast as I can. But--the way Charles said it, the way his face lit up, well, I realized I had a real opportunity that I shouldn't pass up. That's probably the thing that gets me into trouble most in life--I really can't resist trying something new at least once.
Have you ever been friends with someone who has never been to school a day in their lives? I thought I hadn't until one day, as Charles and I were running up and down steps, he explained to me that he had never been to school. His father had died when he was young and his mother didn't have the money to send him. I think this came up because I asked him if he had learned English in school. His English isn't great but we get by alright and can even joke sometimes although the humor is often more of the physical variety (look at you—you could totally kill me if you wanted to but instead you are tapping me on top of the head and laughing). Anyhow, he told me, "I have never been to school but I do have a mind". It really almost broke my heart because the way he said it wasn't defensive or embarrassed or full of regret; it was simple and straightforward. I know from other conversations with Charles that he went to war with his two older brothers and that both of them died. Charles is my age, 31. Doing the math, I guess that made Charles a child soldier. Of course he doesn't use that kind of Western terminology. He just says he was in the war. Look at him now though, and you see how much he has overcome. He is an excellent teacher who knows exactly how to introduce new things and balance that with reinforcing old concepts--just when I am so proud of myself for not dropping my guard, he reminds me about footwork. He is always on time for our classes (a rarity here). He loves boxing. He loves it so much it is a pleasure just to have the privilege to witness him loving it.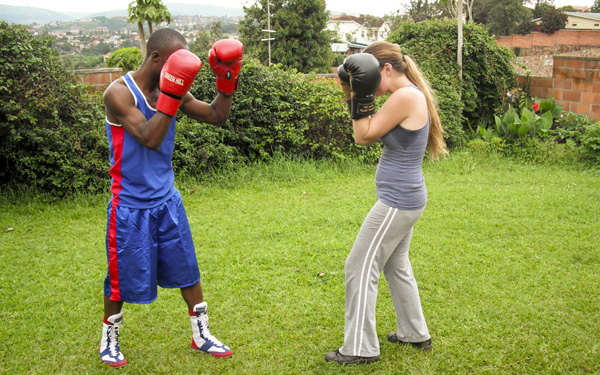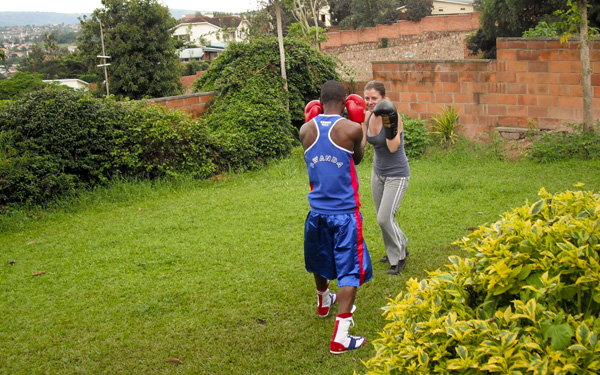 Rita and Charles
My Kinyarwanda teacher Jean has a similar story. His father died when he was 6 years old. He lived through the genocide here and fled with his mother to the DRC, living in a refugee camp for a long time. He saw some horrible things hiking with his mother and sister, just trying to find a safe place to be. When the family made it back to Kigali, his mother managed, with the help of relatives, to send him to school even though that meant waking up at 5am a few times a week and hiking for miles for water and often going hungry. Jean is at university now on a scholarship and does odd jobs to make ends meet such as tutoring people like me in the local language. He works really hard to be connected to the "muzungu" (white) culture. He is the sort of person who loves to learn about other cultures. He also knows that learning English and knowing muzungus is a good way to network and be successful here. He tells me that his Rwandan friends accuse him of trying to be muzungu. Often African Americans kids back home who try hard in school are teased by other black kids for "acting white". It makes me sad and also makes me realize how similar things are the world over.
Rita and Jean
The last type of lessons I do here are salsa lessons. I'm as surprised as you are. I didn't think I would find salsa here either. I lived in Ecuador for a year a few years back and took lessons there. It was really exciting to find out there is a salsa community in Rwanda. It seems that there was a Belgian guy who was really into salsa who taught a group of people here who are now good enough to be teaching more people and leading a whole salsa movement at the bars and restaurants in Kigali. Kassim, my salsa teacher and I, aren't quite as close as Charles and I or Jean and I. Still, on our breaks from dancing he and I have talked some. Like Charles and Jean, his father died when he was young. He managed to stay in school with the help of an NGO, Orphans of Rwanda, and is in his last year of law school here. He is really worried about finding a job when he graduates. He says that most jobs are gotten purely through family connections here. We have nepotism and cronyism in the US but it isn't the only factor that determines whether you get a job. I hope that Kassim can use his organization to make connections with people who can help him find work.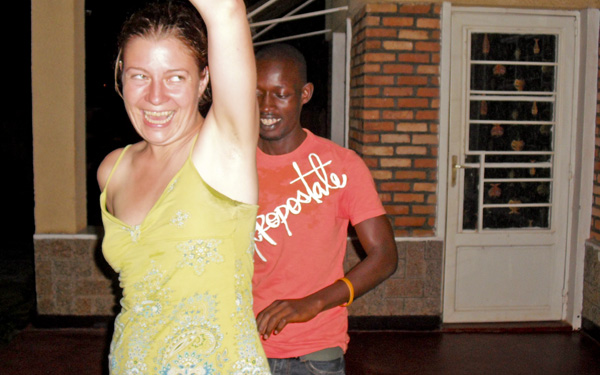 Rita and Kassim
I know that Uki (Uroš Krčadinac) asked me to write about my experiences living in Kigali. Maybe it is a bit of a cope out because I haven't really written much about myself, but instead, am writing mostly about the people here and the locals I interact with regularly. If this post were about me, I could tell you whether I like Rwandan food or not (I don't) or that I take motorcycle taxis to get around or that greetings are extremely important here and I am expected to greet every single person I walk by on the street (exhausting) or I could recount the day I looked around and finally consciously realized how many amputees are walking around the city and had the epiphany that these aren't all freak car accident victims.
Living in a foreign country, at first, is just a collection of odd encounters and likes and dislikes juxtaposed against whatever it is you are accustomed to experiencing. I guess this is why I am not focusing on myself and my disjointed experiences. You start by trying to incorporate each odd bit into a familiar narrative. And when that doesn't work, you realize that you don't really understand what things mean as a whole. Is this a war zone? Is what I am doing dangerous? Am I being rude? I didn't know the answer to these questions in the Congo and during that trip, I thought about it a lot and was forced to the realization that I really don't know the answers to these questions in Kigali yet either. There have been eight grenade attacks here recently. Before that, I thought Kigali was very safe. I still do but I also realize that I haven't been here long enough to say with certainty or long enough to give an accurate picture of life here.
"Do I always go live in countries which I know nothing about just because I found an interesting looking job on the internet?" It is a fair question I guess.
(The original text is written by Rita Cuckovich -- a Californian working in Kigali, Rwanda -- as a result of an unexpected friendship with Uroš Krčadinac, one of the three African travelers and authors of the "Back to Africa" blog. The Serbian translation of the text was published in this post, in the Serbian version of this blog.)