Lonely Planet is the world's leading publisher of guidebooks for independent travelers. Many of us made our first travel steps with one of their booklets tucked into our pocket or backpack. The company was started by Australians Maureen and Tony Wheeler who, upon their return from a journey around Turkey, Iran, Avghanistan, Pakistan, India and Nepal, decided to share the unique information they had collected. This was the beginning of a successful publishing house, and the name Lonely Planet has since become synonimous with independent travel.
Serbia Travel Club has been included in the Eastern Europe guide published in October 2011, as a website Lonely Planet recommends in its chapter on traveling in Serbia. A place in a Lonely Planet guidebook is an important step for our organization, which gives us motivation to keep working on promoting Serbia and building a global culture of independent, research and creative travel.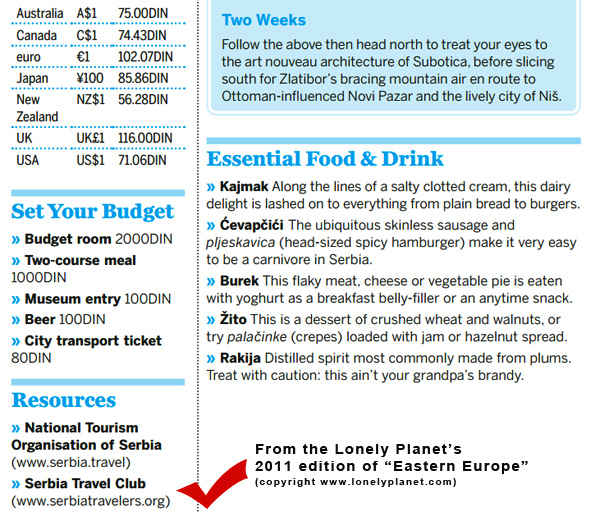 A promo pdf of the guidebook, containing this page, can be downloaded for free from the official Lonely Planet website.