Serbia Travel Club will take part in the SHARE2 Conference in Belgrade! Lazar Pašćanović and Uroš Krčadinac will give a talk about the culture of independent and creative travel on Saturday, April 28, on 14:30h in the Americana Hall of the Belgrade Youth Center.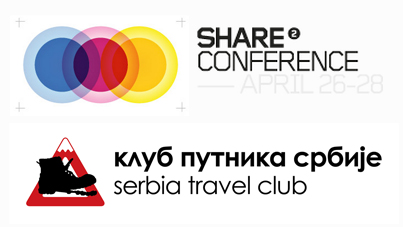 About the SHARE2 Conference:
The second SHARE conference takes place on 26-28 April 2012, when Belgrade will once again become the epicenter of exchange of progressive ideas and knowledge in the field of society, technology, Internet, music and new media.
This year, SHARE conference will once again gather more than two thousand activists, bloggers, engineers, programmers and artists from Serbia and internationally, in three days of interesting lectures, workshops and meetings at the Dom Omladine. The lectures will be given by leading international stars in the field of Internet activism and social changes, cyber dissidents and world-class bloggers, who will educate the audience on new forms of activism and approach in use of new media and advanced technologies. Discussions will delve deep into the underground of the Internet movement and explore groups that fight for digital rights, protecting the privacy of fellow residents. With progressive music and culture, they will glorify the Internet as open and free territory for all.
Unfortunately, we are unable to invite you all to our talk, but only those of you who are about to or have already obtained the SHARE bracelet. Luckily, most of the SHARE programs will be avalilable online via live stream. You can find out more about the bracelets and the live stream at http://www.shareconference.net/en/ukljuci-se.