Friday, 16 March 2012 11:25
NOTE: Thanx to the donations by our members, we have collected the minimal sum for the Travel House project. However, since we expect the total costs of the project to be quite higher than that, we encourage you to continue with the donations. All the expenses of the Travel House project will be made public on this website once we enter the implementation phase. Thanx!
This summer, Serbia Travel Club will establish a temporary base in Istanbul, called the Travel House. It will be a rented apartment in the center of Istanbul, whose doors will be open to all travelers, from July 1 to September 1. Staying in the Travel House will be free for everyone. The goal of the Travel House is to provide a global meeting point for travelers, and thus be a small step towards building a global travel culture.
Istanbul is an ideal starting point for trips to neighboring countries, as well as a perfect destination for novice travelers. For some ideas on where to travel in the region, we've mapped out a couple of possible routes and did the planning for you (details only in Serbian). For additional information and ideas, feel free to use our forum.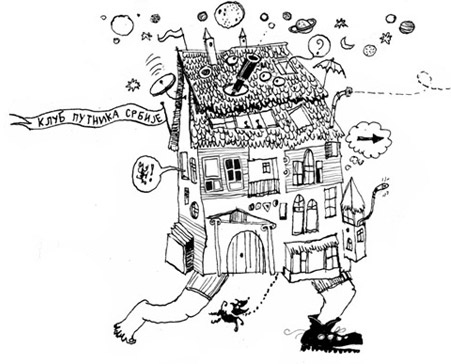 The aim of the Travel House is to enable everyone to get acquainted with Istanbul and the region, without having to pay for the accommodation. Cooking will also be possible, which should dramatically reduce the food expenses. All you need is a sleeping bag and a mat. If you use hitchhiking, local trains (with Balkan Flexipass cheap ticket) or any other free / low-cost combination, this gives you an opportunity to visit Istanbul with virtually no money at all.
Staying at the Travel House will be a valuable experience in itself. You'll have a chance to meet other travelers passing through, exchange travel stories and experiences, review maps and guidebooks, get fresh info from those returning from the places you might be planning to go to and find company for further traveling.
Gatherings of Couchsurfers and other travellers will be organized regularly, as well as walks around town, smaller trips, discussions about different places, cultures and ways of traveling etc.
While staying in the Travel House, you may want to contribute to our Creative Travel Primer, which we'll all be making together. You can leave us some of your travel tips & tricks, anecdotes, travelogues, drawings, photos, videos, scraps etc, which we'll use to compile a universal handbook for independent travel, written by travelers for travelers, outlining not only the most important techniques for and approaches to this style of travel, but also exploring possibilites of using travel as a tool for expressing creativity and adding quality to the world.
The idea of Travel House comes from Russian organisation called Academy of Free Travels, and was thought up by its founder Anton Krotov. Istanbul is the first such project by Serbia Travel Club. If it catches on, we'll make Travel Houses in a different place every year.
Serbia Travel Club has limited resources, so for this project we have to rely on donations. For two months of Travel House we must collect at least 800 euros. Given the number of people who regularly visit this website, as well as those who come to the annual night hikes each May, we find the sum to be rather plausible.
Donation is not required for using Travel House; it will be open for everyone able to comply with some simple rules of conduct. It doesn't matter whether you have the money to donate, just as it doesn't matter whether you'll be using the House or not. What's important is that we all do something together and help people who travel.
Not each man/woman for himself/herself, but travelers for travelers.
UP TO NOW, WE HAVE COLLECTED 1164€.
For the donations,
use the yellow "DONATE" button

on the left hand side of the screen, or:
From Serbia:

Primalac: Klub putnika Srbije, Miše Dimitrijevića 1, Novi Sad
Svrha uplate: Donacija za Putničku kuću
Broj žiro računa: 160 - 931061 - 08
(Banka Intesa)

From abroad - in euros:

Intermediary:
BCITITMM
INTESA SANPAOLO SPA
MILANO, ITALY

Account with institution:
DBDBRSBG
BANCA INTESA AD, BEOGRAD
MILENTIJA POPOVIĆA 7B
BEOGRAD, REPUBLIKA SRBIJA

Beneficiary:
RS35160005080003466020
KLUB PUTNIKA SRBIJE
MIŠE DIMITRIJEVIĆA 1
NOVI SAD
Republic of Serbia

From abroad - in dollars:

Intermediary:
BCITUS33
INTESA SANPAOLO SPA (FORMERLY BANCA INTESA SPA NEW YORK)
NEW YORK, NY, UNITED STATES

Account with institution:
DBDBRSBG
BANCA INTESA AD, BEOGRAD
MILENTIJA POPOVIĆA 7B
BEOGRAD, REPUBLIKA SRBIJA

Beneficiary:
RS35160005080003466020
KLUB PUTNIKA SRBIJE
MIŠE DIMITRIJEVIĆA 1
NOVI SAD
Republic of Serbia
There will also be a donation box in the Travel House, for those who'd like to contribute on the spot.

Q & A:
Q: What if you don't collect enough?
A: We've already collected (what we hope is) enough for a start, so this question has - luckily - become obsolete :)
Q: And if you collect too much?
A: Inshallah! In that case the House will be more spacious, on a better location, with internet access and so on. If something is left, we'll use it for the next Travel House and other travel-related projects.
Q: When should I donate?
A: As soon as possible. As with anything else in life, the best time is right now. We don't know how much we'll manage to collect. The sooner we know what resources we have, the sooner we'll know what kind of an apartment we're looking for, how big, in what part of town etc, so we can proceed with the implementation.
Q: Will everyone be able to see how much money has been collected at any given time?
A: Yes. There's an indicator in the banner showing how much has been collected.
Q: How can I stay updated on how the Travel House project is coming along?
A: Drop by our website from time to time, and "like" the English version of our facebook page where all the updates, photos and videos will be posted, as well as the address of the apartment - when we find one :)
Q: Should I notify you before coming to the Travel House?
A: Please do, as we're expecting a lot of people. The apartment will be spacious, but it's easier for us to organize everything if we know that you're coming. So please let us know via our facebook page, or the contact page on this website.
For the big map, click on the following link.
Total amount collected from the donations: 2404€
The list of all who have donated for the Travel House:
Isidora Milenković 100 €
Эмиль Борисович Сагинтаев 50 €
Vaso Đedović 50 €
Marko Jovanović 50 €
Anonymous 50 €
Iva Čukić 50 €
Svetlana Jovanović 50 €
Ivan Milenković 48 €
Slobodan Rudić 44 €
Mario Janković-Romano 43 €
Jovan Đerić 40 €
Denis Shcherbina 37 €
Slobodan Kovrlija 35 €
Vanja Tanacković 30 €
Kristina Ivšić 30 €
Duško Petrović 25 €
Nenad Morača 25 €
Tamara Brankovan 25 €
Marica Kicušić 20 €
Annika Mågens Søn 20 €
Luka Knežević-Strika 20 €
Sonja Brankovan 20 €
Milan Stojanović 20 €
Peter Howes 20 €
Vladimir Bojović 18 €
Sebastijan Adanko 18 €
Uroš Nedeljković 18 €
Aleksandra Antonijev 17 €
Marina Ilijević 17 €
Tijana Šukilović 17 €
Dejan Ačanski 17 €
Jelena Ivšić 17 €
Miodrag Jelić 17 €
Marijana Babić 17 €
Tibor Miglinci 15 €
Ivan Đelić Kika 15 €
Nenad Prodanović 13 €
Miloš Spasić 13 €
Marko Jovanović 13 €
Borko Cicović 13 €
Hipatija Aleksandrović 10 €
Jelka Milisavljević 10 €
Dušan Momčilović 10 €
Gaïd Quéré 10 €
Miladin Volanović 10 €
Ena Petrović 10 €
Marko (Niš) 10 €
Vuk Čomić 10 €
Vuk Palibrk 10 €
Mileva Štulić 10 €
Bojana Stojanovska 8.5 €
Milan Tomić 8.5 €
Jelena Radović 8.5 €
Ana Milenković 8.5 €
Ivana Mandić 8.5 €
Nina Hajnšek 8.5 €
Tamara Marković 8.5 €
Jelena Raketić 8.5 €
Slobodan Acketa 8.5 €
Vojkan Gajović 8.5 €
Jasna Petrović 8.5 €
Nina Jovanović 8.5 €
Nenad Jovanović 8.5 €
Igor Popov 8.5 €
Ivana Petaković 8.5 €
Vladimir Ranković 7 €
Jelena Stamenković 7 €
Saša Stanojević 6 €
Aleksandra Vulević 6 €
Aleksa Nikolić 5 €
Edvin Farago 5 €
Jasmina Dobrilović 5 €
Jelena Nikolić 4.5 €
Barbara Cizler 4.5 €
Jelena Ristić 4.5 €
Goran Vuletić 4.5 €
Ljubica Soro 4.5 €
Konstantin Novaković 4.5 €
Goran Vasković 2.5 €
Ružica Borisev 2 €
Donations in the house:
Gerrie van Dijk 55 €
Ružica Rakić 50 €
Mohammad 46 €
Kristina Živković, Saša Bubalo and friends 40 €
Alfredo and Carolina 38 €
Filip Šakan and friends 30 €
Aleksey Nikonov 30 €
Luka Knežević-Strika 30 €
Domagoj Dodig and friends 27 €
Samuel Debelcque and friends 27 €
Natalija Jozić i Andreas 22 €
Jelena Soro 20 €
Natalia Pogoreltseva 20 €
Sava Mandić 20 €
Maja Tokalić 20 €
Jelena Grabić 20 €
Bulent Aslan 20 €
Marko Janošević, Marija Vranjanac and friends 19 €
Luis 18 €
Milanovčani 15.5 €
Dragana Vulić and friends 14.5 €
Nora 13.5 €
Dino 13 €
Vitaliy Shcherinov 13 €
Alen Duspara and Šejla 10 €
Isidora Ristović 10 €
Milan 10 €
Miloš 10 €
Gaid 10 €
Angel 10 €
Chris 10 €
Tibor Miglinci 10 €
Igor Stefanyshyn 10 €
Ksenija and Jadranka 9 €
Jelena Dimitrijević 9 €
Katja Kuper 9 €
Daniel 9 €
Kristina 9 €
Henriette Neubert and friend 9 €
Kika i Sanja 9 €
Lorenzo 9 €
Mohammad Mawaheb Serraj Eddin 9 €
Felix 9 €
Marija Milojević 5 €
Nikola Mandić 5 €
Branislav Đorđević 5 €
Marisa 4.5 €
Fatima 4.5 €
Agne i Justinas 4.5 €
Tomek 4 €
Sara Berno 3 €
Vejnović 3 €
Jelena Ristić 3 €
Stijn 3 €
Valentin Niebler 2.5 €
Sylwia Jakubovska 2.5 €
Anonymous donations from the box: 74 €