Travelogues
A legend has it that a Venetian, known as Marco Polo, was asked at his deathbed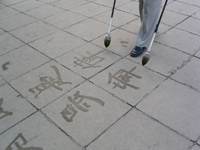 to admit that all the stories of his life and travels were just a bunch of fairy tales. He answered: I've told you less than a half of what I've really seen out there.
A travelogue concludes a journey, finishes it and makes it complete. Travelogue is not just a way of writing down our impressions; it is a creative transformation, transforming all that we have seen, experienced and learned into something new and unique, something that can be shared.
If you'd like to see your travelogue on this website - no matter where you are from, nor in which part of the world your journey took place, please send it to kontakt
klubputnika.org
So far, only a handful of our travelogues have been translated into English - we are hoping this will change in the near future. Here is the current list of our travelogues available in English.
Tuesday, 22 January 2013 14:54
We came to my room. I entered a room lit by a faint green light. Inside there were four empty beds. Then I heard a "clack" sound. Empty walls. In a corner, a table with a couple of chairs, and a big double glass window with alarm inside, with a view of the fenced courtyard.
Author: Marko Đedović

Read more...
Tuesday, 10 April 2012 20:19

Squeak, squeak. My shoes were still completely wet. At least the snow had stopped. I crossed a small traffic circle and saw a bridge in the distance. With barricades on it. Let's try that way anyway. Closer to the bridge, the street was completely deserted. There were only Carabinieri, loudly laughing at something.
Author: Marko Đedović
Read more...
Friday, 20 January 2012 16:42

This condensed travelogue relates the experience of a 30-day railway journey around China. It was written while returning from that journey, on another train - the Trans-Siberian.
Author: Iva Čukić

Read more...
Monday, 21 February 2011 14:32

A travelogue about the infamous mining town of Potosi, in Bolivia, where millions of people have allegedly died extracting silver ore. A once thriving community has been reduced to a dusty, dilapidated town...

Author: Vasko Lukinic

Read more...
Wednesday, 19 January 2011 16:06
While traveling around Caucasus I was led by a single desire: to explore Nagorno-Karabakh. If someone had asked me why, I wouldn't have had an answer. Until a couple of years ago I didn't even know what it is...

Author: Strahinja Grubljesic
Read more...
Friday, 31 December 2010 15:30
We strolled around Kisach, a Slovak village near Novi Sad. In order to eat our ice creams thoroughly and with due attention, we sat on a wooden bench in front of a house. In a little while, we noticed an old woman inching toward us...

Author: Lazar Pascanovic

Read more...
Monday, 06 December 2010 13:32

These people are really strong; I think they are resigned to their fate, they go about life knowing that anything could happen to them, this minute they could be alive and the next minute they could be gone...

Author: Doris Shida

Read more...
Tuesday, 09 November 2010 19:42

Today on my way back from work I got to the metro station slightly before eftar. I witnessed a weird, but not uncommon situation. The ticketing officer was apparently so pissed off that he was just fighting with every single person waiting to buy a ticket....

Author: Sue K.

Read more...
Tuesday, 26 October 2010 13:53
It was a wet March, with wet trees, wet streets, wet socks in wet sneakers. We walked around the alleyways of Aleppo, among people with umbrellas, or patiently stood huddled under the small eaves of the cheese and olives vendor, with those without umbrellas. We were trying to get lost...

Author: Lazar Pascanovic
Read more...
Friday, 09 April 2010 19:41
"Do you always go to war zones with people you meet at parties?", my coworker asked as I explained that I wanted time off to go to Goma with this Serbian guy I met at an art studio party. It was a fair question.

Author: Rita Cuckovich
Read more...
Monday, 25 February 2008 06:14
A winter hitchhiking trip to the ruins of Araca cathedral, through the frosty fields and Vojvodinian straight roads engulfed in mist.
Authors: Iva Cukic, Lazar Pascanovic; Translation: Lazar Pascanovic

Read more...
Wednesday, 19 July 2006 19:18

First annual gathering of Serbia Travel Club's members - a night hiking to Trem, the highest peak of Dry Mountain (Suva Planina) in central Serbia.
Authors: a group of people; Translation: Ivana Mandic

Read more...
Monday, 17 July 2006 16:52

A one-day rowing expedition down the watery lanes of Arkany (Arkanj), Vojvodinian Amazon near the village of Kovil (Kovilj), including some hitchhiking and a quick dip in a warm swamp.
Authors: Iva Cukic & Lazar Pascanovic; Translation: Ivana Mandic
Read more...
Friday, 05 May 2006 19:08

A report from the village of Mokrin, directly from one rather unusual and - so they say - world championship. You would never have guessed - it's an egg-duping competition.
Author: Marina Ilijevic; Translation: Ivana Mandic
Read more...