Towards Novi Sad

It's best to take bus number 706 from Zeleni Venac station (big bus station in the city center). If you wish to hitchhike on the highway, you should exit at overpass at Batajnica (spot 2). If you wish to take the old road, which is probably the better option if you travel only to Novi Sad, then you should go further with that bus to the end of Batajnica suburb, until the bus turns from that road, at the church. Just go back to the same road you were previously at, and hitchhike from there (spot 3). Batajnica is around 15 kilometers far from Zeleni Venac station, and bus takes around 40 minutes, depending on traffic jams.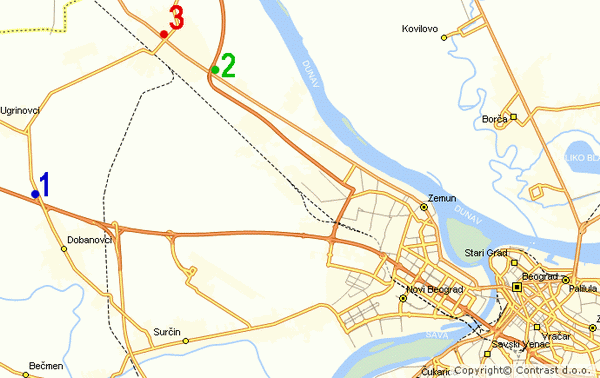 Towards Sremska Mitrovica, Zagreb
Take bus no. 16 from the upper part of Zeleni Venac station towards Novi Beograd, and exit after you pass traffic circle. Cross the street, and take bus no. 611. That bus will take you to the highway, some 20 kilometers from Belgrade. Get off as soon as the bus turns from the highhway, and then return to the highway
(spot 1)
. Start hitchhiking there. Paytoll is around 7-8 kilometers far, but there's no need to go there on foot. Once you get to the paytoll, we recommend using a sign for the direction you want to go, it is a good opportunity to get a direct ride, even all the way to Zagreb.
Towards Pančevo

Take bus no. 35 or 96 from Republic square, and get off at Pančevački bridge (Pančevački most, spot 4). Connection to the bridge is one of the most frequent spots for hitchhiking in Serbia, so there is big chance you won't be alone there, but don't worry, you will get a lift quickly. If you want to go to the center of Pančevo, you should take the old road (ask the driver if he goes via old or new road - stari or novi put), get off at Tamiš hotel, turn right, and after 5 minutes on foot, you will be in the city center. If you end up on the new road, exit at the first crossroads at the entrance to the city, turn left, and after half an hour on foot you will be in the city center.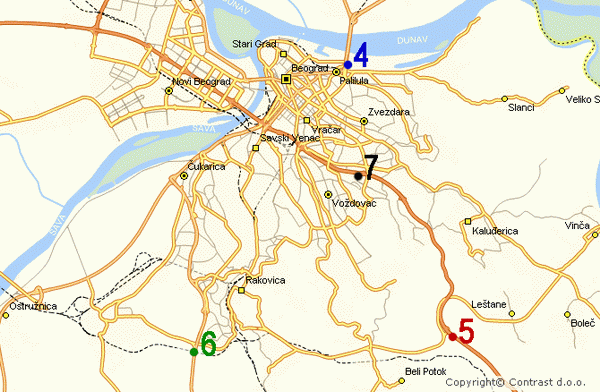 Towards Niš

To hitchhike towards Niš, you should first reach paytoll, which can be a bit tricky, since you have to hitchhike while you are still in the city.
Take bus no. 31 from the city center, until you get to crossroads between Ustanička and Vojislava Ilića street (ask someone in the bus for Vojislava Ilića stop, but in case you miss it, it is the second stop before the last stop). From there walk to the bridge, cross it, go downstairs, and walk around 150 meters in opposite direction than cars passing by from that side of the highway. There you will find a connection road to highway (spot 7), and it is the spot from where you can hitchhike towards paytoll. You should have sign which says "Rampa" (paytoll) in order to get a lift, otherwise you risk staying there for a long time :) It is possible that someone who is not going to the paytoll, but to Leštane will give you lift, but it is no problem, since after he turns, you have only 10 minutes on foot to the paytoll (spot 5).

Towards Čačak, Kraljevo

Take bus no. 56 from the above mentioned Zeleni Venac station, and get off after you pass OMV gas station on your right side, which will be on a slight elevation, and there is nothing else around it :). You can start hitchhiking there, but if bus no. 531, 532 or 533 arrives, take it and go two stops. You have to tell the driver that you want to exit at the second stop, cause the bus usually doesn't stop there. You will recognize that stop by connection road from the right. That is the best spot for hitchhiking towards Čačak or Kraljevo (spot 6).



Towards Zrenjanin, Vršac

It's best to hitchhike from the same spot which is used for hitchhiking towards Pančevo, but you should have a sign saying "Zrenjanin", otherwise drivers will presume you are going towards Pančevo.
The maps of Belgrade are courtesy of Contrast PlanPlus, used with their permission.
---
If you have a comment or a better information, click here

For more detailed discussion, visit our forum