Finding accommodation in Serbia can get a bit tricky - since the tourist industry is not very developed, there aren't many cheap bunking options for those with tight financial construction. However, do not despair - there are still many ways of staying a night without crippling your budget.
Accommodation in Serbia is generally easy to find in the bigger cities, where there are plenty of hostels. However, if you want to explore the countryside, you'll have to rely on people's hospitality and, of course, your tent.
Hospitality exchange networks
For those of you who still don't know about this truly fascinating website for finding free accommodation worldwide, revelation awaits at www.hospitalityclub.org. For those who know it, however, it should be pointed out that there's a rather lively hospitalityclub scene in Serbia, with loads of members even in smaller towns, so finding a place to stay shouldn't be much of a problem. A similar website, with a significant number of members in Serbia, can be found at www.couchsurfing.com
Hotels in Serbia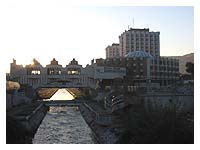 Almost every city or town in Serbia has at least one monstrous communist-era hotel, with spacious, long corridors and a dozen of high-ceilinged rooms of which, usually, most are always empty and quite dilapidated. If you opt for one of these gloomy giants, you should know that the prices in bigger cities start from 20, and in smaller towns from around 10 euros per person per night. On the photo you can see a post-apocaliptic soc-realistic hotel in the town of Novi Pazar, in the southeast of the country.
Hostels in Serbia

Hostels exist in bigger urban centers such as Belgrade, Novi Sad, Niš and Subotica. There are at least a dozen hostels in Belgrade, with prices ranging from 10 to 15 euros for a dorm bed. Although not cheap at all, hostels are probably the cheapest accommodation option in Belgrade.
Mountaineering refuges (planinarski dom)

Definitely the best solution if you're heading for the mountains. Accommodation prices range from 3 to 5 euros per night, and there are dozens of such places scattered all around Serbian mountains. Sometimes they are cozy and well equipped, sometimes shabby and old, and usually have small kitchens where you can prepare your food. Some of them are open all year round (Old mountain), for some of them you have to call in advance for the keeper to come and unlock it for you (Besna Kobila mountain), and sometimes they only work with groups so you have to argue a bit before they let you in (Beljanica mountain). The keeper is usually a person living in one of the nearby villages, and the best way to reach him is to contact the local mountaineering club. Don't expect English to be spoken, so you definitely need a local's help to arrange a stay. If you are sure the refuge is open all year round, you can just show up there. Make sure you know where it is, and don't forget to bring your map otherwise you can get lost in the mountains.
Hunters' refuges (lovački dom)

Places where you can stay in the mountains, if you don't mind the dusty trophies staring at you from the walls. The structures of this kind are not that numerous, and the prices are more or less the same like in the mountaineering refuges. The story is exactly the same as for arranging a stay in a mountaineering refuge.
Private houses
Village tourism exists in Serbia, and in some parts it's even pretty developed. This is mostly the case in some of the more touristy mountains, boasting some of the famous mineral spas, slopes for winter sports, or rehabilitation centres. The most common way is just showing up in the village and asking people if they know anyone letting the rooms (check our
Serbian phrasebook
to find out how). The prices in private homes in the villages range from 3 to 5 euros per person, and can sometimes include a lavish breakfast. There's also a big chance someone will offer you free accommodation.
Monasteries in Serbia
Many monastic complexes consist of a number of auxiliary buildings, very often having a couple of basic guest rooms. Usually you are allowed to stay for only one night, and it is supposed to be free of charges. However, apparently there are some (Studenica monastery) which are charging travellers for this practical exercise of christianity. Monastery gates are usually locked around 8 pm, and there is little chance that you will be let inside if you arrive after that time.
Camping in Serbia
Last but not the least - camping. If you're traveling with a tent, you should know that camping is allowed anywhere in the Serbian countryside. Just make sure not to camp on someone's field and damage the crops. If you're camping near a house, you should ask the owner if it's ok to pitch a tent there. If you're in the wilderness (which is most probably the case), no need to ask anyone. Springs and fresh water streams are abundant in the mountains, so it's a good idea to pitch your tent not too far from the water source. But you already know that.